Latest topics
»
What are you eating from your garden today?
by
OhioGardener
Today at 10:44 am
»
Aero Garden for starting seeds?
by
OhioGardener
Today at 8:23 am
»
Garden Tools
by
yolos
Yesterday at 6:16 pm
»
worms and compost tumbler
by
sanderson
Yesterday at 1:47 am
»
Starbucks for coffee grounds!
by
sanderson
1/30/2023, 1:37 am
»
N&C Midwest: January & February 2023
by
OhioGardener
1/29/2023, 7:33 pm
»
Placing Box on Cement
by
OhioGardener
1/29/2023, 2:57 pm
»
How I compost using a Tumbler
by
Soose
1/29/2023, 2:45 pm
»
Garlic Chives in SFG?
by
OhioGardener
1/29/2023, 8:56 am
»
Soaking Seeds for Better Germination
by
Soose
1/29/2023, 5:26 am
»
Microgreens Gardening
by
sanderson
1/28/2023, 11:42 pm
»
How do I source Mels Mix for 190 cu ft????
by
sanderson
1/28/2023, 11:35 pm
»
Johnson Su composting Bioreactor instructions for home, not the farm.
by
has55
1/28/2023, 10:57 am
»
homemade vermicomposting/Worm Casting Compost Sifters
by
has55
1/28/2023, 10:45 am
»
Famous Gardening Quotes
by
OhioGardener
1/28/2023, 8:29 am
»
The SFG Journey-Johnson Su Bioreactor for composting, No turning
by
has55
1/28/2023, 12:09 am
»
seed starting Mel's way
by
plantoid
1/27/2023, 7:09 am
»
Home Made Compost
by
plantoid
1/27/2023, 6:18 am
»
Kiwi's SFG Adventure
by
KiwiSFGnewbie
1/27/2023, 2:46 am
»
Back In The Saddle I Suppose
by
Scorpio Rising
1/26/2023, 8:03 pm
»
New but Old
by
lovey
1/25/2023, 1:49 am
»
Dani's Brand New SFG For 2023
by
danieggert
1/24/2023, 6:24 pm
»
Seed Exchange - January 2023
by
sanderson
1/24/2023, 4:43 am
»
Chicken Poop compost
by
OhioGardener
1/22/2023, 5:28 pm
»
Holy snow Batman!
by
OhioGardener
1/22/2023, 10:27 am
»
IRRIG8R NEW TO SFG
by
Irrig8The916
1/21/2023, 10:51 pm
»
Mel's mix for flower planters
by
sanderson
1/21/2023, 7:05 pm
»
Can I Use This Compost As One Of My Five Different Ones?
by
sanderson
1/21/2023, 6:53 pm
»
Clamps /clips for covering frames
by
Soose
1/21/2023, 6:43 pm
»
What DON'T I want in my 5 different composts
by
sanderson
1/21/2023, 4:34 am
Dear all,
Now I am seeing some real winter temps here, the hoop tunnel is finally being tested. I replaced my wired sensor indoor/outdoor thermometer with a wireless one with a range of 260ft. I can therefore measure inside the hoop from the comfort of my home. Seeing as I now only have one bed going right now, I decided to put two sets of lights around this bed instead one with the option of just hooking up the one of needed.
This pic was taken at 6am a couple of days ago with the two lights running.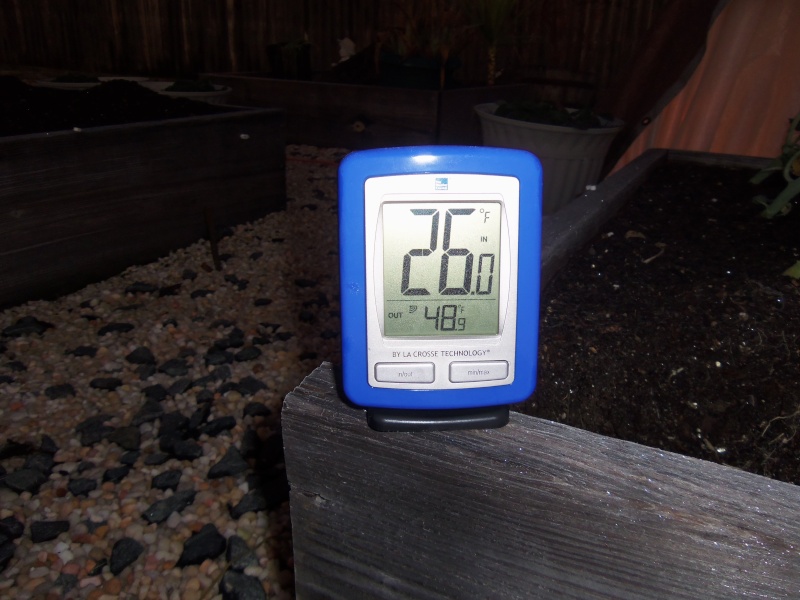 26 outdoor to 48.9 under the tunnel!!! I am astounded at that differential from my little set-up and clearly I can just run the one string of lights until things get real cold. Running the hoop at almost 50 degrees is simply wasteful on my part but I had no idea it would work that well compared to last year. However, I had the larger plastic covering two beds simultaneously and so had a much larger space to keep warm. I had a tarp over it too which froze to the plastic along the parts where it met the hoops. The plastic underneath sagged a little and so interestingly I inadvertently created a pocket of air along the whole tarp (not the ends of the hoops though). I'm sure this helped with heat retention.
Here is a link to my latest video which shows you whats going on underneath the plastic (taken this morning)
That whole bed was started from seed back in very early October and I was concerned it would not mature in time due to cold temps and shorter day length to harvest from but as you can see its doing well enough. This is all good feedback for me to adjust for next year. I wish the carrots were a little further along as I wanted them for xmas day meal but these should be of a good size by late jan/early feb. I am seeing expected slow growth for this time of year but still faster than I anticipated. Apparently anything under 10 hours of daylight stops growth and veggies almost hibernate. I am under that right now (and it does not last for long at my latitude), however all are still growing slowly but surely.
I wonder if the lights are tricking the plants in to thinking its a longer day length??
Last edited by staf74 on 12/10/2011, 12:44 pm; edited 1 time in total

staf74




Posts

: 554


Join date

: 2010-11-24


Age

: 48


Location

: York, SC



Hey! Everything looks great staf. And as always, another great video. Thanks for sharing
I'm always curious what you are up to

RoOsTeR




Posts

: 4316


Join date

: 2011-10-04


Location

: Colorado Front Range



haha...thanks Rooster !!
I wonder what you are up to also in the frozen tundra of your world right now
I'm always up to something
....my neighbors think I'm crazy...until they get a generous out of season donation of fresh veggies that is....

staf74




Posts

: 554


Join date

: 2010-11-24


Age

: 48


Location

: York, SC



I can't imagine the lights putting out enough to fool the plants. However, what little light they get is really helped by the warmth.

How many weeks before frost is "early October?" I'm wondering how spinach would grow in your setup, or if it's still too warm in the fall to plant them in time to get them big enough to last a whole winter while harvesting. No doubt spinach survives.....you can hardly kill the stuff with cold....but it wouldn't likely reproduce the leaves you harvest quickly.

Just thinking out loud.

BackyardBirdGardner




Posts

: 2727


Join date

: 2010-12-25


Age

: 49


Location

: St. Louis, MO



BBG - I agree that the lights should not be putting out enough light to fool but I still some have decent growth (slow - yes) but according to Eliot Coleman, the plants should be hibernating right now. I was hoping this fall for a whole bed of mature spinach alone so that I could harvest all through and add a decent amount of leaves to meals, clearly being aware that the rate of harvest would be much more than the rate of reproduction. However, with it being so hot until October, I didn't opt for that as I thought I would be wasting time, effort, Mel's Mix and seed etc on a bed that would only amount to tiny plants (I outline this concern in an earlier video on the series). In hindsight, it would have been fine to have done a whole bed as it matured really fast. First frost was like October 25th, not quite sure.
However, what little light they get is really helped by the warmth
Can you clarify that
Not quite sure I understand.
The trick I guess is just to plant lots and lots. Surviving is not the issue, my voracious appetite is the problem !!!! However, I do have 4 full squares of 9 in each. 36 plants has given us lots so far and still lots left. They will also reward us with early spinach before they bolt in something like mid march when I will add the spring plants, so its kinda like I'm squeezing in an extra season.

staf74




Posts

: 554


Join date

: 2010-11-24


Age

: 48


Location

: York, SC



What I meant was: Weak sunlight isn't probably contributing to growth as much as the temps you are holding in your hoops. Warmer temps will stave off hibernation since the plants are more comfortable. The combo of cold AND loss of light is what triggers hibernation. Without one or the other, the plants will hold on as long as possible...trying to eek out whatever they believe is left of their growing season.

BackyardBirdGardner




Posts

: 2727


Join date

: 2010-12-25


Age

: 49


Location

: St. Louis, MO



Ran the one set of lights last night and had a much more efficient set-up. I only need to stay above 32 so I was much happier with this. 24.4 was the low outside temp but the lowest inside was only 38.8. So I still have a little wiggle room. The coldest it has been since I have lived here was 12, balmy compared to Boston where I used to live but here we see only the teens for like ONE week compared to what seems like eternity up there. I think with 2 lights running and a couple of extra blankets if needed, I am ready to ride out the worst of what winter has to offer here in my locale. I will never tempt fate and say i'm confident but I have a good shot at getting this little experiment completed.
Thanks BBG for your clarification, makes sense but it appears my point has been rendered moot by my own forgetfulness
I re-read the section in the Winter Harvest book that refers to the 10 hour daylight length and he does NOT state they hibernate, more-so they simply slow down significantly....exactly what I have witnessed. I appreciate your input though. I confused myself
The good news is that here at my latitude, I come out of that period on Jan 9th and the spinach should really take off again especially as it has a fully mature root system. It should give me lots of early spinach compared to waiting for seed / transplants to mature and become harvest-able.

staf74




Posts

: 554


Join date

: 2010-11-24


Age

: 48


Location

: York, SC



One thing I can tell you that you may remember from Boston is the grass. Do you remember sweeping back 6 inches of snow only to find green grass underneath? I mean really green, not faded green. We see that all the time with our fescues and especially bluegrasses.

It grows, but it doesn't grow enough to need cutting until daylength and warmer temps return. I assume cool season veggies are similar, which is from where most of my inferences come.

BackyardBirdGardner




Posts

: 2727


Join date

: 2010-12-25


Age

: 49


Location

: St. Louis, MO



I have moved into a small farm with a sadly decaying milk house.The walls seem sound enough(?) but roof is coming down.(I mean on its own.) My question is would it be worthwhile to remove roof and form a hoop thing over space left from old roof? What material should I use to cover it and how would you simply figure out length of PVC to use?It is a rather narrow(10ft.? x30ft.?) bldg. and would appreciate any input you would have!
Thats funny.I right buttoned your thanks Emoticons and I get a
.............well thanks anyway.

james lujack




Posts

: 18


Join date

: 2011-12-24


Age

: 71


Location

: zip72587 N.AR



Hi James,
Not sure if you have been officially welcomed so here goes.....
Sounds like the space has great potential, however, a few more details would help me to help you.
Are you planning on the SFG concept in the space?
At this point are you just looking to get a head start on the spring and therefore would like to cover seedlings?
I have a concern over the narrow space and the height of the walls. How high are the walls? Sounds like to me that they might shade the space too much for it to be viable unless you remove some height.
Can you post a pic?
Be glad to help if I can and I'm sure others will chime in.

staf74




Posts

: 554


Join date

: 2010-11-24


Age

: 48


Location

: York, SC



Similar topics
---
Permissions in this forum:
You
cannot
reply to topics in this forum