Latest topics
»
finished my SGF garden
by danieggert Today at 5:48 pm
»
Sourdough Starter
by Jjean59 Today at 9:51 am
»
need specific advice on MM
by plantoid Yesterday at 6:43 pm
»
Senseless Banter...
by OhioGardener 3/22/2023, 8:11 pm
»
After harvest, leave the roots in or remove
by Mikesgardn 3/22/2023, 7:53 pm
»
Greenhouse - Helpful Hints in Setting up a Wood-Framed Greenhouse
by
Scorpio Rising
3/22/2023, 7:46 pm
»
Sifted Peat
by danieggert 3/22/2023, 4:21 pm
»
Best choice of pot to plant my seedling
by markqz 3/22/2023, 1:30 pm
»
Responding to a specific post
by OhioGardener 3/22/2023, 9:55 am
»
N&C Midwest: March & April 2023
by
Scorpio Rising
3/21/2023, 10:17 pm
»
Kiwi's SFG Adventure
by
sanderson
3/21/2023, 9:00 pm
»
Think Spring 2023
by MrBooker 3/20/2023, 7:59 am
»
Sifting Compost for Newbies
by
sanderson
3/20/2023, 3:47 am
»
Too cold to put my new MM into my raised beds?? and Facebook SFG site
by
sanderson
3/20/2023, 3:39 am
»
Harvesting small amounts from iceberg lettuce, caulliflower, broccoli, cabbage etc.
by
sanderson
3/20/2023, 3:37 am
»
Indoor seed starting question
by
sanderson
3/20/2023, 3:19 am
»
Epsom salts for your veggie garden??
by
sanderson
3/19/2023, 11:37 pm
»
seed starting Mel's way
by bigtoad 3/17/2023, 9:26 pm
»
shop lights vs grow lights
by
sanderson
3/17/2023, 1:53 am
»
trellis netting square size
by
sanderson
3/16/2023, 10:45 pm
»
Ohio Gardener's Greenhouse
by OhioGardener 3/16/2023, 5:20 pm
»
Raised Beds from 48" Culvert
by wargarden2017 3/16/2023, 11:19 am
»
Baby Pools as Beds?!
by Jjean59 3/15/2023, 3:54 pm
»
March: What to plant in Northern California and Central Valley areas
by
sanderson
3/15/2023, 3:52 pm
»
So. California & Inland Valleys -March / April Planting Guide
by
sanderson
3/15/2023, 2:22 pm
»
Biosolids / Humanure Compost?
by OhioGardener 3/14/2023, 1:45 pm
»
Hello Form the Bitterroot Valley of Montana
by
sanderson
3/14/2023, 4:52 am
»
Renewing Mel's Mix
by anne 3/13/2023, 8:16 pm
»
help refuting a raised bed critic
by
sanderson
3/13/2023, 2:26 pm
»
Associations of time spent gardening with mental wellbeing and life satisfaction in Mid-to-late adulthood
by OhioGardener 3/13/2023, 9:04 am
I harvested 2 of my Honey Boat delicatas today. They grew quite a bit larger than the regular delicatas I have grown before. I wasn't quite sure when to harvest them since they were on the wire trellis, but when I touched them they fell right off, so I guess they were ready. I cut one in half, scooped out the seeds (small seed cavity) & cut in half again for 4 pieces that were fairly even in size & zapped them a few minutes in the microwave, then sprinkled cinnamon, brown sugar & butter - YUMMY.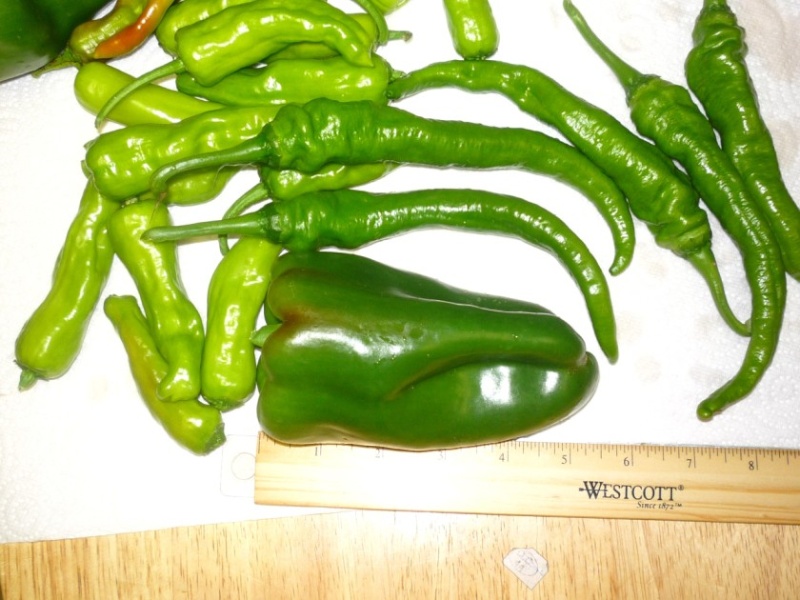 I've finally started getting more peppers that I started from seed - Hungarian hot yellow, although I didn't wait for them to get yellow. They are very hot, but not as bad as the cascabella. I also picked 2 Emerald Giant bell peppers. I'll grow them again, even though they have an irregular shape & you can't stuff them. They are very thick-walled & sweet. DH found some regular Cal Wonder pepper plants at the feed store a few weeks ago. They were in big peat pots & not root bound & have done really well. They are just starting to bloom, so hopefully I will have enough for pepper relish & to freeze.
Tomatoes are about gone - the blight has gotten to them. I pulled out several of them today. There are still lots of blooms on them, but since it has been in high 90's-100, I don't know if they will set fruit or not, I doubt it. I sure will miss them.
I'm still getting cukes, thanks to the wire trellises. I can find them & keep them picked so the vines continue to produce. I have planted 3 more trellises throughout the season & just pulled the vines on the first ones I planted in the Spring.
I lost the last section of corn I planted. It was just beginning to tassle & the wind blew part of it over. Before we got around to getting it back up & putting wire around it, my son's hybrid wolf decided it would be a nice bed, so he trampled it & dug him a nice cool spot. He won't stay in the fenced yard, so I don't know what we'll do next year. He's pretty old & lost a hind leg to some pit bulls roaming the neighborhood, so he gets babied quite a bit & I would hate for him to be tied up.
I hope everyone is still excited about their garden. This will be my first year to do any fall planting. I started brussel sprouts, 2 kinds of cauliflower, Perfection Savoy drumhead and late flat Dutch cabbage today.
In case I have never mentioned it, I LOVE SFG!
Beautiful harvest
I never heard of Honeyboats before.
I particularly like their small size, something new everyday here.

1chichi




Posts

: 151


Join date

: 2010-04-24


Location

: SuNnY SoutH CaRoLiNa



Similar topics
---
Permissions in this forum:
You
cannot
reply to topics in this forum