Latest topics
»
45 MPH Wheelbarrow
by
markqz
Today at 10:22 am
»
N&C Midwest—October 2020
by
OhioGardener
Yesterday at 7:07 pm
»
Percent of worm castings in soil mix
by
yolos
Yesterday at 6:18 pm
»
Adding a "trowel full" of compost? Really?
by
GardenLikeMad
Yesterday at 11:46 am
»
Recommended chippers for small-scale composting?
by
yolos
Yesterday at 1:00 am
»
I can't find compost for my Mel's mix, and my compost pile is not sufficient
by
Nancy Rae
10/28/2020, 3:11 pm
»
Garden Veggie Plants Dying
by
Yardslave
10/28/2020, 12:53 pm
»
CANADIAN REGION: What are you doing October, November, December 2020
by
Kelejan
10/28/2020, 3:12 am
»
TD - A Journey Through Prostate Cancer
by
Kelejan
10/28/2020, 2:50 am
»
Update on Marie's mom
by
Kelejan
10/28/2020, 2:39 am
»
Garlic in Central Ohio
by
Dunkinjean
10/27/2020, 10:44 pm
»
What are you eating from your garden today?
by
OhioGardener
10/27/2020, 6:47 pm
»
turnip/rutabaga trouble
by
OhioGardener
10/27/2020, 3:07 pm
»
What Have You Picked From Your Garden Today
by
Scorpio Rising
10/25/2020, 7:01 pm
»
FULL GARDEN TOUR (Both SFG and Non-SFG)
by
dstack
10/23/2020, 6:29 pm
»
Weed Killer Spray and my garden
by
sanderson
10/21/2020, 10:13 pm
»
How's the Weather Where You're At?
by
RJARPCGP
10/21/2020, 6:44 pm
»
New England, October, 2020
by
RJARPCGP
10/21/2020, 6:40 pm
»
Bokashi
by
OhioGardener
10/21/2020, 6:08 pm
»
Self Watering containers?
by
OldCrow
10/21/2020, 1:38 pm
»
Happy Birthday!!
by
Scorpio Rising
10/20/2020, 7:50 pm
»
Help with bush beans
by
LilBittyBean
10/17/2020, 1:41 pm
»
Hello!
by
AtlantaMarie
10/16/2020, 6:42 am
»
my worms are gonna get hungry
by
OhioGardener
10/15/2020, 12:49 pm
»
Mark's first SFG
by
markqz
10/15/2020, 12:11 pm
»
2020 SFG in Brooks, GA
by
yolos
10/13/2020, 11:32 pm
»
Fern leaf tomato?
by
plantoid
10/13/2020, 4:28 pm
»
Prior planning prevents poor plantings performance
by
sanderson
10/12/2020, 2:08 am
»
Tomato Pie
by
sanderson
10/12/2020, 2:03 am
»
Seed Exchange: Looking for Greek Sweet Red Squash
by
sanderson
10/12/2020, 1:47 am
Hello!  First post - I have a 10 x 2 ft  wooden base that is 26 in. off the ground and I want to place a 6 x 2 box on top.  (Back issues) My thoughts are plastic on top off the table top then a cedar box 12 in. high.  Not sure how it will drain?  Should I set the box on top of some material to help it drain?  Any suggestions a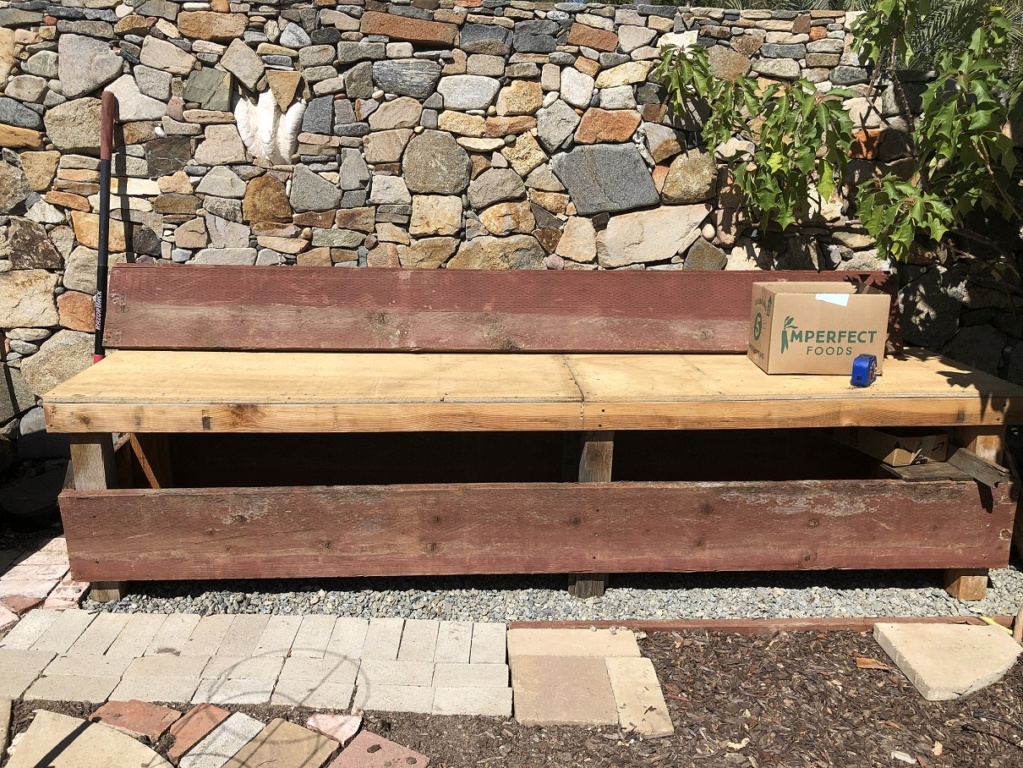 re appreciated - thanks a bunch!

joseluis




Posts

: 1


Join date

: 2011-09-03


Location

: California



I've two back , a left shoulder and left knee issues .. Bee dig Square foot gardening in both modes for a long time till I move her when I moved onto MM ..soil less growth medium aka " Mel's Mix ".
  My home forty is on a slope ,  measures about 80 yards long by 18 yards wide with an 8x 18 yard bungalow  set back in the middle 8 yards from the road ,  it drops  4 feet from front down to back and 3.5 foot across it dropping down to a low of five feet in the rear LH corner as our place is built on a hillside . 
One side of my brick built raised beds  is 20 inches high where I raised the land to level things off for a flat green lawn of grass , the other side wall of the beds on the sloped land is 36 inches high , I'm 5'10  . All the tops of the beds are at the same height level .  I had 1 yard wide concrete paths  put in all round the outer edges of the beds the lower side wall are path less save for cut lawn grass. 
In truth It would have been much better if the beds had a top rim height of 40 to 42 inches , for at that height I can lean on the walling and my hand on the gammy arm  would be able to rest on it to support me as I lean forward rather than actually leaning over like I have to do on the 20 inch walling . I still have to lean over slightly on the 3 toot high walling.  
The shorter walling  is so painful after ten minutes or so I have to stop working on that side . The higher 6 inch high side  gives me a longer play time but still becomes painful after 30 min of weeding or planting things out  in the beds . 
Have a look at using a builders plaster mixing trays or two they don't rot like wood are about 6 inches deep and are 3x 5 foot  ( ish ) does and can be rimmed up in timber if you feel inclined for having MM directly next to wood  tends to have a wicking effect  with the wood drawing out a lot of moisture . Plants grow best if the nutrition is good and the moisture level constant .
Think IIRC a site member called Boffer  used them very successfully in raised bed form several years ago ( ten or so ). 
Your USA version of this sort of ebay UK thing   item code 
254719685500   
 your US prices will most likely be a lot cheaper .
 I feel you'd only need a few 1/4 along the sides the top of them being about 3/4 of an inch up the side wall from the base to drain off any excess water .. the very bottom  being slightly wetter than the material above it is useful as it helps make a water sump for when it's a lot dryer . I'm saying this because it is how I have made drainage holes in my 8 gallon  tomato growing tubs that grow big & cherry tomatoes, egg plants , peppers hot & cold , cucumbers etc  very well in our glasshouse .

plantoid




Posts

: 4050


Join date

: 2011-11-09


Age

: 69


Location

: At the west end of M4 in the UK



kygardener and joseluis like this post
---
Permissions in this forum:
You
cannot
reply to topics in this forum