Latest topics
»
What Have You Picked From Your Garden Today
by cyclonegardener Today at 11:43 am
»
N & C Midwest: November/December 2023
by
sanderson
Yesterday at 9:23 pm
»
FREE Online SFG Class - November 28, 2023
by
sanderson
Yesterday at 9:21 pm
»
Strawberry Varieties?
by Chuck d'Argy Yesterday at 2:23 pm
»
Mini-Raised Beds?
by Chuck d'Argy Yesterday at 2:14 pm
»
Happy Birthday!!
by
sanderson
11/26/2023, 10:58 pm
»
Mark's first SFG
by
sanderson
11/26/2023, 10:56 pm
»
Name the mystery (to me) seedlings! :-)
by Psdumas 11/25/2023, 12:04 am
»
Senseless Banter...
by
sanderson
11/23/2023, 1:49 pm
»
Happy Thanksgiving from the USA
by
sanderson
11/23/2023, 1:47 pm
»
Strawberries in MM: to feed or not to feed?
by
Scorpio Rising
11/22/2023, 10:42 pm
»
Guatemalan Green Ayote Squash
by OhioGardener 11/21/2023, 8:27 am
»
Kiwi's SFG Adventure
by
sanderson
11/20/2023, 2:06 pm
»
Seeds 'n Such Early Order Seeds
by
sanderson
11/20/2023, 1:13 pm
»
USDA Plant Hardiness Zone Map
by OhioGardener 11/19/2023, 7:12 am
»
AeroGarden for starting seeds?
by OhioGardener 11/16/2023, 12:40 pm
»
Biochar?
by OhioGardener 11/16/2023, 10:31 am
»
2023 - Updated U.S. Interactive Plant Hardiness Map
by
sanderson
11/15/2023, 6:18 pm
»
SFG Is Intensive Gardening
by
sanderson
11/14/2023, 3:26 pm
»
Teaming with Microbes Kindle Sale (Mem. Day weekend 2023)
by markqz 11/10/2023, 12:42 am
»
Bok Choy Hors d'oeuvres
by
donnainzone5
11/9/2023, 5:58 pm
»
Now is the Time to Start Preparing Next Year's Spring Garden
by OhioGardener 11/9/2023, 7:13 am
»
Shocking Reality: Is Urine the Ultimate Gardening Hack or Disaster?
by dstack 11/6/2023, 5:29 pm
»
Nightmare on Mel Street.
by
Scorpio Rising
11/4/2023, 6:37 pm
»
Aerogardening
by
Scorpio Rising
11/3/2023, 10:02 am
»
Sunday All Purpose Organic Garden Nutrients
by lisawallace88 11/3/2023, 9:13 am
»
Mid-summer seed sowing, how do you do it?
by KiwiSFGnewbie 11/2/2023, 8:04 pm
»
N&C Midwest October 2023
by OhioGardener 11/1/2023, 8:49 am
»
Fall Tree Colors
by
Scorpio Rising
10/31/2023, 1:48 pm
»
Freeze Dried Food
by lisawallace88 10/30/2023, 11:28 am
I am new to gardening, so this is my concern.

I  have cemented backyard. No shades available to stop rain. 
Also I like to do planting standing up ( I am pretty young 73 years old) . 
So I want to hold my 4x4 square frame on four legs table type configuration.

Concern is raining season, when there will rain water pouring down on garden bed.
If I use a plywood bottom with lining it might hold water and saturate the garden. Filling bottom table with sand or any other material would make it heavy and bulky, and still it might need drain.

Question: 
1-What type of bottom plate should I have for my square garden?
2-Are their any thin drip pan made of Vinyl or plastic commercially available in close dimension to 4x4 or little bigger dimension?
3- Would a dog crate pan with appropriate food grade lining work or even they available in 4x4? 

My 4x4 square box is bottomless dimensions are 48inx48inx15in. It is premade Vinyl pre-fit, from a Canadian company called NuVue. It meant to be on dirt or grass.
I  will raise it another 12in-15in a comfortable height where you can plant seed and harvest standing.

I did lot of google searches, Have not come up any workable idea yet?

All suggestions will be appreciated.

Syed

Syed




Posts

: 2


Join date

: 2021-05-09


Location

: Agoura Hills, CA



____________________________
"In short, the soil food web feeds everything you eat and helps keep your favorite planet from getting too hot. Be nice to it."
~ Diane Miessler, "Grow Your Soil"

sanderson and Syed like this post
Thanks, I will review your suggested links 
Syed

Syed




Posts

: 2


Join date

: 2021-05-09


Location

: Agoura Hills, CA



sanderson likes this post
Hi, I have a similar problem, as half my small yard is soil and half is covered by asphalt. All is southern exposure and gets well over 100 degrees F in summer. My SFGs are on the dirt, but my concerns about water kept me from using the asphalted parts (beds on top would either have no runoff or bake dry when sunny). I found a site on YouTube (Home Grown Veg) that uses buckets or pots for everything; I use my Mel's mix in my buckets, the big drainage holes worked great and the pots kept the mix moist without drowning when raining and conserved moisture during dryer times. In 2 buckets, I grew over 60 carrots, my first ones! Beautiful and straight and tasty! Also potatoes, etc. This year, I'm putting peppers in, and dill. In my SFGs, I built a trellis in each, using the method of the iron rods in the ground and electrical conduit over, with wide-square mesh trellising. (Those work wonderfully—6' H x 4' W handles 4 pickling cucumbers on one and 4 tomatoes on the other) I planted garlic in the SFG last fall and it is doing beautifully, and next year I will grow it in buckets. Anyhow, a great deal of the success in from the Mel's mix. I've gotten spoiled with how easy it makes growing veggies.

AntB




Posts

: 22


Join date

: 2018-05-22


Location

: NW CT USA



My dad built these elevated beds for his back patio. He's in an apartment, lives alone, still drives, and is 91. He ate his first radishes  this weekend and loves sitting outside now, just watching his garden grow.
 We used 3/4 inch plywood for the bottom I think. Then wedged a 5th leg under the center just in case to help with any sagging. Each square foot we drilled a drain hole, then lined the inside with weed block and filled with Mel's Mix.

fiorener




Posts

: 1


Join date

: 2015-10-30


Location

: Chapel Hill, NC



sanderson and Mutha like this post
Now THAT'S an example of a GOOD KID! How very thoughtful of you to do something like that for your dad! I'm sure he'll spend hundreds of happy hours now, out on the patio...not only watching the garden grow, but enjoying the sunlight, and hearing the breezes blow, and birds off in the background.
After all of the mind-warping effect of mandatory masks, constant FEAR MONGERING, lock-downs, and social distancing for the last year+ you've given him him the PERFECT thing to enrich his life, and get his sanity back...some of God's awesome nature!  BRAVO!  
Hopefully, more people will follow your example! 

Mutha




Posts

: 1


Join date

: 2018-03-16


Location

: Northern Arizona - Zone 7



sanderson likes this post
Whatever you use for your bottom will need to be porous as not to collect water. It needs drainage  as I am certain you are well aware.
When I made bottoms on my raised beds I used 5/4 deck flooring. Drilled 3/8th holes in each plank and square.
I covered the entire bed with 2 layers of a quality weed barrier.
Before filling, I tried filling the bed with water and it would not hold anything.
It held up  for three years before I had to dismantle everything.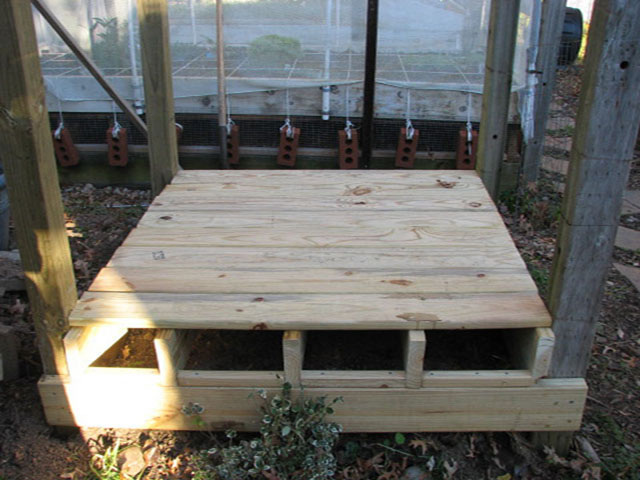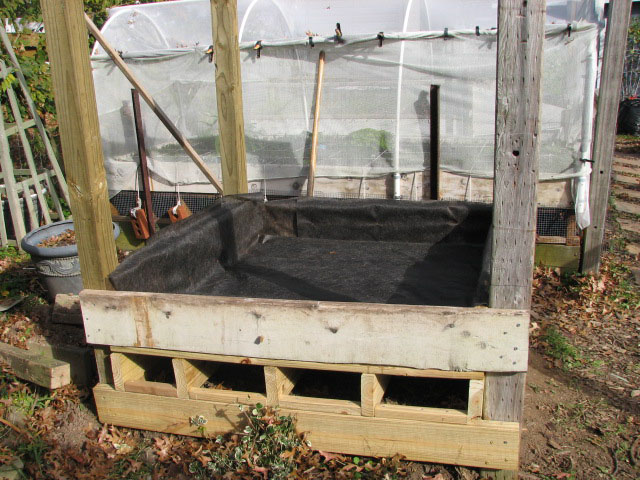 jimmy cee


Certified SFG Instructor




Posts

: 2215


Join date

: 2013-02-16


Age

: 88


Location

: Hatfield PA. zone 6b



sanderson likes this post
The beauty of SFG is that a SFG bed can be placed on an asphalt or concrete slab, on dirt, on a flat roof, on pavers or steps, etc.    I can't find a photo showing how a one SFG gardener set beds on a half basket ball cement court and placed wood chips in the isles.
1.  I live in the Central Valley of CA where summer temps can reach 110*F.  I use 2" (1 1/2" finished) thick boards for the beds because that thickness is decent insulation against heat and cold.  The beds only have 6-7" of Mel's Mix. Synthetic materials may bow out and not protect against sunlight heating up the Mel's Mix.
2.  Wood chips around the beds keep the radiant temperature neutral, verses hot asphalt or rocks.  Yes, green grass is the coolest environment, but at least plain wood chips don't add to the heat.  This 2'x8' bed made with 2" x 8" pine lumber is set
on cement boards
and surrounded by plain wood chips for the isles.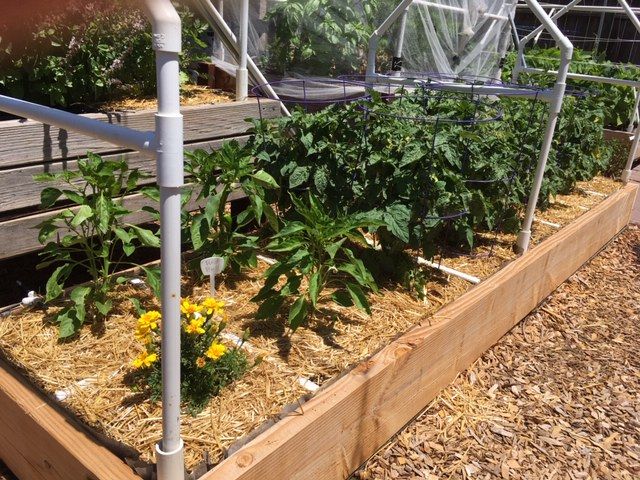 3.  Taller beds are easier on the back for us senior citizens.  If the beds are open-bottomed solid boxes, line the bottom section with weed fabric, running up the sides, to contain the lower filler sand or clean dirt.  (Sand is recommended for SFG)  Top with 6-7" of Mel's Mix and leave a couple inches for summer mulch.  (Bedding straw or E-Z Straw are both light weight and easy to remove at the end of the season.  In winter-fallow beds, remains can be turned under to compost over the winter.
4.  Taller beds set on cinder blocks or with legs, are closed bottomed, usually with 3/4" plywood.  Drill drainage holes 1/sq. ft.  I have 3 beds set on cement board
without
drainage holes and the excess water seeps out between the bottom of the wood sides and the cement board.  With plywood,  make sure it is supported underneath every 2' in both directions.
Red arrow shows double layer of cement board, support so that there is no unsupported span greater than 1'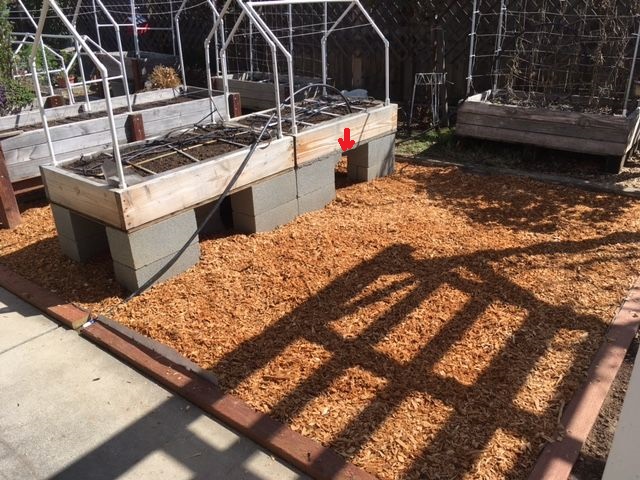 Underneath support with 2"x4" boards proving underneath supported every 2' on this 4'x4' table top bed.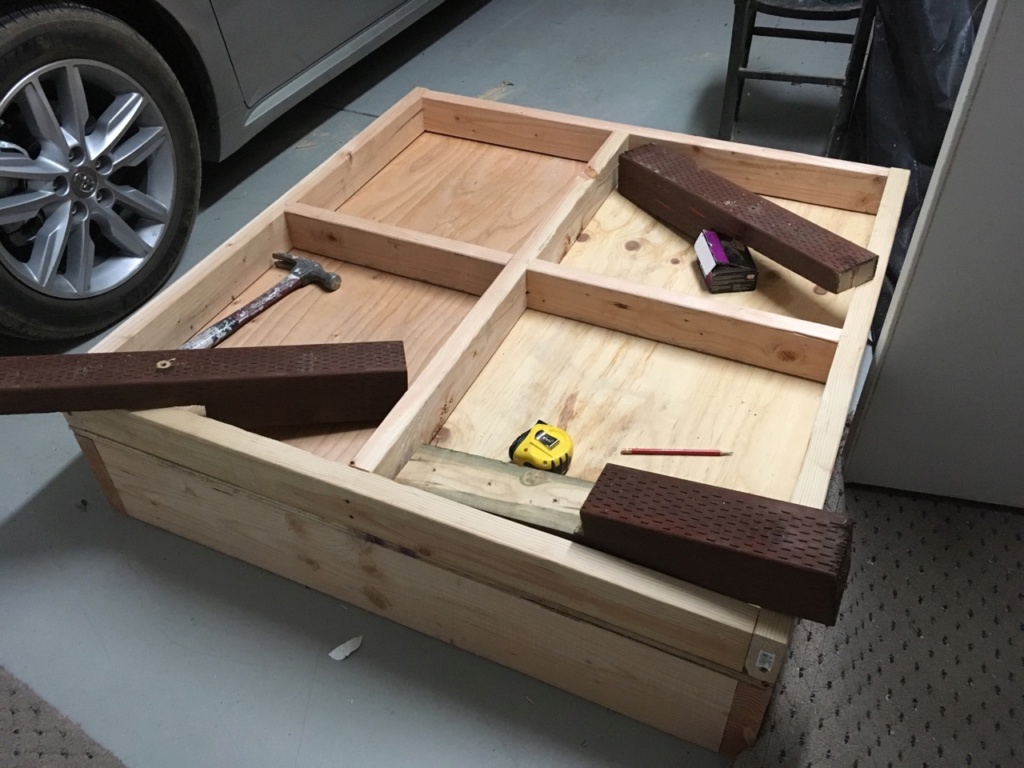 ---
Permissions in this forum:
You
cannot
reply to topics in this forum