Latest topics
»
Stevia
by markqz Yesterday at 12:11 pm
»
Mark's first SFG
by markqz Yesterday at 11:53 am
»
Beds not holding moisture?
by MrBooker 9/27/2023, 7:13 am
»
N&C Midwest September 2023
by
Scorpio Rising
9/27/2023, 6:55 am
»
Walking stick kale
by markqz 9/26/2023, 11:52 pm
»
Butternut squash sets world record at the State Fair of Virginia
by markqz 9/25/2023, 5:13 pm
»
Ohio Gardener's Greenhouse
by OhioGardener 9/25/2023, 4:29 pm
»
Closing beds for winter
by plantoid 9/25/2023, 4:25 pm
»
Famous Gardening Quotes
by OhioGardener 9/23/2023, 12:51 pm
»
Foodbank's composting program creates food from food
by OhioGardener 9/22/2023, 8:29 am
»
What Have You Picked From Your Garden Today
by OhioGardener 9/21/2023, 1:15 pm
»
Turning existing garden beds into SFG
by jemm 9/20/2023, 7:35 am
»
updating my mix - what should I add
by
sanderson
9/18/2023, 5:04 am
»
Senseless Banter...
by
sanderson
9/16/2023, 11:37 pm
»
Lumber and measuring for SFG boxes
by
sanderson
9/16/2023, 12:21 am
»
Avatar issues
by Guinevere 9/14/2023, 7:53 pm
»
Happy Birthday!!
by
sanderson
9/11/2023, 4:40 pm
»
When to harvest? / Watermelon seedlings
by
sanderson
9/9/2023, 6:07 pm
»
Hornets Nest
by
sanderson
9/8/2023, 8:15 pm
»
Tropical Storm Hilary
by jennyjo37 9/5/2023, 5:31 pm
»
A square foot garden in a round bed.
by alicej 9/4/2023, 3:39 am
»
Determinate Cherry Tomato for Greenhouse
by OhioGardener 9/2/2023, 6:52 pm
»
N&C Midwest August 2023
by
Scorpio Rising
8/31/2023, 9:01 am
»
Hurricane
by
Scorpio Rising
8/30/2023, 7:25 am
»
No-Fail Zucchini Bread
by OhioGardener 8/28/2023, 11:11 am
»
buying compost small town SW Pennsylvania
by
sanderson
8/27/2023, 6:41 pm
»
Phosphate
by
sanderson
8/27/2023, 3:43 pm
»
Topping brand new SFG box with more gorgeous compost???
by
sanderson
8/27/2023, 3:36 pm
»
8 Great Vegetables for Fall Planting
by
sanderson
8/27/2023, 2:58 pm
»
What are you eating from your garden today?
by OhioGardener 8/26/2023, 7:19 pm
It's the time of year again when I dread finding more summer squash ready to be harvested.  Why oh why do I plant more than one plant?!  
  I'm tired of eating it, and my friends are avoiding me-they don't want anymore of my squash either!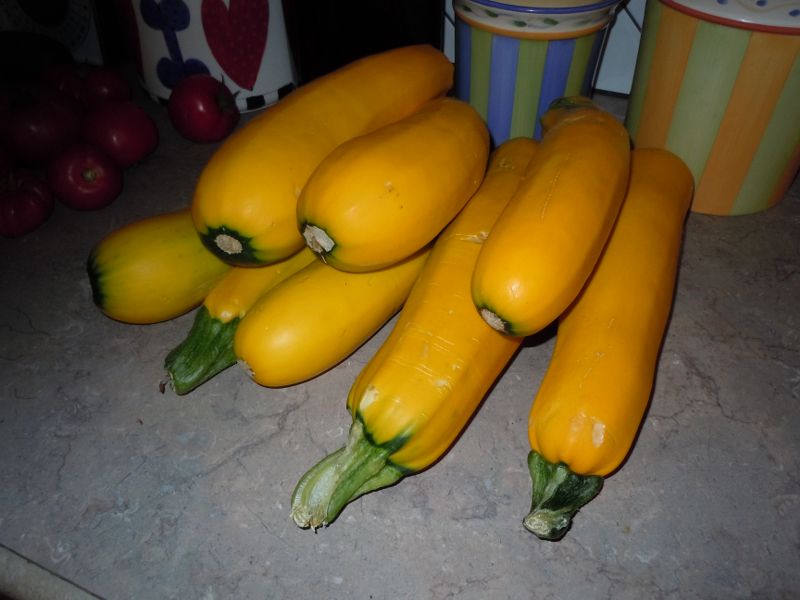 It's time to pull out my secret weapon.  
This recipe
 rejuvenates everyone's enthusiasm for fresh summer squash.  The recipe is for zucchini, but yellow squash works great too.  It's perfect for those squashes that are a little beyond their prime size.  Don't ask me why, but the squash gains some firmness when cooked this way, and they feel like apples in my mouth.  Nobody guesses this is squash pie, and not apple pie.
My wife made this pie.  She likes her 'apples' sliced; I prefer them in chunks.  Either way, it's a favorite.
We peeled the squash; I don't know why the edges are yellow.  When we use  zucchini in this recipe, the edges aren't green.
OMG! What a fantastic idea! I would do this in a heart beat if I could only get a squash or 2. Wonder how it would be in "apple crisp"...?

CC

CapeCoddess




Posts

: 6824


Join date

: 2012-05-20


Age

: 67


Location

: elbow of the Cape, MA, Zone 6b/7a



 Love it.
I just made a faux apple crisp with one those humongous Zucchini that hide out until they are big enough to have their own zip code. The recipe is so good I couldn't convince my guests it wasn't apples. The way you peel, scoop out and slice the zucchini even makes it look like apples. Now I'll have to try it with a pie crust. I bought some more 
HUGE
zucchini at the farm stand today for $1 each, so I guess I'll be baking up a storm tomorrow. My zucchini plants are very unhappy this year so I had to resort to buying them.

lyndeeloo




Posts

: 433


Join date

: 2013-04-14


Location

: Western Massachusetts Zone 5b



WoW! Looks absolutely fantastic
 I may just have to give it whirl.
____________________________
I am my gardens worst enemy.

RoOsTeR




Posts

: 4316


Join date

: 2011-10-04


Location

: Colorado Front Range



Wish I had some squash.
I so love pie!
____________________________
43 years a gardener and going strong with SFG.
https://squarefoot.forumotion.com/t3574-the-end-of-july-7-weeks-until-frost
There are certain pursuits which, if not wholly poetic and true, do at least suggest a nobler and finer relation to nature than we know. The keeping of bees, for instance. ~ Henry David Thoreau
https://squarefoot.forumotion.com/t1306-other-gardening-books
this sounds like a GREAT idea! My squash plants look like they're being revived from the dead! Hubby just picked about 100 apples from our trees, and spent the afternoon peeling, slicing coring them. This recipe would be awesome to try with our squash and a LOT easier too! thanks!!

southern gardener




Posts

: 1887


Join date

: 2011-06-21


Age

: 43


Location

: california, zone 10a



Similar topics
---
Permissions in this forum:
You
cannot
reply to topics in this forum