Latest topics
»
Happy Birthday!!
by
AtlantaMarie
Today at 6:51 am
»
Bunk Feeder for Bed
by Lizlo_FL Yesterday at 6:27 pm
»
Weird spots on tomato leaves seedlings
by Mattlund Yesterday at 4:56 pm
»
soil block makers
by OhioGardener Yesterday at 1:27 pm
»
Greenhouse - Helpful Hints in Setting up a Wood-Framed Greenhouse
by sunflowersarefun Yesterday at 1:13 pm
»
Sourdough Starter
by
Scorpio Rising
Yesterday at 9:03 am
»
Hurricane
by yolos 3/27/2023, 10:27 pm
»
Think Spring 2023
by
Scorpio Rising
3/27/2023, 7:32 pm
»
Winter Lag - Waiting for Sprimg
by WhiteWolf22 3/27/2023, 12:39 am
»
N&C Midwest: March & April 2023
by OhioGardener 3/26/2023, 3:48 pm
»
Kiwi's SFG Adventure
by
sanderson
3/25/2023, 10:11 pm
»
Mixing Mel's Mix
by
sanderson
3/25/2023, 4:08 pm
»
Hi from Northern VA!
by onebirdiema 3/25/2023, 4:06 pm
»
Sifted Peat
by
sanderson
3/25/2023, 3:40 pm
»
Can I Use this As My 5 Sources of Compost?
by
sanderson
3/25/2023, 3:36 pm
»
Green onions
by OhioGardener 3/25/2023, 8:28 am
»
Nero Di Toscana Cabbage or Black Palm Tree
by Paul Crowe 3/25/2023, 6:01 am
»
Chinese Cabbage and Radicchio, spacing?
by Paul Crowe 3/25/2023, 5:40 am
»
finished my SGF garden
by
sanderson
3/25/2023, 3:49 am
»
need specific advice on MM
by
sanderson
3/25/2023, 3:42 am
»
Compost from Five Different Sources
by
sanderson
3/25/2023, 3:32 am
»
Indoor seed starting question
by Simso 3/24/2023, 8:30 pm
»
Senseless Banter...
by OhioGardener 3/22/2023, 8:11 pm
»
After harvest, leave the roots in or remove
by Mikesgardn 3/22/2023, 7:53 pm
»
Best choice of pot to plant my seedling
by markqz 3/22/2023, 1:30 pm
»
Responding to a specific post
by OhioGardener 3/22/2023, 9:55 am
»
Sifting Compost for Newbies
by
sanderson
3/20/2023, 3:47 am
»
Too cold to put my new MM into my raised beds?? and Facebook SFG site
by
sanderson
3/20/2023, 3:39 am
»
Harvesting small amounts from iceberg lettuce, caulliflower, broccoli, cabbage etc.
by
sanderson
3/20/2023, 3:37 am
»
Epsom salts for your veggie garden??
by
sanderson
3/19/2023, 11:37 pm
Been absent around here since I didn't manage to get fall plants in except some soybeans and green beans. I got my butt in gear slightly earlier this year and got the garden cleaned up and mostly planted.
Small Bed #1
I actually built a proper trellis for the snap peas this year. This bed also has atlas carrots that run along the extra space in the snap pea squares. Spinach, lettuce and 2 broccoli (the small one I planted from seed and one transplant)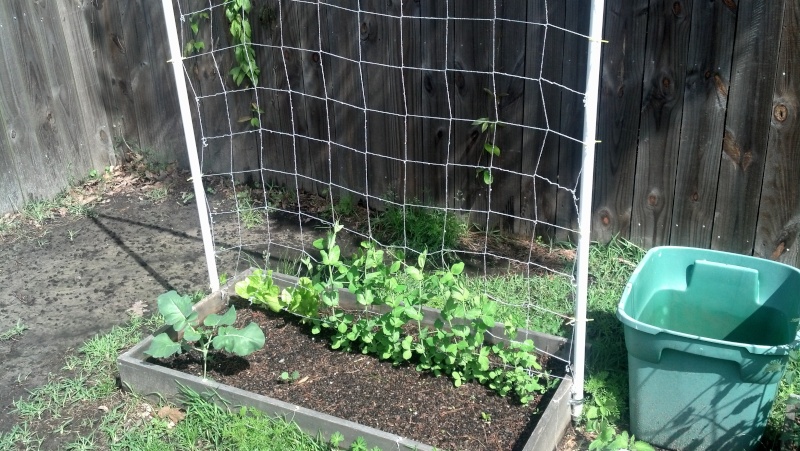 Small Bed#2
3 Cherry tomato plants: 1 Sun Sugar and 2 Sweet 100's. Basil at the front. Along the front edge of this box are volunteer marigolds.... I will pick off dead flowers this year!! The round pot to the right is a zucchini, bush variety.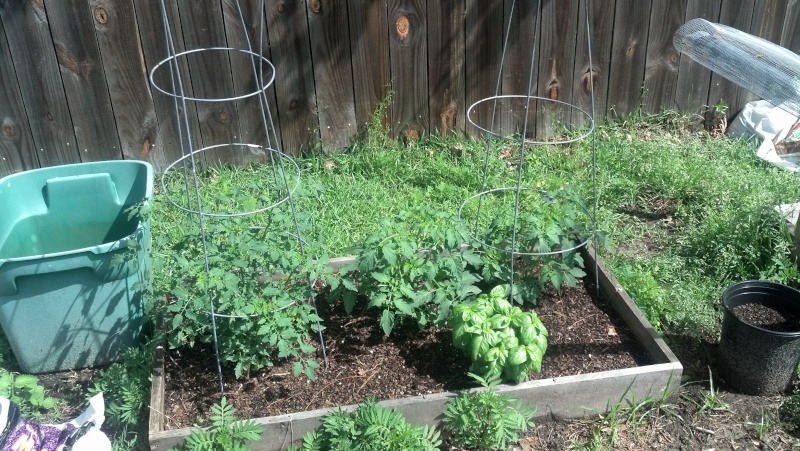 Big bed
There are sunflowers planted along the very back. Pickling cucumbers at the slanted trellis base and lettuce and nantes carrots in the topper box under the trellis. Three broccoli transplants, two mini sweet baby bell peppers at the front and a yellow squash (bush type) in the bottom right corner. More atlas carrots and radishes also have been planted in the bed.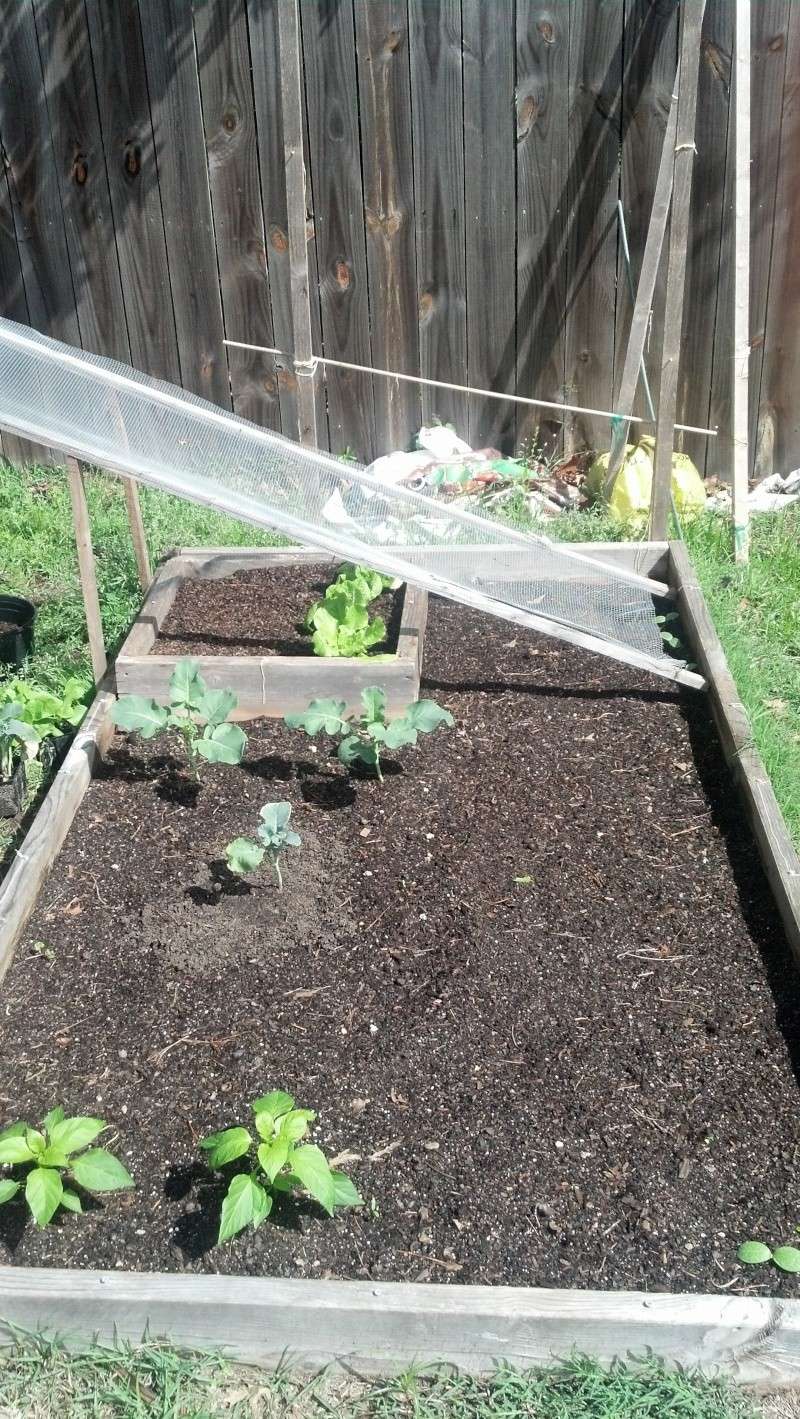 The green Rubbermaid box is gold russet potatoes.

CarolinaGirl




Posts

: 98


Join date

: 2012-03-26


Location

: Summerville, SC



Looking good! I am a little jealous my garden is covered in snow

cheyannarach




Posts

: 2037


Join date

: 2012-03-21


Location

: Custer, SD



Well, no broccoli for me this year. The heads were just starting to form on all four and something has come along and eaten ALL of them! Didn't touch anything else and I can't find any tracks in the garden. My first though was squirrels though. I guess I'll try again in the fall and put protection over them!!
All the cherry tomatoes have babies on them, the first snap peas are also coming in. Picked two pink beauty radishes yesterday, a little early but they looked great. I've also got flowers on my two mini sweet bell pepper plants. Will post photos this afternoon.

CarolinaGirl




Posts

: 98


Join date

: 2012-03-26


Location

: Summerville, SC



Similar topics
---
Permissions in this forum:
You
cannot
reply to topics in this forum