Latest topics
»
Walking stick kale
by plantoid Today at 8:55 pm
»
N&C Midwest September 2023
by OhioGardener Today at 5:27 pm
»
Beds not holding moisture?
by OhioGardener Today at 5:16 pm
»
Butternut squash sets world record at the State Fair of Virginia
by markqz Yesterday at 5:13 pm
»
Ohio Gardener's Greenhouse
by OhioGardener Yesterday at 4:29 pm
»
Closing beds for winter
by plantoid Yesterday at 4:25 pm
»
Famous Gardening Quotes
by OhioGardener 9/23/2023, 12:51 pm
»
Foodbank's composting program creates food from food
by OhioGardener 9/22/2023, 8:29 am
»
What Have You Picked From Your Garden Today
by OhioGardener 9/21/2023, 1:15 pm
»
Turning existing garden beds into SFG
by jemm 9/20/2023, 7:35 am
»
updating my mix - what should I add
by
sanderson
9/18/2023, 5:04 am
»
Senseless Banter...
by
sanderson
9/16/2023, 11:37 pm
»
Lumber and measuring for SFG boxes
by
sanderson
9/16/2023, 12:21 am
»
Avatar issues
by Guinevere 9/14/2023, 7:53 pm
»
Happy Birthday!!
by
sanderson
9/11/2023, 4:40 pm
»
When to harvest? / Watermelon seedlings
by
sanderson
9/9/2023, 6:07 pm
»
Hornets Nest
by
sanderson
9/8/2023, 8:15 pm
»
Tropical Storm Hilary
by jennyjo37 9/5/2023, 5:31 pm
»
A square foot garden in a round bed.
by alicej 9/4/2023, 3:39 am
»
Determinate Cherry Tomato for Greenhouse
by OhioGardener 9/2/2023, 6:52 pm
»
N&C Midwest August 2023
by
Scorpio Rising
8/31/2023, 9:01 am
»
Hurricane
by
Scorpio Rising
8/30/2023, 7:25 am
»
No-Fail Zucchini Bread
by OhioGardener 8/28/2023, 11:11 am
»
buying compost small town SW Pennsylvania
by
sanderson
8/27/2023, 6:41 pm
»
Phosphate
by
sanderson
8/27/2023, 3:43 pm
»
Topping brand new SFG box with more gorgeous compost???
by
sanderson
8/27/2023, 3:36 pm
»
8 Great Vegetables for Fall Planting
by
sanderson
8/27/2023, 2:58 pm
»
What are you eating from your garden today?
by OhioGardener 8/26/2023, 7:19 pm
»
Flowers to attract hummingbirds
by OhioGardener 8/26/2023, 6:59 pm
»
Hoss Tools Seeds 50% off
by OhioGardener 8/26/2023, 6:25 pm
I just got back from my father-in-law's memorial and haven't even been able to see how my garden's getting along.  It WAS doing good when I last saw it 4 days ago . . . and it's been HOT.
____________________________
I have seen women looking at jewelry ads with a misty eye and one hand resting on the heart, and I only know what they're feeling because that's how I read the seed catalogs in January - Barbara Kingsolver - Animal, Vegetable, Miracle
sfg4u.com
FB: Square Foot Gardening 4 U
This is  my cold frame, first time for just about anything, however got serious with MM.
The sugar peas on each end I removed, I don't think their good for a cold frame.
Broccoli is starting to flourish now that cooler weather prevails.
Carrots are nice above, nothing below, I never thinned them out or they were planted to early.
Kohlrabi seems to do great no matter where in my garden I plant it..(very happy for that)
Swiss chard is being eaten alive my bugs, romaine is coming also now that I have been trimming it..
I am certainly getting a hang on these bugs, never have I seen these before, (I never really looked)
All in all this season has been an experiment, which I have loved.
On a side note, our library is having a program on raised bed gardening next week.
I'm taking all my photo's for my beds and going to try to introduce them to SFG.
Not quite sure on how successful I'll be, it isn't my program si I am not going to pirate it.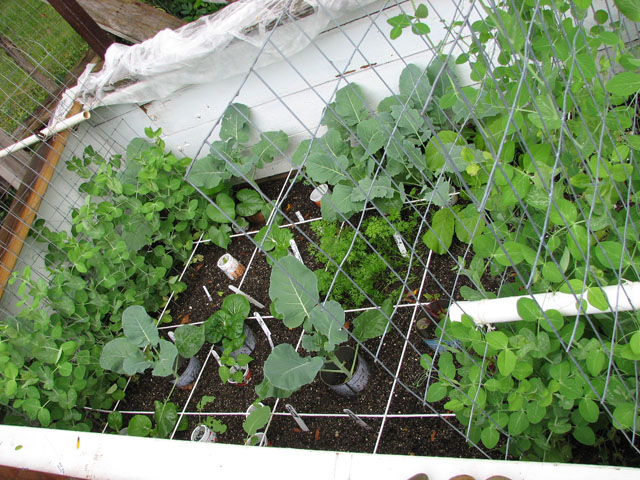 Below is one of my beds dedicated to cold crops now, tomatos were removed because of blight, now I can plant my beloved spinach in thos squares.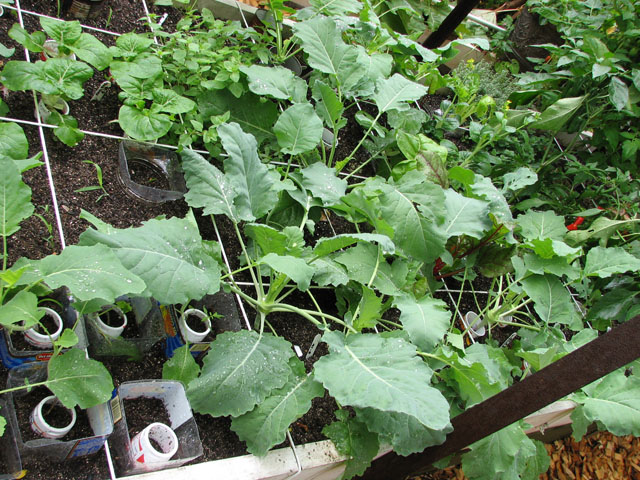 jimmy cee


Certified SFG Instructor




Posts

: 2215


Join date

: 2013-02-16


Age

: 87


Location

: Hatfield PA. zone 6b



My snap peas are climbing their trellis pretty quick and turnips are doing well.
Renee

gregrenee88




Posts

: 280


Join date

: 2012-04-23


Age

: 56


Location

: Hanover, Pa.



My peas are climbing up the trellis and I found a few flowers! 
I am also growing some carrots, radishes, beets, red fire lettuce, romaine lettuce, and buttercrunch lettuce.
I still have one pepper plant producing along with one cherry tomato plant. All my bean pole plants are done.
---
Permissions in this forum:
You
cannot
reply to topics in this forum