Latest topics
»
Hire a professional hacker! (Telegram: Blackhat_plug)
by FedorRasputin3 Today at 12:57 am
»
Frequency/amt to water
by OhioGardener Yesterday at 9:09 pm
»
N&C Midwest: June 2023
by
Scorpio Rising
Yesterday at 2:50 pm
»
Famous Gardening Quotes
by OhioGardener Yesterday at 10:18 am
»
Easy Refrigerator Pickles from Extra Produce
by OhioGardener Yesterday at 9:25 am
»
Tea Time -- Compost Tea, that is
by OhioGardener 6/3/2023, 7:07 pm
»
Hello from Central Missouri, Zone 6a
by
Scorpio Rising
6/3/2023, 3:48 pm
»
N&C Midwest: May 2023
by OhioGardener 6/1/2023, 8:55 pm
»
Kiwi's SFG Adventure
by KiwiSFGnewbie 5/31/2023, 4:32 pm
»
Walking stick kale
by
sanderson
5/31/2023, 1:38 pm
»
Why Letting Weeds Run Wild Can Actually Help Your Garden
by
sanderson
5/30/2023, 2:35 pm
»
What are you eating from your garden today?
by OhioGardener 5/30/2023, 12:11 pm
»
Teaming with Microbes Kindle Sale (Mem. Day weekend 2023)
by
sanderson
5/29/2023, 3:14 pm
»
Mid-Atlantic New Host Intro & Info
by JAM23 5/29/2023, 8:38 am
»
Paul's First SFGs
by pkadare 5/28/2023, 11:06 am
»
Poppy seeds - Hungarian Blue Breadseed
by
AtlantaMarie
5/28/2023, 6:12 am
»
Sluggo Plus
by
sanderson
5/27/2023, 3:23 pm
»
What Have You Picked From Your Garden Today
by OhioGardener 5/25/2023, 6:25 pm
»
Centpedes
by OhioGardener 5/25/2023, 6:19 pm
»
beneficial nematodes
by OhioGardener 5/24/2023, 9:18 pm
»
Senseless Banter...
by markqz 5/24/2023, 5:39 pm
»
Pre-Filling a 30" Raised Bed
by toledobend 5/24/2023, 1:10 pm
»
Happy Birthday!!
by
AtlantaMarie
5/24/2023, 7:03 am
»
Aphids & Their Predators
by MrBooker 5/24/2023, 6:01 am
»
Hello from Bobcaygeon, Ontario
by
Scorpio Rising
5/20/2023, 1:52 pm
»
Spring Flowers
by OhioGardener 5/18/2023, 6:23 pm
»
My Solar Dehydrator at Work
by
sanderson
5/18/2023, 3:10 pm
»
French Tarragon
by
sanderson
5/18/2023, 12:41 pm
»
Birds of the Garden
by
sanderson
5/15/2023, 8:49 pm
»
New Compost PIle, 2nd attempt
by Chuck d'Argy 5/13/2023, 11:43 am
I have searched high and low for a diagnosis to what is going on in my garden to no avail, so I thought I would start a new post to see if anybody can help me.
I am new to SFG and love it. Before my SFG discovery, I had planted my own raised bed with tomatoes and herbs. So, I planted one 4 x 4 SFG box and planted purple hull peas (cowpeas), Contender green beans, and Clemson spineless okra according to the book recommendations. Everything sprouted beautifully and is growing gangbusters. Almost immediately, I started noticing strange marks on my leaves, like trail marks or crop circles! They are kinda white and then rusty. (I would post a pic but I dont think I can since it is my first post). They are growing and seem to be thriving and this may just be cosmetic. I have researched leaf miners and cant get much in the way of a definitive critter or a solution. No pics I have seen look exactly like what I have. Also, I notice on several of my purple hull pea plants, ANTS. Clusters of them globbed up around the "joints" of the stems. When disturbed, they run back down the stem and into the dirt. I found lots of info here about using cinnamon and I did that this morning, but I dont think they are causing the trail marks.
Can anybody offer any suggestions on what is going on and what I can do about it, if anything should be done at all. I will try to post a picture later in the thread if I am able. I know what would help!
Thanks in advance.

halo826




Posts

: 7


Join date

: 2011-06-13


Age

: 54


Location

: Guyton GA (rural Savannah)



It sounds like leaf miners and I think you have a bunch of different little critters responsible for the crazy windy trails. It doesn't look fantastic but it doesn't seem to harm plants, they ignore it and carry on growing.
Welcome to the forum.
Barkie

Barkie




Posts

: 306


Join date

: 2011-03-25


Location

: Wales, Uk. Last frost May



Oooh! Thanks! Cant wait to check that out and am relieved to hear my problem is more cosmetic than anything.

halo826




Posts

: 7


Join date

: 2011-06-13


Age

: 54


Location

: Guyton GA (rural Savannah)



Hi halo826 and
to the forum!! =) I am not too far from you, at Ft Stewart. You've gotten some good info for your leafminer issue already, but I just wanted to let you know that you're not alone! My peppers and a few other veggies are tracked up pretty crazily as well. It doesn't seem to hurt them. I did read that you can pinch along the tracks to kill the critter inside. That's what I've done, and I haven't seen any new tracks lately.
Congrats on the success of your garden!
~Lu

Lurach




Posts

: 63


Join date

: 2011-04-12


Age

: 48


Location

: Fort Stewart, GA



How funny! I was stalking around this morning at some other topics and old posts and saw you and thought, "Hey a real neighbor!" So glad you said hi!

I got a raised bed kit from Sams and planted tomatoes and herbs, first time for a garden, and then a friend turned me onto SFG. I was sold. I built a second bed and planted some other things. I wish I had 10 beds full of goodies. I have gotten several other people sold on the method, too. I will post some pics when I can and if I can figure it out. I have tried unsuccessfully so far. I will try again.

I am a Savannah transplant from Memphis. I love it here.

I am going to work on the leaf miner situation but as long as my plants will live through it, I will try not to obsess about them. I may try your pinching suggestion too.

Again, thanks for the welcome and I am sure we will be seeing each other here a lot! Holler anytime!

Denise

halo826




Posts

: 7


Join date

: 2011-06-13


Age

: 54


Location

: Guyton GA (rural Savannah)



Halo, so nice to have you join us. I have family in GA but they are closer to Rome.
As you have seen, this is a friendly group of people who are willing to help others when questions come up.
Please keep us updated on your SFG progress, and share pictures if you will
The following link is to our HOW TO post.
Hope this helps you share your pictures with us.
HOW TO POST PICTURES
Again, Welcome!

Furbalsmom




Posts

: 3141


Join date

: 2010-06-10


Age

: 76


Location

: Coastal Oregon, Zone 9a, Heat Zone 2 :(



Thanks so much! I just LOVE my gardening so much and I know the non-gardening friends that I have not been able to convert are probably getting tired of my gardening obession! LOL! I have a Facebook page and I update garden pictures weekly and love getting the rave comments! I am thrilled you sent me the pic how to. I was at a loss about adding them. I will check it out when I am done working and get some posted! I have about a blue million pictures! I will pick a few faves.

As I said, I am a GA transplant from Memphis and I love it here. My boyfriend wants us to move to Washington state, your neck of the woods sort of. That is REALLY far from everything I know, so I am resistant. I would love to travel there and check it out though. He is a truck driver and I traveled with him a couple of summers ago and as far that way that I got was Idaho/Utah/Wyoming/Montana. I loved it those places and I am sure the PNW is gorgeous. I am a Southern Belle down to my roots so I am not sure how I would fare there! LOL.

Anyhoo.......thanks so much for the warm welcome! I look forward to learning a lot more and meeting more like minded folks!

Denise

halo826




Posts

: 7


Join date

: 2011-06-13


Age

: 54


Location

: Guyton GA (rural Savannah)



That's so funny; I was thinking the same thing when I saw your location! This is also my first time gardening, and I found SFG after I had built and planted my first bed. So my first one is definitely a "trial and error" bed. But I too love it and wish I had room for several more beds. And I'm from SC, transplanted to Ft Stewart by way of Schofield Barracks in HI. We'll have to see where we end up in 2 years when Hubby's time here is up.
Oh and I peeked at your profile and noticed you're a medical transcriptionist. I started MT school a couple of years ago, but wasn't able to complete the course at the time due to life stuff. I'm hoping to get back to it this fall.
Anyway, feel free to PM me with any newbie questions or concerns or just to chat. Maybe we can help each other through the first season learning curve. =)
~Lu

Lurach




Posts

: 63


Join date

: 2011-04-12


Age

: 48


Location

: Fort Stewart, GA



Welcome Halo,
Can't wait to see your pics. Glad to see there are so many near you.

shannon1




Posts

: 1697


Join date

: 2011-04-01


Location

: zone 9a St.Johns county FL



Got bombarded with work the last few days, thankfully! But, I have been away from here and missed a few comments. Thanks for the compliments. We finally got rain and I mean we got a frog strangler! It rained a ton and HARD. My gardens survived but I did not get my flowers in so they look a little worse for the wear. I will post some "before" pictures! Lu, I hope you got some of the rain. Been on hornworm patrol. I find several really small ones almost every day, but I hope I am keeping them in check before they get big and do big damage!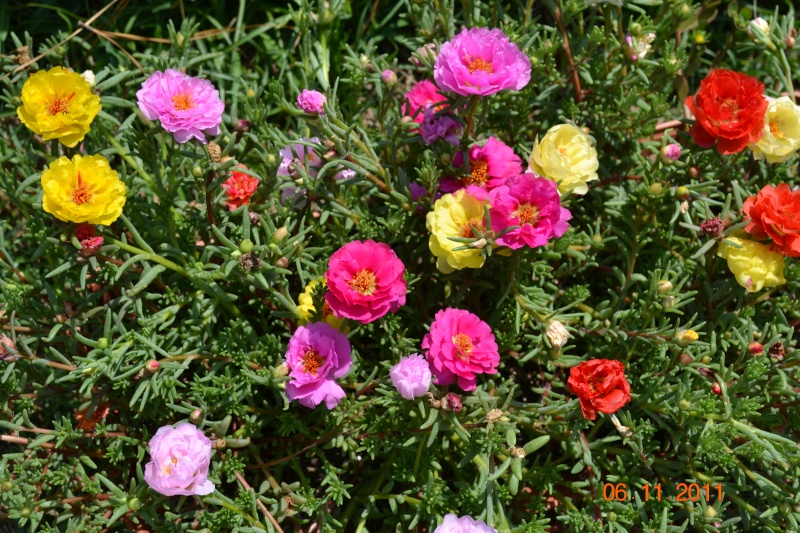 My Moss Roses! I just love these. They are so cheery!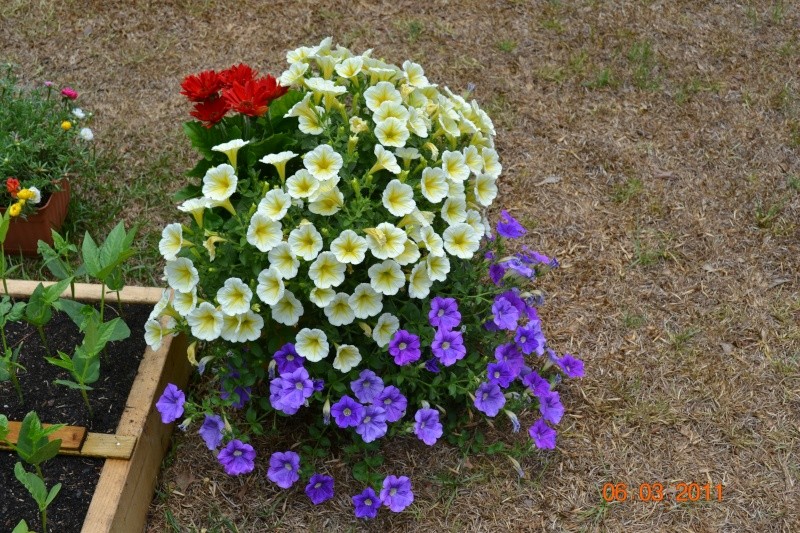 My pride and joy, Red Gerber, yellow mounding petunias, and purple trailing petunias.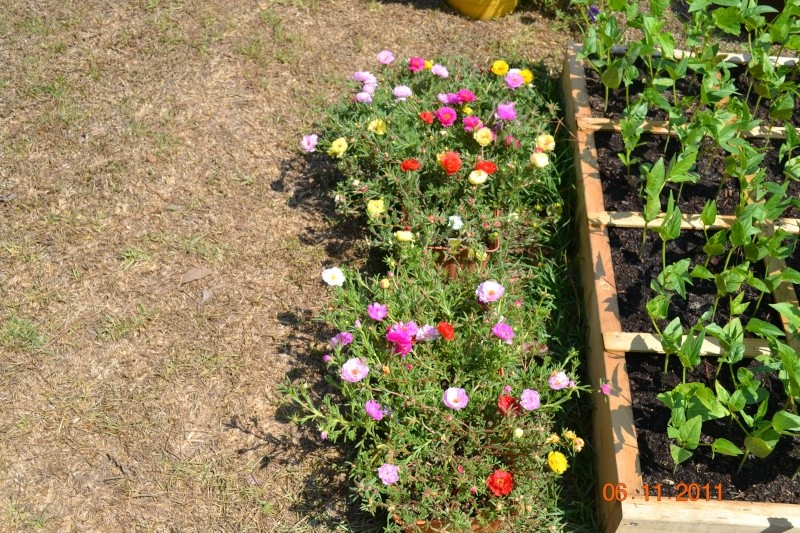 My moss roses along side my "pea patch"!

halo826




Posts

: 7


Join date

: 2011-06-13


Age

: 54


Location

: Guyton GA (rural Savannah)



---
Permissions in this forum:
You
cannot
reply to topics in this forum