Latest topics
»
N&C Midwest: June 2023
by OhioGardener Today at 10:33 am
»
Tea Time -- Compost Tea, that is
by OhioGardener Yesterday at 7:07 pm
»
Hello from Central Missouri, Zone 6a
by
Scorpio Rising
Yesterday at 3:48 pm
»
N&C Midwest: May 2023
by OhioGardener 6/1/2023, 8:55 pm
»
Kiwi's SFG Adventure
by KiwiSFGnewbie 5/31/2023, 4:32 pm
»
Walking stick kale
by
sanderson
5/31/2023, 1:38 pm
»
Why Letting Weeds Run Wild Can Actually Help Your Garden
by
sanderson
5/30/2023, 2:35 pm
»
What are you eating from your garden today?
by OhioGardener 5/30/2023, 12:11 pm
»
Teaming with Microbes Kindle Sale (Mem. Day weekend 2023)
by
sanderson
5/29/2023, 3:14 pm
»
Mid-Atlantic New Host Intro & Info
by JAM23 5/29/2023, 8:38 am
»
Paul's First SFGs
by pkadare 5/28/2023, 11:06 am
»
Poppy seeds - Hungarian Blue Breadseed
by
AtlantaMarie
5/28/2023, 6:12 am
»
Sluggo Plus
by
sanderson
5/27/2023, 3:23 pm
»
What Have You Picked From Your Garden Today
by OhioGardener 5/25/2023, 6:25 pm
»
Centpedes
by OhioGardener 5/25/2023, 6:19 pm
»
beneficial nematodes
by OhioGardener 5/24/2023, 9:18 pm
»
Senseless Banter...
by markqz 5/24/2023, 5:39 pm
»
Pre-Filling a 30" Raised Bed
by toledobend 5/24/2023, 1:10 pm
»
Happy Birthday!!
by
AtlantaMarie
5/24/2023, 7:03 am
»
Aphids & Their Predators
by MrBooker 5/24/2023, 6:01 am
»
Hello from Bobcaygeon, Ontario
by
Scorpio Rising
5/20/2023, 1:52 pm
»
Spring Flowers
by OhioGardener 5/18/2023, 6:23 pm
»
My Solar Dehydrator at Work
by
sanderson
5/18/2023, 3:10 pm
»
French Tarragon
by
sanderson
5/18/2023, 12:41 pm
»
Famous Gardening Quotes
by
sanderson
5/15/2023, 8:50 pm
»
Birds of the Garden
by
sanderson
5/15/2023, 8:49 pm
»
New Compost PIle, 2nd attempt
by Chuck d'Argy 5/13/2023, 11:43 am
»
Ohio Gardener's Greenhouse
by OhioGardener 5/11/2023, 6:44 pm
»
Asparagus
by
sanderson
5/11/2023, 4:11 pm
»
Plan needed for 4'x4' irrigation grid
by OhioGardener 5/11/2023, 12:47 pm
+14
donnainzone5
camprn
FamilyGardening
morganfam7
Old Hippie
ander217
WardinWake
Lavender Debs
duhh
Chopper
miinva
quiltbea
sfg4uKim
model a man
18 posters
Page 2 of 2 •
1, 2
Jung's offers Reliance Peach, supposedly the "most cold-hardy peach." It is meant for zones 5-8. No pollinator is required. Most of Jung's trees are available in the dwarf size.
FamilyGardening wrote:I know this is an old thread

wanted to check to see how every ones fruit trees are doing

....snip..... because we are wanting to plant it in a wine barrel....

the other fruit tree is called an EZ pick Frost Peach tree and it too we are wanting to plant in a wine barrel....

...snip...the apple is a

semi

dwarf

and now we are wondering if it will still be ok as long as we take care in pruning it so it doesnt get to large....and i also read about giving the roots a trim every few years....

....

happy gardening

rose
Yea Rose!! We have been wanting a peach tree but leaf curl is a huge problem in Everett. It is just too wet here.
I have no advice about semi-dwarf. Your choice of pot?.... got lots of advice about that. We have to move our trees so often that the only pot that works for us is glazed stone. A huge investment. Stone pots hold together when I move the trees or when I lay them over to pull the tree from the pot to root-trim. They never come out as easily as you would think. Sometimes I have to put my boot on the rim of the pot while pulling on the trunk (for leverage). Ceramic and wooden pots just don't last for me. BUT we always do what we can with the tools we have and somehow everything turns out fine.
We should have root pruned last season but were easily talked out of it by the guy who taught the pruning class we went to. He was GREAT for above ground information, but underground..... not so much. This weekend we MUST root prune our multi cherry tree. The main root grew through the drain hole, plugging it up. That pot becomes a water-feature after every heavy rain we get in Everett.... and we get a lot of rain. So far I've just been tipping the pot over to drain the thing, but tomorrow, rain or shine (it is starting to bud) we do the deed!
The pear trees are doing fine, after getting mason bees last season we got a lot of pears for such small trees.
All the best with your peach! I hear that if you keep it under cover during the really rainy season, spray it and move it into the sun when it is safe, you can actually get peaches! I am hoping that for you sweet Rose!
Debs.... munching on toy-box grown dry apples for my late winter treat.
Sorry, I don't have any info on trees in pots.
I do live in Maine where its mighty cold with lots of snow all winter so I can tell you that apples do great up here in zones 5 and 4. We have many apple orchards and cider mills.
As for a hardy peach, I have a Red Haven dwarf (it doesn't need a pollinator) and in its 2nd year it gave us 13 lovely, delicious fruit. I was amazed at how early the crop.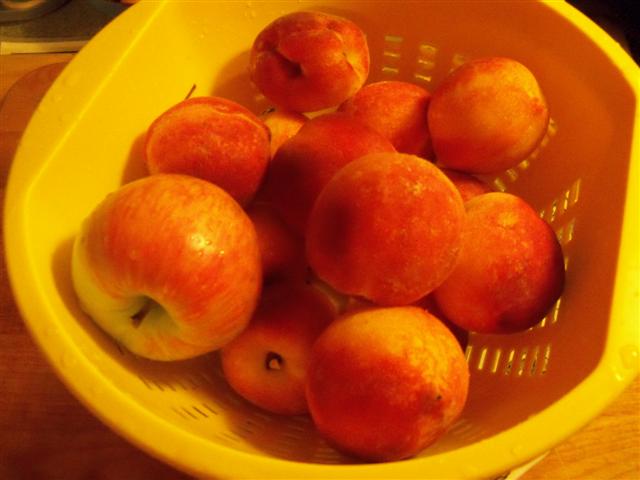 I grow my 3 dwarf apples, 1 cherry and 1 peach along our driveway in the ground.

quiltbea




Posts

: 4712


Join date

: 2010-03-21


Age

: 81


Location

: Southwestern Maine Zone 5A



model a man wrote:Hi to all. I want to add a couple of fruit trees. I want to add a fuji apple and a pomegranate. anyone in the so cal have any luck with these.
Unless you have crab apples or other apple varieties nearby, you'll need another tree for your Fuji for a mate. Crab apples make fine pollenizers (sources of viable pollen), or you can chose another variety that blooms at the same time and supplies viable pollen. Be careful though; some apple varieties are pollen sterile. It's best to check with a good nursery like
http://cumminsnursery.com/
I have no relationship to the above nursery, except as a delighted customer.
Pomegranites are mostly self fertile, so you can get fruit without a mate, but you'll likely get more and better quality fruit with a mate for this one as well.
And don't forget, you'll need pollinators (for both) as well as pollenizers. So be sure you have plenty of bees. And never spray insecticides while your plants are blooming.
sfg4uKim wrote:I'm thinking of a couple of dwarf fruit trees in the next few years. Since my yard is so small, and because I've loved them in Europe, I will grow them in espalier form.

Espaliers are wonderful. Here's another way to go. Gene Yale has gone wild with a backyard orchard:
http://www.midfex.org/App_Pages/Yale/intro.aspx
Espaliers!
____________________________
43 years a gardener and going strong with SFG.
https://squarefoot.forumotion.com/t3574-the-end-of-july-7-weeks-until-frost
There are certain pursuits which, if not wholly poetic and true, do at least suggest a nobler and finer relation to nature than we know. The keeping of bees, for instance. ~ Henry David Thoreau
https://squarefoot.forumotion.com/t1306-other-gardening-books
All is well in our familygardening
we expanded our new front yard growing area to include the two new fruit trees and planted them in the ground
we also discovered that our Frost peach tree is a dwarf after all...it said so right on the tag LOL
we still put her in the ground
she just looked better where we planted her instead of putting her in the middle of our yard in a wine barrel....the wine barrels are now going to house two dwarf cherry trees :drunken:
so exciting to have more fruit growing....we now have plums, apples, peaches and ( cherries-to come) to look foward too this summer!
its amazing how much food we our growing on our urban homestead
happy gardening
rose

FamilyGardening




Posts

: 2424


Join date

: 2011-05-10


Location

: Western WA



}" />Happy mango tree, new leaf growth.

reynajrainwater




Posts

: 69


Join date

: 2015-07-09


Location

: Phoenix,AZ



Okay I know it's beautiful, but it kind of makes me a little dizzy! Specially after the big dinner I just had.
CC

CapeCoddess




Posts

: 6824


Join date

: 2012-05-20


Age

: 67


Location

: elbow of the Cape, MA, Zone 6b/7a



Page 2 of 2 •
1, 2
---
Permissions in this forum:
You
cannot
reply to topics in this forum