Latest topics
»
So glad I watered...
by
Emily49
Today at 8:31 pm
»
Rogue strawberries
by
Emily49
Today at 8:29 pm
»
Friday Rookie Topic: Carrots
by
Emily49
Today at 8:26 pm
»
TD Painting
by
mbrobb
Today at 7:38 pm
»
new eastern redbud looks like it might need attention
by
bkrieb
Today at 5:44 pm
»
N&C Midwest—June 2020
by
OhioGardener
Today at 5:40 pm
»
Experimental Asparagus Bed
by
plantoid
Today at 4:09 pm
»
Eddie Willers 1st rookie mistake, what to do?
by
Eddie Willers
Today at 1:29 pm
»
2020 SFG in Brooks, GA
by
yolos
Today at 12:29 pm
»
frustration
by
Yardslave
Today at 12:29 pm
»
Oh, TURD...
by
mollyhespra
Today at 8:45 am
»
TD - A Journey Through Prostate Cancer
by
countrynaturals
Yesterday at 9:51 pm
»
CANADIAN REGION: What are you doing April, May, June, 2020
by
lvanderb
Yesterday at 8:42 pm
»
What to plant now for Zone 10
by
dstack
Yesterday at 8:09 pm
»
Be a couch potato or grow your own potatoes?
by
Emily49
Yesterday at 1:05 pm
»
mix of lettuce in one square
by
OhioGardener
6/2/2020, 7:54 pm
»
Any Strange and Wonderful Visitors? Photos please!
by
OhioGardener
6/2/2020, 7:41 pm
»
Stroke - Country Naturals
by
Kelejan
6/2/2020, 7:37 pm
»
Just about got enough seeds sown & seedlings transplanted
by
Emily49
6/2/2020, 7:33 pm
»
How's the Weather Where You're At?
by
Scorpio Rising
6/2/2020, 6:32 pm
»
What Have You Picked From Your Garden Today
by
plantoid
6/2/2020, 3:17 pm
»
Senseless Banter...
by
sanderson
6/2/2020, 5:07 am
»
Tomato disease help
by
OldCrow
6/1/2020, 7:07 pm
»
New England, June 2020
by
Scorpio Rising
6/1/2020, 4:47 pm
»
Mail order tomato plants
by
Scorpio Rising
6/1/2020, 12:40 pm
»
N&C Midwest: May 2020
by
Scorpio Rising
6/1/2020, 12:37 pm
»
Cheerleaders needed, please. This is daunting.
by
OldCrow
6/1/2020, 9:27 am
»
The SFG Journey- Harvesting compost from rows
by
has55
5/31/2020, 1:57 am
»
The SFG Journey- preparing Hoops on SFG Beds for future shade cloth
by
has55
5/31/2020, 1:37 am
»
Panic Buying due to Cornavirus Pandemic
by
yolos
5/31/2020, 1:00 am
Here is the area I have dedicated. It measures about 20' X 20', but I won't be packing gardens in. I plan to have a 2' bed against the house for tomatoes and peppers going vertical. I plan to run a 2' bed along the fenceline, and have a couple of boxes in between the fenceline and the deck stairs. 4X4 or 4X6 I haven't decided as of yet.
The 20X20 area is from fence to deck, house to yellow broom in snow...roughly. I will mulch around the beds and add some pavers to entice visitors to meander through no matter which door they choose.....gate, lower level back door, or up on the deck. And, from the deck, they can also look down into the gardens from 15 feet above. I love my deck and want the gardens to be as beautiful to the guests we entertain throughout the growing seasons.
My initial list of plantings will be: Tomatoes, Peppers, Cucumbers, Beans, Peas, Lettuce, Carrots, Radishes, Broccoli, Spinach, and, hopefully, Asparagus. I will also sprinkle in Marigolds for color. Getting excited!!

BackyardBirdGardner




Posts

: 2727


Join date

: 2010-12-25


Age

: 46


Location

: St. Louis, MO



God luck with everything! I just bought my house in the spring and am gearing up to start my SFG! Did you get any supplies or look at seed catalogs yet?

slewi




Posts

: 5


Join date

: 2010-12-07


Location

: Pennsylvania



@BackyardBirdGardner

wrote: I will mulch around the beds and add some pavers to entice visitors to meander through...
A seating bench amongst the boxes would be inviting too, as would a small water feature, or even an arch over your pavers that may or may not double as a trellis...
It's fun spending other people's money!
I think it's fun watching the process from blank ground to conception, things will change and new ideas pop up so be flexible in your design and please take pictures and show the progress and the thinking behind all the plans. This will be fun to watch and if you ask, to chime in on as you go.

outsideasy




Posts

: 103


Join date

: 2010-07-19


Age

: 71


Location

: Modesto, CA Zone 9



Congrats, BackyardBirdGardener! I'm SO excited for you!!!
Your yard looks great, nice big space and looks like it gets lots of light, plus some slope for drainage. Looks like it's completely fenced in, too, which hopefully will keep some critters out.
I agree with Boffer that a place to sit down would be a really good idea, even if it's just a deck chair or upturned bin. A little potting/storage area under your deck might be fun, too.
A couple of other ideas that made me stop and think when planning my garden last year:
Make sure your paths are wide enough. Mel suggests 3 to 4 feet between beds. This seems like a LOT when you are in the construction phase, or even when plants first sprouting, but they will get big, fast, and will crowd out of the boxes a bit (or even come careening out, in the case of some vine crops!) I left only a couple feet between my boxes in the front yard, thinking I was being clever and saving space, but in the end, I could barely get in there edgewise, and plants from the one bed were growing into the other bed, and vice versa!!! Also, since you have a big space to work with, you may want/need room to push a wheelbarrow or cart around.

Likewise, plan for how you are going to move WATER around. Dragging hoses around can be a pain. I started out with those, and when you're going around a corner they ride up on the edge of the box and can get into and damage your plants. I put in hose guides and still had a problem with it. I ended up installing an irrigation system, which I loved!, but even then I had to decide how to lay it out to maximize usage/minimize cost, and bury the lines in protective tubes where I'd be walking on them.

Slewi, based on reading here, I oredered three catalogs today. And, last night, on my own, I was looking at victoryseeds and burpee online. I was amazed that the catalog thread didn't mention either of those. Mel plugs victory in his new book, and both sites seemed fairly inexpensive in comparison. However, the packet descriptions vary enough it's difficult to accurately compare prices.....I am assuming it's a competitive industry and prices are roughly close together. And, no, I haven't bought supplies yet. I am a seasonal worker (lawn guy) and right now snow is what I depend on to put cash in the pockets. I live off my reserves this year and guard them extremely close. However, tax refunds are beautiful to build boxes with.....as I did last season. So, it's when I plan to build my boxes. It costs me a bit in getting started the first season of a box, but it's the long run we are concerned about, right?
Boffer, spend away! I am open to suggestions. The bench is an outstanding idea I hadn't thought of. And, the decorative ideas surrounding a bench are absolutely endless. My neighbors are in their late 70's and 80's, so I am already envisioning them asking if they can just come over to sit...lol. And, holy cow, the fountain! Another wonderful idea. Koi ponds, water features. I think I have the room in there. It only takes away from the veggies. And, well, I never ate my veggies as a kid....why start now, right? Thank you for the fabulous suggestions.
Outsideasy, I WILL take lots of pictures. You can count on that! I will try and ask questions. I love suggestions, but sometimes I have to learn the hard way...lol (personality flaw...just ask my wife
). The conception phase is fun, and this time of year, I have plenty of time to dream up things.
Megan, we are blessed to have a huge backyard. But, we also came from one, so that's not a coincidence. And, believe it or not, it's still not big enough for me and my dreams. I will try and get a picture up from late summer when we moved in to show. Drainage is not an issue, and another reason we bought the house. Our other house had water issues in the lower level because water flows downhill. This house's slope is from the front....where the street is. Anything falling in front lands in a small, flat yard or the street. Anything in back drains away and becomes the neighbors behind me's problem.
My paths are going to be 3' wide to get wheelbarrows through, if need be. I also need to leave potential room to use the back door and/or access to the a/c unit in case it ever needs to be serviced. I hope I don't have an issue with water. If you look at the picture, right next to the a/c unit (on the right) is the water from the house. So, I don't have too far to haul buckets. But, personally, this is a rule of Mel's I will frequently violate I'm sure. I will use a wand to water underneath the plants straight from the hose instead of using sun-warmed buckets and ladles. Any unused bucket will be a mosquito magnet and/or a toy for my boxer.
Which, btw, I have to figure out defense for. My boxer hopped right over last year's chicken wire and tromped around in the garden at her leisure when we weren't in the yard to yell at her. Due to expense, the enclosure won't go up for a year or two. And, not until I have finished any expansion plans that may enter my mind down the road. Hmmmm.

BackyardBirdGardner




Posts

: 2727


Join date

: 2010-12-25


Age

: 46


Location

: St. Louis, MO



I have two large dogs which think digging in the dirt is great... especially mom's nice soft sfg. So being a horse person, I bought some simple step in posts, strung of some basic electric rope and put in a nice little battery operated charger that was inexpensive. Result... after first initial test they avoided fence like the plague
.
This option can of course be problematic for visitors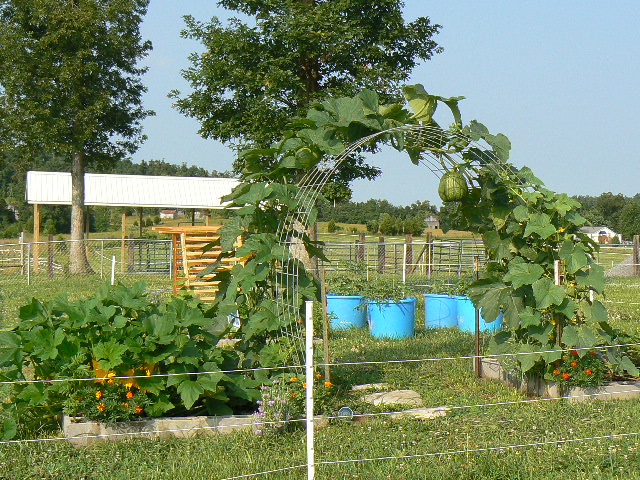 That is awesome...lol. I hope I don't have to take those measures myself. But, we'll see.

I have done a lot of doodling on graph paper the past 24 hrs and have decided on 2011's initial groundbreaking. I don't know if I mentioned it, but I never intended to build all those gardens in one season. I don't want to overdo it; I just want the room to expand, without having to go to a completely different area of the yard, if I so desire later. I need two things to get going before I think about expanding to other beds. 1- A trellis for verticals. 2- A hoop-house for extending the seasons. These two things make more sense to me than arbitrarily adding more dirt space for veggies. If I expand, I will already have my trellis and hoop-house built and can have space to keep going as long as possible and space I can shut down in fall. But, in doing research, I may not need the other beds after all.

What have I decided on? Two beds. The 2x9 against the house is a must. It's on a north wall and perfect for tomatoes, peppers, cucumbers, and beans. If need be, I can tone down some and stick lettuce, etc, across the front row. But, the trellis goes in back of this garden. The second garden decision came after playing around on paper with my 20x20 space. I found a way to get 146 squares in with 3 foot aisles all the way around anything. But, instead of running along the fenceline (where I thought I'd start), I chose to build a 4x12 bed parallel to the tomato/pepper bed. A 4' bed is easier to get a hoop-house over imo. And, it allows for more expansion w/o having to build another bed. The fenceline bed would only have 32 squares. 32 squares was 2x16, and I just don't see getting a hoop-house over a 2' bed very efficiently at the moment. (If you have done it, please tell/show me. It may change my plans.) The other, obviously, has 48....room for marigolds, which my daughter is demanding..."for color." (There may be a hidden talent here.)

The 4x12 will be full of garden veggies that I can provide frost protection and summer shade for, hopefully. I aim to get a few weeks past the frost dates with this bed, and with Mel's heating ideas, I plan to get started a little earlier, too. I hope this stretches my typical growing season of 23 weeks to 26-28. We'll have to see. But, in here will go a couple varieties of Lettuce, a couple varieties of Carrots, some Spinach, Snap Peas (which will require some finageling of the hoop-house in fall, Potatoes, Onions, and Radishes. I don't know how the family will like radishes, so I plan to stagger one square of them at first. I may also try Broccoli this spring.

Anyway, that's a lot of squares for a 2nd season SFG'er, imho, so I'll stop there for now. We'll see how well I time the plantings, how my season goes into fall, and then decide how to tweak my squares to better serve the needs of the family for 2012. Then, maybe then, we'll worry about expansion beyond what I have.

Thanks again for the ear.

BackyardBirdGardner




Posts

: 2727


Join date

: 2010-12-25


Age

: 46


Location

: St. Louis, MO



If I may suggest something regarding putting a box w/ trellis against the house, it would be to bump it out 2 feet from the house to allow access to the rear of the trellis.
@camprn

wrote:If I may suggest something regarding putting a box w/ trellis against the house, it would be to bump it out 2 feet from the house to allow access to the rear of the trellis.
Probably a good point. Thank you for the suggestion.

BackyardBirdGardner




Posts

: 2727


Join date

: 2010-12-25


Age

: 46


Location

: St. Louis, MO



---
Permissions in this forum:
You
cannot
reply to topics in this forum