Latest topics
»
Recommended store bought compost - Photos of composts
by
sanderson
Today at 1:27 pm
»
Strawberry Varieties?
by Chuck d'Argy Today at 12:42 pm
»
Jerusalem Artichoke or Sun Choke
by
Scorpio Rising
Today at 7:09 am
»
Mark's first SFG
by
sanderson
Yesterday at 7:33 pm
»
Strawberries in MM: to feed or not to feed?
by
sanderson
Yesterday at 7:30 pm
»
What Have You Picked From Your Garden Today
by OhioGardener 11/29/2023, 5:36 am
»
Senseless Banter...
by
sanderson
11/28/2023, 10:31 pm
»
N & C Midwest: November/December 2023
by
sanderson
11/27/2023, 9:23 pm
»
FREE Online SFG Class - November 28, 2023
by
sanderson
11/27/2023, 9:21 pm
»
Mini-Raised Beds?
by Chuck d'Argy 11/27/2023, 2:14 pm
»
Happy Birthday!!
by
sanderson
11/26/2023, 10:58 pm
»
Name the mystery (to me) seedlings! :-)
by Psdumas 11/25/2023, 12:04 am
»
Happy Thanksgiving from the USA
by
sanderson
11/23/2023, 1:47 pm
»
Guatemalan Green Ayote Squash
by OhioGardener 11/21/2023, 8:27 am
»
Kiwi's SFG Adventure
by
sanderson
11/20/2023, 2:06 pm
»
Seeds 'n Such Early Order Seeds
by
sanderson
11/20/2023, 1:13 pm
»
USDA Plant Hardiness Zone Map
by OhioGardener 11/19/2023, 7:12 am
»
AeroGarden for starting seeds?
by OhioGardener 11/16/2023, 12:40 pm
»
Biochar?
by OhioGardener 11/16/2023, 10:31 am
»
2023 - Updated U.S. Interactive Plant Hardiness Map
by
sanderson
11/15/2023, 6:18 pm
»
SFG Is Intensive Gardening
by
sanderson
11/14/2023, 3:26 pm
»
Teaming with Microbes Kindle Sale (Mem. Day weekend 2023)
by markqz 11/10/2023, 12:42 am
»
Bok Choy Hors d'oeuvres
by
donnainzone5
11/9/2023, 5:58 pm
»
Now is the Time to Start Preparing Next Year's Spring Garden
by OhioGardener 11/9/2023, 7:13 am
»
Shocking Reality: Is Urine the Ultimate Gardening Hack or Disaster?
by dstack 11/6/2023, 5:29 pm
»
Nightmare on Mel Street.
by
Scorpio Rising
11/4/2023, 6:37 pm
»
Aerogardening
by
Scorpio Rising
11/3/2023, 10:02 am
»
Sunday All Purpose Organic Garden Nutrients
by lisawallace88 11/3/2023, 9:13 am
»
Mid-summer seed sowing, how do you do it?
by KiwiSFGnewbie 11/2/2023, 8:04 pm
»
N&C Midwest October 2023
by OhioGardener 11/1/2023, 8:49 am
Can you grow sweet potatoes in a SFG and how do you do it?

gettip




Posts

: 17


Join date

: 2010-03-10


Location

: New Carlisle, OH (Twilight Zone and 5b)




choksaw




Posts

: 459


Join date

: 2010-03-02


Age

: 48


Location

: New Port Richey FL.



growing sweet potato and growing regular potatoes not alike at all

Potatoes:
spacing for potatoes in square foot bed 1 per square foot

Sweet potato:
spacing for sweet potatoes is 1 plant per 18in x18in area and soil depth should be at least 18 inches. then there is feeding the plants and fact they sweet potatoes are wide area vining crop that should not be trellised since sweet potatoes also form at certain places a long the vine at well under plants starting location.
Also they not very frost tolerant all.

gridgardener




Posts

: 67


Join date

: 2010-03-11



I tried last year but the weather wasn't condusive since it wasn't hot enough long enough. BUT, I am not a giver upper! I will try again. I did a rubbermaid type container with drainage holes and mels mix, this year, if the hubby will "let me
" I'll make a SFG for them, but be warned, they are relatives to the morning glory so they can be invasive, so I wouldn't plant them with anything BUT sweet taters.
here is a pic I found online: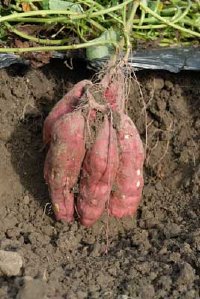 They grow from a slip, basically you can either throw your sweet potato in a warm patch of soil, cover with a few inches, and wait for the little sprouts, or slips, to grow. once they are about 5inches tall snip it off and plant that in your SFG. Since I am in Michigan, I plan on covering my bed with black plastic to increase the temp to where sweet taters like it. I am going to try to slip some in the garden/modified hotbed, and also in a jar of water, for an experiment with my 3 year old.
Here is a good pic of a starter sweet tater and the little "vines" are the slips:
Sweet potatoes are a tuberous root, while a regular potato is a tuber. A tuberous root is bascialy a swollen root, and a tuber is basically a swollen part of a stem. I think....
Ok I found this:
http://en.wikipedia.org/wiki/Tuber
Unlike regular potatoes, which are a plant and basically grow "out the stem", sweet potatoes are the root. Sweet potatoes vine, so don't "pile up" the dirt on the slip. Once the vines start, make sure you try your darnest to keep them from rooting by gentle picking them up. This helps keep the energy in the "main" root system so you "should" end up with larger tubers at the origin rather than small tubers all over (if the plant is left to root, you'll get small taters there too). Or let them take root. Many people use them as a "pretty" vine, and they are gorgeous trailing down the side of a container or SFG, or up a trellis.
Similar topics
---
Permissions in this forum:
You
cannot
reply to topics in this forum