Latest topics
»
Strawberries in MM: to feed or not to feed?
by KiwiSFGnewbie Yesterday at 6:26 pm
»
Mark's first SFG
by OhioGardener Yesterday at 6:04 pm
»
Strawberry Varieties?
by
Scorpio Rising
12/1/2023, 7:47 am
»
What Have You Picked From Your Garden Today
by OhioGardener 11/29/2023, 5:36 am
»
Senseless Banter...
by
sanderson
11/28/2023, 10:31 pm
»
N & C Midwest: November/December 2023
by
sanderson
11/27/2023, 9:23 pm
»
FREE Online SFG Class - November 28, 2023
by
sanderson
11/27/2023, 9:21 pm
»
Mini-Raised Beds?
by Chuck d'Argy 11/27/2023, 2:14 pm
»
Happy Birthday!!
by
sanderson
11/26/2023, 10:58 pm
»
Name the mystery (to me) seedlings! :-)
by Psdumas 11/25/2023, 12:04 am
»
Happy Thanksgiving from the USA
by
sanderson
11/23/2023, 1:47 pm
»
Guatemalan Green Ayote Squash
by OhioGardener 11/21/2023, 8:27 am
»
Kiwi's SFG Adventure
by
sanderson
11/20/2023, 2:06 pm
»
Seeds 'n Such Early Order Seeds
by
sanderson
11/20/2023, 1:13 pm
»
USDA Plant Hardiness Zone Map
by OhioGardener 11/19/2023, 7:12 am
»
AeroGarden for starting seeds?
by OhioGardener 11/16/2023, 12:40 pm
»
Biochar?
by OhioGardener 11/16/2023, 10:31 am
»
2023 - Updated U.S. Interactive Plant Hardiness Map
by
sanderson
11/15/2023, 6:18 pm
»
SFG Is Intensive Gardening
by
sanderson
11/14/2023, 3:26 pm
»
Teaming with Microbes Kindle Sale (Mem. Day weekend 2023)
by markqz 11/10/2023, 12:42 am
»
Bok Choy Hors d'oeuvres
by
donnainzone5
11/9/2023, 5:58 pm
»
Now is the Time to Start Preparing Next Year's Spring Garden
by OhioGardener 11/9/2023, 7:13 am
»
Shocking Reality: Is Urine the Ultimate Gardening Hack or Disaster?
by dstack 11/6/2023, 5:29 pm
»
Nightmare on Mel Street.
by
Scorpio Rising
11/4/2023, 6:37 pm
»
Aerogardening
by
Scorpio Rising
11/3/2023, 10:02 am
»
Sunday All Purpose Organic Garden Nutrients
by lisawallace88 11/3/2023, 9:13 am
»
Mid-summer seed sowing, how do you do it?
by KiwiSFGnewbie 11/2/2023, 8:04 pm
»
N&C Midwest October 2023
by OhioGardener 11/1/2023, 8:49 am
»
Fall Tree Colors
by
Scorpio Rising
10/31/2023, 1:48 pm
»
Freeze Dried Food
by lisawallace88 10/30/2023, 11:28 am
Awhile ago I was bemoaning no production on my eggplant. Someone suggested that they are big feeders and drinkers. So I babied them a little with extra water and food. A couple days ago I found this:
It is about the size of a gold ball so far. I planted this thing in APRIL! But I am hopeful that I will get an eggplant out of it yet.
Oh Baby!
I'm happy for you, Chopper. Mine never produced a thing this year. Some years my basket runneth over. (I ask again, does anyone else see it snowing?)

ander217




Posts

: 1450


Join date

: 2010-03-16


Age

: 68


Location

: Southeastern Missouri (6b)



My eggplant was slow to produce this year. We got very little until 3 weeks ago and now it s going crazy. I think here in TN it was so much hotter than usual this year.
I'm glad you finally got an eggplant. Mine, too, were slow.
In fact, today as I was pulling out spent plants to prepare the raised beds for winter, I found 2 white Gretel eggplant I'd missed earlier.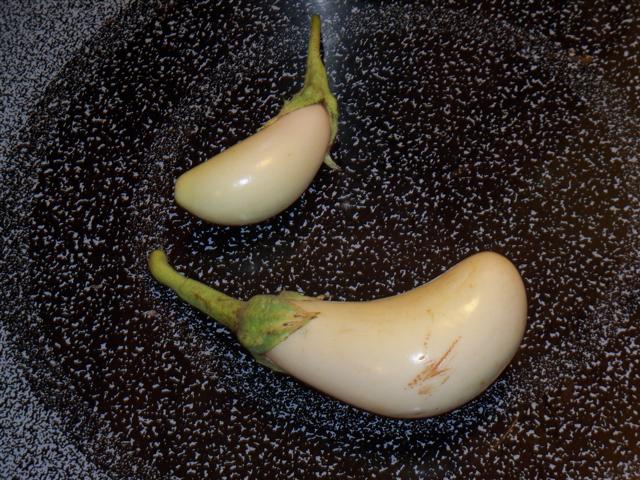 I was thrilled with the surprise.
So don't give up hope. They were just realy slow this year for some reason.

quiltbea




Posts

: 4712


Join date

: 2010-03-21


Age

: 81


Location

: Southwestern Maine Zone 5A



Despite my low expectations, my eggplants have been massively productive, and I have been harvesting them for several weeks. I believe I have already harvested 6-8 large eggplants per plant, and I still have more that are almost ready. The varieties were Moneymaker and Brabentane.
They were in Mel's Mix, on a double depth bed, and I did give them a lot of water and fed them occasionally with comfrey tea to encourage fruiting. Initially I "helped" pollination with a brush, but then I saw that there were plenty of bees that seemed to love the eggplant flowers, so I left them to their care and it worked beautifully.

plb




Posts

: 111


Join date

: 2010-03-08


Location

: England (South)



Similar topics
---
Permissions in this forum:
You
cannot
reply to topics in this forum