Latest topics
»
N & C Midwest: November/December 2023
by
Scorpio Rising
Today at 4:35 pm
»
Strawberry Varieties?
by
sanderson
12/5/2023, 3:57 pm
»
Recommended store bought compost - Photos of composts
by
sanderson
12/4/2023, 1:27 pm
»
Jerusalem Artichoke or Sun Choke
by
Scorpio Rising
12/4/2023, 7:09 am
»
Mark's first SFG
by
sanderson
12/3/2023, 7:33 pm
»
Strawberries in MM: to feed or not to feed?
by
sanderson
12/3/2023, 7:30 pm
»
What Have You Picked From Your Garden Today
by OhioGardener 11/29/2023, 5:36 am
»
Senseless Banter...
by
sanderson
11/28/2023, 10:31 pm
»
FREE Online SFG Class - November 28, 2023
by
sanderson
11/27/2023, 9:21 pm
»
Mini-Raised Beds?
by Chuck d'Argy 11/27/2023, 2:14 pm
»
Happy Birthday!!
by
sanderson
11/26/2023, 10:58 pm
»
Name the mystery (to me) seedlings! :-)
by Psdumas 11/25/2023, 12:04 am
»
Happy Thanksgiving from the USA
by
sanderson
11/23/2023, 1:47 pm
»
Guatemalan Green Ayote Squash
by OhioGardener 11/21/2023, 8:27 am
»
Kiwi's SFG Adventure
by
sanderson
11/20/2023, 2:06 pm
»
Seeds 'n Such Early Order Seeds
by
sanderson
11/20/2023, 1:13 pm
»
USDA Plant Hardiness Zone Map
by OhioGardener 11/19/2023, 7:12 am
»
AeroGarden for starting seeds?
by OhioGardener 11/16/2023, 12:40 pm
»
Biochar?
by OhioGardener 11/16/2023, 10:31 am
»
2023 - Updated U.S. Interactive Plant Hardiness Map
by
sanderson
11/15/2023, 6:18 pm
»
SFG Is Intensive Gardening
by
sanderson
11/14/2023, 3:26 pm
»
Teaming with Microbes Kindle Sale (Mem. Day weekend 2023)
by markqz 11/10/2023, 12:42 am
»
Bok Choy Hors d'oeuvres
by
donnainzone5
11/9/2023, 5:58 pm
»
Now is the Time to Start Preparing Next Year's Spring Garden
by OhioGardener 11/9/2023, 7:13 am
»
Shocking Reality: Is Urine the Ultimate Gardening Hack or Disaster?
by dstack 11/6/2023, 5:29 pm
»
Nightmare on Mel Street.
by
Scorpio Rising
11/4/2023, 6:37 pm
»
Aerogardening
by
Scorpio Rising
11/3/2023, 10:02 am
»
Sunday All Purpose Organic Garden Nutrients
by lisawallace88 11/3/2023, 9:13 am
»
Mid-summer seed sowing, how do you do it?
by KiwiSFGnewbie 11/2/2023, 8:04 pm
»
N&C Midwest October 2023
by OhioGardener 11/1/2023, 8:49 am
Here in Maine, we have a short season but I'm trying to get a fall crop of different things.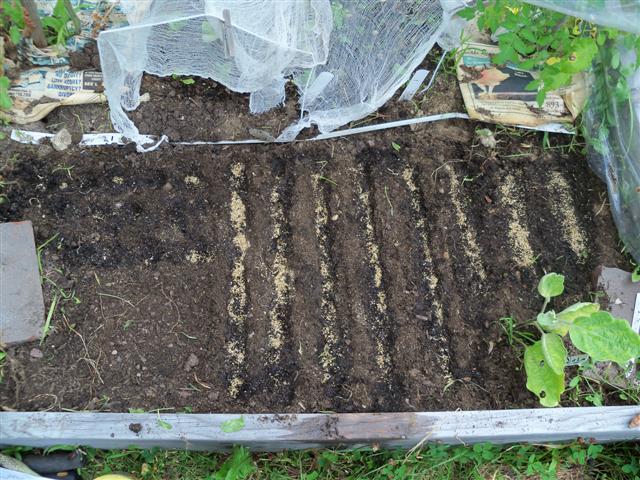 In the front half of my A-frame from left to right: Tyee Spinach (40 D) in the rear with space for more seeds in a wk or so, Mokum carrots (54D), Napoli Carrots (58D) with Cherriette Rads (26D) between each of the 3 carrot rows. I've marked with vermiculite so I know where to water til they germinate.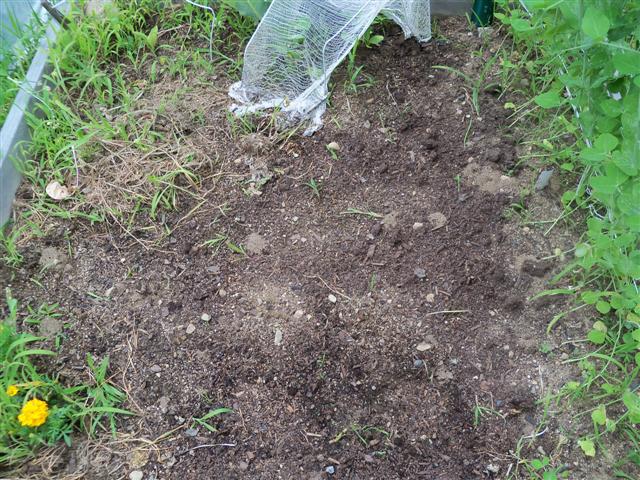 Here is Bed 2 I've sown Violet Queen and Fremont Cauliflower and Packman Broccoli, one of each on 7-21. I'll try a few seeds next week as well.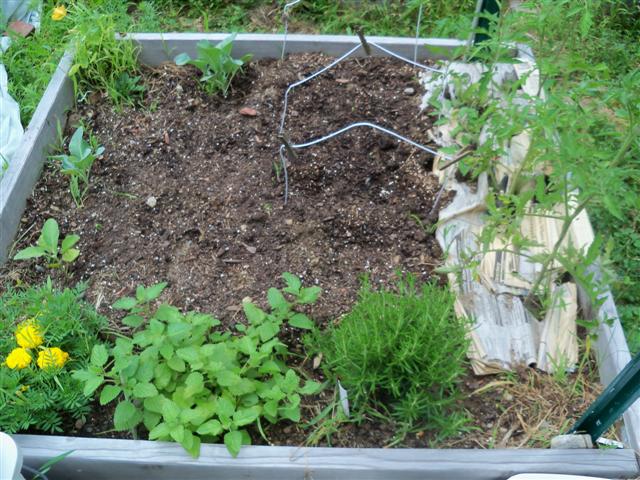 In Bed 3 I've sown the same Barssicas plus both Red Oakleaf and Crispino lettuce seeds. That's lemon balm and rosemary in the front of the box with some late Delicious Tomatoes on the right. The other greens along the sides are Fremont Cauliflower started 5/16 which have slowed in the heat. I try to fill in the empty spaces but first I add some composted manure and a half handful of limestone to replenish the soil.

quiltbea




Posts

: 4712


Join date

: 2010-03-21


Age

: 81


Location

: Southwestern Maine Zone 5A



How does your garden grow, quiltbea?
The rads are coming up and the lettuce just has a few grassy leaves coming up. It took the lettuce long enuf but I had a hard time keeping them moist to germinate. We've had dry, hot weather here in Maine and I only went to water the rows once a day.
When I get my camera back, its been borrowed, I'll take pics and post here later.
Hope your garden is doing well.

quiltbea




Posts

: 4712


Join date

: 2010-03-21


Age

: 81


Location

: Southwestern Maine Zone 5A



I had such high hopes for a fall garden, and so far I have done NOTHING! Sigh. Time to get away from my desk and out in the dirt where I belong!

martha




Posts

: 2188


Join date

: 2010-03-03


Age

: 66


Location

: Acton, Massachusetts Zone 5b/6a



Martha, Its probably just as well. You're in New England where you also got the hot days of summer late in the season.
I started broccoli, cauliflower, lettuce, radishes, spinach and all I got that came up well is radishes.
The rest are a loss this fall. Too durn hot. We got more 90-plus days late in the season that in the middle of it.
So its probably best you didn't waste your time or your seeds.
I had such high hopes for a fall crop.
Oh, I did get a crop of sugar snap peas that I started late, but they didn't last either. After a couple of weeks, they were harvested and produced no more.
My early spring crops did great and I had a better summer crop this year, but as for trying my first fall crop....it was a bust.
I hope we all do better next year.


quiltbea




Posts

: 4712


Join date

: 2010-03-21


Age

: 81


Location

: Southwestern Maine Zone 5A



You have a longer growing season than I do. I am in Canada in a Zone 3b and I am making my first attempt at a fall garden, even if it is just radishes. I will do lettuce in the cold frame and see what happens. If I had done my research sooner I would have started cauliflower and cabbage for a late season crop. Recently, I have been reading that you can plant carrots in the fall here for an earlier harvest next summer, although you do have to plant heavier to allow for a certain amount that you lose over the winter. And I am have planted garlic already for next year and will do onions as well, both seeds and sets.

I have a line on some free manure so as soon as I get back from my trip to visit my mom, I intend to make a hot bed to try a few things just to see what I can do. We don't usually have snow until at least the end of October and sometimes until the end of November so if the hot bed will stay above freezing, I should be able to have spinach and lettuce.

Best of luck to all of you with your fall and winter gardening.

GK

Old Hippie

Regional Hosts




Posts

: 1156


Join date

: 2010-08-12


Age

: 72


Location

: Canada 3b



Looks good to me !
Hopefully I will get some fall stuff planted soon, I have been changing out the soil in my boxes and re-thinking and re-doing everything for sometime now it took longer than I thought and also once again I underestimated just how hard our soil is here! didn't think I needed my jack hammer and stick of dynamite this time but I did!! ha, anyway I got the poles in finally, so can I get to the SFG part now ?? ha. Glad to see someone else doing so well , it makes me think its all worth it , thanks for sharing !

Garden Angel




Posts

: 247


Join date

: 2010-05-17


Location

: zone 8b, SoCal



Similar topics
---
Permissions in this forum:
You
cannot
reply to topics in this forum