Latest topics
»
N&C Midwest — October 2021
by
OhioGardener
Today at 11:18 am
»
National Kale Day
by
Scorpio Rising
10/25/2021, 6:29 pm
»
Hello from Howe, TX Zone 8a
by
sanderson
10/24/2021, 11:51 pm
»
Hello from Murphy, TX
by
sanderson
10/24/2021, 11:48 pm
»
Hello from West Palm Beach, FL
by
sanderson
10/24/2021, 11:42 pm
»
Tomato - Snow Fairy
by
sanderson
10/24/2021, 11:40 pm
»
Squirrels!!!
by
sanderson
10/24/2021, 11:04 pm
»
OhioGardener SFG
by
OhioGardener
10/23/2021, 3:11 pm
»
Asian Greens and Salad Greens (sorry for long post!)
by
juliediane
10/22/2021, 8:34 pm
»
My SFG journey- using hanging clips on cucumber and tomatoes
by
has55
10/20/2021, 7:06 pm
»
The SFG Journey-Johnson Su Bioreactor for composting, No turning
by
has55
10/19/2021, 8:16 am
»
Microbes...you gotta see this one !!!
by
has55
10/19/2021, 7:55 am
»
Wasabi Radish
by
sanderson
10/19/2021, 12:55 am
»
I want to start over
by
Roseinarosecity
10/17/2021, 12:46 am
»
CANADIAN REGION:What are you doing July to December 2021
by
Kelejan
10/16/2021, 6:15 pm
»
Birds of the Garden
by
Kelejan
10/16/2021, 6:10 pm
»
Happy Birthday!!
by
Scorpio Rising
10/16/2021, 12:18 pm
»
Winter Travel
by
OhioGardener
10/13/2021, 8:17 am
»
What are you eating from your garden today?
by
yolos
10/10/2021, 11:09 am
»
Keeping bees
by
Kelejan
10/9/2021, 10:50 am
»
worm buying
by
OhioGardener
10/8/2021, 8:57 am
»
October: What to plant in Northern California and Central Valley areas
by
Yardslave
10/7/2021, 5:56 pm
»
Senseless Banter...
by
OhioGardener
10/4/2021, 2:13 pm
»
October Avatar: Fall Gardening
by
sanderson
10/4/2021, 2:06 pm
»
What are these fruits?
by
bijan
10/4/2021, 1:53 pm
»
Mulching question?
by
sanderson
10/4/2021, 1:46 pm
»
Wood Chips-->Pine
by
sanderson
10/4/2021, 1:41 pm
»
Dr Higa's Soil Classifications
by
sanderson
10/4/2021, 1:35 pm
»
Famous Gardening Quotes
by
sanderson
10/4/2021, 1:32 pm
»
has55's R & D Journey
by
has55
10/3/2021, 5:02 pm
Hello!
I've just joined the ranks of the square foot gardeners! I look forward to being part of a great group!
I've got my bed ready and because I am getting a late (seasonally speaking) start, I will be planting plants this year.
My question is...
I know that I need some pest control ( I anticipate mostly rabbits, squirrels, mice, moles), however I am not sure how to best approach this.
My garden is 4'x8' and the north side (8') will have my vertical growing plants. I am not sure how to protect the vertical crops but also want to have an attractive garden. I don't know how attractive it will look with the chicken wire fence around and over it. Of course a pest ravaged gardent does nothing for the asthetics of the garden either!!
Any ideas??? Thanks!

susieq




Posts

: 7


Join date

: 2010-06-19


Location

: New York off Lake Ontario



I've gotten a start and have some plants in. I'm anxious to continue and wonder if anyone has any suggestions for me?

susieq




Posts

: 7


Join date

: 2010-06-19


Location

: New York off Lake Ontario



I think we all struggle with the wild animals and bugs. Part of the remaining challenges.
When you built your bed, did you put hardware cloth or something similar under the Mel's Mix? Voles, moles, gophers, etc... usually come from below. I used 1/2" hardware cloth in a few of my beds and then switched to 1/4" hardware cloth at the recommendation of the folks on the forum. Chicken wire can also be used but doesn't hold up as well and the holes are pretty big therefore smaller animals can get in.
There are several posts about how to keep out rabbits. I think fencing has to be a couple feet high and buried about 6" underground. Anyone keep them out?
I built some chicken wire covers for our berries using the plans in the new SFG book. Worked great for a while, now small mice are getting in. I am now trying to kill the mice and looking into building a cover with smaller openings. Though, I don't want to shade it too much.
As for the verticals... that question is outstanding. I have the same issue. I have tomatoes planted against a chain link fence that I covered in chicken wire to keep out the larger animals. I am probably going to build a vertical cover to lean against the fence but for now I am just waiting to see what happens. We also have raccoons in our yard so I have to think about how to cover things to keep them out.
I did decide to plant our melons sprawling over the ground instead of vertical because I thought they would be easier to cover up. Last year the raccoons took every single melon we grew. They really liked them.
Hope this helps. Good luck with your garden and enjoy the challenges!
Susieq~


First of all, WELCOME!
I hope you enjoy your time spent here on the forums! I have learned so much just reading the different topics for discussion. And using the search option, you can find previous discussions about anything and everything!

I have recently been faced with a "vole" problem. Depending on how you want to handle that, there are baits, traps and natural remedies. I read about placing jalapenos around the entrance of tunnels they dig. I just placed 2 dozen jalapeno slices in my garden and I'm hoping for the best!

There is also a product that I bought recently called Diatomaceous Earth and lightly dusted my entire garden area with it to prevent any insects that might seek to do damage to my plants.

Some of us have had to protect from birds, rabbits and squirrels. A good solution to this is bird netting. It's not horribly visible so asthetically it doesn't look too bad. It may not protect perfectly but it is a good deterent.

To scare birds away I have used cardboard covered in aluminum foil hung by string tied to my trellis. When the wind catches it, it spins and makes noise... hopefully enough to keep the birds away from my veggies and esp. strawberries. (I have bird netting in the picture below draped over the first box closest to the bottom right of the picture. I don't think it's visable.)

There are many ways to have a nice looking garden area along with doing your best to keeping those irritating little rodents and insects from destroying all your hard work. There's no perfect solution but there's many things you can try.

Here's a recent picture of my gardens. You can search through the Gallery and find pictures of some very beautiful SFG's!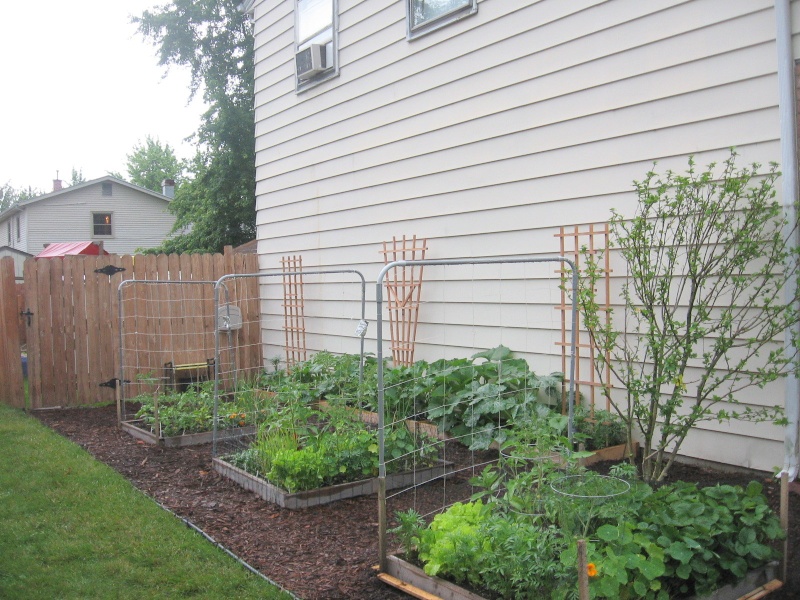 Thanks Lisa and Jenny for the welcome and replies. I appreciate your input. Hopefully the critters don't get to curious or hungry tonight as I am not prepared to cover them tonight. I have it only about 25% done. I thought I could get some more plants today, but have learned that I will need to start some more from seed. Thought I was too late for that but have been told I can still plant lettuce, beans, peas etc. Guess I'll try that and see. I may try Lisa's suggestion of a tin foil "scare-crow".
Jenny, I liked your garden picture! I may try the netting as well. I'm picturing bunny getting entangled in it!!!
Thanks
Keep you posted on my adventures!
Sue

susieq




Posts

: 7


Join date

: 2010-06-19


Location

: New York off Lake Ontario



Welcome. If you will scan over the last month's posts, you'll find lots of suggestions for protecting your garden from all kinds of pests. One of my favourites for fruit trees is to hang old CD disks. They twirl in the lightest breeze and the mirrored side really reflects the sun. They could be hung above your SFG to deter birds.

Retired Member 1




Posts

: 904


Join date

: 2010-03-03


Location

: USA



@susieq

wrote:

Jenny, I liked your garden picture! I may try the netting as well. I'm picturing bunny getting entangled in it!!!

Thanks

Keep you posted on my adventures!

Sue
Don't forget to post some of your own pictures in the Gallery! We'd love to see your progress. And you'll be glad when you are able to go back and see where you started. I love going through my pictures of early on when all the plants were so tiny and new! The entire process from start to finish is a blast!
Thanks belfrybat for the cd suggestion. I'll bet that look really pretty when the sun reflects off from them! I will check back over old posts last month.
Jenny, I took a couple pictures today. I'll have to figure out how to post them. I'm not a computer wiz... I'll be away tomorrow (spur of the moment anniversary get away!) Then Monday work and Kindergarten graduation, so it will probably be a couple days before I'm back on. I'll keep you updated!
Thanks,
Sue

susieq




Posts

: 7


Join date

: 2010-06-19


Location

: New York off Lake Ontario



---
Permissions in this forum:
You
cannot
reply to topics in this forum