Latest topics
»
Strawberries in MM: to feed or not to feed?
by KiwiSFGnewbie Yesterday at 6:26 pm
»
Mark's first SFG
by OhioGardener Yesterday at 6:04 pm
»
Strawberry Varieties?
by
Scorpio Rising
12/1/2023, 7:47 am
»
What Have You Picked From Your Garden Today
by OhioGardener 11/29/2023, 5:36 am
»
Senseless Banter...
by
sanderson
11/28/2023, 10:31 pm
»
N & C Midwest: November/December 2023
by
sanderson
11/27/2023, 9:23 pm
»
FREE Online SFG Class - November 28, 2023
by
sanderson
11/27/2023, 9:21 pm
»
Mini-Raised Beds?
by Chuck d'Argy 11/27/2023, 2:14 pm
»
Happy Birthday!!
by
sanderson
11/26/2023, 10:58 pm
»
Name the mystery (to me) seedlings! :-)
by Psdumas 11/25/2023, 12:04 am
»
Happy Thanksgiving from the USA
by
sanderson
11/23/2023, 1:47 pm
»
Guatemalan Green Ayote Squash
by OhioGardener 11/21/2023, 8:27 am
»
Kiwi's SFG Adventure
by
sanderson
11/20/2023, 2:06 pm
»
Seeds 'n Such Early Order Seeds
by
sanderson
11/20/2023, 1:13 pm
»
USDA Plant Hardiness Zone Map
by OhioGardener 11/19/2023, 7:12 am
»
AeroGarden for starting seeds?
by OhioGardener 11/16/2023, 12:40 pm
»
Biochar?
by OhioGardener 11/16/2023, 10:31 am
»
2023 - Updated U.S. Interactive Plant Hardiness Map
by
sanderson
11/15/2023, 6:18 pm
»
SFG Is Intensive Gardening
by
sanderson
11/14/2023, 3:26 pm
»
Teaming with Microbes Kindle Sale (Mem. Day weekend 2023)
by markqz 11/10/2023, 12:42 am
»
Bok Choy Hors d'oeuvres
by
donnainzone5
11/9/2023, 5:58 pm
»
Now is the Time to Start Preparing Next Year's Spring Garden
by OhioGardener 11/9/2023, 7:13 am
»
Shocking Reality: Is Urine the Ultimate Gardening Hack or Disaster?
by dstack 11/6/2023, 5:29 pm
»
Nightmare on Mel Street.
by
Scorpio Rising
11/4/2023, 6:37 pm
»
Aerogardening
by
Scorpio Rising
11/3/2023, 10:02 am
»
Sunday All Purpose Organic Garden Nutrients
by lisawallace88 11/3/2023, 9:13 am
»
Mid-summer seed sowing, how do you do it?
by KiwiSFGnewbie 11/2/2023, 8:04 pm
»
N&C Midwest October 2023
by OhioGardener 11/1/2023, 8:49 am
»
Fall Tree Colors
by
Scorpio Rising
10/31/2023, 1:48 pm
»
Freeze Dried Food
by lisawallace88 10/30/2023, 11:28 am
+3
AtlantaMarie
sanderson
has55
7 posters
Page 2 of 2 •
1, 2
this may be helpful. It look like a picture from LDS Prepper youtube channel. This is where I got the idea to do something different with growing vertically. I 'm not as aggressive as he is with this technique. Still in the Journey on this project.





has55




Posts

: 2378


Join date

: 2012-05-10


Location

: Denton, tx



It looks like it is set up for a double V-set for pole beans or peas.  When finished, there will be a total of 4 vertical rows of strings.  They are tied at the top and at the bottom to a pole (?) on the ground, then back up to a horizontal string or wire down the center at the top of the T's.  Repeat.
It looks like your bed is 2' wide.  You can secure a string down the long middle of the MM with 2 screws on the wood.  Here is a photo of a one of my 2 x 4 beds with pole beans.  Well, for some reason I can't post today's but this is an old mini version of what I am trying to say.  It is totally wrong but it still worked.  My first homemade trellis.
Add: I see Has has replied. I was mainly wanting to show how I secure the bottom lines with screws instead of a pole at the bottom.
Thank you both for your replies.

I watched the videos Has provided and now I understand what they are doing. Instead of having just one runner from each plant, they can have 2. One straight up from the plant and then because the second string sticks out 1' from the end of the bed they can string up a 2nd runner and not be too crowded.

Because I have the pergola style top on my tall legs, I think I can do the same thing by attaching EMT to the top side of the pergola both straight up from the plants and then on the outside edge. Shopping List: 4 - 10' long pieces of 1/2" or 3/4" EMC



ralitaco




Posts

: 1312


Join date

: 2010-04-04


Location

: Hampstead, NC



This is an update on using the roller hooks. They are now a permanent tool for growing my crops vertically. When I removed the cucumbers and tomatoes from line, I simply removed the tomatoes hooks from the stem and let the plant fall to the ground. I then re-rolled the line back unto the the roller hook since the lines was still good. Simple, quick and fast. I didn't have to untangle anything. At this rate one roller hook will last 7-10 years.
Also , I love how I can see the leaves very easy, get into everything when spraying and lower the plant when it reach the top. Below is a picture of my cantaloupe that still growing. You can see the length of the stem on the ground. Its been lowered several times.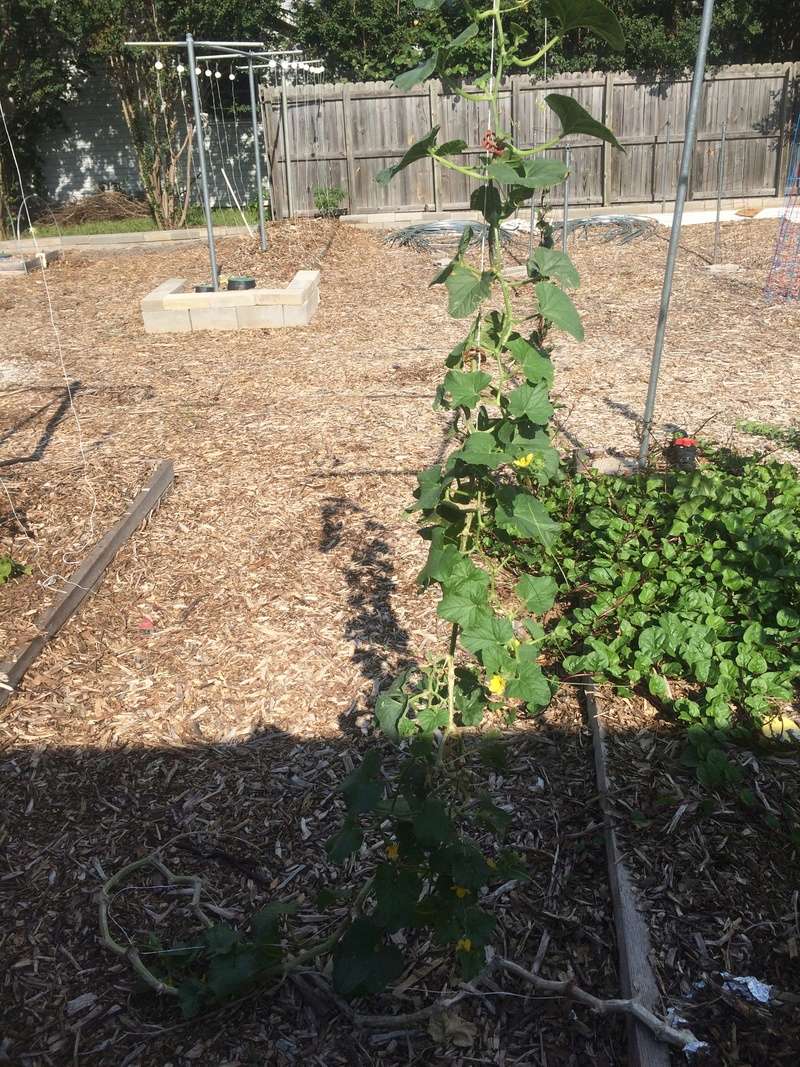 has55




Posts

: 2378


Join date

: 2012-05-10


Location

: Denton, tx



Page 2 of 2 •
1, 2
---
Permissions in this forum:
You
cannot
reply to topics in this forum