Latest topics
»
Stevia
by markqz Yesterday at 12:11 pm
»
Mark's first SFG
by markqz Yesterday at 11:53 am
»
Beds not holding moisture?
by MrBooker 9/27/2023, 7:13 am
»
N&C Midwest September 2023
by
Scorpio Rising
9/27/2023, 6:55 am
»
Walking stick kale
by markqz 9/26/2023, 11:52 pm
»
Butternut squash sets world record at the State Fair of Virginia
by markqz 9/25/2023, 5:13 pm
»
Ohio Gardener's Greenhouse
by OhioGardener 9/25/2023, 4:29 pm
»
Closing beds for winter
by plantoid 9/25/2023, 4:25 pm
»
Famous Gardening Quotes
by OhioGardener 9/23/2023, 12:51 pm
»
Foodbank's composting program creates food from food
by OhioGardener 9/22/2023, 8:29 am
»
What Have You Picked From Your Garden Today
by OhioGardener 9/21/2023, 1:15 pm
»
Turning existing garden beds into SFG
by jemm 9/20/2023, 7:35 am
»
updating my mix - what should I add
by
sanderson
9/18/2023, 5:04 am
»
Senseless Banter...
by
sanderson
9/16/2023, 11:37 pm
»
Lumber and measuring for SFG boxes
by
sanderson
9/16/2023, 12:21 am
»
Avatar issues
by Guinevere 9/14/2023, 7:53 pm
»
Happy Birthday!!
by
sanderson
9/11/2023, 4:40 pm
»
When to harvest? / Watermelon seedlings
by
sanderson
9/9/2023, 6:07 pm
»
Hornets Nest
by
sanderson
9/8/2023, 8:15 pm
»
Tropical Storm Hilary
by jennyjo37 9/5/2023, 5:31 pm
»
A square foot garden in a round bed.
by alicej 9/4/2023, 3:39 am
»
Determinate Cherry Tomato for Greenhouse
by OhioGardener 9/2/2023, 6:52 pm
»
N&C Midwest August 2023
by
Scorpio Rising
8/31/2023, 9:01 am
»
Hurricane
by
Scorpio Rising
8/30/2023, 7:25 am
»
No-Fail Zucchini Bread
by OhioGardener 8/28/2023, 11:11 am
»
buying compost small town SW Pennsylvania
by
sanderson
8/27/2023, 6:41 pm
»
Phosphate
by
sanderson
8/27/2023, 3:43 pm
»
Topping brand new SFG box with more gorgeous compost???
by
sanderson
8/27/2023, 3:36 pm
»
8 Great Vegetables for Fall Planting
by
sanderson
8/27/2023, 2:58 pm
»
What are you eating from your garden today?
by OhioGardener 8/26/2023, 7:19 pm
Hi Folks,
Will Critters, Deer, eat the leaves and vines of Watermelon?
Thanks
Bart

Bart




Posts

: 129


Join date

: 2015-04-17


Location

: Troy, VA



Bart wrote:Hi Folks,

Will Critters, Deer, eat the leaves and vines of Watermelon?

Thanks

Bart
http://readynutrition.com/resources/deer-resistant-gardening_09052013/
____________________________
43 years a gardener and going strong with SFG.
https://squarefoot.forumotion.com/t3574-the-end-of-july-7-weeks-until-frost
There are certain pursuits which, if not wholly poetic and true, do at least suggest a nobler and finer relation to nature than we know. The keeping of bees, for instance. ~ Henry David Thoreau
https://squarefoot.forumotion.com/t1306-other-gardening-books
Natural deer repellents that work:
http://www.deer-departed.com/deer-repellent-recipes.html
We use raw eggs and essential oils including clove, cinnamon, rosemary, and eucalyptus.
I have heard that placing chicken wire on the ground in the way of where you want to keep the deer away will keep them at bay, because when they step on the wire and snag themselves, they will flee quickly.  All you will then have to do is put the chicken wire back in place for the next deer.
Deer populations are ever increasing in fast-growing metropolitan areas, where they are losing more and more of their habitat.  Urban deer are fast becoming big nuisances, because they have been trapped into the remaining greenery in the cities.  When you see them using streets, driveways, and walks to move from one locale to another, then you know they have become urbanized.  Our deer wouldn't think of walking in the yard most of the time, when they can go down our steps into the driveway and then down to the street, only walking into our yard to poop.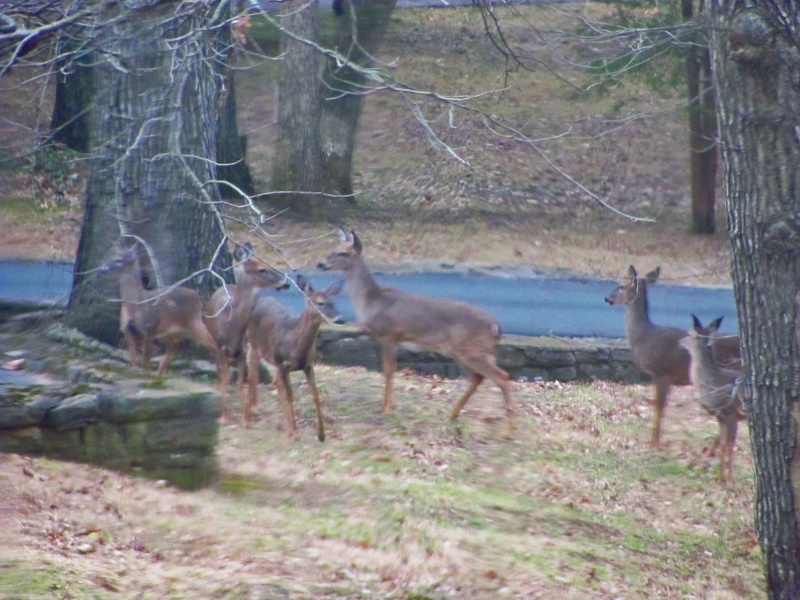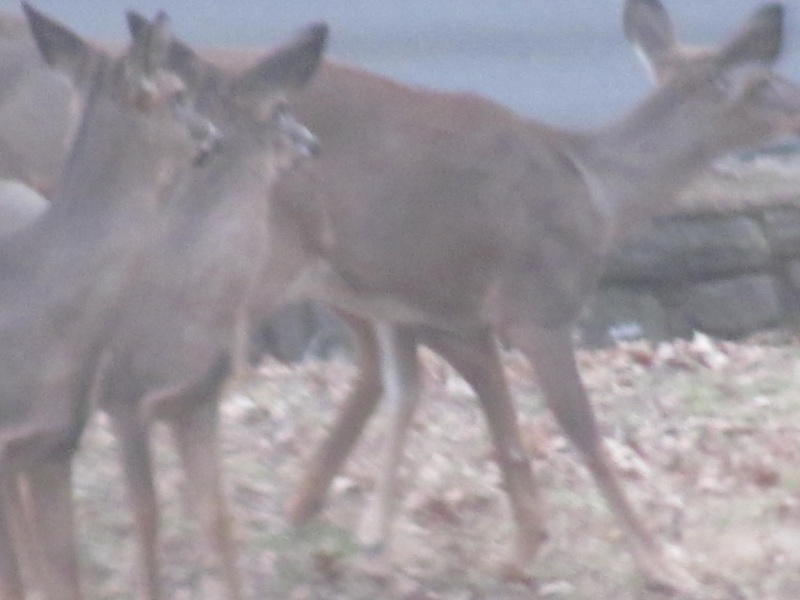 Razed Bed




Posts

: 243


Join date

: 2015-04-01


Location

: Zone 7



Hi Bart

I didn't look at the above link, but, from my experience, deer will eat anything, especially the blooms. If they don't eat the blooms, then they will return when your fruit/veggie is about ready to pick and will eat it then. If they do not like it, then the rabbits will eat it. Do not plant sw. potatoes except behind a tall fence, they ate mine one yr. down to the dirt!
Jo

littlejo




Posts

: 1575


Join date

: 2011-05-04


Age

: 69


Location

: Cottageville SC 8b



Yeah, the rule of thumb where I live is that anything left unprotected gets eaten by critters. And deer are definitely not picky. They even eat the bark off trees. My neighbor plants pumpkins and all of them get gouged out by deer because he never protects them. So I'd expect they'd be happy to eat watermelons too.

And you know animals ... they won't just politely finish off one ... they'll go take a bite out of each fruit or vegetable and ruin all of them!

Also, animals just walking through your garden can cause a lot of damage. In one garden I used to grow in, rabbits would stomp all the bean plants on the way through to other crops. So even if you don't mind critters eating some of your stuff, it can be pretty disappointing seeing them just stomp and wreck all kinds of stuff (chew through strings and shade cloth, etc.) arbitrarily.



Marc Iverson




Posts

: 3638


Join date

: 2013-07-05


Age

: 62


Location

: SW Oregon



RaisedBeds, can't believe they are in your yard! Do you have a tick problem from them?
Our lot, as well as the adjoining lots in a triangle of three streets, all share a common undeveloped woods of about 14 acres.  Across the street from our property, there is another large acreage of woods that for many years was considered unsuitable for development.  Now, with the population explosion here, people are leveling steep hills and building houses in the bluffs, so what was about 53 acres of woods is now about 15 homes on 2 acre lots and only about 20-25 acres of woods.

The deer, coyote, raccoons, opposums, and other critters relocated to our 14 acre wooded side of the road, and the deer soon decided they would rather spend more time in our front yard, using it as their litter box.  So far, they have been nice to us and have not trampled our garden.  The biggest nuisance besides all the poop is that they like my hickory chunks that I use to barbecue, and they like to drink the water coming out of our air conditioner run-off.

As far as ticks, it is anybody's guess.  With all the wooded areas and all the critters, it could be any of them.

My wife awoke this morning with a tick crawling on the back of her right hand.

The spray we made Thursday proved effective on me yesterday.  I was outside for several hours barbecuing brisket and working in the garden, and I received no tick or chigger visits.

BTW, we have had as many as 15 deer in the yard at one time.  When it is rutting season, it is not unusual to have deer competing in our yard for the honors, and we have also had them congregating on our front walk and driveway.

Razed Bed




Posts

: 243


Join date

: 2015-04-01


Location

: Zone 7



Razed Bed,

At least you can use that deer manure in your compost pile/bin!
Similar topics
---
Permissions in this forum:
You
cannot
reply to topics in this forum