Latest topics
»
Frequency/amt to water
by lisawallace88 Yesterday at 3:12 pm
»
Paul's First SFGs
by jafstuff Yesterday at 2:56 pm
»
Mulch around garlic
by
Scorpio Rising
Yesterday at 10:19 am
»
Easy Refrigerator Pickles from Extra Produce
by Yardslave Yesterday at 9:57 am
»
Birds of the Garden
by
Scorpio Rising
6/7/2023, 9:21 pm
»
Kiwi's SFG Adventure
by KiwiSFGnewbie 6/7/2023, 5:05 pm
»
What Have You Picked From Your Garden Today
by
Scorpio Rising
6/6/2023, 11:58 pm
»
N&C Midwest: June 2023
by
Scorpio Rising
6/6/2023, 5:59 pm
»
New to Forum and SFG 15" raised bed foundation
by OhioGardener 6/6/2023, 12:56 pm
»
Famous Gardening Quotes
by OhioGardener 6/5/2023, 10:18 am
»
Tea Time -- Compost Tea, that is
by OhioGardener 6/3/2023, 7:07 pm
»
Hello from Central Missouri, Zone 6a
by
Scorpio Rising
6/3/2023, 3:48 pm
»
N&C Midwest: May 2023
by OhioGardener 6/1/2023, 8:55 pm
»
Walking stick kale
by
sanderson
5/31/2023, 1:38 pm
»
Why Letting Weeds Run Wild Can Actually Help Your Garden
by
sanderson
5/30/2023, 2:35 pm
»
What are you eating from your garden today?
by OhioGardener 5/30/2023, 12:11 pm
»
Teaming with Microbes Kindle Sale (Mem. Day weekend 2023)
by
sanderson
5/29/2023, 3:14 pm
»
Mid-Atlantic New Host Intro & Info
by JAM23 5/29/2023, 8:38 am
»
Poppy seeds - Hungarian Blue Breadseed
by
AtlantaMarie
5/28/2023, 6:12 am
»
Sluggo Plus
by
sanderson
5/27/2023, 3:23 pm
»
Centpedes
by OhioGardener 5/25/2023, 6:19 pm
»
beneficial nematodes
by OhioGardener 5/24/2023, 9:18 pm
»
Senseless Banter...
by markqz 5/24/2023, 5:39 pm
»
Pre-Filling a 30" Raised Bed
by toledobend 5/24/2023, 1:10 pm
»
Happy Birthday!!
by
AtlantaMarie
5/24/2023, 7:03 am
»
Aphids & Their Predators
by MrBooker 5/24/2023, 6:01 am
»
Hello from Bobcaygeon, Ontario
by
Scorpio Rising
5/20/2023, 1:52 pm
»
Spring Flowers
by OhioGardener 5/18/2023, 6:23 pm
»
My Solar Dehydrator at Work
by
sanderson
5/18/2023, 3:10 pm
»
French Tarragon
by
sanderson
5/18/2023, 12:41 pm
Canning recipe for great peach jam from "Canning for a new generation" by Krissoff. Makes 5 half pint jars. I doubled recipe and it came out perfect with 10.
12 oz. granny smith apples (2 large)
4 lbs. pitted ,peeled peaches diced
2 cups sugar
3 tablespoons fresh lemon juice
Put small plate in freezer for checking later

Cut apples into quarters and core. Tie cores and seeds in cheesecloth bag and set  aside. I sprinkled fresh fruit on them. Also my bag failed, more later.
Put sugar and peaches into pot and simmer, stir frequently until juices cover the peaches. Pour into large colander set over large bowl. Gently stir peaches to remove the juice. Return juice to pot with the apples and bag, bring to a boil over high heat stir occasionally until syrup is thick and reduced, about 15 mins. (mine took much longer and didn't get real thick)

Return the peaches and any juice to the pan along with the lemon juice and simmer until peaches are tender and a dab of jam spooned onto the freezer plate for a minute becomes firm (not gel) about 15 minutes. Mine took much longer but I am 5600 ft. alt. Remove from heat, stir the peaches and remove the apples and bag.

Do the normal prep work for canning, with the sterilized jars etc. and process for 5 min. at low alt. and add of course for your alt.

My bag failed and my apples cooked out in the first go around ( before adding peaches) so I took out the apples, core and seeds before returning the peaches to the pot because I didn't think I could later. It still worked ok.

BTW this is a great book that I use a lot with " The Pickled Pantry" by Chesman. In the latter book I made her no fail half sour dill pickle recipe last year and this year and every time we take them to a function or party they are gone in minutes with incredible comments. Simple to make, no canning required and the only addition to her recipe is serrano's in the jar.

johnp




Posts

: 644


Join date

: 2013-01-05


Age

: 78


Location

: high desert, Penrose CO



Yum!  Sounds great!  Guess I know what I'll make in a few days...!

Thanks, John.
First peach jam in over 30 years.  Our neighbor gave us 2 boxes of peaches and we couldn't eat them fast enough. So, I YouTubed how to peel peaches, and there were just enough peaches, on the dot, to make one batch. I used to pour hot paraffin to preserve them.  I learned from this Forum to use a hot water bath, instead. Love the sound of popping lids in the early morning.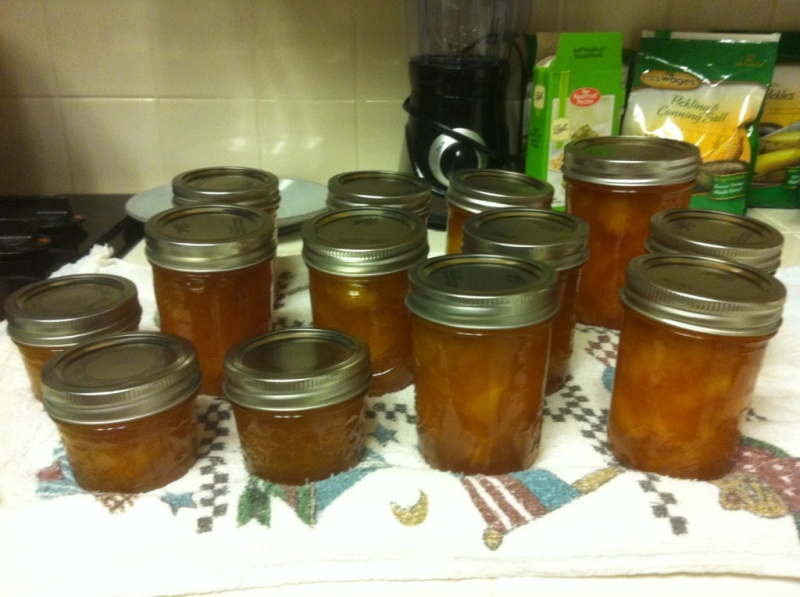 Looks and sounds delish!  Both of you!

Scorpio Rising




Posts

: 8454


Join date

: 2015-06-12


Age

: 61


Location

: Ada, Ohio



Congratulations, Sanderson!  Looks really good!
I love that plinking sound too... 
---
Permissions in this forum:
You
cannot
reply to topics in this forum