Latest topics
»
New SGFer with nutrient deficient soil
by
AtlantaMarie
Today at 8:34 am
»
new here From 8a Central TX
by
AtlantaMarie
Today at 8:30 am
»
What Have You Picked From Your Garden Today
by
OhioGardener
Yesterday at 8:51 pm
»
N&C Midwest August 2021
by
OhioGardener
Yesterday at 8:30 pm
»
California's Drought
by
JJ_Gam
8/3/2021, 3:57 pm
»
What are you eating from your garden today?
by
Scorpio Rising
8/2/2021, 8:42 pm
»
SOAP verses DETERGENT
by
sanderson
8/2/2021, 5:53 pm
»
Are My Cukes And Zukes Done For?
by
Scorpio Rising
8/2/2021, 12:26 pm
»
Happy Birthday!!
by
sanderson
7/31/2021, 5:45 pm
»
Square Foot Gardening Official YouTube channel
by
dstack
7/30/2021, 8:50 pm
»
How are you protecting your garden from the heatwve?
by
sanderson
7/30/2021, 5:06 pm
»
Spider Mites?
by
sanderson
7/30/2021, 5:03 pm
»
N&C Midwest: July 2021
by
OhioGardener
7/30/2021, 12:11 pm
»
Hello from Central Maine-zone 4b/5
by
sanderson
7/30/2021, 6:08 am
»
Slug Control with Nematodes
by
sanderson
7/30/2021, 2:23 am
»
Compost fire?
by
sanderson
7/30/2021, 2:08 am
»
Organic Home Growing Library
by
sanderson
7/30/2021, 1:15 am
»
Raising garlic
by
Scorpio Rising
7/29/2021, 7:30 pm
»
First Time Planting Seeds in SFG
by
Frank207
7/29/2021, 5:54 pm
»
Kyoto Red Carrot
by
karynne
7/28/2021, 8:46 pm
»
Creating a Grid for Plastic Box
by
Tanglewood
7/28/2021, 3:54 pm
»
Spoon Tomato
by
njayne58
7/28/2021, 12:19 pm
»
JAM23 SFG in Illinois
by
karynne
7/27/2021, 10:18 pm
»
OhioGardener SFG
by
OhioGardener
7/27/2021, 8:21 pm
»
Anyone grow okra?
by
kauairosina
7/27/2021, 7:07 pm
»
3 Ways to Stop Powdery Mildew (video)
by
dstack
7/27/2021, 5:31 pm
»
My SFG journey- using hanging clips on cucumber and tomatoes
by
has55
7/27/2021, 9:26 am
»
Hello from a professional in Fremont
by
JJ_Gam
7/26/2021, 3:43 pm
»
Cucumbers
by
yolos
7/23/2021, 4:38 pm
»
Name that plant - the game
by
Scorpio Rising
7/23/2021, 12:14 am
+4
rds1955
organicgardeningzen.com
Ha-v-v
dano
8 posters
I found vermiculite, which was harder than I thought it would be. I found 4 sources of compost, which was WAY harder and WAY more expensive than I thought it would be. I built and painted my boxes, which took way longer than I expected. I mixed my dirt and filled my boxes. Today I planted everything. My wife asked me if it was worth all the time and money. I said "I sure hope so."
Here are a couple pics of my boxes.
This one shows my riser for potatoes and carrots.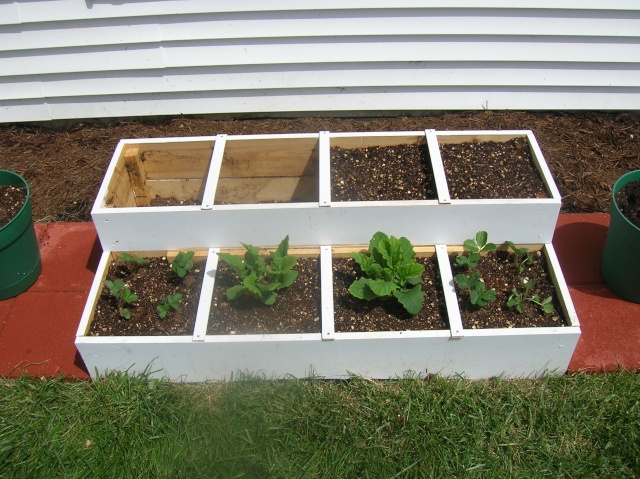 dano




Posts

: 20


Join date

: 2010-03-31



Hello
Your set up looks so nice and crisp. I love the "apts" for the potato and carrots. So far for me, my first time too, the work is definitely worth it.
Happy Gardening
Ha-v-v

Ha-v-v




Posts

: 1123


Join date

: 2010-03-12


Age

: 61


Location

: Southwest Ms. Zone 8A (I like to think I get a little bit of Zone 9 too )



By next year, you will have forgotten about the work and the cost to get set up and you'll love being able to just go right to planting and growing!
Dano -

I understand and agree whole heartily... I know when I 1st started I thought I'd be done everything by that weekend...I have a Chronic Illness/Disability that plagues me and that even slows me down even more...It takes alot of work and time to get it all set up and working but as was stated, next year that'll all be behind us...

I was hooked when I 1st became aware of the SFG system and bought all my materials up front for a large garden area..Then I had a bout of my illness and was side tracked for the summer last year... Everything sat in my Garage just sitting there waiting to be assembled...I finally got stuff going this year, albeit slowly and have seen my 1st plants spring to life, some Asparagus I planted on April 3rd...I think my main and primary mistake I've made is to start out larger than I should have...I've got enough wood, weed block, hardware cloth, chicken wire and conduit materials and Mel's Mix ingredients to build (16) 8' x 4' x 12" deep boxes, and thats not including the materials I've built or have ready to set up my Grape and Blackberry trellises...I got ahead of myself and didn't realize how much work was involved in getting it all up and running...But on the other hand, I learned from that, and have slowed down my efforts to some degree... If I get it done this spring and summer, then so be it, If I don't well that's something else to look forward to for next year...One step at a time, and not getting ahead of myself...that's the ticket...

rds1955




Posts

: 67


Join date

: 2010-03-02


Age

: 66


Location

: Md's eastern Shore



@dano

wrote:My wife asked me if it was worth all the time and money. I said "I sure hope so."
I've asked myself the same question a lot. From the cost perspective I suppose it's debatable. On the other hand I've already enjoyed being out there quite a bit, so from that perspective it's absolutely worth it.

Kabaju42




Posts

: 249


Join date

: 2010-03-03


Location

: Salt Lake City, UT



It's well worth the time and money. I do both square foot and traditonal gardening ( I grow lots of tomatoes) I love walking out to my garden in the mornings and evenings to check things out. It's relaxing and peaceful. Plus I am still eating from last years garden. I have peas and onions sprouting up in this years garden.

Scott

scotch827




Posts

: 18


Join date

: 2010-03-02



I find a good size for my square foot gardens is 4 metres by 1 metre (or slightly narrower). I've filled my polytunnel with beds like this which I can plant into without walking on the soil.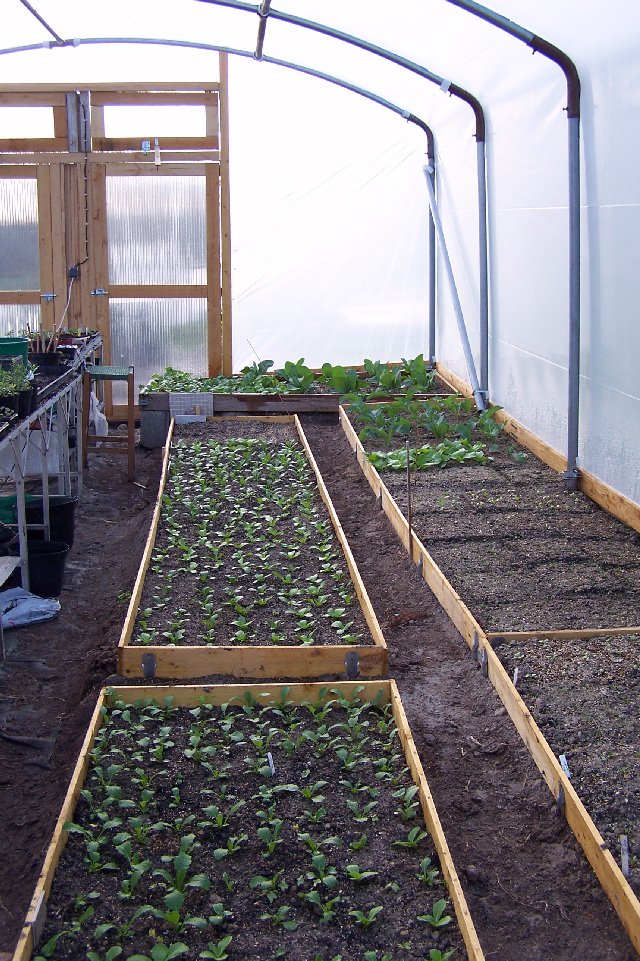 Luckily we can buy huge sacks of vermiculite for roof insulation at a local DIY store for around 14 euros, so it cuts down on the cost.
I'm enriching each square foot with four large handfuls of sieved well rotted compost, two handfuls of wood ashes from our woodburning stove, and a good handful of organic fertiliser based on seaweed extracts.
Where I've gone wrong in the past is not harvesting a square at a time, and not enriching the soil every time I resow or replant.
I find some of Mel's advice rather weird, like the thing about 16 radish being about as much as anyone can eat.... the two of us eat at least four each over the course of a single day... so a square foot would be gone in two days! Larger things like Chinese cabbages or oriental greens tend to overshadow and encroach on surrounding squares of things like carrots.
Also direct sowing of a single carrot seed results in most of the square being empty, however well you prepare the sowing hole with vermiculite etc. Even turnips are better if you put two or three seeds in each sowing hole given variations in germination.
Overall though I have found this method working superbly well this year and in the polytunnel cabbage and cauliflowers are growing away like mad. We've harvested and eaten quite a few turnips sown just a couple of weeks ago... French beans are beginning to grow away too.
I'm starting to work on the outdoor beds now, all four metres by one metre, but paying great attention to enriching each square. Usually half the garden produce has suffered from neglect in droughts or lack of weeding, so I'm aiming at ten beds of this size only for intensive repeat cropping of beet, turnips, greens, beans etc. Things like potatoes will be grown conventionally, as will winter greens like sprouts.
@BertieFox That's an awesome operation you've got going on! What a great deal on vermiculite...I wonder if it is sold for insulation purposes here in the US...
Dano, your SFG set-up is really attractive! It looks great! My prediction is that you will find it all worthwhile.

BertieFox - I am so jealous of your polytunnel!

martha




Posts

: 2188


Join date

: 2010-03-03


Age

: 64


Location

: Acton, Massachusetts Zone 5b/6a



---
Permissions in this forum:
You
cannot
reply to topics in this forum