Latest topics
»
Mark's first SFG
by OhioGardener Yesterday at 3:24 pm
»
What Have You Picked From Your Garden Today
by markqz Yesterday at 2:56 pm
»
Kiwi's SFG Adventure
by KiwiSFGnewbie 12/9/2023, 10:25 pm
»
Hi from Western Australia
by OhioGardener 12/9/2023, 11:10 am
»
N & C Midwest: November/December 2023
by JAM23 12/8/2023, 6:49 pm
»
Strawberry Varieties?
by
sanderson
12/5/2023, 3:57 pm
»
Recommended store bought compost - Photos of composts
by
sanderson
12/4/2023, 1:27 pm
»
Jerusalem Artichoke or Sun Choke
by
Scorpio Rising
12/4/2023, 7:09 am
»
Strawberries in MM: to feed or not to feed?
by
sanderson
12/3/2023, 7:30 pm
»
Senseless Banter...
by
sanderson
11/28/2023, 10:31 pm
»
FREE Online SFG Class - November 28, 2023
by
sanderson
11/27/2023, 9:21 pm
»
Mini-Raised Beds?
by Chuck d'Argy 11/27/2023, 2:14 pm
»
Happy Birthday!!
by
sanderson
11/26/2023, 10:58 pm
»
Name the mystery (to me) seedlings! :-)
by Psdumas 11/25/2023, 12:04 am
»
Happy Thanksgiving from the USA
by
sanderson
11/23/2023, 1:47 pm
»
Guatemalan Green Ayote Squash
by OhioGardener 11/21/2023, 8:27 am
»
Seeds 'n Such Early Order Seeds
by
sanderson
11/20/2023, 1:13 pm
»
USDA Plant Hardiness Zone Map
by OhioGardener 11/19/2023, 7:12 am
»
AeroGarden for starting seeds?
by OhioGardener 11/16/2023, 12:40 pm
»
Biochar?
by OhioGardener 11/16/2023, 10:31 am
»
2023 - Updated U.S. Interactive Plant Hardiness Map
by
sanderson
11/15/2023, 6:18 pm
»
SFG Is Intensive Gardening
by
sanderson
11/14/2023, 3:26 pm
»
Teaming with Microbes Kindle Sale (Mem. Day weekend 2023)
by markqz 11/10/2023, 12:42 am
»
Bok Choy Hors d'oeuvres
by
donnainzone5
11/9/2023, 5:58 pm
»
Now is the Time to Start Preparing Next Year's Spring Garden
by OhioGardener 11/9/2023, 7:13 am
»
Shocking Reality: Is Urine the Ultimate Gardening Hack or Disaster?
by dstack 11/6/2023, 5:29 pm
»
Nightmare on Mel Street.
by
Scorpio Rising
11/4/2023, 6:37 pm
»
Aerogardening
by
Scorpio Rising
11/3/2023, 10:02 am
»
Sunday All Purpose Organic Garden Nutrients
by lisawallace88 11/3/2023, 9:13 am
»
Mid-summer seed sowing, how do you do it?
by KiwiSFGnewbie 11/2/2023, 8:04 pm
i am starting my garden in wytheville , va . this spring . i have seen many rabbits and groundhogs , deer and fox squirrles on my property. how do i keep them out of the garden without harming them ?

greasycreek ken




Posts

: 2


Join date

: 2013-01-15


Age

: 67


Location

: 24382



A proper fence.
And a separate garden outside the fence just for your wild neighbors......
Welcome to the SFG Forum.
____________________________
43 years a gardener and going strong with SFG.
https://squarefoot.forumotion.com/t3574-the-end-of-july-7-weeks-until-frost
There are certain pursuits which, if not wholly poetic and true, do at least suggest a nobler and finer relation to nature than we know. The keeping of bees, for instance. ~ Henry David Thoreau
https://squarefoot.forumotion.com/t1306-other-gardening-books
Hi Ken and
! Totally agreed w/ the fence, perhaps double fence? I personally live in a little subdivision w/ a 6ft privacy fence....so my worst pests are my big dogs and bugs. I thought my sweet and well behaved pups would leave my garden alone the first year....but turns out they loved the tomatos as much as I and most of the garden was ravished and had to be replanted.
Lesson learned! Now I have a sturdy rabbit fence secured to the boxes which actually makes it easy to attach plastic during frost threat and mesh during buggy times. I have seen a number of people on here that have a nice, completely fenced garden area w/ walkway and you can probably find their pics if you snope around a bit here. I know my mom has a huge issue with the critters in her traditional garden and was looking into trying a solar, ultrasonic deterant device, but not sure how effective they are.

Lemonie




Posts

: 192


Join date

: 2010-10-24


Age

: 40


Location

: Georgetown, KY Zone 6a



Welcome Ken! Wow you have lots of wildlife around! I also live in a subdivision and had to fence out my dogs but had lots of ferrel cat problems. For the burrowing critters you have around, you will need to dig down and bury your fence about six inches deep and it only has to be 2-3 feet. For deer, there are a lot of options at this site: http://www.thisoldhouse.com/toh/photos/0,,20368362,00.html

Good luck with your garden!

Triciasgarden




Posts

: 1634


Join date

: 2010-06-04


Age

: 68


Location

: Northern Utah




kat51415




Posts

: 91


Join date

: 2012-02-08


Location

: SE OK



Same problem here Ken. Some many different animals had to invest in a fence but some are lucky to have just one type of animal bother their garden but I am not as fortunate.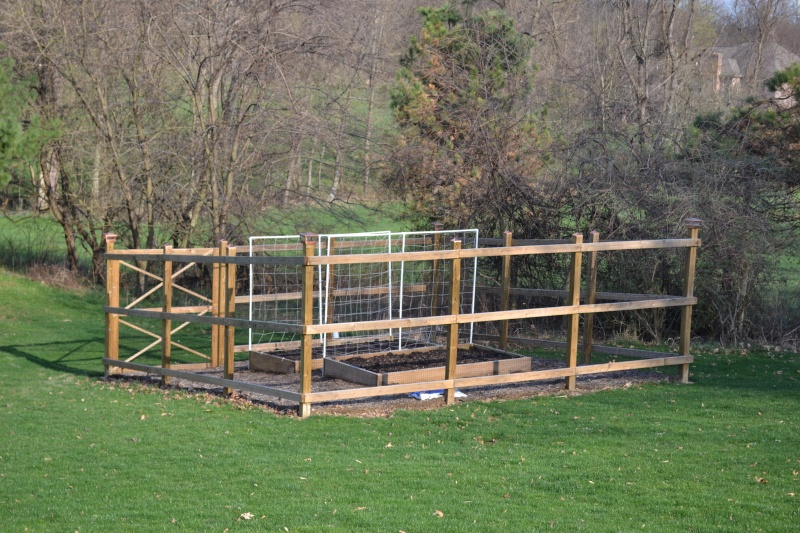 floyd1440




Posts

: 815


Join date

: 2011-06-21


Age

: 69


Location

: Washington, Pa. Zone 6a



---
Permissions in this forum:
You
cannot
reply to topics in this forum