Latest topics
»
Stevia
by markqz Yesterday at 12:11 pm
»
Mark's first SFG
by markqz Yesterday at 11:53 am
»
Beds not holding moisture?
by MrBooker 9/27/2023, 7:13 am
»
N&C Midwest September 2023
by
Scorpio Rising
9/27/2023, 6:55 am
»
Walking stick kale
by markqz 9/26/2023, 11:52 pm
»
Butternut squash sets world record at the State Fair of Virginia
by markqz 9/25/2023, 5:13 pm
»
Ohio Gardener's Greenhouse
by OhioGardener 9/25/2023, 4:29 pm
»
Closing beds for winter
by plantoid 9/25/2023, 4:25 pm
»
Famous Gardening Quotes
by OhioGardener 9/23/2023, 12:51 pm
»
Foodbank's composting program creates food from food
by OhioGardener 9/22/2023, 8:29 am
»
What Have You Picked From Your Garden Today
by OhioGardener 9/21/2023, 1:15 pm
»
Turning existing garden beds into SFG
by jemm 9/20/2023, 7:35 am
»
updating my mix - what should I add
by
sanderson
9/18/2023, 5:04 am
»
Senseless Banter...
by
sanderson
9/16/2023, 11:37 pm
»
Lumber and measuring for SFG boxes
by
sanderson
9/16/2023, 12:21 am
»
Avatar issues
by Guinevere 9/14/2023, 7:53 pm
»
Happy Birthday!!
by
sanderson
9/11/2023, 4:40 pm
»
When to harvest? / Watermelon seedlings
by
sanderson
9/9/2023, 6:07 pm
»
Hornets Nest
by
sanderson
9/8/2023, 8:15 pm
»
Tropical Storm Hilary
by jennyjo37 9/5/2023, 5:31 pm
»
A square foot garden in a round bed.
by alicej 9/4/2023, 3:39 am
»
Determinate Cherry Tomato for Greenhouse
by OhioGardener 9/2/2023, 6:52 pm
»
N&C Midwest August 2023
by
Scorpio Rising
8/31/2023, 9:01 am
»
Hurricane
by
Scorpio Rising
8/30/2023, 7:25 am
»
No-Fail Zucchini Bread
by OhioGardener 8/28/2023, 11:11 am
»
buying compost small town SW Pennsylvania
by
sanderson
8/27/2023, 6:41 pm
»
Phosphate
by
sanderson
8/27/2023, 3:43 pm
»
Topping brand new SFG box with more gorgeous compost???
by
sanderson
8/27/2023, 3:36 pm
»
8 Great Vegetables for Fall Planting
by
sanderson
8/27/2023, 2:58 pm
»
What are you eating from your garden today?
by OhioGardener 8/26/2023, 7:19 pm
+10
Yus
micahduke
Furbalsmom
jamesindetroit
shannon1
dsfin
B00kemdano
walshevak
UnderTheBlackWalnut
llama momma
14 posters
Page 2 of 2 •
1, 2
I like 2' wide beds best of all. I wouldn't mind a 3' x 8' for corn.
I used chickenwire with weed barrier over it for my beds.  If you wanna see how i did it, https://squarefoot.forumotion.com/t21344-bryan-greenbeard-of-minnesota-s-2017-plans ive got a few rambling videos and some still shots.    They held up great over the winter in minnesota when the snow was piled higher then they are tall
  and everything growing in them is super happy this second season.    mine are in 3'x3' sections 3 in a row. and 5 in a corner.    
I built a bed using sanderson's hubby's plan the 4x4 one, for my moms house.   Its held up great over the winter.. this season though she just has a few lettuce, a couple peppers, and a ton of hens and chicks that shes trying to make some "carpets" out of for next spring in an area that not much grows..  It has a plywood base that i added a few drain holes to.  weedbarrier over the plywood though under the mm.   just cuz i had a couple yards left on a roll i wanted to use up.
as ive only got 4x4 and 3x3's  i prefer the 3's as i can reach the middle from either side comfortably so can pull off the anti-deer/rabbit fencing at my place and just reach over either way.    At moms its easy nuff to get around the 3 sides to get anywhere in her bed, shes got a couple lines of tomato buckets going off one end of it.

Greenbeard




Posts

: 97


Join date

: 2017-03-06


Location

: 4b zone minnesota



Thank you Bryan for your reply. I will enjoy reading through your table top adventure!

Leone




Posts

: 45


Join date

: 2016-02-19


Location

: Alabama



Leone wrote:

walshevak wrote:I have 10 with hardware cloth bottoms and up on cinderblock and 4x4x12s cause I liked the look.  I used a three 1x4s to support the hardware cloth.

Kay

Hi Walshevack,

How has this worked out for you? It has been a number of years since you posted this and I was wondering if your hardware cloth has held up?
I have since moved and brought all my beds with me, but 2 didn't make the trip well. Used some sides and corner hardware to shore up the other 8.   The 1x4s rotted out and I replaced with 2x4s this year, but otherwise the hardware cloth is good.  Still gardening in my tabletops.  Beds on cinder blocks and peppers and tomatoes in buckets.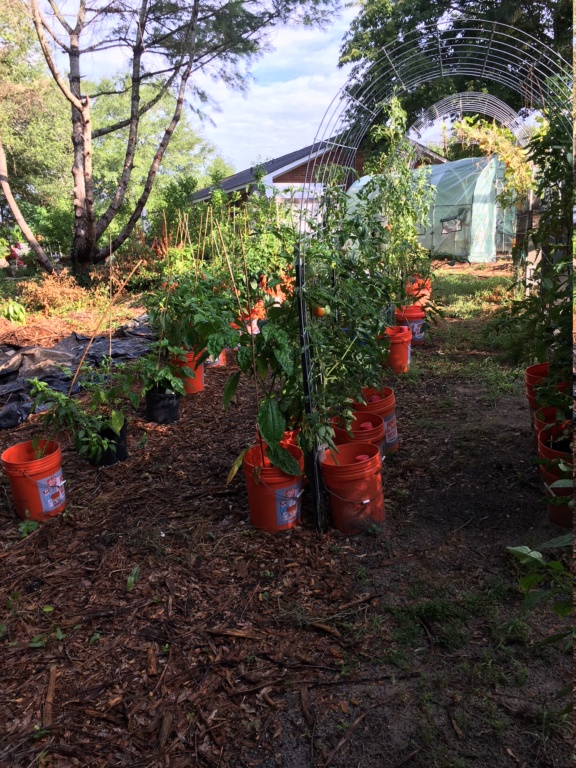 rebuilding the "pond beds"  (wicking) which had rotted out  to make them table top as well.  2x6 boards will be laid on top of the higher block foundation and another course of blocks added to hold the pond liner.  Then a hardware cloth/weedblock lined bed with three 2x4 supports will sit on top.  Still a work in progress as my son can only help just so often.  Cattle panels arched between the beds provide trellis areas.  Pots on the bed were the onions and basil I had to rescue from one pond bed.  There is a post of the original building of the pond beds. https://squarefoot.forumotion.com/t5716-experiment-to-deal-with-pure-sand-and-high-water-bills?highlight=pure+sand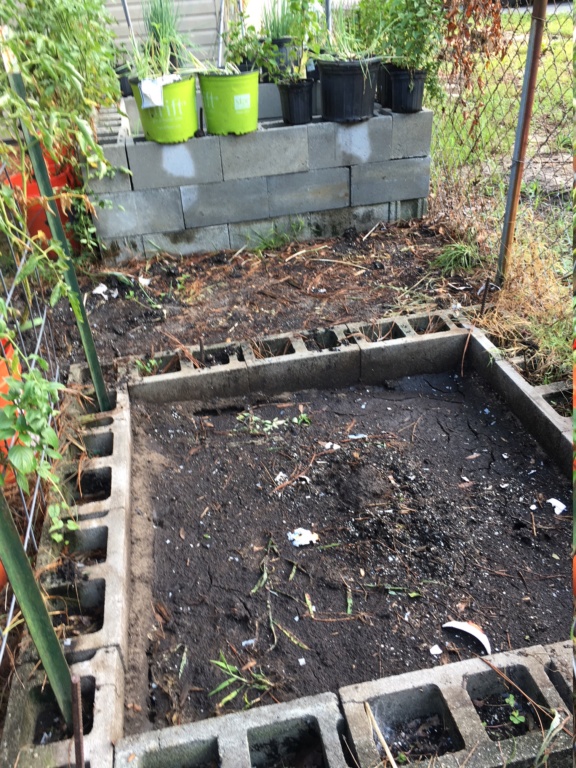 ____________________________
A WEED IS A FLOWER GROWING IN THE WRONG PLACE
Elizabeth City, NC
Click for weather forecast

walshevak


Certified SFG Instructor




Posts

: 4374


Join date

: 2010-10-17


Age

: 80


Location

: wilmington, nc zone 8



Nice, Kay. I envy your bucket brigade.
Page 2 of 2 •
1, 2
Similar topics
---
Permissions in this forum:
You
cannot
reply to topics in this forum