Latest topics
»
Attracting Beneficial Insects Such As The Aphidius Wasp
by dstack Today at 6:17 pm
»
Planting Seed Potatoes vs Store bought potatoes.
by MrBooker Today at 3:39 pm
»
Happy Birthday!!
by
AtlantaMarie
Today at 6:51 am
»
Bunk Feeder for Bed
by Lizlo_FL Yesterday at 6:27 pm
»
Weird spots on tomato leaves seedlings
by Mattlund Yesterday at 4:56 pm
»
soil block makers
by OhioGardener Yesterday at 1:27 pm
»
Greenhouse - Helpful Hints in Setting up a Wood-Framed Greenhouse
by sunflowersarefun Yesterday at 1:13 pm
»
Sourdough Starter
by
Scorpio Rising
Yesterday at 9:03 am
»
Hurricane
by yolos 3/27/2023, 10:27 pm
»
Think Spring 2023
by
Scorpio Rising
3/27/2023, 7:32 pm
»
Winter Lag - Waiting for Sprimg
by WhiteWolf22 3/27/2023, 12:39 am
»
N&C Midwest: March & April 2023
by OhioGardener 3/26/2023, 3:48 pm
»
Kiwi's SFG Adventure
by
sanderson
3/25/2023, 10:11 pm
»
Mixing Mel's Mix
by
sanderson
3/25/2023, 4:08 pm
»
Hi from Northern VA!
by onebirdiema 3/25/2023, 4:06 pm
»
Sifted Peat
by
sanderson
3/25/2023, 3:40 pm
»
Can I Use this As My 5 Sources of Compost?
by
sanderson
3/25/2023, 3:36 pm
»
Green onions
by OhioGardener 3/25/2023, 8:28 am
»
Nero Di Toscana Cabbage or Black Palm Tree
by Paul Crowe 3/25/2023, 6:01 am
»
Chinese Cabbage and Radicchio, spacing?
by Paul Crowe 3/25/2023, 5:40 am
»
finished my SGF garden
by
sanderson
3/25/2023, 3:49 am
»
need specific advice on MM
by
sanderson
3/25/2023, 3:42 am
»
Compost from Five Different Sources
by
sanderson
3/25/2023, 3:32 am
»
Indoor seed starting question
by Simso 3/24/2023, 8:30 pm
»
Senseless Banter...
by OhioGardener 3/22/2023, 8:11 pm
»
After harvest, leave the roots in or remove
by Mikesgardn 3/22/2023, 7:53 pm
»
Best choice of pot to plant my seedling
by markqz 3/22/2023, 1:30 pm
»
Responding to a specific post
by OhioGardener 3/22/2023, 9:55 am
»
Sifting Compost for Newbies
by
sanderson
3/20/2023, 3:47 am
»
Too cold to put my new MM into my raised beds?? and Facebook SFG site
by
sanderson
3/20/2023, 3:39 am
So, for most of us, this is the quiet season in our gardens, but in just a few weeks, it will be time to start some seeds indoors, for those who plant from seed. For some of us, it's time to plan new boxes, or try to figure out companion and succession planting - I know, it should be easy! (My problem with companion planting is conflicting information from various sources, combined with questions such as - if two plants should avoid each other, is it air space? Dirt space? Is it okay in an adjoining SF box, if they aren't sharing soil?)

I know I would love to hear from all of you on a number of subjects, so I can steal, um, I mean, implement your good ideas this coming year, instead of having to wait until next!

My next project is to research what needs to be pruned and/or transplanted when - the main thing in my SFG this will impact is my strawberries (that I allowed to get ridiculously overrun with runners this past year.) But I have other things, too, which of course should go to Non -SFG, such as when to prune the raspberries and when to move back the lilac that never should have been moved in the first place, and it almost died because the person who moved it did so at the wrong time of year, so it had to stay there all this past year to recover its strength!

What are you folks working on?

martha




Posts

: 2188


Join date

: 2010-03-03


Age

: 66


Location

: Acton, Massachusetts Zone 5b/6a



Martha, potatoes are easy with a little thought. In very early spring as soon as the soil could be worked and it wasn't wet, I dug trenches about a foot deep, laid in a tater, covered it with a couple inches of soil. When it grew up about 6" I buried more of the plant til only the tops showed, by filling in the trench. Did that again when it grew another foot so I covered another 8" of plant, then left it alone. I thought that was deep enough for the taters to thrive underneath and with a mound of soil around the base of the plants.
As you can see, my patch was a raised bed without lumber. They are called berms when they aren't contained but they work just as well.
I made sure I added peat moss to the patch early in the season before planting because taters like a lower PH. I planted whole small seed potatoes instead of cutting them in halves or thirds because I didn't want to deal with possible rot on the cut sides. Other than that, regular watering, and then digging my bare hands beneath the plant to pull out new taters and then the full harvest. It sure felt good around my hands.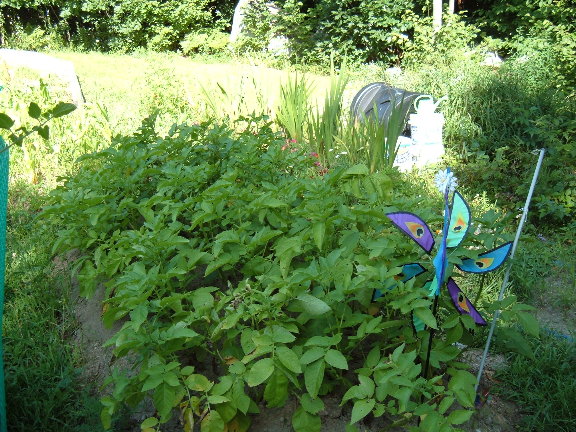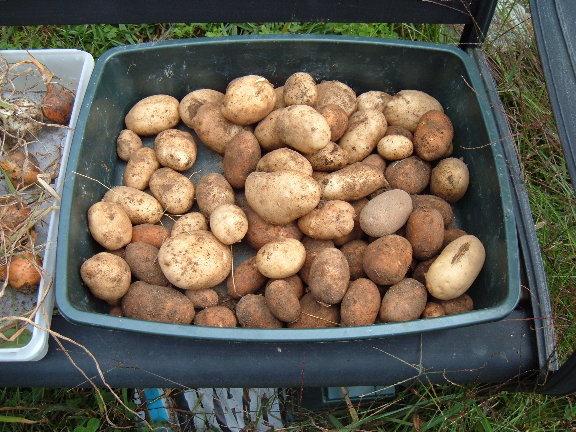 Kennebecs and Golden Russets harvested Sept. You'll love the flavor so much more than store-bought.

quiltbea




Posts

: 4712


Join date

: 2010-03-21


Age

: 80


Location

: Southwestern Maine Zone 5A



Sorry it took so long Martha, I had bad gateway issues earlier.
Have you ever heard of "
Winter Sowing
"? The link is to my winter sowing blog from last year with a link to the person who taught me the how-to's. The facebook winter sowing group is kicking off the season with a sowing party on the solstice. I did great last year EXCEPT that everything sprouted at different times. This year everything gets its own container. I plan to start a container (each) of parsley, echinacea (purple cone flower), chamomile, and perhaps snap-dragons.
This solstice I am also going to put more shallots into one of the boxes. There is some old-timey thing about planting on the shortest day and harvesting on the longest. I like those sort of rules. I am just a little bit worried that I live too far north for that sort of time.
Fennel and green beans are not friends (fennel wins). Peppers and cucumbers are not friends (and peppers win) This is the only experience I have had with enemy plants.
My only other plan is...


to make a plan,

Build a rabbit hutch

gather the stuff for aquaponics and read, read, read,

For New Years week, start small containers of lettuce, mustard and spinach to plant out in March.

Get my seed order ready.

Debs.....who just got a gift of goat poop and needs to turn the compost she thought she was done with until spring. Happy, happy!
Here is a link for companion planting. Hope it's accurate!!
http://www.ghorganics.com/page2.html#ALFALFA:

southern gardener




Posts

: 1887


Join date

: 2011-06-21


Age

: 42


Location

: california, zone 10a



---
Permissions in this forum:
You
cannot
reply to topics in this forum