Latest topics
»
Birds of the Garden
by
Scorpio Rising
Today at 9:21 pm
»
Mulch around garlic
by Junkmail99 Today at 8:10 pm
»
Kiwi's SFG Adventure
by KiwiSFGnewbie Today at 5:05 pm
»
Paul's First SFGs
by pkadare Today at 4:38 pm
»
What Have You Picked From Your Garden Today
by
Scorpio Rising
Yesterday at 11:58 pm
»
N&C Midwest: June 2023
by
Scorpio Rising
Yesterday at 5:59 pm
»
New to Forum and SFG 15" raised bed foundation
by OhioGardener Yesterday at 12:56 pm
»
Frequency/amt to water
by OhioGardener Mon Jun 05, 2023 9:09 pm
»
Famous Gardening Quotes
by OhioGardener Mon Jun 05, 2023 10:18 am
»
Easy Refrigerator Pickles from Extra Produce
by OhioGardener Mon Jun 05, 2023 9:25 am
»
Tea Time -- Compost Tea, that is
by OhioGardener Sat Jun 03, 2023 7:07 pm
»
Hello from Central Missouri, Zone 6a
by
Scorpio Rising
Sat Jun 03, 2023 3:48 pm
»
N&C Midwest: May 2023
by OhioGardener Thu Jun 01, 2023 8:55 pm
»
Walking stick kale
by
sanderson
Wed May 31, 2023 1:38 pm
»
Why Letting Weeds Run Wild Can Actually Help Your Garden
by
sanderson
Tue May 30, 2023 2:35 pm
»
What are you eating from your garden today?
by OhioGardener Tue May 30, 2023 12:11 pm
»
Teaming with Microbes Kindle Sale (Mem. Day weekend 2023)
by
sanderson
Mon May 29, 2023 3:14 pm
»
Mid-Atlantic New Host Intro & Info
by JAM23 Mon May 29, 2023 8:38 am
»
Poppy seeds - Hungarian Blue Breadseed
by
AtlantaMarie
Sun May 28, 2023 6:12 am
»
Sluggo Plus
by
sanderson
Sat May 27, 2023 3:23 pm
»
Centpedes
by OhioGardener Thu May 25, 2023 6:19 pm
»
beneficial nematodes
by OhioGardener Wed May 24, 2023 9:18 pm
»
Senseless Banter...
by markqz Wed May 24, 2023 5:39 pm
»
Pre-Filling a 30" Raised Bed
by toledobend Wed May 24, 2023 1:10 pm
»
Happy Birthday!!
by
AtlantaMarie
Wed May 24, 2023 7:03 am
»
Aphids & Their Predators
by MrBooker Wed May 24, 2023 6:01 am
»
Hello from Bobcaygeon, Ontario
by
Scorpio Rising
Sat May 20, 2023 1:52 pm
»
Spring Flowers
by OhioGardener Thu May 18, 2023 6:23 pm
»
My Solar Dehydrator at Work
by
sanderson
Thu May 18, 2023 3:10 pm
»
French Tarragon
by
sanderson
Thu May 18, 2023 12:41 pm
[img]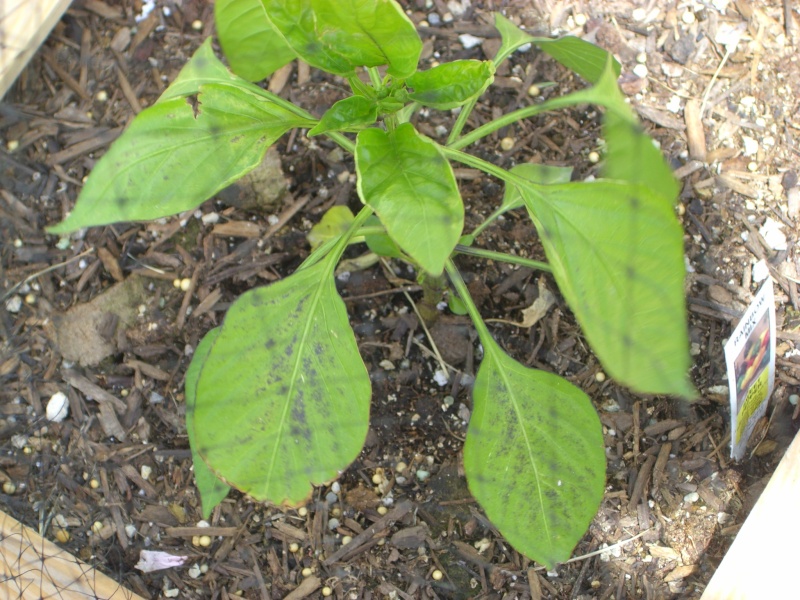 [/img]
Two of my pepper plants have black stuff on the leaves. At first glance, it looks like there is very fine dirt sprinkled on the leaves, but it can't be wiped or brushed off. The edges of these same leaves are also black. Should I be worried about this? I should mention it has been raining like crazy for over a week--almost every day until yesterday (the black just showed up today) I have covered them to protect them from the cold and that has also shielded them from a lot of the rain but not all of it. I guess I am worried about fungus?
They are under bird netting to protect them from neighborhood animals so the image has the black grid in it... hopefully you can still see the black I am talking about.

WendySue67




Posts

: 37


Join date

: 2011-04-11


Location

: Riverton, Utah



Sorry WendySue, I "googled" a bit and could not find any information on black powder on pepper leaves.
Hope someone else can help out here.

Furbalsmom




Posts

: 3141


Join date

: 2010-06-10


Age

: 76


Location

: Coastal Oregon, Zone 9a, Heat Zone 2 :(



Maybe its black sooty mold. This is from an article on pepper plant diseases:
Pests may cause rotting leaves and other problems with pepper plants. Aphids feed on the leaves of pepper plants, leaving behind sticky secretions of a honeydew residue that fosters the growth of black sooty mold. The mold causes leaves and fruits of the plant to rot. Twospotted spider mites suck the nutrients right out of the leaves, making them turn yellow and rot off the plant. Flea beetles and margined blister beetles eat holes in leaves, creating rotting and wilting. Control pest outbreaks with pesticides to protect plants and prevent further damage.
Read more:
Rotting Leaves on Pepper Plants | eHow.com
http://www.ehow.com/info_8321174_rotting-leaves-pepper-plants.html#ixzz1O4ja9n3r

squaredeal




Posts

: 192


Join date

: 2011-05-09


Location

: Indianapolis=6a



Thanks! I think maybe you're right... after looking at a lot of pictures of black sooty mold that's what it looks like. I read that it isn't dangerous to the plant, just ugly...does anyone know if that is true? And does anyone know how to get rid of it?

WendySue67




Posts

: 37


Join date

: 2011-04-11


Location

: Riverton, Utah



Similar topics
---
Permissions in this forum:
You
cannot
reply to topics in this forum