Latest topics
»
What are you eating from your garden today?
by
OhioGardener
Today at 10:44 am
»
Aero Garden for starting seeds?
by
OhioGardener
Today at 8:23 am
»
Garden Tools
by
yolos
Yesterday at 6:16 pm
»
worms and compost tumbler
by
sanderson
Yesterday at 1:47 am
»
Starbucks for coffee grounds!
by
sanderson
1/30/2023, 1:37 am
»
N&C Midwest: January & February 2023
by
OhioGardener
1/29/2023, 7:33 pm
»
Placing Box on Cement
by
OhioGardener
1/29/2023, 2:57 pm
»
How I compost using a Tumbler
by
Soose
1/29/2023, 2:45 pm
»
Garlic Chives in SFG?
by
OhioGardener
1/29/2023, 8:56 am
»
Soaking Seeds for Better Germination
by
Soose
1/29/2023, 5:26 am
»
Microgreens Gardening
by
sanderson
1/28/2023, 11:42 pm
»
How do I source Mels Mix for 190 cu ft????
by
sanderson
1/28/2023, 11:35 pm
»
Johnson Su composting Bioreactor instructions for home, not the farm.
by
has55
1/28/2023, 10:57 am
»
homemade vermicomposting/Worm Casting Compost Sifters
by
has55
1/28/2023, 10:45 am
»
Famous Gardening Quotes
by
OhioGardener
1/28/2023, 8:29 am
»
The SFG Journey-Johnson Su Bioreactor for composting, No turning
by
has55
1/28/2023, 12:09 am
»
seed starting Mel's way
by
plantoid
1/27/2023, 7:09 am
»
Home Made Compost
by
plantoid
1/27/2023, 6:18 am
»
Kiwi's SFG Adventure
by
KiwiSFGnewbie
1/27/2023, 2:46 am
»
Back In The Saddle I Suppose
by
Scorpio Rising
1/26/2023, 8:03 pm
»
New but Old
by
lovey
1/25/2023, 1:49 am
»
Dani's Brand New SFG For 2023
by
danieggert
1/24/2023, 6:24 pm
»
Seed Exchange - January 2023
by
sanderson
1/24/2023, 4:43 am
»
Chicken Poop compost
by
OhioGardener
1/22/2023, 5:28 pm
»
Holy snow Batman!
by
OhioGardener
1/22/2023, 10:27 am
»
IRRIG8R NEW TO SFG
by
Irrig8The916
1/21/2023, 10:51 pm
»
Mel's mix for flower planters
by
sanderson
1/21/2023, 7:05 pm
»
Can I Use This Compost As One Of My Five Different Ones?
by
sanderson
1/21/2023, 6:53 pm
»
Clamps /clips for covering frames
by
Soose
1/21/2023, 6:43 pm
»
What DON'T I want in my 5 different composts
by
sanderson
1/21/2023, 4:34 am
Well, maybe it's only new news to me....lol.

Anyway, I have been having problems with my lettuces. My salads are great, germinations are great, harvesting is great, but I tend to harvest fairly early, so I've been looking to really pack those squares.

I've read about going from 4 to maybe 9 per square...and tried it. Almost still too sparce. Even as I harvest the outer leaves (the fastest way to keep lettuce going without a break), they are still spaced far enough apart I could get more in a square.

I've tried broadcasting in the square, too. And, while this gives millions of littel plants, they sort of crowd themselves because they are so hard to thin (I should have learned this last year, as it's what I did). And, it's kind of hard to thin them when there are so many of them. Again, not the most advantageous method, imo, because I have to cut to the ground in a lot of cases.....stunting their growth for a couple of weeks.

So, I read to seed heavily and "thin" when about 3 inches tall to every other plant. This supposedly gives the spacing for the others to just fill in around the missing plants and get to 4-5 inches high. My guess is this is the next method I will try. It sounds like I will get both microgreens and a replenishable square of lettuce. Me likey the sound of this!!

All methods mentioned have worked fine for leaf lettuces. Don't let me discourage you at all. Lettuce is still easier to grow than tomatoes, imo. However, I am always looking to tweak things a bit when I see a common sense reason for doing so. Since I harvest early, I have dead space. Mel likely lets his lettuces fill in a bit more before he starts devouring his salads early in the spring. I can't wait that long! As a result, I feel I can fill in that dead space. I've read other suggestions here before trying any of that, though. I don't go changing Mel's spacings around without a reason, and I suggest you don't either. He's done the research over the years. I'm not reinventing the wheel here. But, I feel I have several years experience with lettuce and know what to expect when I adjust something.

I will likely post pics over the course of my next experiment to get the perfect square of lettuce. My plan is to go 16/square and thin down to 8 after a couple weeks or when they start to touch each other.

Happy Gardening!

BackyardBirdGardner




Posts

: 2727


Join date

: 2010-12-25


Age

: 49


Location

: St. Louis, MO



I guess I'm doing where you're headed. I plant 16 per square. Of course, since the seeds are so small, it ends up being twice that! I draw 4 lines in the square and then try for 4 seeds per line. I don't thin plants early on. I snip leaves to eat to provide room. As the plants mature, and
really
start to get crowded, I start taking a plant here and there. I don't have dead space.
I'm sure my squares qualify as over-crowded, but I haven't had problems.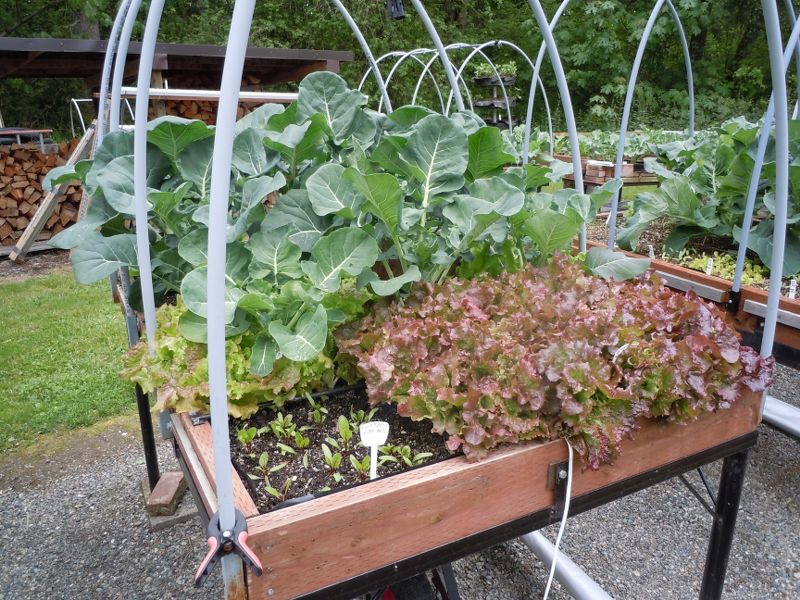 We've been eating out of these squares for a couple months. The second row is just as full of lettuce as the first. But, I had run out of room to transplant all my broccoli, so I grabbed a handful of lettuce plants in the middle of each square and yanked them, so I could stick a broccoli transplant in.
A space saving tip that is often offered: plant a lettuce in each corner and a bigger plant in the center. I suggest that you can often plant more than 4 lettuces around that larger plant.
Awesome tip, boff. Thanks a mill.

BackyardBirdGardner




Posts

: 2727


Join date

: 2010-12-25


Age

: 49


Location

: St. Louis, MO



---
Permissions in this forum:
You
cannot
reply to topics in this forum