Latest topics
»
Tomato Fruitworm
by
sanderson
Today at 4:39 pm
»
Ohio Gardener's Greenhouse
by
sanderson
Today at 4:14 pm
»
N&C Midwest October 2023
by OhioGardener Today at 8:41 am
»
Plan for a raised bed off ground?
by OhioGardener Today at 8:24 am
»
Beds not holding moisture?
by MrBooker Today at 6:36 am
»
Stevia
by markqz 9/28/2023, 12:11 pm
»
Mark's first SFG
by markqz 9/28/2023, 11:53 am
»
N&C Midwest September 2023
by
Scorpio Rising
9/27/2023, 6:55 am
»
Walking stick kale
by markqz 9/26/2023, 11:52 pm
»
Butternut squash sets world record at the State Fair of Virginia
by markqz 9/25/2023, 5:13 pm
»
Closing beds for winter
by plantoid 9/25/2023, 4:25 pm
»
Famous Gardening Quotes
by OhioGardener 9/23/2023, 12:51 pm
»
Foodbank's composting program creates food from food
by OhioGardener 9/22/2023, 8:29 am
»
What Have You Picked From Your Garden Today
by OhioGardener 9/21/2023, 1:15 pm
»
Turning existing garden beds into SFG
by jemm 9/20/2023, 7:35 am
»
updating my mix - what should I add
by
sanderson
9/18/2023, 5:04 am
»
Senseless Banter...
by
sanderson
9/16/2023, 11:37 pm
»
Lumber and measuring for SFG boxes
by
sanderson
9/16/2023, 12:21 am
»
Avatar issues
by Guinevere 9/14/2023, 7:53 pm
»
Happy Birthday!!
by
sanderson
9/11/2023, 4:40 pm
»
When to harvest? / Watermelon seedlings
by
sanderson
9/9/2023, 6:07 pm
»
Hornets Nest
by
sanderson
9/8/2023, 8:15 pm
»
Tropical Storm Hilary
by jennyjo37 9/5/2023, 5:31 pm
»
A square foot garden in a round bed.
by alicej 9/4/2023, 3:39 am
»
Determinate Cherry Tomato for Greenhouse
by OhioGardener 9/2/2023, 6:52 pm
»
N&C Midwest August 2023
by
Scorpio Rising
8/31/2023, 9:01 am
»
Hurricane
by
Scorpio Rising
8/30/2023, 7:25 am
»
No-Fail Zucchini Bread
by OhioGardener 8/28/2023, 11:11 am
»
buying compost small town SW Pennsylvania
by
sanderson
8/27/2023, 6:41 pm
»
Phosphate
by
sanderson
8/27/2023, 3:43 pm
Will you see "powder" on the leaves if it has powdery mildew? My squash has come down with something--any guesses? I don't see anything powdery on leaves.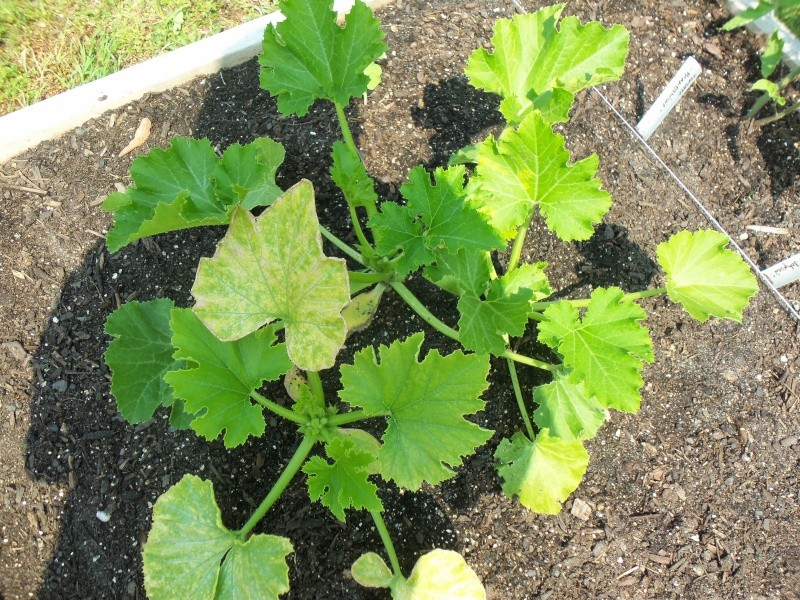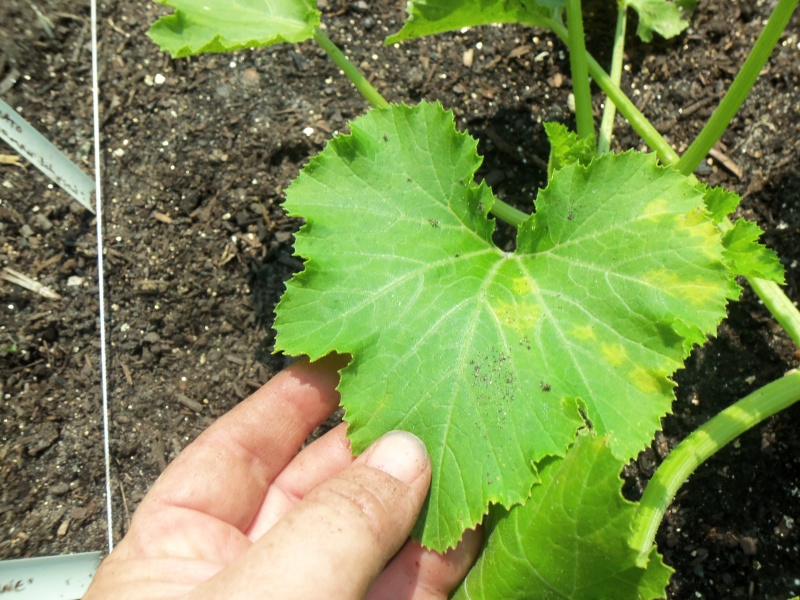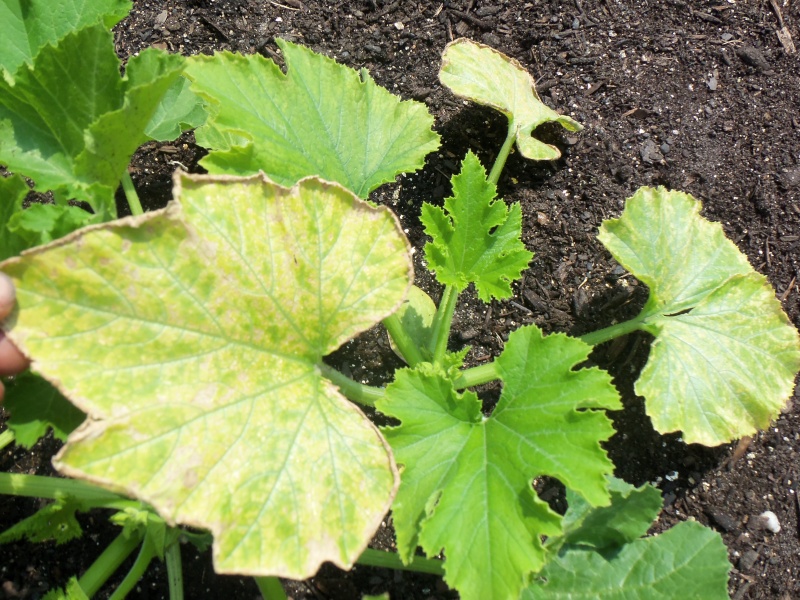 HPartin




Posts

: 120


Join date

: 2011-02-14


Location

: 7b (Angier, NC)



Knock, knock, anyone there?

HPartin




Posts

: 120


Join date

: 2011-02-14


Location

: 7b (Angier, NC)



I would guess that since there isn't any mildew on the leaves, you don't have powdery mildew. My suggestions would be to check the stems and make sure you don't have squash vine borers and then maybe do a soil test to see if you have a nutrient deficiency.

How many different kinds of compost makes up your Mel's Mix?

Blackrose




Posts

: 710


Join date

: 2010-03-21


Age

: 50


Location

: Aurora, Ontario, Zone 5a



I checked for squash borers. That was actually my first guess. I've been just sitting around waiting for those guys to show up for the party. I guess I have a nutrient issue. . We've had lots of rain and my guess is that nutrients are washing out. I fertilized it with fish fertilizer last week: 2 T per 2 gallons of water for 25 sq. feet and I don't know if this is a response to this or a whole new problem.

This is my main complaint with Mel's Mix: This is my second season and both times I have had nutrient issues. My first 3 boxes had 4 compost components and I had nitrogen problems and ph issues. The 2nd set of 3 were mixed with 6 (black Kow, mushroom, garden, forest, worm, and Bumper Crop) and looks like I have the same issues. I tested the soil after mixing and it looked really good. But I seem to have the same results. Yellow leaves and slow growth in squash, green peppers, eggplant and green beans. My tomato plants are turning yellow which looks like it might be an iron deficiency. I'm just a little tired of problem solving soil. I'm not even into bugs yet :scratch:

HPartin




Posts

: 120


Join date

: 2011-02-14


Location

: 7b (Angier, NC)



Sorry for not resonding earlier, I needed more coffee. My crookneck, some of them, are doing the same thing, unfortunately they are in boxes without MM (long story), so I really cannot compare that issue. It may be that you got some compost that was not fully composted. I know you said it's not bug time yet, but you may have some yellow cucumber beetles out there. They are hard to spot, and will do the same damage as the squash bug, suck the juice from the plant and leave behind a bacteria that damages the plant. I started mine from seed this year, and I over planted to insure I got some, we love the stuff, my zucchini is doing great, but the crook neck is not nearly as pretty. I have two plants I am considering pulling up, and quite possibly replanting, as we have plenty of time. If your soil test shows something is missing (we've had a wet spring in the south, nutrients may be washing away) you may want to try a compost tea. Fish emulsion is great, but may be lacking something. Also last year here was just not a good year for tomatoes and squash, it may just be a bad year there for you. I have yet to talk to someone in our area who had a good year for either plant, and that is very unusual. No one knows why it happens, it just does. I did have a plant this year that looked like the ones in your picture, I trimmed the leaves, and they started to come back.

Keep us posted.
Powdery mildew shows up as powdery white spots and splotches on the leaves. I don't see that in your pictures. I'm afraid it does look like more of a nutrient issue. You've got a good selection of composts, though, so that makes a nutrient deficiency seem unlikely. :scratch:
---
Permissions in this forum:
You
cannot
reply to topics in this forum