Latest topics
»
Jerusalem Artichoke or Sun Choke
by OhioGardener Yesterday at 8:30 pm
»
Strawberry Varieties?
by
sanderson
Yesterday at 7:37 pm
»
Mark's first SFG
by
sanderson
Yesterday at 7:33 pm
»
Strawberries in MM: to feed or not to feed?
by
sanderson
Yesterday at 7:30 pm
»
What Have You Picked From Your Garden Today
by OhioGardener 11/29/2023, 5:36 am
»
Senseless Banter...
by
sanderson
11/28/2023, 10:31 pm
»
N & C Midwest: November/December 2023
by
sanderson
11/27/2023, 9:23 pm
»
FREE Online SFG Class - November 28, 2023
by
sanderson
11/27/2023, 9:21 pm
»
Mini-Raised Beds?
by Chuck d'Argy 11/27/2023, 2:14 pm
»
Happy Birthday!!
by
sanderson
11/26/2023, 10:58 pm
»
Name the mystery (to me) seedlings! :-)
by Psdumas 11/25/2023, 12:04 am
»
Happy Thanksgiving from the USA
by
sanderson
11/23/2023, 1:47 pm
»
Guatemalan Green Ayote Squash
by OhioGardener 11/21/2023, 8:27 am
»
Kiwi's SFG Adventure
by
sanderson
11/20/2023, 2:06 pm
»
Seeds 'n Such Early Order Seeds
by
sanderson
11/20/2023, 1:13 pm
»
USDA Plant Hardiness Zone Map
by OhioGardener 11/19/2023, 7:12 am
»
AeroGarden for starting seeds?
by OhioGardener 11/16/2023, 12:40 pm
»
Biochar?
by OhioGardener 11/16/2023, 10:31 am
»
2023 - Updated U.S. Interactive Plant Hardiness Map
by
sanderson
11/15/2023, 6:18 pm
»
SFG Is Intensive Gardening
by
sanderson
11/14/2023, 3:26 pm
»
Teaming with Microbes Kindle Sale (Mem. Day weekend 2023)
by markqz 11/10/2023, 12:42 am
»
Bok Choy Hors d'oeuvres
by
donnainzone5
11/9/2023, 5:58 pm
»
Now is the Time to Start Preparing Next Year's Spring Garden
by OhioGardener 11/9/2023, 7:13 am
»
Shocking Reality: Is Urine the Ultimate Gardening Hack or Disaster?
by dstack 11/6/2023, 5:29 pm
»
Nightmare on Mel Street.
by
Scorpio Rising
11/4/2023, 6:37 pm
»
Aerogardening
by
Scorpio Rising
11/3/2023, 10:02 am
»
Sunday All Purpose Organic Garden Nutrients
by lisawallace88 11/3/2023, 9:13 am
»
Mid-summer seed sowing, how do you do it?
by KiwiSFGnewbie 11/2/2023, 8:04 pm
»
N&C Midwest October 2023
by OhioGardener 11/1/2023, 8:49 am
»
Fall Tree Colors
by
Scorpio Rising
10/31/2023, 1:48 pm
Welcome to the first installment of Tomato Tuesday 2011!!
First off you are probably wondering what Tomato Tuesday is, right? It's simply a weekly report or update on how our tomatoes are progressing. Join in and post your reports . It doesn't have to be a long drawn out report and it is not required, but it will be fun and informative to read about how other tomatoes in your region progress throughout the season. It's one of the things we hold in common as a region.
Very easy guidelines for posting your Tomato Tuesday reports...


Have fun with this!

Report only on Tuesday if at all possible.

Use this same thread to post your reports through the end of the season. In other words, don't start a new thread each Tuesday. That way it will be easy to find this thread next week. It will be one looooong thread by October.

Other regional forums may start a Tomato Tuesday as well, double-check that you are in the Southern California & Inland Valleys forum when you post your report.

Refer to first guideline.

Anyone can post their tomato report --don't wait! You can check the other regional forums that have Tomato Tuesdays going on if you want to see what others are posting about.
Got tomatoes? We want to hear about them!
Sounds like fun. I have not planted any tomatoes yet! Arrrggghhhh! But I plant to this week. I am running so late but it will be good to see how everyone else is doing. Love that first BLT of the season.
Got my tomatoes in early. Have had to spray for bugs and worms already. Sure is great to taste a home grown tomato. In a few weeks, I'll have to start shading the tomatoes from the sun as the heat and sunlight bake to tomatoes on the vine. So much fun.

Bruce

barmstr




Posts

: 62


Join date

: 2010-09-10


Age

: 78


Location

: Queen Creek, AZ 85142



I know this is not tuesday but here are udates on my tomatoes.
The first 2 pictures show my mystery tomatoes grown from seed - my dog upset the seed cups and destroyed the markers. They are Tonadose des conones or Tess's Land Race Currant form heirlooms from Bakers or Super Sweet 100 hybrid from Burpee. The 2 with the very abundant super small fruit (pea to large marble size) on the left in the 1st picture and in the 2nd picture have 2 different leaf types. I've harvested lots of the tiny ones and they are excellent in salads. On the right in the 1st picture is one developing larger (larger cherry size tomatoes). Any guess to which is which?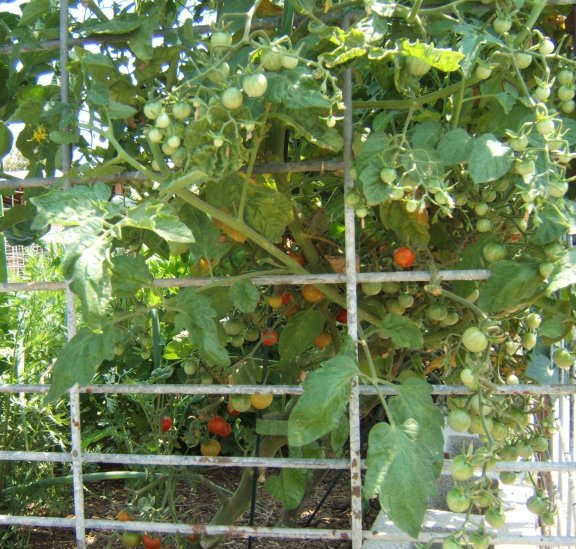 Jet Star
Solar Fire - the only determinant does not look as healthy are the others.

Lindacol




Posts

: 777


Join date

: 2011-01-23


Location

: Bloomington, CA



---
Permissions in this forum:
You
cannot
reply to topics in this forum