Latest topics
»
N&C Midwest September 2023
by OhioGardener Yesterday at 7:06 pm
»
Closing beds for winter
by OhioGardener Yesterday at 7:03 pm
»
Famous Gardening Quotes
by OhioGardener Yesterday at 12:51 pm
»
Foodbank's composting program creates food from food
by OhioGardener 9/22/2023, 8:29 am
»
What Have You Picked From Your Garden Today
by OhioGardener 9/21/2023, 1:15 pm
»
Turning existing garden beds into SFG
by jemm 9/20/2023, 7:35 am
»
updating my mix - what should I add
by
sanderson
9/18/2023, 5:04 am
»
Senseless Banter...
by
sanderson
9/16/2023, 11:37 pm
»
Walking stick kale
by
sanderson
9/16/2023, 12:27 am
»
Lumber and measuring for SFG boxes
by
sanderson
9/16/2023, 12:21 am
»
Avatar issues
by Guinevere 9/14/2023, 7:53 pm
»
Ohio Gardener's Greenhouse
by OhioGardener 9/14/2023, 5:27 pm
»
Happy Birthday!!
by
sanderson
9/11/2023, 4:40 pm
»
When to harvest? / Watermelon seedlings
by
sanderson
9/9/2023, 6:07 pm
»
Hornets Nest
by
sanderson
9/8/2023, 8:15 pm
»
Tropical Storm Hilary
by jennyjo37 9/5/2023, 5:31 pm
»
A square foot garden in a round bed.
by alicej 9/4/2023, 3:39 am
»
Determinate Cherry Tomato for Greenhouse
by OhioGardener 9/2/2023, 6:52 pm
»
N&C Midwest August 2023
by
Scorpio Rising
8/31/2023, 9:01 am
»
Hurricane
by
Scorpio Rising
8/30/2023, 7:25 am
»
No-Fail Zucchini Bread
by OhioGardener 8/28/2023, 11:11 am
»
buying compost small town SW Pennsylvania
by
sanderson
8/27/2023, 6:41 pm
»
Phosphate
by
sanderson
8/27/2023, 3:43 pm
»
Topping brand new SFG box with more gorgeous compost???
by
sanderson
8/27/2023, 3:36 pm
»
8 Great Vegetables for Fall Planting
by
sanderson
8/27/2023, 2:58 pm
»
What are you eating from your garden today?
by OhioGardener 8/26/2023, 7:19 pm
»
Flowers to attract hummingbirds
by OhioGardener 8/26/2023, 6:59 pm
»
Hoss Tools Seeds 50% off
by OhioGardener 8/26/2023, 6:25 pm
»
Fall is For Garlic Planting
by OhioGardener 8/24/2023, 6:27 pm
»
shop lights vs grow lights
by OhioGardener 8/24/2023, 10:16 am
Question: Are the following items appropriate to my purpose?

I am setting aside one of my 24"D x 96"W x ??"H (as much as I can make/spare) shelf spaces on one of my units in the garage for seed starting et al. This was very hard space to come by so I want to use it as efficiently as possible. Thus, I have been shopping/planning. The following is the list I have so far.... Am I on the right track? Am I making any huge mistakes?

1 each, 4' Fluorescent Light w/ 6 T5HO bulbs @ 6500K (5000 lumens each) (Intend to get a second light when funds are available)

5 each, 9"x19.5" heat mat (Intend to add 5 more mats as funds are available)

1 each, Digital Temperature Controller (Intend to add multiple more controllers up to the number of mats to offer maximum flexibility in temp to crop control.)

1 each, 54"x50' roll, Mylar Reflective Film Plan to line the wall behind the shelf, bottom of shelf above light, ends, and create a front "curtain" to completely enclose the grow station to maximize retention of light/heat.

Additionally, I plan to add a digital hygrometer to the station to read humidity and 2 fan-assisted vents (one at top and one at base) to aid in maintaining FAT and humidity at desired settings.

Ultimately, I am going to set up a closed-loop feedback system to monitor air/soil temps, humidity, et al.

Anyway... right now, I just need to get some light and heat going to do my seeds/starts.



cautery




Posts

: 134


Join date

: 2010-12-11


Age

: 59


Location

: Haughton, LA (8a/8b Elev. 219')



cautery wrote:Question: Are the following items appropriate to my purpose?


Anyway... right now, I just need to get some light and heat going to do my seeds/starts.


Yup, that'll work. It really does not need to be expensive nor complicated.
I would suggest a timer for your lights, if for some reason you are not going to be around to turn them on and off.
Thanks for the reply...
1) I am trying NOT to make it expensive... I'm not paying those MSRP prices listed on my links. I've found a good place to buy at much more reasonable prices.
2) Simple vs. complicated: That's a matter of how you look at it. When I contemplate all the things that I have to do know, coupled with the increased task list on the horizon, and the possibility that I will be absent from my home some/a lot in the coming years, I need to make it as NON-labor intensive as possible. I am planning things such that I can teach the wife and boy how to tend all while I am away...
3) Timer for lights: you betcha... I learned as a young man that regulating the light a plant receives, both the period length and consistent application are very important...
The fewer things I HAVE to do, the more things I can CHOOSE to do. Less attention to the mundane allows me to take better notice of those things which might otherwise be missed.... or that's the theory.

cautery




Posts

: 134


Join date

: 2010-12-11


Age

: 59


Location

: Haughton, LA (8a/8b Elev. 219')



OK, I've updated my shopping cart. I've decided not to use 5 of the smaller heat mats, and have replaced them with a single 20" x 48" mat... (saves beau coup $$, I'll get separate ones for the other 4' of the shelf later.) And I have added a decent (I think) Digital timer for the light. I've also picked up 5 1020 trays (no holes).

Since I have never done seed starting, I would like some advice on the actual stuff used to plant/grow the seed/seedlings....

PEAT PELLETS: Peat pellets seem convenient, but I'll be sitting here with bags of what appears to be some of the best starter medium already (MM)... Why use peat or coir?

CELL FLATS: Alternatively, is to use cell trays.... 72 or 32? I would think 32 to would be a better compromise of # of sites, to # of times and frequency of re-potting. The only thing I don't like about cell flats is that it appears that it would be difficult to do the plant outs with a bunch of cells hooked together...

NEWSPRINT POTS: Burpee has that cool looking "pot maker" that is supposed to allow you to make little pots out of newsprint.

AIR-PRUNING TRAY: Now... I really like what I have read on "air-pruning".... They make those air-pruning trays with the reverse taper and open bottom to encourage root growth... Something about that particular design strikes me as inflexible (release all or no sites....)

However, staying with the air-pruning idea....

MESH POTS: Could I use mesh pots? They're hydro pots, but not the big slot ones like they use for the clay pellet et al grow media... These are a finer mesh... Appears that they would hold the MM sufficiently and allow bottom watering....

Something like THESE 2" "pots".

You could get around 32 of these in a 1020.... or use the slightly larger 3" version and get around 18 or so in a 1020 flat.

HELP! I want to drop this order today, so I can get it all setup soon...

Thanks a bunch y'all! I really dig this site!!


cautery




Posts

: 134


Join date

: 2010-12-11


Age

: 59


Location

: Haughton, LA (8a/8b Elev. 219')



FWIW, if your got the desire/time/space/budget ...try it all and see how you like it.

I can almost guarantee that there is someone here has been hugely sucessful with everything you've listed ..... and someone who has had an unpleasant/unproductive result from those items ..... and some who have had both results.

As far as personal opinions on some of those ....

Peat pellets ..... the reason I use is because of the size. I can start a couple of dozen seedlings in a container thats the same width as my window sill. I have no doubt MM would probably be as good, if not better starting medium.

Mesh Pots ... love them for my aquatic plants in the pond. Bad idea for me personally when I start plants indoors, since I inevitably spill/stain something while moving them around while indooors (to different sun exposure windows).

Newsprint pot makers ... kinda expensive for the tool & some have concerns on the inks used in newsprint. Personally, I don't have the time or the motivation to try .... at least not when Jiffy pots and peat-pellets are relatively inexpensive.

acara




Posts

: 1012


Join date

: 2010-08-27


Age

: 53


Location

: Wesley Chapel, Florida (Zone 9)



I learned the hard way, don't spend the money on that pot maker. Yes it works, but you can get the exact same result using a drinking glass (you can google it). The newspaper pots were pretty good though, but they did take time to make but were super easy to deal with at transplant time.
This year, I've taken to making my own plastic pots from repurposing. Egg beater cartons, pudding cups, yogurt cups, etc etc etc. I can't recycle these with my township, so I just throw them in the dishwasher, make holes, then BOOM instant pot for free. I started my seedlings in egg cartons, then "potted up" to these little ~4 oz. cups.
I'm not saying this is the right thing to do, I am still a novice at this, just sharing what I'm doing to save money (which i spent this year on a heat mat

jerzyjen




Posts

: 210


Join date

: 2010-03-03


Age

: 47


Location

: Burlington County, NJ - Zone 6b



Thanks for the replies so far... please keep them coming folks!
Whatever solution I settle on, it kinds has to be "uniform". I'm probably borderline OCD, specifically, I dig uniformity... Just the thought of having all different kinds, types, colors, etc. containers in my starting area freaks me out.
I have the "desire" to try several different methods, but I'm trying to be somewhat "reasonable" about my expenditures in this regard... at least for me.
We eat lots of yogurt, so those 4 oz. Dannon Light and Fit containers (cylinders) would work great IF I can get the labels off them easily... Don't think I could stand keeping the labels on... And I could try the slitting/slotting thing to try air-pruning.

cautery




Posts

: 134


Join date

: 2010-12-11


Age

: 59


Location

: Haughton, LA (8a/8b Elev. 219')



I like the seed block method of starting seeds. No pots to keep and disinfect except for the large 4-5" air-pruning pots I make from 2-litre soda bottles. I just couldn't see spending $135 for the 4" soil block maker. I have the mini that makes 20 that are 3/4" for germinating seeds and the one that makes 4 that are 2" soil blocks. It was a one-time investment that I can use for many years. I'm so happy I found them on johnnyseeds.com when I was ordering my first seeds to start in 2010.
Here are some of both those sizes. I put the little ones there to show the size difference only. I use vermiculite to cover my seeds when sown.
There's no root disturbance because the little ones just fit into the top (there's a hollow) of the 2" one and I dig out a square in my air-pruning soda bottle pots so the 2" ones drop right inside the 4" size.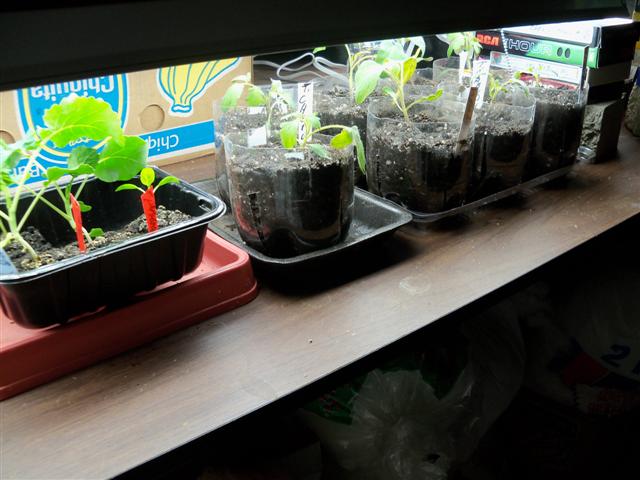 Here are some air-pruner soda bottle pots under the lights. It prevents the roots from circling and strangling. The roots stop growing at the air vents but they will grow elsewhere under the seedling. And they are very easy to slip out of the pots when transplanting since there's no tangled roots.
Everyone has their favorite method. The best thing to do is try different methods until you find one you really like and then stick with it.

quiltbea




Posts

: 4712


Join date

: 2010-03-21


Age

: 81


Location

: Southwestern Maine Zone 5A



I think there should be smilies with quiltbea's seed starting pictures. They're used so often as reference, it only makes sense they should be used as a smilie.
---
Permissions in this forum:
You
cannot
reply to topics in this forum