Latest topics
»
Beds not holding moisture?
by MrBooker Today at 7:13 am
»
N&C Midwest September 2023
by
Scorpio Rising
Today at 6:55 am
»
Walking stick kale
by markqz Yesterday at 11:52 pm
»
Butternut squash sets world record at the State Fair of Virginia
by markqz 9/25/2023, 5:13 pm
»
Ohio Gardener's Greenhouse
by OhioGardener 9/25/2023, 4:29 pm
»
Closing beds for winter
by plantoid 9/25/2023, 4:25 pm
»
Famous Gardening Quotes
by OhioGardener 9/23/2023, 12:51 pm
»
Foodbank's composting program creates food from food
by OhioGardener 9/22/2023, 8:29 am
»
What Have You Picked From Your Garden Today
by OhioGardener 9/21/2023, 1:15 pm
»
Turning existing garden beds into SFG
by jemm 9/20/2023, 7:35 am
»
updating my mix - what should I add
by
sanderson
9/18/2023, 5:04 am
»
Senseless Banter...
by
sanderson
9/16/2023, 11:37 pm
»
Lumber and measuring for SFG boxes
by
sanderson
9/16/2023, 12:21 am
»
Avatar issues
by Guinevere 9/14/2023, 7:53 pm
»
Happy Birthday!!
by
sanderson
9/11/2023, 4:40 pm
»
When to harvest? / Watermelon seedlings
by
sanderson
9/9/2023, 6:07 pm
»
Hornets Nest
by
sanderson
9/8/2023, 8:15 pm
»
Tropical Storm Hilary
by jennyjo37 9/5/2023, 5:31 pm
»
A square foot garden in a round bed.
by alicej 9/4/2023, 3:39 am
»
Determinate Cherry Tomato for Greenhouse
by OhioGardener 9/2/2023, 6:52 pm
»
N&C Midwest August 2023
by
Scorpio Rising
8/31/2023, 9:01 am
»
Hurricane
by
Scorpio Rising
8/30/2023, 7:25 am
»
No-Fail Zucchini Bread
by OhioGardener 8/28/2023, 11:11 am
»
buying compost small town SW Pennsylvania
by
sanderson
8/27/2023, 6:41 pm
»
Phosphate
by
sanderson
8/27/2023, 3:43 pm
»
Topping brand new SFG box with more gorgeous compost???
by
sanderson
8/27/2023, 3:36 pm
»
8 Great Vegetables for Fall Planting
by
sanderson
8/27/2023, 2:58 pm
»
What are you eating from your garden today?
by OhioGardener 8/26/2023, 7:19 pm
»
Flowers to attract hummingbirds
by OhioGardener 8/26/2023, 6:59 pm
»
Hoss Tools Seeds 50% off
by OhioGardener 8/26/2023, 6:25 pm
I started getting some of my beds ready for winter. I had planned to bury some old dry leaves from last year in the bottom of each square, but the old back was acting up and that wasn't possible.
Instead I raked out the old, dead plants and weeds, raked the soil smooth, scattered amendments as needed (lime in the brassica beds) and greesand in the others along with alfalfa pellets. I figure the alfalfa can't hurt.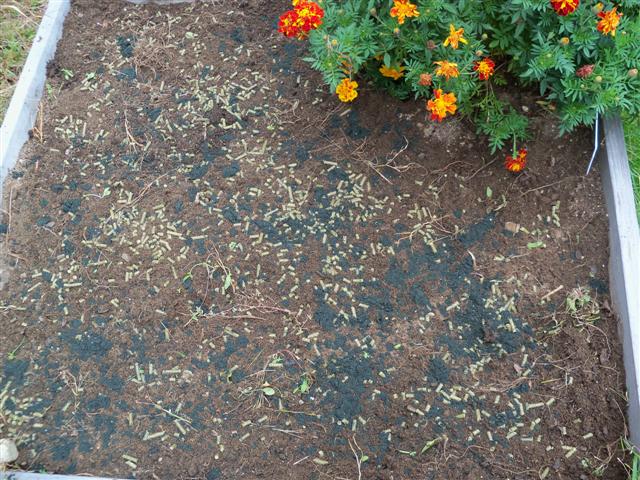 Here's one bed with alfalfa and greensand.
After raking in the amendments into the top 2" of soil, I broadcasted winter rye on top of the soil, then raked that in lightly and tamped down the soil with the back of my rake and watered the beds. This is my green manure crop. It will grow a bit before winter and in the spring I'll rake it under and add composted manures.
This is a view of 3 of my beds all prepped. I'm leaving the marigold in and the tomatoes that are still producing, along with the lemon balm and rosemary plants. I figure I can prep the squares themselves when the plants are removed to the compost heap. The parsnips are in another bed not shown along with determinate Oregon Spring tomatoes that are reproducing for fall.
Next year I will put the brassicas intermingled with the other plants. That way I hope to be able to keep rotating crops without having to think about it.
As I've said before, we learn something new every year.

quiltbea




Posts

: 4712


Join date

: 2010-03-21


Age

: 81


Location

: Southwestern Maine Zone 5A



Looking good! What does the greensand do? Is it better to put lime down now or in the spring? Does the alfalfa just put nitrogen in the soil? Do you just use alfalfa pellets like you get at the pet store or what?

Last week I prepped the potato patch and planted some vetch as a green manure crop. I have never tried that before. Yesterday I prepped some of my beds as well. Got my herb bed all done and two others. I pulled up the sunflowers and chopped them up for compost. Also pulled all the beets which didn't amount to anything at all for some reason. The carrots I am still leaving in as well as the chard. They are still doing well and so are the strawberries. I pulled all the onions and planted some garlic. I had planned on doing more today but it rained non stop. Tomorrow it is back to work. It is supposed to be nice later this week and there is no frost in the forecast for the rest of the week either. Perhaps I can get a couple of hours worth of work in after I get home from work a couple of evenings.

This time of year is sort of bittersweet. I hate to have the growing season come to an end but of course harvesting is cool. And I do enjoy the way everything looks when it all ready for winter.

Hope the back doesn't give you too much trouble.

GK

Old Hippie

Regional Hosts




Posts

: 1156


Join date

: 2010-08-12


Age

: 72


Location

: Canada 3b



Greensand is a natural organic Potash and is good for stems, roots and fruiting. I'm adding some for the fall prep but it can be added before the spring planting instead. A light feeding is 5 lbs per 100 Sq Feet. This year, I just broadcast a little by hand around the beds in the fall.

I use the alfalfa pellets that I bought from the feed store (yes, they feed it to horses, cows, etc) because I figure if mulching with hay can be so beneficial to soil after it breaks down, then the alfalfa itself can't hurt.

I like to add some limestone to the beds in fall, especially where brassicas have grown to prevent any spread of clubroot from those plants. I also toss the roots of brassicas in the trash and not the compost bin. Clubroot is a disease I don't want in my garden.

Since I had planted my brassicas in separate beds, I thought they needed some extra limestone this fall.

I really wish I could have added the dried leaves to the beds. The dried leaves are great feeding grounds for worms and those castings are so beneficial to any garden. Just putting a couple handsful in the bottom of each square would be great for any garden. When the rains stop I hope my back is better so I can do that for the beds that haven't yet been prepped.

In spring I put a handful of limestone in the bottom of each square when planting a brassica, like cabbage, cauliflower, broccoli. It helps prevent clubroot, a disease deadly to current brassicas and future brassicas.

This is just my personal planning and tips taken from other garden books, especially from Bob Thomsen of Victory Garden. Mel , Bob and Eliot Coleman/Barbara Damrosch are my garden gurus. My garden did very well this year considering I didn't have the volume of compost or manure I wanted. Next year more of that is in the planning.



quiltbea




Posts

: 4712


Join date

: 2010-03-21


Age

: 81


Location

: Southwestern Maine Zone 5A



Similar topics
---
Permissions in this forum:
You
cannot
reply to topics in this forum