Latest topics
»
Stevia
by markqz Yesterday at 12:11 pm
»
Mark's first SFG
by markqz Yesterday at 11:53 am
»
Beds not holding moisture?
by MrBooker 9/27/2023, 7:13 am
»
N&C Midwest September 2023
by
Scorpio Rising
9/27/2023, 6:55 am
»
Walking stick kale
by markqz 9/26/2023, 11:52 pm
»
Butternut squash sets world record at the State Fair of Virginia
by markqz 9/25/2023, 5:13 pm
»
Ohio Gardener's Greenhouse
by OhioGardener 9/25/2023, 4:29 pm
»
Closing beds for winter
by plantoid 9/25/2023, 4:25 pm
»
Famous Gardening Quotes
by OhioGardener 9/23/2023, 12:51 pm
»
Foodbank's composting program creates food from food
by OhioGardener 9/22/2023, 8:29 am
»
What Have You Picked From Your Garden Today
by OhioGardener 9/21/2023, 1:15 pm
»
Turning existing garden beds into SFG
by jemm 9/20/2023, 7:35 am
»
updating my mix - what should I add
by
sanderson
9/18/2023, 5:04 am
»
Senseless Banter...
by
sanderson
9/16/2023, 11:37 pm
»
Lumber and measuring for SFG boxes
by
sanderson
9/16/2023, 12:21 am
»
Avatar issues
by Guinevere 9/14/2023, 7:53 pm
»
Happy Birthday!!
by
sanderson
9/11/2023, 4:40 pm
»
When to harvest? / Watermelon seedlings
by
sanderson
9/9/2023, 6:07 pm
»
Hornets Nest
by
sanderson
9/8/2023, 8:15 pm
»
Tropical Storm Hilary
by jennyjo37 9/5/2023, 5:31 pm
»
A square foot garden in a round bed.
by alicej 9/4/2023, 3:39 am
»
Determinate Cherry Tomato for Greenhouse
by OhioGardener 9/2/2023, 6:52 pm
»
N&C Midwest August 2023
by
Scorpio Rising
8/31/2023, 9:01 am
»
Hurricane
by
Scorpio Rising
8/30/2023, 7:25 am
»
No-Fail Zucchini Bread
by OhioGardener 8/28/2023, 11:11 am
»
buying compost small town SW Pennsylvania
by
sanderson
8/27/2023, 6:41 pm
»
Phosphate
by
sanderson
8/27/2023, 3:43 pm
»
Topping brand new SFG box with more gorgeous compost???
by
sanderson
8/27/2023, 3:36 pm
»
8 Great Vegetables for Fall Planting
by
sanderson
8/27/2023, 2:58 pm
»
What are you eating from your garden today?
by OhioGardener 8/26/2023, 7:19 pm
I can't believe it is September already! It is time to post pictures of what your garden is doing. Why not use "picture day" as a reason to get your garden in order! Today I racked up some fallen leaves, pulled some dead plants and transplanted my lettuce. It is a great excuse to get motivated!
I can't wait to see how your garden is doing and what you have planned for fall!
I needed to go to Or. for ten days over Labor Day week, garden was watered but no feed, squash stopped putting out new and several flowers on tomatoes and cucumber didn't poduce fruit. Also the pole beans stopped producing beans. Feeding heavy last two days green is coming back.
My peppers that did nothing for two months have gone crazy with flowers and new fruit.
Beefstakes are getting so big that they are pulling the branches down and braking my cloth ties, lost one that was sitting on a wire that cut into the tomatoe as it turned ripe, I have many tomatoes but that was the biggest one.
The 3x6 SFG plus 6 pots is producing squash, chard, beans, tomatoes (six different types), basil, cucumber, lettus, peppers (four different types), and four kinds of herbs!
Nice harvest after ten days see pix.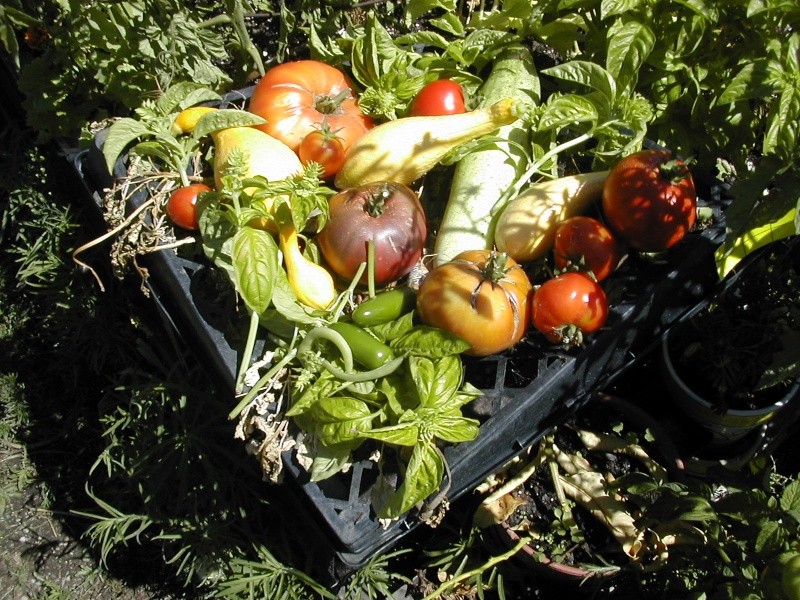 Last edited by garden mark on 9/11/2010, 3:54 pm; edited 3 times in total (Reason for editing : picture)

garden mark




Posts

: 17


Join date

: 2010-06-10


Location

: san jose, ca.



That is a great harvest! Sounds like things did pretty well while you were gone. Thanks for sharing.
I read the new SFG book after tilling and planting my first garden this year. I then built 5 boxes (200+ sf), and planted 1 with Mel's Mix. I'll be taking Mel's Mix to my daughter's school next week because they have a sorry looking neglected garden box, and I know I can help.

My fall garden box (the rest of my garden is also producing) has peas, bush beans, soy beans, carrots, tomatoes, green onions, lettuce, radishes, beets, spinach, broccoli, cabbage, okra, geraniums, and swiss chard. My other garden has cucumbers, zucchini, corn, beans, green peppers, eggplant, strawberries, basil, oregano, tomatoes, pumpkins, acorn squash, chives, beets, and artichokes. The cilantro went to seed, and the watermelon didn't do anything.

I have already learned about a pest eating my peas (cucumber beetle? - looks like a green ladybug) from this site. I also noticed there are people close to me, and I'd like to connect. I bought a bunch of vermiculite on Uline today ($33 inc. ship for 4 cf bags). I'm currently looking for nylon mesh. I built 3 trellises.

Hi everybody! I'm in Castro Valley.

Boxbuilder




Posts

: 5


Join date

: 2010-10-08


Location

: Castro Valley, CA



I lost the cord to my camera in a move, so I can't post yet, but I enjoy others' pictures.

Boxbuilder




Posts

: 5


Join date

: 2010-10-08


Location

: Castro Valley, CA



Similar topics
---
Permissions in this forum:
You
cannot
reply to topics in this forum