Latest topics
»
Patio Tomatoes at the Kitchen Door
by
OhioGardener
Yesterday at 8:05 pm
»
Help identify seeds
by
OhioGardener
Yesterday at 7:59 pm
»
N&C Midwest—September 2021
by
OhioGardener
Yesterday at 11:37 am
»
Mulch question
by
MrBooker
Yesterday at 6:37 am
»
Fallen Apples
by
Kelejan
Yesterday at 3:48 am
»
CANADIAN REGION:What are you doing January to June 2021
by
Kelejan
9/15/2021, 1:25 pm
»
California's Drought
by
Kelejan
9/15/2021, 12:58 pm
»
Mark's first SFG
by
markqz
9/14/2021, 11:28 pm
»
Organic Management of Fall Garden Pests
by
OhioGardener
9/14/2021, 8:38 am
»
My name is boffer, and I'm a juicer.
by
azonia221
9/13/2021, 9:10 pm
»
Happy Birthday!!
by
Scorpio Rising
9/12/2021, 11:54 am
»
Chick N Poo Compost
by
OhioGardener
9/9/2021, 4:59 pm
»
What Have You Picked From Your Garden Today
by
donnainzone5
9/9/2021, 12:41 pm
»
Composting information
by
Bart
9/9/2021, 11:13 am
»
Hi from Lillington, NC
by
AtlantaMarie
9/9/2021, 7:11 am
»
What are you eating from your garden today?
by
OhioGardener
9/7/2021, 7:19 pm
»
What's everyone planting?
by
sanderson
9/7/2021, 1:24 pm
»
Worm On Tomato?
by
sanderson
9/7/2021, 1:21 pm
»
Canning Humor
by
sanderson
9/6/2021, 11:36 pm
»
Starbucks for coffee grounds!
by
sanderson
9/6/2021, 11:35 pm
»
Hi from an SFG beginner from Nashville, TN
by
sanderson
9/6/2021, 10:55 pm
»
Tomato - Snow Fairy
by
markqz
9/6/2021, 6:23 pm
»
Soil Building - For Better Fruit Production
by
sanderson
9/6/2021, 4:33 pm
»
OhioGardener SFG
by
mollyhespra
9/6/2021, 1:19 pm
»
Create Your Own Named Hybrid Tomato
by
OhioGardener
9/3/2021, 8:10 am
»
Senseless Banter...
by
sanderson
9/2/2021, 6:56 pm
»
Soil Additives
by
sanderson
8/31/2021, 3:20 am
»
Hurrican Ida
by
sanderson
8/30/2021, 5:14 pm
»
Butterfly/Pollinator Havens - Which plants are your favorite to cultivate?
by
sanderson
8/30/2021, 5:11 pm
»
Walking stick kale
by
sanderson
8/30/2021, 4:56 pm
Hi from Fresno in the Central or San Joaquin Valley of California, what has been called the "bread basket" of the US. Home of the Petaluma Seed Bank (Baker Creek) and the Heirloom Exposition.  This area has micro-climates like all Regions do, from the cooler coastal areas, the rice fields east of Sacramento, the citrus orchards of the low foothills to the flat lands of the northern Sacramento Valley and central San Joaquin Valley.  Sacramento north gets more rain than the southern Central Valley.  While water is a concern for agriculture in this region, it has been especially critical in the southern areas.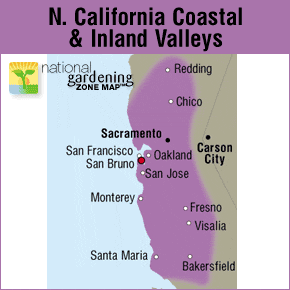 I found SFG by accident last February, 2013, while Searching for gardening information.  By March, I had 4 small boxes filled with Mel's Mix.  As most of you know by now, I am retired so I have a lot of time for gardening and being a Moderator for this Forum.  All of my offspring live in the Sacramento area so I travel there to see them.  My challenge (besides being new to gardening in general), is to garden in a small city backyard, with neighbors' trees on the south and west sides, complete with spotty sunshine.  I design, my husband builds, and my cat eats the bean leaves, corn stalks, and young borage.  I love raised boxes (table tops), vertical growing, and Berkeley hot composting.  I hate slugs, snails, visiting cats, green caterpillars, spider mites, powdery mildew and the blistering summer heat with its unhealthy air quality.  Summer shade protection and lots of mulch are necessary to get through the summer where it can get over a hundred degrees for weeks.  What happens in Las Vegas, happens here.  HOT!  On the flip side, our winters allow year around gardening with protection during the freezes.
Happy gardening, folks
Stop saying borage! I haven't grown that successfully yet.
Not sure what the purpose of this post is, since I and everybody else knows and loves you already, but anyway ... I'm all for it!
I really enjoy your threads on your building projects.

Marc Iverson




Posts

: 3638


Join date

: 2013-07-05


Age

: 60


Location

: SW Oregon



I missed something or you took on regional hosting duties too?  Congratulations! I enjoy your posts  
 and look forward to more!

llama momma


Certified SFG Instructor




Posts

: 4921


Join date

: 2010-08-20


Location

: Central Ohio zone 6a



Yes, Marie and I took on RH duties a few weeks ago but we had to wait for Rooster to return to officially list our names as RHs. Turan, Brainchasm and Marc have also volunteered within the last few days.
Any one else want to volunteer for a Region vacancy??
Alas, I still work more than full time so I will simply continue trying to post as frequently as I can 
THANK YOU TO ALL THOSE WHO HAVE STEPPED UP to volunteer your time - you guys are the life blood of this site. 
---
Permissions in this forum:
You
cannot
reply to topics in this forum