Latest topics
»
New from AZ
by
Scorpio Rising
Yesterday at 11:18 pm
»
N&C Midwest October 2023
by OhioGardener Yesterday at 8:47 pm
»
Tomato Fruitworm
by
sanderson
Yesterday at 4:39 pm
»
Ohio Gardener's Greenhouse
by
sanderson
Yesterday at 4:14 pm
»
Plan for a raised bed off ground?
by OhioGardener Yesterday at 8:24 am
»
Beds not holding moisture?
by MrBooker Yesterday at 6:36 am
»
Stevia
by markqz 9/28/2023, 12:11 pm
»
Mark's first SFG
by markqz 9/28/2023, 11:53 am
»
N&C Midwest September 2023
by
Scorpio Rising
9/27/2023, 6:55 am
»
Walking stick kale
by markqz 9/26/2023, 11:52 pm
»
Butternut squash sets world record at the State Fair of Virginia
by markqz 9/25/2023, 5:13 pm
»
Closing beds for winter
by plantoid 9/25/2023, 4:25 pm
»
Famous Gardening Quotes
by OhioGardener 9/23/2023, 12:51 pm
»
Foodbank's composting program creates food from food
by OhioGardener 9/22/2023, 8:29 am
»
What Have You Picked From Your Garden Today
by OhioGardener 9/21/2023, 1:15 pm
»
Turning existing garden beds into SFG
by jemm 9/20/2023, 7:35 am
»
updating my mix - what should I add
by
sanderson
9/18/2023, 5:04 am
»
Senseless Banter...
by
sanderson
9/16/2023, 11:37 pm
»
Lumber and measuring for SFG boxes
by
sanderson
9/16/2023, 12:21 am
»
Avatar issues
by Guinevere 9/14/2023, 7:53 pm
»
Happy Birthday!!
by
sanderson
9/11/2023, 4:40 pm
»
When to harvest? / Watermelon seedlings
by
sanderson
9/9/2023, 6:07 pm
»
Hornets Nest
by
sanderson
9/8/2023, 8:15 pm
»
Tropical Storm Hilary
by jennyjo37 9/5/2023, 5:31 pm
»
A square foot garden in a round bed.
by alicej 9/4/2023, 3:39 am
»
Determinate Cherry Tomato for Greenhouse
by OhioGardener 9/2/2023, 6:52 pm
»
N&C Midwest August 2023
by
Scorpio Rising
8/31/2023, 9:01 am
»
Hurricane
by
Scorpio Rising
8/30/2023, 7:25 am
»
No-Fail Zucchini Bread
by OhioGardener 8/28/2023, 11:11 am
»
buying compost small town SW Pennsylvania
by
sanderson
8/27/2023, 6:41 pm
I apologize to anyone already glancing at my blog, but here are a few pics from the community garden last night.  I have one 4'x8' SFG box there within my 25'x25' plot and have convinced a few others to give it a try next year...they've also seen the veggies that have come out of that relatively small space (quality and quantity), as well as witnessed how little time I spend weeding.
I also did a small experiment and did some SFG-style grid plantings of green beans at the end of some typical garden rows...right in the ground without Mels Mix and no raised box.  I just picked 10 lbs of green beans last night...relatively no weeding and beats having to walk up and down long rows to pick.
Anyway, here are the pics.
Charleston Gray watermelon - growing
Crimson Sweet watermelon - growing
green tomatoes - not sure which Heirloom.

sunflowers (in the background you can see a row of potatoes dug recently from another plot).
evening's harvest - picked a few ripe tomatoes, 10lbs green beans, Japanese long eggplant, cucumbers...also picked dill for upcoming pickling as well as a few varities of summer squash.

Ripening purple/black heirloom...Black Krim or Carbon I think.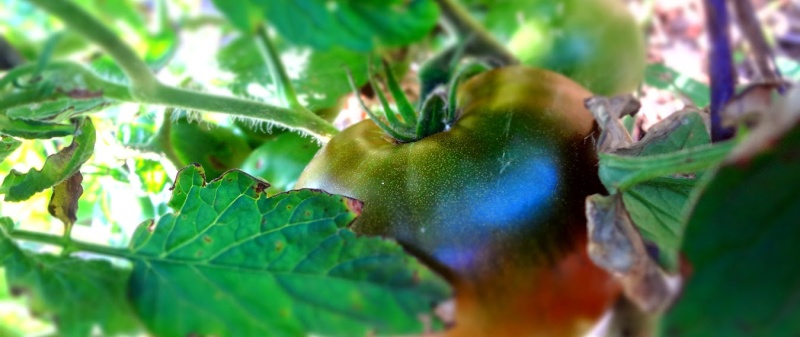 onions picked at the home SFG boxes...Texas sweet and Candy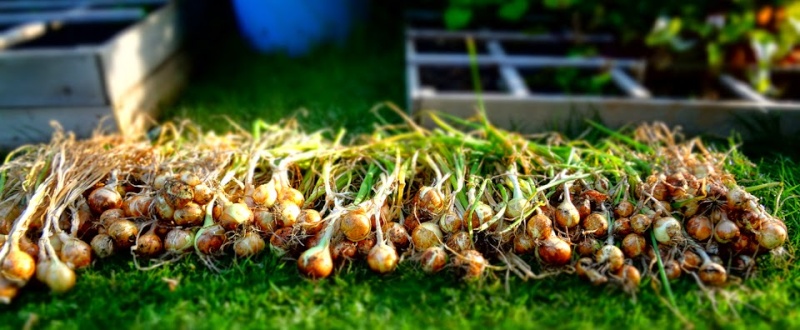 landarch




Posts

: 1152


Join date

: 2012-01-22


Location

: kansas city



Very nice, and I especially like how the colors POP! on your "sunflower" and "day's harvest" photos.

How many pounds of green beans do you figure you get per square foot, and what kind? I'm growing bush beans for the first time this year, and am not sure what to expect. When people say "prolific," I have no frame of reference.

Marc Iverson




Posts

: 3638


Join date

: 2013-07-05


Age

: 62


Location

: SW Oregon



I think I grew Blue Lake 274...I planted a 2x4 area pretty densely.  I planted later than normal and had so-so germination (since I don't get to the community garden every day I had to rely on timely rain), but once the beans that did germinate took off they went crazy...I think the nearby bee hives help a lot.  I still have more blossoms and baby beans coming on.  We have a scale nearby because sometimes we sell veggies to passers-by.

There is a simple "mini" setting on my camera (Sony Cybershot) that  cranks out some vivid pics with an interesting field of focus...often colors get washed out when taking pics in the sun or shade.  I also do a few other things to help with pics 1) wet veggies down when I can, 2) have an interesting setting - mowed lawn, stone wall, etc. 3) photograph the best of the best veggies, 4) crop the pic to add interest.

landarch




Posts

: 1152


Join date

: 2012-01-22


Location

: kansas city



Not as far along as landarch but I have a start.
Last night Roasted carrots and beets with potatoes and onions.
Garlic haul all hard necks: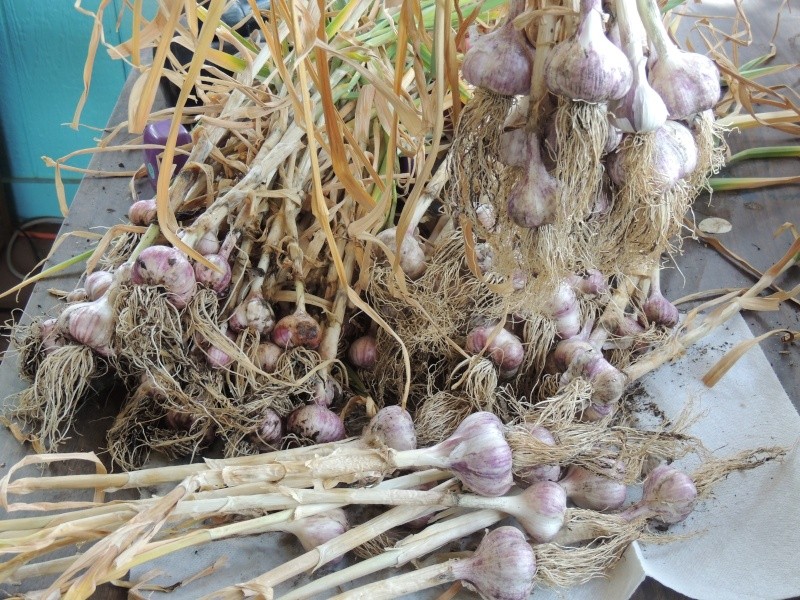 First of the season, shaky.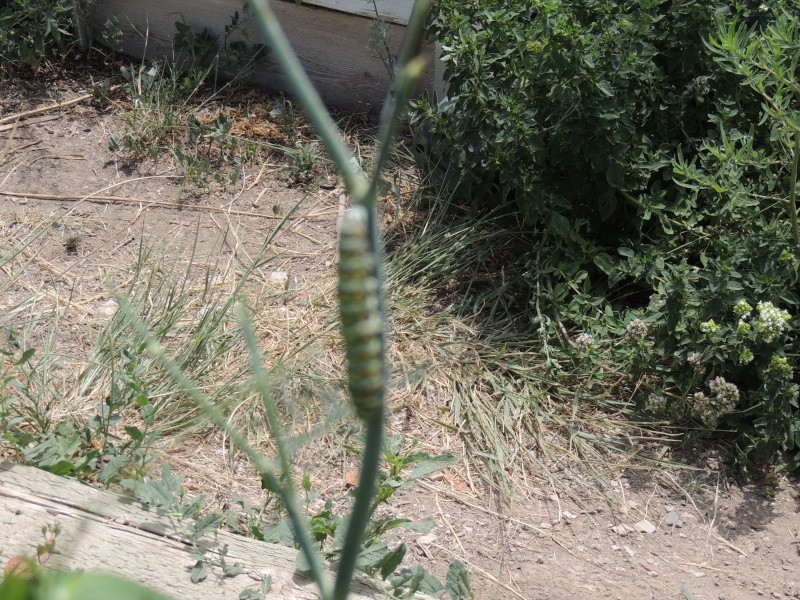 Peacevine cherry: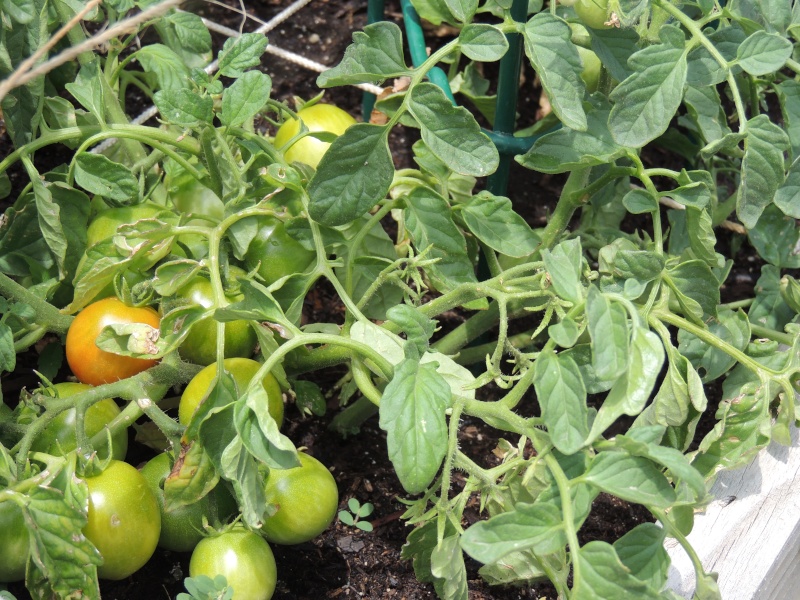 Grasshoppers devastating tomatillos, hope they make it: Wrong picture disreguard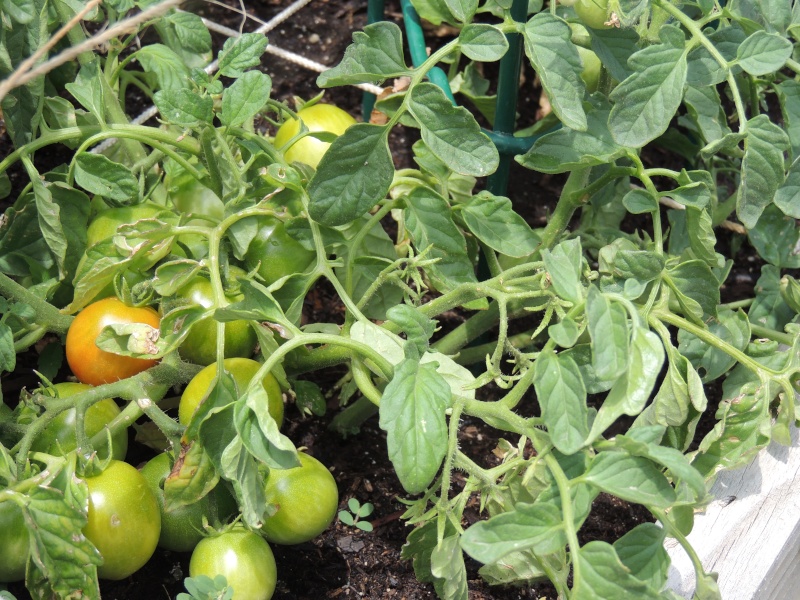 The end: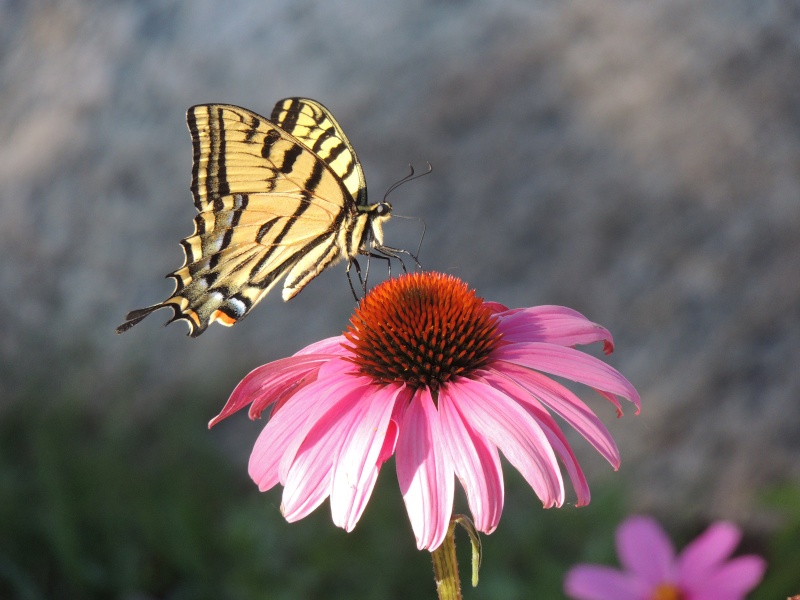 Last edited by johnp on 7/11/2014, 3:58 pm; edited 2 times in total (Reason for editing : wrong picture)

johnp




Posts

: 644


Join date

: 2013-01-05


Age

: 78


Location

: high desert, Penrose CO



gorgeous pics guys!! When I click on the "enlarge" button it doesn't enlarge anymore, it USED to make it really big?  anyone else?
That is a lot of garlic there too!

Thanks for sharing!! love to see other's gardens!!

southern gardener




Posts

: 1887


Join date

: 2011-06-21


Age

: 43


Location

: california, zone 10a



Landarch, Great photos as usual, and everything looks so healthy. How long will the onions last you, or are some given away?
John, Nice harvest!  
  I'll ask the same question about your bountiful garlics: how long will they tide you over?
I don't know. Last year I planted soft necks in about three quarters of a 4x4 box. They lasted all year but the last month they were really trying to grow. The hard necks were planted in the same space but they are a little smaller. I read that the hard necks don't last as long so this will be an experimental year.

johnp




Posts

: 644


Join date

: 2013-01-05


Age

: 78


Location

: high desert, Penrose CO



I do salsa so they may not last that long...I've never tried storing.

We also eat a couple of cucumber recipes with onions...(one vinegar based and another sour cream based).

landarch




Posts

: 1152


Join date

: 2012-01-22


Location

: kansas city



Similar topics
---
Permissions in this forum:
You
cannot
reply to topics in this forum