Latest topics
»
Teaming with Microbes Kindle Sale (Mem. Day weekend 2023)
by
sanderson
Yesterday at 3:14 pm
»
Kiwi's SFG Adventure
by
sanderson
Yesterday at 1:33 pm
»
Why Letting Weeds Run Wild Can Actually Help Your Garden
by OhioGardener Yesterday at 11:27 am
»
N&C Midwest: May 2023
by OhioGardener Yesterday at 11:22 am
»
Mid-Atlantic New Host Intro & Info
by JAM23 Yesterday at 8:38 am
»
Paul's First SFGs
by pkadare 5/28/2023, 11:06 am
»
Poppy seeds - Hungarian Blue Breadseed
by
AtlantaMarie
5/28/2023, 6:12 am
»
Sluggo Plus
by
sanderson
5/27/2023, 3:23 pm
»
What Have You Picked From Your Garden Today
by OhioGardener 5/25/2023, 6:25 pm
»
Centpedes
by OhioGardener 5/25/2023, 6:19 pm
»
beneficial nematodes
by OhioGardener 5/24/2023, 9:18 pm
»
Senseless Banter...
by markqz 5/24/2023, 5:39 pm
»
Pre-Filling a 30" Raised Bed
by toledobend 5/24/2023, 1:10 pm
»
Happy Birthday!!
by
AtlantaMarie
5/24/2023, 7:03 am
»
Aphids & Their Predators
by MrBooker 5/24/2023, 6:01 am
»
Hello from Bobcaygeon, Ontario
by
Scorpio Rising
5/20/2023, 1:52 pm
»
What are you eating from your garden today?
by OhioGardener 5/18/2023, 6:29 pm
»
Spring Flowers
by OhioGardener 5/18/2023, 6:23 pm
»
My Solar Dehydrator at Work
by
sanderson
5/18/2023, 3:10 pm
»
French Tarragon
by
sanderson
5/18/2023, 12:41 pm
»
Famous Gardening Quotes
by
sanderson
5/15/2023, 8:50 pm
»
Birds of the Garden
by
sanderson
5/15/2023, 8:49 pm
»
New Compost PIle, 2nd attempt
by Chuck d'Argy 5/13/2023, 11:43 am
»
Ohio Gardener's Greenhouse
by OhioGardener 5/11/2023, 6:44 pm
»
Asparagus
by
sanderson
5/11/2023, 4:11 pm
»
Plan needed for 4'x4' irrigation grid
by OhioGardener 5/11/2023, 12:47 pm
»
TD's 2023 Garden
by
trolleydriver
5/10/2023, 3:16 pm
»
Spring Gardening - Parsnips and Garlic
by OhioGardener 5/10/2023, 2:59 pm
»
Seedlings Sticker Shock
by
sanderson
5/7/2023, 9:44 pm
»
From a Year 2 Novice to All the New SFGers or "How to Get Past the Fear Factor! :)"
by
sanderson
5/7/2023, 3:13 pm
I make my own fertilizer for tomatoes and pepper etc. and notice something that is new to me.  In my fertilizer mixture I use coffee grounds. I save them in a coffee can and keep them sealed after adding other grounds to the can until it is full. Before making the mixture I bake them in the over at 300 degrees for 1 1/2 hours.  However this year I noticed little white worms in them (same as last year). I have no ideal what this is or how they got in the used grounds. I put the grounds in a container lined with foil and set out in the 90 deg. sun to dry them. I also noticed they can not take to heat, as I was scraping around to mix the ground up a little I noticed that these thing jump around in the sun.
I have taken a picture of the worms and a short video on them jumping and will post them as soon as I can figure out how to.
Has anyone seen anything like this, or know what the worms are, or how they get into the grounds ??
Regards,
kt

Kyblue




Posts

: 17


Join date

: 2012-07-08


Location

: Eastern Kentucky 41230



Take a photo as close as you can.  It's too hard to see any details.  Jumping worms?

Well, I just Binged "jumping worms." Looks lie there are larva (maggots) that are able to jump. Do you have a County Entomologist?
Last edited by sanderson on 7/8/2014, 4:04 am; edited 1 time in total (Reason for editing : Add)
I made several attempts to get a better picture using two different cameras but didn't do much better, I will add the best one here. And no we do not have a County Entomologist that I am aware of but will ask around. This is a rural area and we don't have a lot here, sorry..
Actually the best view is of them jumping, but it is a video and I can't figure out how to post it. I will gladly send it to you (or anyone else) if you like. Just email me at
familyties66@bellsouth.net
and I will attach it to a reply. The video is 5.5 MB. and can be seen using Windows Media Player.
Regards,
kt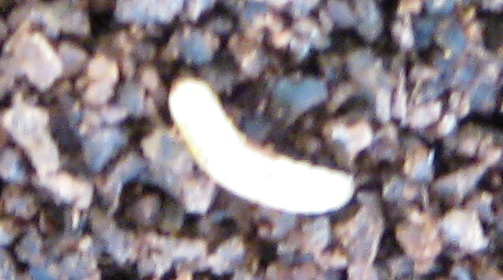 Kyblue




Posts

: 17


Join date

: 2012-07-08


Location

: Eastern Kentucky 41230



We have noticed little maggot like worms in our coffee grounds from our espresso machine if I don't empty the spent grounds container soon enough.  I figured maybe larvae brought on by warmth but don't know their origin.  Will be interested in replies to this post.  Mine don't jump as far as I know.

kauairosina




Posts

: 656


Join date

: 2014-01-16


Age

: 87


Location

: Lawai, Hawaii, 96765



---
Permissions in this forum:
You
cannot
reply to topics in this forum