Latest topics
»
Mark's first SFG
by OhioGardener Yesterday at 3:24 pm
»
What Have You Picked From Your Garden Today
by markqz Yesterday at 2:56 pm
»
Kiwi's SFG Adventure
by KiwiSFGnewbie 12/9/2023, 10:25 pm
»
Hi from Western Australia
by OhioGardener 12/9/2023, 11:10 am
»
N & C Midwest: November/December 2023
by JAM23 12/8/2023, 6:49 pm
»
Strawberry Varieties?
by
sanderson
12/5/2023, 3:57 pm
»
Recommended store bought compost - Photos of composts
by
sanderson
12/4/2023, 1:27 pm
»
Jerusalem Artichoke or Sun Choke
by
Scorpio Rising
12/4/2023, 7:09 am
»
Strawberries in MM: to feed or not to feed?
by
sanderson
12/3/2023, 7:30 pm
»
Senseless Banter...
by
sanderson
11/28/2023, 10:31 pm
»
FREE Online SFG Class - November 28, 2023
by
sanderson
11/27/2023, 9:21 pm
»
Mini-Raised Beds?
by Chuck d'Argy 11/27/2023, 2:14 pm
»
Happy Birthday!!
by
sanderson
11/26/2023, 10:58 pm
»
Name the mystery (to me) seedlings! :-)
by Psdumas 11/25/2023, 12:04 am
»
Happy Thanksgiving from the USA
by
sanderson
11/23/2023, 1:47 pm
»
Guatemalan Green Ayote Squash
by OhioGardener 11/21/2023, 8:27 am
»
Seeds 'n Such Early Order Seeds
by
sanderson
11/20/2023, 1:13 pm
»
USDA Plant Hardiness Zone Map
by OhioGardener 11/19/2023, 7:12 am
»
AeroGarden for starting seeds?
by OhioGardener 11/16/2023, 12:40 pm
»
Biochar?
by OhioGardener 11/16/2023, 10:31 am
»
2023 - Updated U.S. Interactive Plant Hardiness Map
by
sanderson
11/15/2023, 6:18 pm
»
SFG Is Intensive Gardening
by
sanderson
11/14/2023, 3:26 pm
»
Teaming with Microbes Kindle Sale (Mem. Day weekend 2023)
by markqz 11/10/2023, 12:42 am
»
Bok Choy Hors d'oeuvres
by
donnainzone5
11/9/2023, 5:58 pm
»
Now is the Time to Start Preparing Next Year's Spring Garden
by OhioGardener 11/9/2023, 7:13 am
»
Shocking Reality: Is Urine the Ultimate Gardening Hack or Disaster?
by dstack 11/6/2023, 5:29 pm
»
Nightmare on Mel Street.
by
Scorpio Rising
11/4/2023, 6:37 pm
»
Aerogardening
by
Scorpio Rising
11/3/2023, 10:02 am
»
Sunday All Purpose Organic Garden Nutrients
by lisawallace88 11/3/2023, 9:13 am
»
Mid-summer seed sowing, how do you do it?
by KiwiSFGnewbie 11/2/2023, 8:04 pm
I noticed a greenhouse that GWN built out of cattle panels. This is the one that I am considering or just dreaming about anyway. I hope GWN can respond to this, but do you think you can gain 2 to 3 more months of production a season in zone 5? Do you roll the plastic off during the summer?

deriter




Posts

: 107


Join date

: 2011-12-25


Age

: 77


Location

: Iowa - zone 5b




cheyannarach




Posts

: 2037


Join date

: 2012-03-21


Location

: Custer, SD



Hi there
I built the greenhouse after reading the books of Elliot Coleman. He has a few out on extending the season. He is zone 5 and is able to grow all year round.
I only had that greenhouse for a year, not quite, so did not get the chance, but now I am up in Canada and feel I am definately extending my season.
I am experimenting all the time. I currently have tomato plants that are blooming.

GWN




Posts

: 2804


Join date

: 2012-01-14


Age

: 67


Location

: british columbia zone 5a



Wow, that's fantastic! I am growing chickens in mine, lol, needed to get them out of the house! Now they are snowed in

cheyannarach




Posts

: 2037


Join date

: 2012-03-21


Location

: Custer, SD



I am counting the days until the last frost (UMMMM 14)... my greenhouse is totally overrun and so a few weeks ago I had my DH make the one someone else posted a video from Texas... and we folllowed the instructions perfectly and built it in about a day.
So I have about 60 tomato plants and maybe 20 peppers I am trying to keep alive, running out of bigger pots to put them in. But this little baby cost us about... maybe 100 dollars. It is still freezing here some nights and so I still need cover.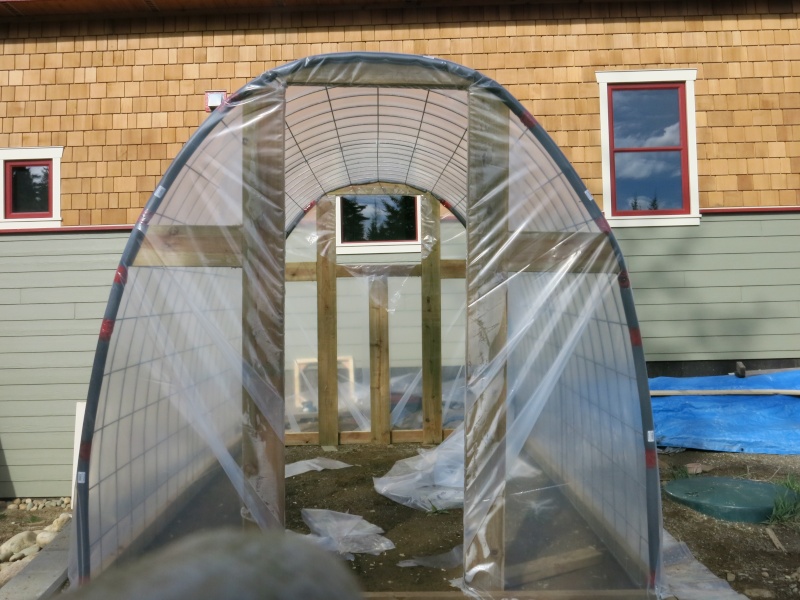 So I have also created these two babies.... to try to get some of the wimpier plants like winter squashe going earllier this year, since last year they did not ripen in time to harvest many of them

GWN




Posts

: 2804


Join date

: 2012-01-14


Age

: 67


Location

: british columbia zone 5a



I like it. You might put some buckets or even a drum of water to help even out the temperature extremes. I have three drums in one of my greenhouses, and about 25 buckets in the other.

I have about $100 each into my greenhouses, but they are lean-tos, so I saved some on material cost there.
Last edited by Pollinator on 4/23/2013, 11:26 am; edited 1 time in total (Reason for editing : add more info)
I found this link on another thread that was posted back in 12/12 The threads name was "pvc length and type..." Hope this helps.

http://www.cmg.colostate.edu/gardennotes/722.html

Lilly

Lillyz




Posts

: 128


Join date

: 2013-02-23


Age

: 67


Location

: Pueblo, Colorado Zone 5B



Thanks Lilly for the link showing use of space blankets. I was given a thing called emergency/survival blanket made by Dynarex. It says it reflects 90% of heat. Not sure how durable it would be to wrap and rewrap the plants over and over. It appears to be very thin stuff so might not take much to be destroyed unless it were put in some type of frame that would protect it. Maybe even sandwich it between some sheets or blankets. I had not thought of this, but do believe it deserves consideration. The water walls were impressive also. Almost seems as if you had the greenhouse and the water wall thing, that this would extend your gardening time by quite a little and then on the really cold nights, you could use some of these blankets over the water walls and protect to a pretty low temperature. Thanks GWN for the reply and those pictures of your new green house. Wow, getting excited again.

deriter




Posts

: 107


Join date

: 2011-12-25


Age

: 77


Location

: Iowa - zone 5b



Similar topics
---
Permissions in this forum:
You
cannot
reply to topics in this forum