Latest topics
»
Mark's first SFG
by OhioGardener Yesterday at 3:24 pm
»
What Have You Picked From Your Garden Today
by markqz Yesterday at 2:56 pm
»
Kiwi's SFG Adventure
by KiwiSFGnewbie 12/9/2023, 10:25 pm
»
Hi from Western Australia
by OhioGardener 12/9/2023, 11:10 am
»
N & C Midwest: November/December 2023
by JAM23 12/8/2023, 6:49 pm
»
Strawberry Varieties?
by
sanderson
12/5/2023, 3:57 pm
»
Recommended store bought compost - Photos of composts
by
sanderson
12/4/2023, 1:27 pm
»
Jerusalem Artichoke or Sun Choke
by
Scorpio Rising
12/4/2023, 7:09 am
»
Strawberries in MM: to feed or not to feed?
by
sanderson
12/3/2023, 7:30 pm
»
Senseless Banter...
by
sanderson
11/28/2023, 10:31 pm
»
FREE Online SFG Class - November 28, 2023
by
sanderson
11/27/2023, 9:21 pm
»
Mini-Raised Beds?
by Chuck d'Argy 11/27/2023, 2:14 pm
»
Happy Birthday!!
by
sanderson
11/26/2023, 10:58 pm
»
Name the mystery (to me) seedlings! :-)
by Psdumas 11/25/2023, 12:04 am
»
Happy Thanksgiving from the USA
by
sanderson
11/23/2023, 1:47 pm
»
Guatemalan Green Ayote Squash
by OhioGardener 11/21/2023, 8:27 am
»
Seeds 'n Such Early Order Seeds
by
sanderson
11/20/2023, 1:13 pm
»
USDA Plant Hardiness Zone Map
by OhioGardener 11/19/2023, 7:12 am
»
AeroGarden for starting seeds?
by OhioGardener 11/16/2023, 12:40 pm
»
Biochar?
by OhioGardener 11/16/2023, 10:31 am
»
2023 - Updated U.S. Interactive Plant Hardiness Map
by
sanderson
11/15/2023, 6:18 pm
»
SFG Is Intensive Gardening
by
sanderson
11/14/2023, 3:26 pm
»
Teaming with Microbes Kindle Sale (Mem. Day weekend 2023)
by markqz 11/10/2023, 12:42 am
»
Bok Choy Hors d'oeuvres
by
donnainzone5
11/9/2023, 5:58 pm
»
Now is the Time to Start Preparing Next Year's Spring Garden
by OhioGardener 11/9/2023, 7:13 am
»
Shocking Reality: Is Urine the Ultimate Gardening Hack or Disaster?
by dstack 11/6/2023, 5:29 pm
»
Nightmare on Mel Street.
by
Scorpio Rising
11/4/2023, 6:37 pm
»
Aerogardening
by
Scorpio Rising
11/3/2023, 10:02 am
»
Sunday All Purpose Organic Garden Nutrients
by lisawallace88 11/3/2023, 9:13 am
»
Mid-summer seed sowing, how do you do it?
by KiwiSFGnewbie 11/2/2023, 8:04 pm
+3
Triciasgarden
Zekes nursery
jewlz2121
7 posters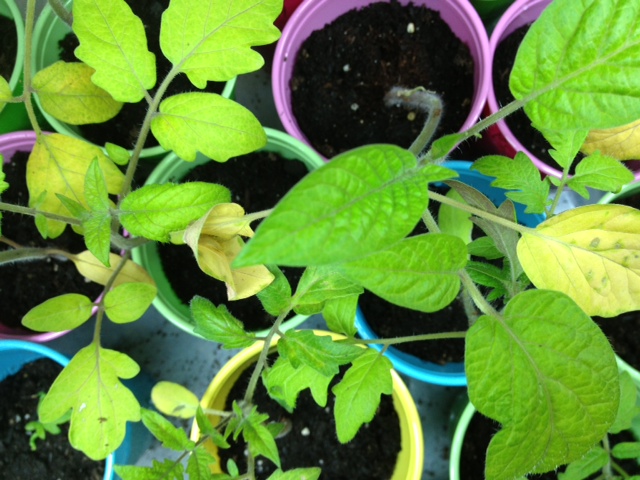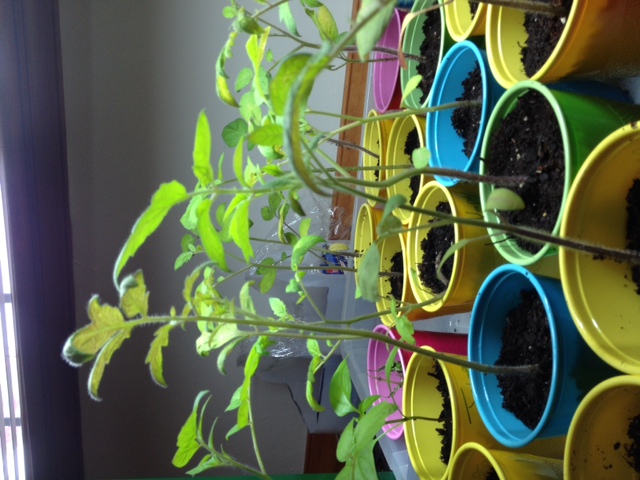 I planted 4 different kinds of tomato seed about 5 weeks ago, before I started learning SFG. I started them in Burpee seed starting mix with a heat mat. They've been under a t5 since sprouting, although I left them on the heat mat for a few weeks, whoops. I transplanted them last week into solo cups with the same seed starting mix. Someone told me that wasn't enough nutrition, so I just them 3 days ago into a miracle grow potting mix. They are way too tall and leggy, hardly any leaves, and yellowing. I try to let them dry out before watering again, and don't water too much. I have an 18-18-21 fertilizer, should I try that on them?

jewlz2121




Posts

: 62


Join date

: 2013-04-03


Location

: Chesapeake, VA. Zone 7b.



Are they getting enough sun? I put mine right in the south west window sill of our house in long strip tray's. Then I check every day for watering needs. I don't let them dry out but I don't let them sit in water either.

Zekes nursery




Posts

: 18


Join date

: 2013-04-04


Location

: NW Zone 8



There are several things that could be causing the yellowing. Are they getting enough sunlight? When you check for dryness of the soil, do you check the surface or stick your finger down in the soil a bit? Do you have good drainage? The third thing could be they need some nitrogen. You can use a half dilution of fish emulsion. They don't look too leggy to me. You may already know this, but when you plant them outside, you bury the tomato plant almost up to the first set of leaves. With the beds being more shallow, you can dig kind of a trench, lay the tomato on its side and have the top with the leaves slowly heading up. You will need to gently pack the soil around it to help the plant head upwards. Be careful not to break the stem.

Triciasgarden




Posts

: 1634


Join date

: 2010-06-04


Age

: 68


Location

: Northern Utah



They look to leggy to me and for the height of you plants the stems seem to small and narrow. I would cut holes in the bottom and sides, slits, and fill the solo cups to the top with soil. Put them in a tray and put some water in and that will take the roots to the bottom.

If you catch quitabea on a post ask her as she is very knowledgable on growing tomatoes

floyd1440




Posts

: 815


Join date

: 2011-06-21


Age

: 69


Location

: Washington, Pa. Zone 6a



This was my first year using Burpee's seed starting mix. I bought 2 bags and started tomatoes/peppers/eggplants and a few other plants in them. They got a white mold on the top of the soil (first time ever!)

Looked around here and on the internet and someone said that it was because there wasnt enough air circulation around them. Ive been taking my babies out into the sun as soon as it was warm enough for them. I used a 3% peroxide solution (1 Tablespoon peroxide to 1 Quart water) and misted it on them too. I still got damping off on a few plants. I will NEVER buy burpees seed starting mix again. I know from experience that the mix should be sterile and I thought that would be the case with their mix. Lesson learned.

Lillyz




Posts

: 128


Join date

: 2013-02-23


Age

: 67


Location

: Pueblo, Colorado Zone 5B



I don't think those plants are getting enough sunlight or light. In a window, they need a southern facing window for optimum light. If under track lights you have to keep the lights only 2" above the uppermost greenery of the plant. They also need some downtime, so turning off the lights for 6-8 hours is a must.
No heat mat after they germinate. Most plants like temps to be in the 60-64 degree range while they are starting their growth.
Strengthen your plants by brushing your hand across the plants a few times a day so their main stems thicken up.
Adding a bit of compost to the soil in the cups helps give them strength, too. I would add compost or good potting soil mix (it has some fertilizer in it) right up to the top of those cups now so the long stem will be buried a bit deeper. Another solution is to water with a half-strength solution of fish emulsion.
Also, bottom water and the plants will take up what they need.
See how that works for you.

quiltbea




Posts

: 4712


Join date

: 2010-03-21


Age

: 81


Location

: Southwestern Maine Zone 5A



When I transplant from a small block or cell to a larger cup or bottle for many of my plants, toms and peppers included, I put only about an inch of soil in the bottom of the new cup, gently place the seedling atop the soil, hold it upright securely by the top leaves, then refill all around it up to within a half inch of the top of the cup/bottle. Remove any seed leaves or other leaves along that distance so they don't mold or spoil in the soil.
This makes the stem stronger and roots will form along its length.
Each time you re-pot a tomato, you do the same thing, burying it a little deeper each time.
By the time it goes outdoors, the root system will be well formed and strong.

quiltbea




Posts

: 4712


Join date

: 2010-03-21


Age

: 81


Location

: Southwestern Maine Zone 5A



If they are going to be in those cups for a while give them a little liquid plant food. They look a little hungry to me.
ymmmmmmmm....... plant food............
____________________________
43 years a gardener and going strong with SFG.
https://squarefoot.forumotion.com/t3574-the-end-of-july-7-weeks-until-frost
There are certain pursuits which, if not wholly poetic and true, do at least suggest a nobler and finer relation to nature than we know. The keeping of bees, for instance. ~ Henry David Thoreau
https://squarefoot.forumotion.com/t1306-other-gardening-books
I hope the combination of more soil and plant food helps. Keep us posted and camprn and quiltbea are some of the best with plants, especially tomatoes, on this forum.

floyd1440




Posts

: 815


Join date

: 2011-06-21


Age

: 69


Location

: Washington, Pa. Zone 6a



I gave them some fish emulsion half strength, WOW, that is some smelly stuff! They seemed to get greener and bushier overnight. I started hardening off this morning. I'm ready to get them out of my dining room and into the dirt!

jewlz2121




Posts

: 62


Join date

: 2013-04-03


Location

: Chesapeake, VA. Zone 7b.



Similar topics
---
Permissions in this forum:
You
cannot
reply to topics in this forum