Latest topics
»
my worms are gonna get hungry
by
has55
Today at 9:19 am
»
Tomato Tuesday - 2020
by
plantoid
Yesterday at 8:31 pm
»
another idea from do nothing gardening-composting tea
by
plantoid
Yesterday at 7:46 pm
»
CANADIAN REGION: What are you doing July, August, September
by
trolleydriver
Yesterday at 7:32 pm
»
Green Chili's
by
OhioGardener
Yesterday at 6:55 pm
»
Pesto
by
sanderson
Yesterday at 6:30 pm
»
2020 SFG in Brooks, GA
by
sanderson
Yesterday at 6:25 pm
»
2020 SFG Adventures in Hampstead, NC
by
sanderson
Yesterday at 5:37 am
»
Newbie SFGer in N. Virginia needing some advice
by
novablue
8/9/2020, 7:29 pm
»
Hardcore Sustainability - Urban Homesteading
by
TCgardening
8/9/2020, 12:23 pm
»
A couple of recipes for when the tomatoes show up ;-)
by
Scorpio Rising
8/9/2020, 9:35 am
»
N&C Midwest: August 2020
by
OhioGardener
8/8/2020, 7:36 pm
»
Tomato Mosaic Virus...Fearing the Worst :(
by
Yardslave
8/7/2020, 12:26 pm
»
The SFG journey-Overview of the Redesign Compost Tea Brewer
by
has55
8/7/2020, 3:50 am
»
Tampa newbie
by
TCgardening
8/6/2020, 9:11 am
»
Pull Bean Plants to Pick Beans?
by
Scorpio Rising
8/5/2020, 8:45 pm
»
Safety of cardboard in compost
by
Scorpio Rising
8/5/2020, 8:42 pm
»
Succession seed sowing now
by
Scorpio Rising
8/5/2020, 8:37 pm
»
Hello from southern Wisconsin
by
AtlantaMarie
8/5/2020, 6:07 am
»
Stroke - Country Naturals
by
countrynaturals
8/4/2020, 7:28 pm
»
Cheerleaders needed, please. This is daunting.
by
mollyhespra
8/4/2020, 2:19 pm
»
Almost 68, and this is a new one on me !!!!
by
sanderson
8/4/2020, 2:06 pm
»
SFG Journey: Beneficial nematodes experiment
by
has55
8/4/2020, 1:01 pm
»
New England, August, 2020
by
SFGHQSTAFF
8/4/2020, 4:18 am
»
Earwigs 2.0!
by
OhioGardener
8/3/2020, 2:52 pm
»
Happy Birthday!!
by
Scorpio Rising
8/3/2020, 12:56 pm
»
N&C Midwest—July 2020
by
Scorpio Rising
8/3/2020, 12:40 pm
»
Tomato Problems - Help!
by
Dan in Ct
8/3/2020, 8:33 am
»
Fire Ring / Round Raised Bed Planter
by
Scorpio Rising
8/2/2020, 8:03 pm
»
August Avatar: Beat The Heat!
by
Scorpio Rising
8/2/2020, 9:01 am
I'm a little different. I start thinking about Christmas gifts in the middle of summer, and start either making them or collecting them.

Well, I was thinking recently about how cool it would be to give my mom and mom-in-law some dwarf tomato plants just on the verge of ripening for Christmas. How fun would that be?! But I have no experience with dwarf tomatoes and was wondering what everyone thought. I know I'll need to start them relatively soon if I want them to be ready by Christmas!

I'm thinking something exceptionally small and compact. I've heard about Red Robin and Florida Petite tomatoes, but I'm having a really hard time finding seeds. Any other thoughts?
Tomatoes really like lots of light and heat. I really don't have experience with dwarf varieties, but wanted to sound off on another idea I saw for christmas... it was a rosemary tree. Someone took rosemary bushes and pruned them in the triangle christmas tree shape. Very cute, and my rosemary has lived through the winter before (cold tolerant).

Squat_Johnson




Posts

: 440


Join date

: 2010-05-25


Location

: Beaver Dam, Kentucky, zone 6a



Hey SJ, thanks for the tip. I've actually seen those rosemary Christmas trees being sold at local shops in winter. They're very cute! I'm not a big fan of rosemary, however.

I've read up a little bit on red robin tomatoes (as much as I could, anyway; there's not much info on them out there), and a lot of people have had success growing them on a window sill through the winter. They're apparently tolerant of cold temperatures. I figure it's worth a shot to try, and if they're a total flop, well, I can try again in spring and give out seedlings as mother's day gifts.
I've never seen a dwarf tomato, but I've got some very small determinate ones, Sophie's Choice and they only grow 18-24" tall and only need a short stake. The tomatoes themselves, tho, are large.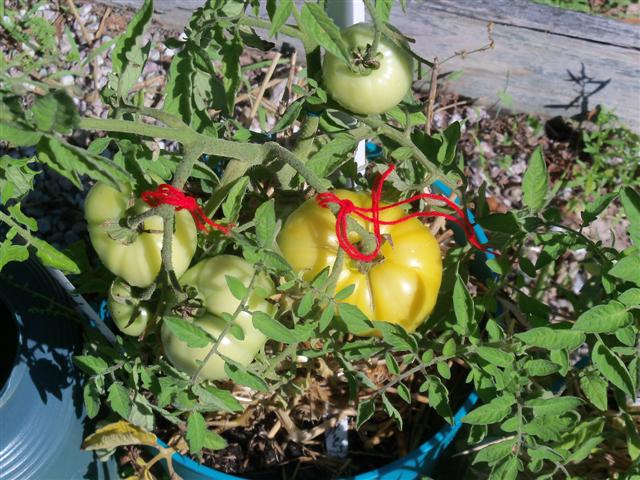 Here's one of my three Sophie's plants.
I transplanted this to its pot 6/8 and on 8/2 I harvested my first one.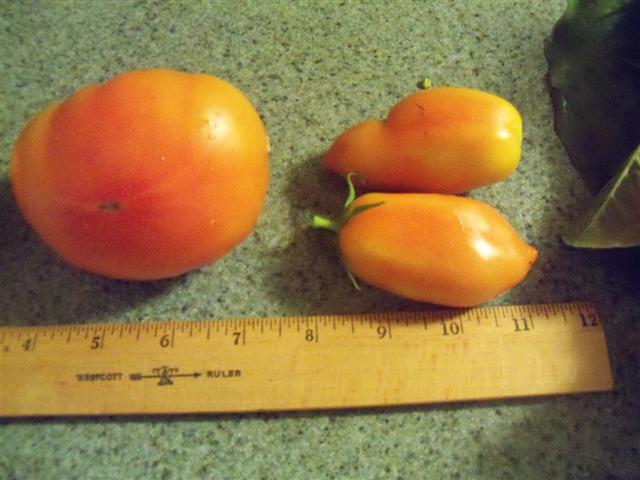 On the left is my first Sophie's Choice with some San Marzano Nano toms picked 8/2.
Mine have only produced 4-6 toms per plant, but they are good-sized toms.
Last edited by quiltbea on 8/23/2011, 11:56 pm; edited 1 time in total (Reason for editing : to correct typo)

quiltbea




Posts

: 4712


Join date

: 2010-03-21


Age

: 78


Location

: Southwestern Maine Zone 5A



I have never seen a dwarf tomato before, nice looking fruit. Very interesting, thank you for the pictures!

happycamper




Posts

: 304


Join date

: 2010-05-26


Location

: East County Portland, OR



Littlesapphire, I have a tiny Red Robin dwarf tomato plant. I bought mine at a nursery in May. At that time, it had about six cherry tomatoes at various stages of ripening. I planted it in MM. After those tomatoes ripened, it did nothing until August. It is now giving me fruit again. The tomato taste is not as desirable -- to me -- as my Sweet 100, but I am fond of this little guy and will plant it next year if I have luck starting it from seed. I found a source:
http://www.reimerseeds.com/red-robin-tomato.aspx
It is very tiny and compact, which is perfect to give as a container plant. I have mine in one square of my SFG, but I could easily plant 4 per square. It is a determinate and does not require pruning. However, I do trim the dead leaves and stems closest to the ground.

mijejo




Posts

: 162


Join date

: 2011-05-25


Location

: Cincinnati, Ohio



Thank you, Mijejo! I'll check into that website for sure! I figured they wouldn't be as sweet tasting as some of the larger plants, but if I can get them to produce toms in the winter, they'll sure taste better than what you can buy in the store
---
Permissions in this forum:
You
cannot
reply to topics in this forum