Latest topics
»
N&C Midwest — October 2021
by
Scorpio Rising
Yesterday at 7:39 pm
»
National Kale Day
by
Scorpio Rising
10/25/2021, 6:29 pm
»
Hello from Howe, TX Zone 8a
by
sanderson
10/24/2021, 11:51 pm
»
Hello from Murphy, TX
by
sanderson
10/24/2021, 11:48 pm
»
Hello from West Palm Beach, FL
by
sanderson
10/24/2021, 11:42 pm
»
Tomato - Snow Fairy
by
sanderson
10/24/2021, 11:40 pm
»
Squirrels!!!
by
sanderson
10/24/2021, 11:04 pm
»
OhioGardener SFG
by
OhioGardener
10/23/2021, 3:11 pm
»
Asian Greens and Salad Greens (sorry for long post!)
by
juliediane
10/22/2021, 8:34 pm
»
My SFG journey- using hanging clips on cucumber and tomatoes
by
has55
10/20/2021, 7:06 pm
»
The SFG Journey-Johnson Su Bioreactor for composting, No turning
by
has55
10/19/2021, 8:16 am
»
Microbes...you gotta see this one !!!
by
has55
10/19/2021, 7:55 am
»
Wasabi Radish
by
sanderson
10/19/2021, 12:55 am
»
I want to start over
by
Roseinarosecity
10/17/2021, 12:46 am
»
CANADIAN REGION:What are you doing July to December 2021
by
Kelejan
10/16/2021, 6:15 pm
»
Birds of the Garden
by
Kelejan
10/16/2021, 6:10 pm
»
Happy Birthday!!
by
Scorpio Rising
10/16/2021, 12:18 pm
»
Winter Travel
by
OhioGardener
10/13/2021, 8:17 am
»
What are you eating from your garden today?
by
yolos
10/10/2021, 11:09 am
»
Keeping bees
by
Kelejan
10/9/2021, 10:50 am
»
worm buying
by
OhioGardener
10/8/2021, 8:57 am
»
October: What to plant in Northern California and Central Valley areas
by
Yardslave
10/7/2021, 5:56 pm
»
Senseless Banter...
by
OhioGardener
10/4/2021, 2:13 pm
»
October Avatar: Fall Gardening
by
sanderson
10/4/2021, 2:06 pm
»
What are these fruits?
by
bijan
10/4/2021, 1:53 pm
»
Mulching question?
by
sanderson
10/4/2021, 1:46 pm
»
Wood Chips-->Pine
by
sanderson
10/4/2021, 1:41 pm
»
Dr Higa's Soil Classifications
by
sanderson
10/4/2021, 1:35 pm
»
Famous Gardening Quotes
by
sanderson
10/4/2021, 1:32 pm
»
has55's R & D Journey
by
has55
10/3/2021, 5:02 pm
Ok as a newbie this year, I've been able to answer most of my questions by just reading other posts, but I'm needing a little expert advice on this one.
First of all, I believe I am a newbie with not-so-great compost. Most things grew, just not that well...slow and small. They perked up when I added fish emulsion which is what makes me think it's a compost issue that I will rectify before fall planting.
I tried to grow zucchini in my MM boxes and the leaves made it to 2-3 inches across and started turning color and dying. New growth was always green,. At first I tried cutting off the affected leaves, but I couldn't totally strip the plant as leaves were turning faster than the new growth was coming. My cukes were slow and had tan leaves similar to this but I moved them to a sunnier location and sprayed with neem solution and they seem to be finally growing better. I sprayed the zukes with neem but no luck. They eventually just gave it up.
My pumpkins (located on other side of yard) have split in stems of 2 of 3 - not sure if it's SVB or if it's overwatering (seems like I read that could cause a problem too?) but they are still growing new growth at top? I say this because I'm not sure if the problems are related?
SO...I plunked a couple more seeds in these boxes with some regular potting soil (all I had - plan to replace this with MM for next planting as well) just to see if I could get anything back... I was also able to move these little boxes almost completely OUT of the black walnut dripline (though my extension sources say squash should grow under black walnut).
The plant currently looks like this (ignore the trampled grass - dogs):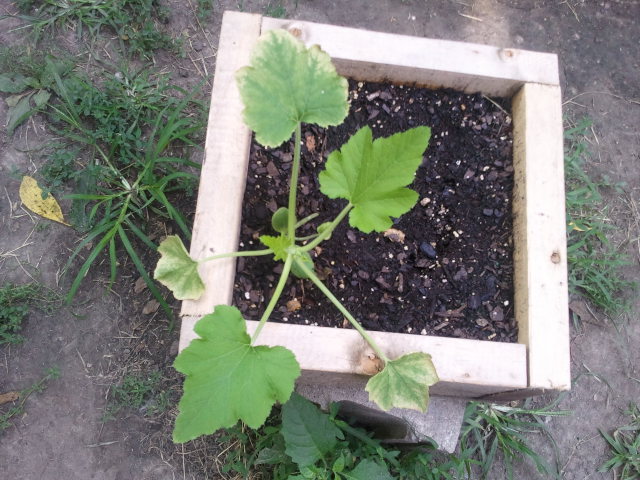 The top of a leaf: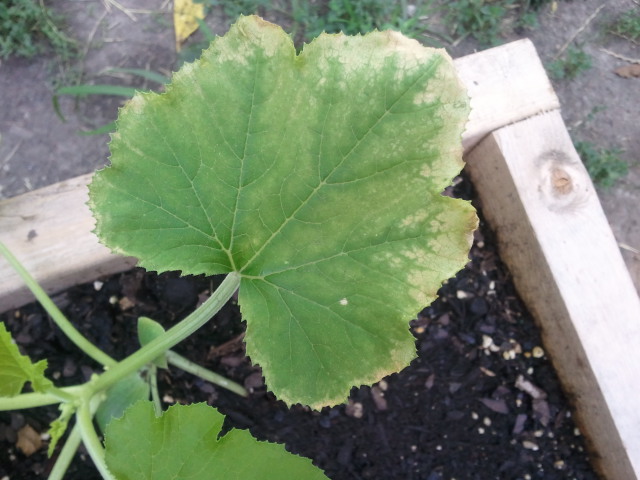 The bottom of a leaf (did find a tiny white bug on this one, but only one...):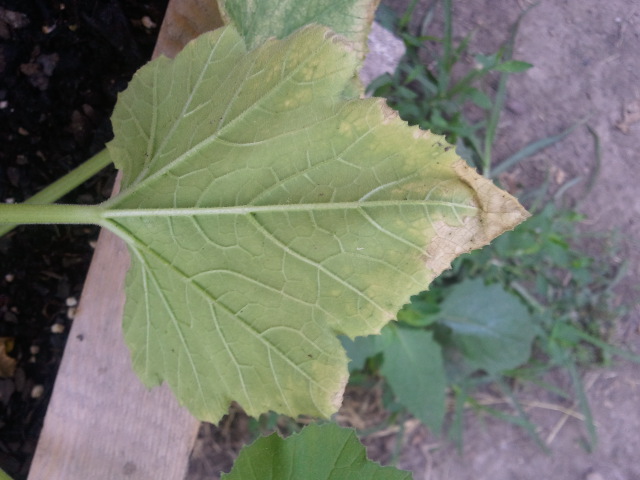 I am not sure if this is a disease or a bug, watering, nutrients, or something else? I was going to move these back to a sunnier location closer to my cukes, but I hate to jinx them??? I haven't sprayed these with neem yet, but maybe I should? Any ideas?

UnderTheBlackWalnut




Posts

: 559


Join date

: 2011-04-18


Age

: 55


Location

: Springfield (central), IL, on the line between 5b and 6a



Those leaves may just be old and petering out. I would clip them off and give the plant a dose of compost tea or other feed.
Thanks for the advice
- I'll try that and see what happens!

UnderTheBlackWalnut




Posts

: 559


Join date

: 2011-04-18


Age

: 55


Location

: Springfield (central), IL, on the line between 5b and 6a



---
Permissions in this forum:
You
cannot
reply to topics in this forum