Latest topics
»
New from AZ
by
Scorpio Rising
Yesterday at 11:18 pm
»
N&C Midwest October 2023
by OhioGardener Yesterday at 8:47 pm
»
Tomato Fruitworm
by
sanderson
Yesterday at 4:39 pm
»
Ohio Gardener's Greenhouse
by
sanderson
Yesterday at 4:14 pm
»
Plan for a raised bed off ground?
by OhioGardener Yesterday at 8:24 am
»
Beds not holding moisture?
by MrBooker Yesterday at 6:36 am
»
Stevia
by markqz 9/28/2023, 12:11 pm
»
Mark's first SFG
by markqz 9/28/2023, 11:53 am
»
N&C Midwest September 2023
by
Scorpio Rising
9/27/2023, 6:55 am
»
Walking stick kale
by markqz 9/26/2023, 11:52 pm
»
Butternut squash sets world record at the State Fair of Virginia
by markqz 9/25/2023, 5:13 pm
»
Closing beds for winter
by plantoid 9/25/2023, 4:25 pm
»
Famous Gardening Quotes
by OhioGardener 9/23/2023, 12:51 pm
»
Foodbank's composting program creates food from food
by OhioGardener 9/22/2023, 8:29 am
»
What Have You Picked From Your Garden Today
by OhioGardener 9/21/2023, 1:15 pm
»
Turning existing garden beds into SFG
by jemm 9/20/2023, 7:35 am
»
updating my mix - what should I add
by
sanderson
9/18/2023, 5:04 am
»
Senseless Banter...
by
sanderson
9/16/2023, 11:37 pm
»
Lumber and measuring for SFG boxes
by
sanderson
9/16/2023, 12:21 am
»
Avatar issues
by Guinevere 9/14/2023, 7:53 pm
»
Happy Birthday!!
by
sanderson
9/11/2023, 4:40 pm
»
When to harvest? / Watermelon seedlings
by
sanderson
9/9/2023, 6:07 pm
»
Hornets Nest
by
sanderson
9/8/2023, 8:15 pm
»
Tropical Storm Hilary
by jennyjo37 9/5/2023, 5:31 pm
»
A square foot garden in a round bed.
by alicej 9/4/2023, 3:39 am
»
Determinate Cherry Tomato for Greenhouse
by OhioGardener 9/2/2023, 6:52 pm
»
N&C Midwest August 2023
by
Scorpio Rising
8/31/2023, 9:01 am
»
Hurricane
by
Scorpio Rising
8/30/2023, 7:25 am
»
No-Fail Zucchini Bread
by OhioGardener 8/28/2023, 11:11 am
»
buying compost small town SW Pennsylvania
by
sanderson
8/27/2023, 6:41 pm
Success is 80% preparation and 20% perspiration, but whoever said that this forum and SFG are addictive was right! I've spent too many hours online to count, looking at plans, reading up on companion planting, creating and re-creating options for my first SFG, so I'm hoping I'm nearly ready for the perspiration part! :drunken:
If Mother Nature will cooperate, I plan to set up my first SFG next week. I am using the Lifetime bed kits sold at Costco, which are 4'x4' and 18" deep (I am stacking them to accommodate my mom, who will be my "co-gardener" - yea!). I'm getting a bit cross-eyed looking at the plans and would love some feedback before we start planting.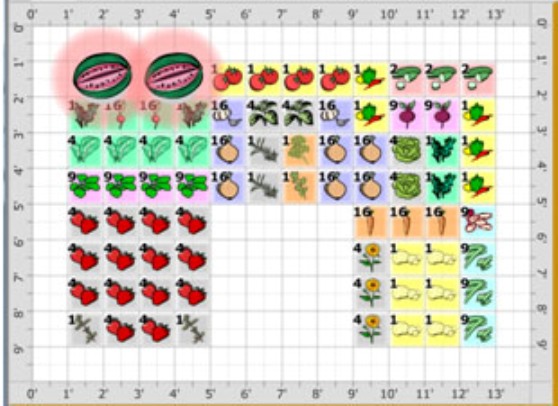 Here is the list of plantings:
Bed 1 (Lower Left): Strawberries and Thyme
Bed 2 (Top Left): Moon & Stars Watermelon (H), Kale, Radishes, Collards, Spinach
Bed 3 (Top Middle): Tomatoes (Cherokee Purple (H), Crimson Beefstake, Matt's Wild Cherry, Yellow Pear Cherry (H), Garlic, Basil, Onions, Rosemary, Parsley, Cilantro
Bed 4 (Top Right): Hot Peppers, Cucumbers, Beets, Sweet Peppers, Lettuce, Kale
Bed 5 (Bottom Right): Scarlet Nantes Carrots, Jacob's Cattle Dried Bush Beans (H), Bountiful Bush Beans (H), Potatoes, Marigolds
Many Thanks!

MasonGarden




Posts

: 284


Join date

: 2010-03-17


Location

: Mason, OH



Any advice? I selected things that I know we like, but it seems like a lot of variety in such a small space . Maybe too much for my first garden?
[left]

MasonGarden




Posts

: 284


Join date

: 2010-03-17


Location

: Mason, OH



masongarden, it's not that you have so much, but you have two different seasons of plants selected. some things are only going to grow in spring (and fall), and then they will go to seed or die: cilantro, your greens, radishes will not make it thru summer without some heavy shade, lots of water, and some luck.
so unless you plan to let your watermelon sprawl thru those squares, they will be empty and ready for a new crop in summer.
the carrots and potatoes need deep boxes but the rest can grow readily in just 6" of mix. especially for the potatoes you don't want to start them too deep or they won't make it out alive. they should go no more than 4" or so, then get covered as they grow.
rosemary is a tender perennial similar to an evergreen bush. it will take over your plot. you can plant it in a pot, sink it in the garden, and dig it up for winter, but i just grow mine in a pot on the deck and bring it in when the weather is cold.
thyme is also a perennial and it can be very invasive, so much so that some people use it as a ground cover where grass won't grow.
consider spreading out your marigolds as they are great insect repellents. in general, the more you spread things out, within reason, the more protection you give them from insects and disease. often one plant will succumb, acting as a trap, and the ones in other areas of the garden will be safe from infestation/infection.
Further to what Rowena said, I would place the things that take longer to grow in the middle of the box and the quicker growing plants on the outside.
For instance, in bed 4 it might be better to swap your onions with the beets and move the lettuce and kale to squares closer to the outside. Same goes with the radishes. They grow pretty quick, so you want to be able to access them easily. You may want to move some of your onions from bed 3 to where the radishes are in bed 2.
Just my 2 cents. Other than that, it looks great!

Blackrose




Posts

: 710


Join date

: 2010-03-21


Age

: 50


Location

: Aurora, Ontario, Zone 5a



Rowena & Blackrose, thanks so much for the advice! I have no experience growing ANYTHING (I don't even have houseplants!), and these are the kinds of things I would have had to learn the hard way, so I appreciate the help. I'll take another look at the plan, including the planting and harvesting times, which I hadn't done yet, to see if I can avoid any major traps I might be setting for myself. I know this will not be an error free experience, but I'll avoid the things I can with help from SFG'ers like yourselves!
I'm so excited and can't wait to get my hands in the dirt!

MasonGarden




Posts

: 284


Join date

: 2010-03-17


Location

: Mason, OH



Hi MasonGarden, welcome to the forum and to SFG!
I have grown Cherokee Purple and Yellow Pear tomatoes before. (No info on the other two.) When I grew yellow pears, they were pretty aggressive. I didn't prune it at all and it got about 6 feet tall and maybe 3-4 feet wide. I did prune the Cherokee, it was more like 7-8 feet tall, and 3 feet wide. (I guess I am not a very good pruner yet!) I have read from many people that it's perfectly possible to grow an indeterminate tomato in one SF, but do pay attention to pruning, as otherwise you are going to have a grand tangle in there!
Wow! Thanks for the heads up, Megan. I may consider only having one "aggressive" tomato as two sounds like one too many!

MasonGarden




Posts

: 284


Join date

: 2010-03-17


Location

: Mason, OH



MasonGarden wrote:Wow! Thanks for the heads up, Megan. I may consider only having one "aggressive" tomato as two sounds like one too many!
I have no info on your beefsteak, and I have some Matt's seed myself this year I want to try.... so we are both newbs on that one! There are many experienced (and professional) tomato growers here on the forum that can help you out with pruning. Also, plants do grow into/through each other. So it's not necessarily a deal buster... just wanted to let you know what to expect. I had a VERY aggressive squash plant last year, but most of the rest of my plants did survive! Even if something doesn't work, you can always chalk it up to experience and try again the following year. I did have a few failures last year, and some "early endings", but I got wonderful harvests nevertheless, overall, and I'm sure you can, too. Just give it a shot and remember it's only seeds.
Here's a video I found on pruning tomatoes. Looks helpful.

http://www.mysquarefootgarden.net/how-to-prune-tomatoes/


Blackrose




Posts

: 710


Join date

: 2010-03-21


Age

: 50


Location

: Aurora, Ontario, Zone 5a



Ladies, thanks for the additional information. You're right Megan, we are only talking about seeds, and the video that Blackrose posted helped me understand how to keep the tomatoes in check, so I feel bit better about them. Onward and upwards!



MasonGarden




Posts

: 284


Join date

: 2010-03-17


Location

: Mason, OH



Similar topics
---
Permissions in this forum:
You
cannot
reply to topics in this forum