Latest topics
»
Recommended store bought compost - Photos of composts
by
sanderson
Yesterday at 1:27 pm
»
Strawberry Varieties?
by Chuck d'Argy Yesterday at 12:42 pm
»
Jerusalem Artichoke or Sun Choke
by
Scorpio Rising
Yesterday at 7:09 am
»
Mark's first SFG
by
sanderson
12/3/2023, 7:33 pm
»
Strawberries in MM: to feed or not to feed?
by
sanderson
12/3/2023, 7:30 pm
»
What Have You Picked From Your Garden Today
by OhioGardener 11/29/2023, 5:36 am
»
Senseless Banter...
by
sanderson
11/28/2023, 10:31 pm
»
N & C Midwest: November/December 2023
by
sanderson
11/27/2023, 9:23 pm
»
FREE Online SFG Class - November 28, 2023
by
sanderson
11/27/2023, 9:21 pm
»
Mini-Raised Beds?
by Chuck d'Argy 11/27/2023, 2:14 pm
»
Happy Birthday!!
by
sanderson
11/26/2023, 10:58 pm
»
Name the mystery (to me) seedlings! :-)
by Psdumas 11/25/2023, 12:04 am
»
Happy Thanksgiving from the USA
by
sanderson
11/23/2023, 1:47 pm
»
Guatemalan Green Ayote Squash
by OhioGardener 11/21/2023, 8:27 am
»
Kiwi's SFG Adventure
by
sanderson
11/20/2023, 2:06 pm
»
Seeds 'n Such Early Order Seeds
by
sanderson
11/20/2023, 1:13 pm
»
USDA Plant Hardiness Zone Map
by OhioGardener 11/19/2023, 7:12 am
»
AeroGarden for starting seeds?
by OhioGardener 11/16/2023, 12:40 pm
»
Biochar?
by OhioGardener 11/16/2023, 10:31 am
»
2023 - Updated U.S. Interactive Plant Hardiness Map
by
sanderson
11/15/2023, 6:18 pm
»
SFG Is Intensive Gardening
by
sanderson
11/14/2023, 3:26 pm
»
Teaming with Microbes Kindle Sale (Mem. Day weekend 2023)
by markqz 11/10/2023, 12:42 am
»
Bok Choy Hors d'oeuvres
by
donnainzone5
11/9/2023, 5:58 pm
»
Now is the Time to Start Preparing Next Year's Spring Garden
by OhioGardener 11/9/2023, 7:13 am
»
Shocking Reality: Is Urine the Ultimate Gardening Hack or Disaster?
by dstack 11/6/2023, 5:29 pm
»
Nightmare on Mel Street.
by
Scorpio Rising
11/4/2023, 6:37 pm
»
Aerogardening
by
Scorpio Rising
11/3/2023, 10:02 am
»
Sunday All Purpose Organic Garden Nutrients
by lisawallace88 11/3/2023, 9:13 am
»
Mid-summer seed sowing, how do you do it?
by KiwiSFGnewbie 11/2/2023, 8:04 pm
»
N&C Midwest October 2023
by OhioGardener 11/1/2023, 8:49 am
I'm looking for early maturing variety suggestions.
Siberian
Stupice
Sun gold
Matina
Taxi
Red Rocket
Gold Nugget
rosalita

I suppose early girl counts as well

I'm growing Siberian this year. DTM is 48 days on that one.

dizzygardener




Posts

: 668


Join date

: 2011-01-26


Location

: WNC 6b



Have you tried any of these before?
I've tasted some of them, but not grown them.

I'm growing the Siberian right now. I'll be transplanting the seedling in a few weeks (maybe sooner).

dizzygardener




Posts

: 668


Join date

: 2011-01-26


Location

: WNC 6b



Oregon Spring is very early. You can transplant the seedlings a whole month before last frost date.
If it gets too cold, the plant will stop growing and restart when it warms up again.
I planted 3 last year.
Flavor wasn't the best but having early toms was so great I didn't mind. It was better than buying the storebought.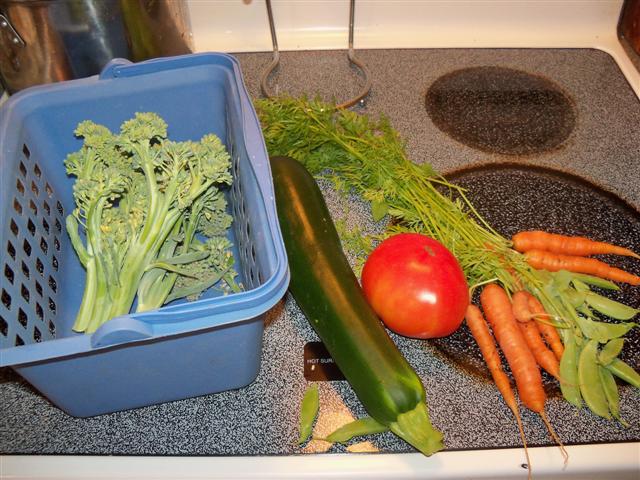 My first harvest of an Oregon Spring tomato on July 19th. Remember, we usually don't put out tomato transplants till June 7th around here. Mine went in on April 24th but had cold freezing nite setbacks now and again.
In my neck of the woods I was surprised that these Oregon Springs, determinates that harvest all around the same time, started with new blossoms at the end of summer. I was going to pull the plants and toss them in the compost when I noticed new yellow blossoms. I was hoping for another flush of tomatoes, but we got a hard freeze that ended that thought.
This was taken on Oct 2nd with more blossoms and a few baby tomatoes. Too bad the freeze arrived too soon. Maybe if I had them in my A-frame I could have got a 2nd harvest from the plants.
Among the earlies, I'll be starting Beaverlodge Slicer, Early Cherry, Glacier and Stupice myself this year to see how early I can get tomatoes. I just love tomatoes.

quiltbea




Posts

: 4712


Join date

: 2010-03-21


Age

: 81


Location

: Southwestern Maine Zone 5A



I'm guessing that I don't count for the early or for taste because in the PNW we just get jazzed when we can pick a ripe tomato. It takes about twice as long here as it will where you are.

Hands down, Siltz was the best tasting early (late July-early August in PNW) tomato I've ever grown.
Persimmon was amazing but not very productive. It also has a huge stem end. In some areas of the garden (AM shade) I had an issue with the weight of the fruit cracking away from the stem making an inviting place for potato bugs (look like tailless mini armadillos) crawling in....yuck. But they were lovely otherwise.... I did worry about soil born disease, the foliage had a habit of curling down and touching the ground.

This year I have a whole collection of early tomatoes (they would be for most people, but are main to late season up here). A couple of Canadians, Manitoba and Beaverlodge Plum. (Last year I had Black Plum Paste whose micro climate might have been too shady, Hundreds of green fruit but few ripened tho advertised at 65 days), a Japanese hybrid, Momotaro, and a hanging basket salad size tomato called Silver Fur.
---
Permissions in this forum:
You
cannot
reply to topics in this forum