Latest topics
»
Compost from Five Different Sources
by Chris Bobbitt Today at 12:25 am
»
Sourdough Starter
by Jjean59 Yesterday at 9:01 pm
»
Indoor seed starting question
by Simso Yesterday at 8:30 pm
»
finished my SGF garden
by OhioGardener Yesterday at 7:17 pm
»
need specific advice on MM
by plantoid 3/23/2023, 6:43 pm
»
Senseless Banter...
by OhioGardener 3/22/2023, 8:11 pm
»
After harvest, leave the roots in or remove
by Mikesgardn 3/22/2023, 7:53 pm
»
Greenhouse - Helpful Hints in Setting up a Wood-Framed Greenhouse
by
Scorpio Rising
3/22/2023, 7:46 pm
»
Sifted Peat
by danieggert 3/22/2023, 4:21 pm
»
Best choice of pot to plant my seedling
by markqz 3/22/2023, 1:30 pm
»
Responding to a specific post
by OhioGardener 3/22/2023, 9:55 am
»
N&C Midwest: March & April 2023
by
Scorpio Rising
3/21/2023, 10:17 pm
»
Kiwi's SFG Adventure
by
sanderson
3/21/2023, 9:00 pm
»
Think Spring 2023
by MrBooker 3/20/2023, 7:59 am
»
Sifting Compost for Newbies
by
sanderson
3/20/2023, 3:47 am
»
Too cold to put my new MM into my raised beds?? and Facebook SFG site
by
sanderson
3/20/2023, 3:39 am
»
Harvesting small amounts from iceberg lettuce, caulliflower, broccoli, cabbage etc.
by
sanderson
3/20/2023, 3:37 am
»
Epsom salts for your veggie garden??
by
sanderson
3/19/2023, 11:37 pm
»
seed starting Mel's way
by bigtoad 3/17/2023, 9:26 pm
»
shop lights vs grow lights
by
sanderson
3/17/2023, 1:53 am
»
trellis netting square size
by
sanderson
3/16/2023, 10:45 pm
»
Ohio Gardener's Greenhouse
by OhioGardener 3/16/2023, 5:20 pm
»
Raised Beds from 48" Culvert
by wargarden2017 3/16/2023, 11:19 am
»
Baby Pools as Beds?!
by Jjean59 3/15/2023, 3:54 pm
»
March: What to plant in Northern California and Central Valley areas
by
sanderson
3/15/2023, 3:52 pm
»
So. California & Inland Valleys -March / April Planting Guide
by
sanderson
3/15/2023, 2:22 pm
»
Biosolids / Humanure Compost?
by OhioGardener 3/14/2023, 1:45 pm
»
Hello Form the Bitterroot Valley of Montana
by
sanderson
3/14/2023, 4:52 am
»
Renewing Mel's Mix
by anne 3/13/2023, 8:16 pm
»
help refuting a raised bed critic
by
sanderson
3/13/2023, 2:26 pm
Has anyone every planted a three sisters garden? WHat ype of corn, bean and squash did you use?

florenceq




Posts

: 69


Join date

: 2010-12-27


Age

: 50


Location

: Santee, CA 92071



I did and I can tell you what not to do. I planted silver queen corn and Kentucky Wonder pole beans and zucchini. I knew zucchini was not the usual. A vine squash makes more sense because the idea is that it spreads throughout the corn stalks and benefits from the shade.
I planted the beans and corn at the same time. Next time I would plant the corn earlier so it has a chance to grow a bit before the beans were planted. The beans grew so fast they almost outpaced the corn.
I did all of this on a 4X4 square. I planted 4 corn per square and left 4 squares just for the zucchini. I got a good harvest from all but it was a little awkward due to the previously mentioned boo-boos. And there are A LOT of beans and I was unable to keep up with them preserving-wise.
Do not do:
4 per square was a little much for the corn. Two would probably be better although I would like to hear what was successful for others.
Do not use zucchini as your squash - use a vine type squash.
Plant beans later than corn and limit it to the outer squares for ease of harvesting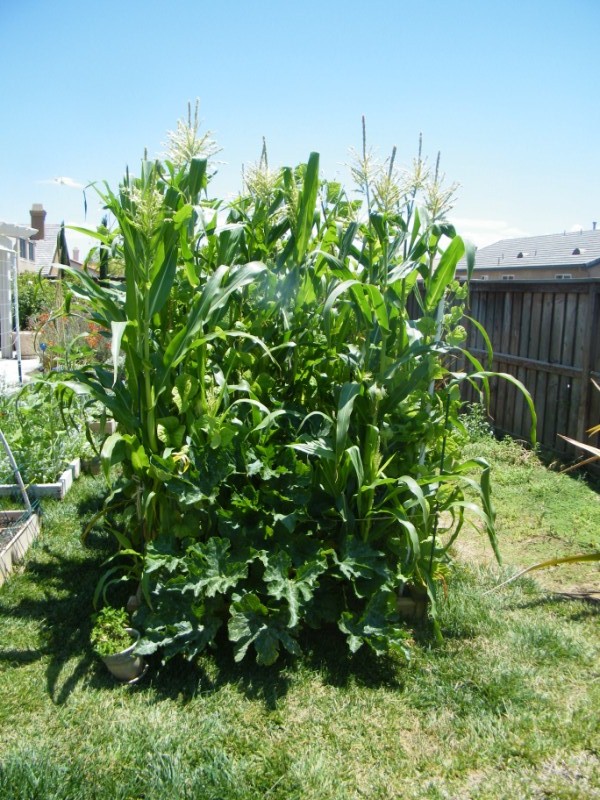 I did, too.
I used
Sweet Country Gentleman Corn
Cherokee Trail of Tears pole beans
Christmas pole lima beans
Early crookneck summer squash
Rampicante (zucchini) squash
First of all.... do not (I repeat NOT!!!) ever, ever, and I mean never, use rampicante in a 3 sisters. Trust me on this one. I learned it the hard way.
Zucchini (such as rampicante) CAN grow as a vine, Chopper.
I agree with Chopper about the corn. I planted the beans and the corn at the same time, and the beans grew much faster than the corn. By the time my corn got to 8-10 feet, the beans were trained onto a trellis as otherwise I'd have had a disaster on my hands.
I did some reading and I think the corn that is best suited to Three Sisters is not sweet corn at all, but flint / dent varieties. The name that comes up most often is Hickory King. I've never grown it but I think it gets really big, and may grow faster than sweet corn.
I did a 4x4 also, with the center 4 squares for corn, 2 squares of beans, and everything else for the squash. (I did sneak in some cilantro, radishes, etc. before the other plants got big.)
My corn grew well but didn't ripen as I'd hoped.
My crookneck died young, I think from SVB.
Beans and rampicante did well.
My notes:
Again, never use rampicante in a Three Sisters.
The two types of pole beans were planted in opposing corners of the 4x4. They ended up growing into each other. This was a problem for me because one finished before the other one, and I'd wanted to salvage the finished square, but it was impossible to extract all the vines from the still-growing stuff, and the dead stuff kinda strangled the living. (Nevertheless I still got a good harvest from both.) I think if I tried this again, I would use only one type of pole bean so growing habit is consistent.
The other thing I noticed about the pole beans and corn was that the beans actually BROKE OFF some of the corn tassels. They just climbed right up there and boom, next thing you know, broken corn. (Yes, I did say I trained the beans onto trellises. But once they really got going, they latched onto the corn anyway.)
I agree with Chopper on corn per square. My corn was an heirloom and ended up with 1 or 2 per square. I think with some more modern varieties you might be able to squeeze in more. The older types are "bushy" and need more space. The root balls are quite large. (Boffer has photos somewhere, I am still trying to find them.)
Thanks for the good advice about 3 sisters gardening.
I plan to have a plot with corn, which I will remember to start a couple weeks earlier than the beans, some kind of pole bean, and a very small pie pumpkin for the squash part.
Mine will also be a bit different because it will be in our Community Garden which is strictly row gardening. They prefer that method so they can bring in a plow to till and add manures and put the whole thing to bed in the winter.
This year I don't have the room to assign blocks of my raised beds to such a venture.
I love seeing and hearing about the raised beds, though.
I may try it at home next year but my plans are all made for 2011 and they don't include 3 sisters planting.
Thanks again for the advice and pictures.

quiltbea




Posts

: 4712


Join date

: 2010-03-21


Age

: 80


Location

: Southwestern Maine Zone 5A



Good luck, quiltbea! Corn, squash and beans are among my favorite things, whether they are grown together or not.

ribsyhuggins




Posts

: 38


Join date

: 2010-08-25


Location

: baltimore



Just out of curiousity... can you use watermelon instead of squash? My squash is doing great on the trellis but my melon didn't make it so I plan to leave her on the ground this year. I'm planting corn in a non SFG area near my barn and thought of trying this method for fun.
I would think watermelon would qualify. It has the same habits and care requirements.
Three? You must be using a different counting system, ribsy.
Similar topics
---
Permissions in this forum:
You
cannot
reply to topics in this forum