Latest topics
»
TD - A Journey Through Prostate Cancer
by
AtlantaMarie
Today at 7:16 am
»
What Have You Picked From Your Garden Today
by
markqz
Yesterday at 10:57 pm
»
Weed Killer Spray and my garden
by
sanderson
Yesterday at 10:13 pm
»
How's the Weather Where You're At?
by
RJARPCGP
Yesterday at 6:44 pm
»
New England, October, 2020
by
RJARPCGP
Yesterday at 6:40 pm
»
Bokashi
by
OhioGardener
Yesterday at 6:08 pm
»
Self Watering containers?
by
OldCrow
Yesterday at 1:38 pm
»
N&C Midwest—October 2020
by
nrstooge
10/20/2020, 8:19 pm
»
Happy Birthday!!
by
Scorpio Rising
10/20/2020, 7:50 pm
»
Garden Veggie Plants Dying
by
Scorpio Rising
10/20/2020, 7:43 pm
»
Help with bush beans
by
LilBittyBean
10/17/2020, 1:41 pm
»
Hello!
by
AtlantaMarie
10/16/2020, 6:42 am
»
What are you eating from your garden today?
by
kauairosina
10/15/2020, 7:57 pm
»
my worms are gonna get hungry
by
OhioGardener
10/15/2020, 12:49 pm
»
Mark's first SFG
by
markqz
10/15/2020, 12:11 pm
»
2020 SFG in Brooks, GA
by
yolos
10/13/2020, 11:32 pm
»
Fern leaf tomato?
by
plantoid
10/13/2020, 4:28 pm
»
Prior planning prevents poor plantings performance
by
sanderson
10/12/2020, 2:08 am
»
Tomato Pie
by
sanderson
10/12/2020, 2:03 am
»
Seed Exchange: Looking for Greek Sweet Red Squash
by
sanderson
10/12/2020, 1:47 am
»
OhioGardener SFG
by
OhioGardener
10/10/2020, 6:27 pm
»
Your first frost date ...had it yet?
by
plantoid
10/10/2020, 8:23 am
»
California - What are you doing this month?
by
Yardslave
10/9/2020, 2:58 pm
»
What new seeds are you saving this year?
by
llama momma
10/8/2020, 5:23 pm
»
Squirrels again
by
OhioGardener
10/7/2020, 7:50 pm
»
Fire Season
by
Scorpio Rising
10/4/2020, 8:24 pm
»
Hello from your Mid-South Host
by
sanderson
10/2/2020, 12:19 am
»
Hi all!
by
sanderson
10/1/2020, 11:42 pm
»
Tacos
by
Scorpio Rising
10/1/2020, 11:05 pm
»
October Avatar: Fall Gardening
by
OhioGardener
10/1/2020, 10:02 am
going to ohio for vacation, left yesterday and spent last night camping @ black river harbor. i keep checking out all the gardens along the way looking for SFG's. havent seen any yet
. i miss my garden, i hope my MIL is taking good care of it for me while we are away. cant wait to see how much my plants grow between yesterday and next sunday (when we will get home).
you think it's to much to have her take pics and post them on facebook so i can see how they are growing? lol, oh well. anyone between here and dayton OH that wants to show off their gardens? we are camping @ st ignaces tonight then going on to Dayton tomorrow. then all over Southern OH visiting family & friends i havent seen for 2 years.
.
hope my plants and chickens do well while we are gone. wonder if i will have anything to pick yet when i get home. maybe radishes. well rambled enough. back on the road.

nursekat424




Posts

: 74


Join date

: 2010-04-28


Age

: 42


Location

: Detriot Lakes, MN



That's the only problem with vacations. they come at the heart of garden time!

My daughter in law said that when she was talking to my son, who introduced me to SFG, about when I could go up there, he said, "Well, she has a garden now..."
My kids want to go away this summer and I am afraid to leave the garden. Last summer my husband had some "issues" with the watering system and things were never the same again.
I'm going to be away for a few days, and I'm really paranoid about leaving my garden! My 15-year-old grandson has agreed to come over and check the garden and water if necessary. I'm just a little afraid that he'll go overboard and water too much. I'm having him come over tomorrow and I'll show him exactly what I want done... and I'll keep my fingers crossed!

I'm also afraid he'll do something stupid, like try to cut down a tree that I pointed out to him that needs to be taken out... so I'm locking up all my tools! I'll only be gone for four days - how much trouble could he really get into!?!

Wyldflower




Posts

: 530


Join date

: 2010-03-21


Age

: 69


Location

: Colorado Springs, CO Zone 5b



I thought I was the only one.....we leave in July, and I'm not looking forward to it.
My sister said she'd stay while we're gone......perfect, right?
Last night she went and adopted a cat,which is great and all....buuuuuut......., I have a cat - that's part of the reason I wanted her to stay here; to mind my garden and care for my cat! I'm not so sure about how this'll turn out when she brings this new cat with her.

new2this




Posts

: 215


Join date

: 2010-03-05


Age

: 45


Location

: southeast MN, zone 4a



Heading out the door in a little while... I won't be online until Wednesday, most likely. I've got the instruction list for the grandson, and I've locked up the 'dangerous' tools.... Here's hoping that returning from my camping trip is just as happy as my leaving for it!

Wyldflower




Posts

: 530


Join date

: 2010-03-21


Age

: 69


Location

: Colorado Springs, CO Zone 5b



I go on vacation in July too and I have asked my non-SFG neighbors in my community garden to take care of my garden. That should work right? Maybe convert them? Still makes me anxious.

valientor




Posts

: 21


Join date

: 2010-05-17


Location

: Portland/Vancouver area



I am not going on vacation, but I am leaving early tomorrow to go work at a boys camp near Rutland Vermont. I must say I am a bit worried about how my garden will fare over the next week, I have done the best I can to get it ready to be alone. I have someone coming to water once a day but the weather forecast says it's going to be quite hot this week. Fingers crossed here!
I was recently gone for almost two weeks. This was an unexpected trip to families. I left on June 4th and came home on the 15th of June. I had seedlings that needed to be planted before I left (still do). I had one day to spray the tomatoes for blight, we had had rain every day until I left. My husband said once I left it didnt rain until I came home. One day to walk around and see how things are going, pack me for the trip, wash clothes for my sons and husband, thinking I would be gone 4 days.
My husband watered daily for me, I came home to a garden where the weeds had grown in the walk ways, but !!! the plants in the SFG had grown just as much !!! The herbs are bushes, the tomatoes that didnt have tomatoes have quite a few clusters, I have a few bells. I was so happy the caterpillars had radishes to eat next to my melon plant. I was able to get dipel dust BT this week on the squash plants. Took out 5 tomato horned worms, sons and husband actually I dont touch worms or caterpillars. (so grateful I have someone that will do that). I had growth while I was gone. Im thinking about all the folks and their gardens during the vacations !! SFG makes it so much nicer, the weeds werent in my beds, just my walk ways !!
Happy Vacationing
Ha-v-v
P.S. have them send pics via cell phones if possible.

Ha-v-v




Posts

: 1123


Join date

: 2010-03-12


Age

: 60


Location

: Southwest Ms. Zone 8A (I like to think I get a little bit of Zone 9 too )



I forgot, Im leaving again tomorrow until Thurs. This time 3 of our sons and I are going to a camp ground with our family. Going to help our children make memories with their cousins. So they can talk about us when they are grown
I feel confident my husband will water, will know what horned worm poo looks like etc. lololol My honey dew melons should be much bigger, they are like a watched pot of water waiting to boil. The butternut will be even bigger Im sure along with the straight neck and gray zucchini.
Then folks when I get home, we start work finishing our log cabin bunkhouse/shop we have up, it will be turned into our interim home (the 30ft trailer has shrunk with two of the boys over 6ft now) We will go to a small bunkhouse type thing with 500 sq ft. Everyone is excited in our house.
Loving Life
Ha-v-v

Ha-v-v




Posts

: 1123


Join date

: 2010-03-12


Age

: 60


Location

: Southwest Ms. Zone 8A (I like to think I get a little bit of Zone 9 too )



well my MIL assures me my garden is doing great and survived the storms, including hail. I hope everyones homes and gardens survived as well.
i'm enjoying my vacation, minus the trip to the ER for kidney stones- which i might add are really really really painful, and suck majory.
And as i said earlier, if there is anyone who lives near dayton and wants to visit, show off their gardens and talk "shop", i would love it. i would love to be able to visit and talk with someone who understands SFG lingo. we are over on the east side of dayton off 35, the woodman dr exit.
thanks to everyone for the reasuring comments and the ones letting me know i'm not the only one worrying.
here's a few pics of my vacation.
this is a lupine, cant wait to grow some of these in my flower beds.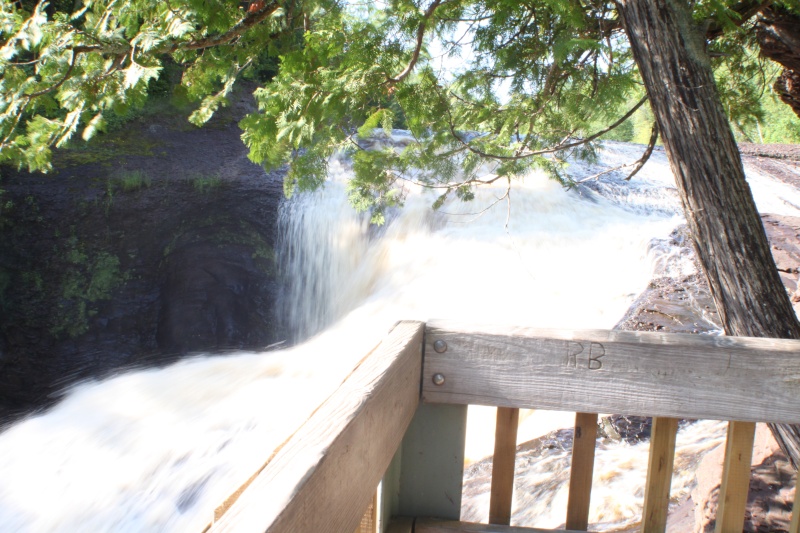 this is some of the fall @ black river harbor
here is all of us in front of the light house in manistique, MI
happy gardening everyone.

nursekat424




Posts

: 74


Join date

: 2010-04-28


Age

: 42


Location

: Detriot Lakes, MN



---
Permissions in this forum:
You
cannot
reply to topics in this forum