Latest topics
»
Senseless Banter...
by OhioGardener Today at 8:11 pm
»
After harvest, leave the roots in or remove
by Mikesgardn Today at 7:53 pm
»
Greenhouse - Helpful Hints in Setting up a Wood-Framed Greenhouse
by
Scorpio Rising
Today at 7:46 pm
»
Sifted Peat
by danieggert Today at 4:21 pm
»
Best choice of pot to plant my seedling
by markqz Today at 1:30 pm
»
Responding to a specific post
by OhioGardener Today at 9:55 am
»
N&C Midwest: March & April 2023
by
Scorpio Rising
Yesterday at 10:17 pm
»
Kiwi's SFG Adventure
by
sanderson
Yesterday at 9:00 pm
»
Think Spring 2023
by MrBooker 3/20/2023, 7:59 am
»
Sifting Compost for Newbies
by
sanderson
3/20/2023, 3:47 am
»
Too cold to put my new MM into my raised beds?? and Facebook SFG site
by
sanderson
3/20/2023, 3:39 am
»
Harvesting small amounts from iceberg lettuce, caulliflower, broccoli, cabbage etc.
by
sanderson
3/20/2023, 3:37 am
»
Indoor seed starting question
by
sanderson
3/20/2023, 3:19 am
»
Epsom salts for your veggie garden??
by
sanderson
3/19/2023, 11:37 pm
»
seed starting Mel's way
by bigtoad 3/17/2023, 9:26 pm
»
shop lights vs grow lights
by
sanderson
3/17/2023, 1:53 am
»
trellis netting square size
by
sanderson
3/16/2023, 10:45 pm
»
Ohio Gardener's Greenhouse
by OhioGardener 3/16/2023, 5:20 pm
»
Sour Dough Starter
by Jjean59 3/16/2023, 2:24 pm
»
Raised Beds from 48" Culvert
by wargarden2017 3/16/2023, 11:19 am
»
Baby Pools as Beds?!
by Jjean59 3/15/2023, 3:54 pm
»
March: What to plant in Northern California and Central Valley areas
by
sanderson
3/15/2023, 3:52 pm
»
So. California & Inland Valleys -March / April Planting Guide
by
sanderson
3/15/2023, 2:22 pm
»
Biosolids / Humanure Compost?
by OhioGardener 3/14/2023, 1:45 pm
»
Hello Form the Bitterroot Valley of Montana
by
sanderson
3/14/2023, 4:52 am
»
Renewing Mel's Mix
by anne 3/13/2023, 8:16 pm
»
help refuting a raised bed critic
by
sanderson
3/13/2023, 2:26 pm
»
Associations of time spent gardening with mental wellbeing and life satisfaction in Mid-to-late adulthood
by OhioGardener 3/13/2023, 9:04 am
»
Hello from the north end of the Bitterroot Valley, Montana
by
sanderson
3/13/2023, 5:05 am
»
Holy snow Batman!
by
donnainzone5
3/12/2023, 2:55 pm
Does anyone know if I'm supposed to prune my cucumber plants (pick off the suckers). I just want to get the best crop I can for my baby cucumbers.
Thanks!

aliciazim




Posts

: 31


Join date

: 2010-05-27


Location

: Western NY



I have no experience with this, but
HERE
is an interesting article. But, I would encourage you to do more research.
Thanks for that article--it was very informative. Since the ones I am growing are pickling cucumbers, that guy says not to prune them. I have to keep telling myself, "It's the first year. It's a learning experience. Not everything will turn out right."

aliciazim




Posts

: 31


Join date

: 2010-05-27


Location

: Western NY



Watch your plants this year, learn how they grow, get to know them. After you know a plant and it's habits, that is when it gets easier to manipulate it to your liking. Some plants do well just pinching the terminal ends, some when pruned and others just the way they are. You will figure it out. :scratch:
I grow pickling cuks and I don't prune them at all. I've actually never heard of pruning any other plants except tomatoes. My cuks just grow like crazy and produce like crazy! Love that!!


Last year my cuks grew to be about 7-8 feet tall.
Here's a link to my all pics. There may more pics in there of my cuks:
https://squarefoot.forumotion.com/gallery/Personal-album-of-jenjehle/SFG-July-2009-pic_230.htm
Pickling cuks grow really fast and they are SO fun to have around. My kids love them. They would actually pick them right out of the garden, wipe them off with their shirt and eat them just like that! Nice and small, very few seeds; perfect for kids
ENJOY!
Thank you for posting that link to the cucumber article! I had never grown cucumbers before (just some picklebushes, and they didn't really grow much because I didn't have the Mel's Mix quite right last year), and I came back from vacation and my cucumbers have taken over the whole garden! I can hardly walk in there! I was going to prune them suckers back today, but the mosquitoes are out in full force today, and it's too much to deal with just now.
The cucumbers literally doubled (maybe tripled?) in size, in the 1 1/2 weeks that I was gone. It's Audrey II in there! Vines blocking paths, and crawling up the side of the house, hanging on to other plants, crawling up other boxes' trellises, 5 feet away...
Thanks for the article.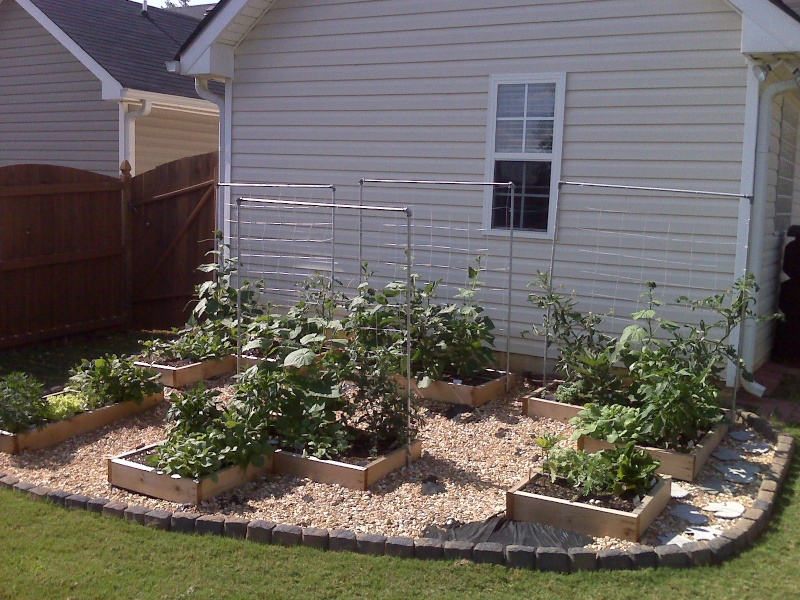 Above: right before I left for vacation
Below: Garden Explosion when I returned, 1 1/2 weeks later!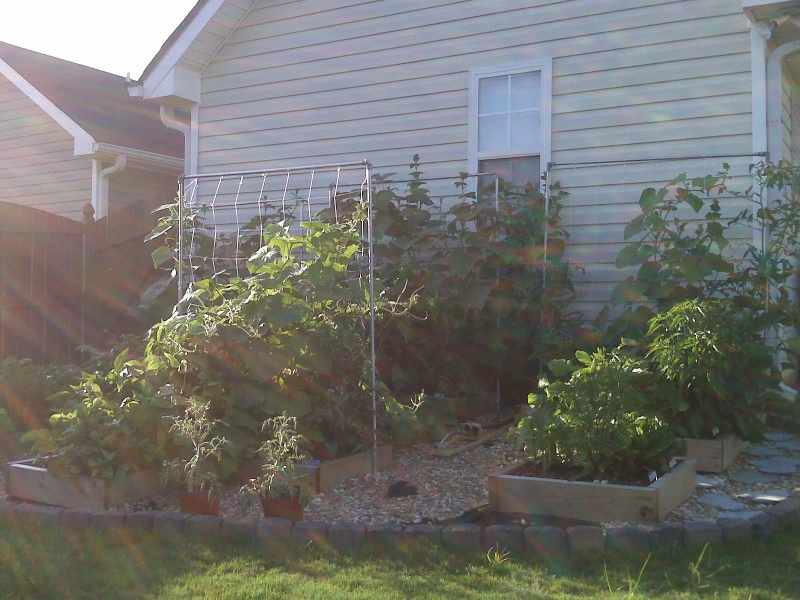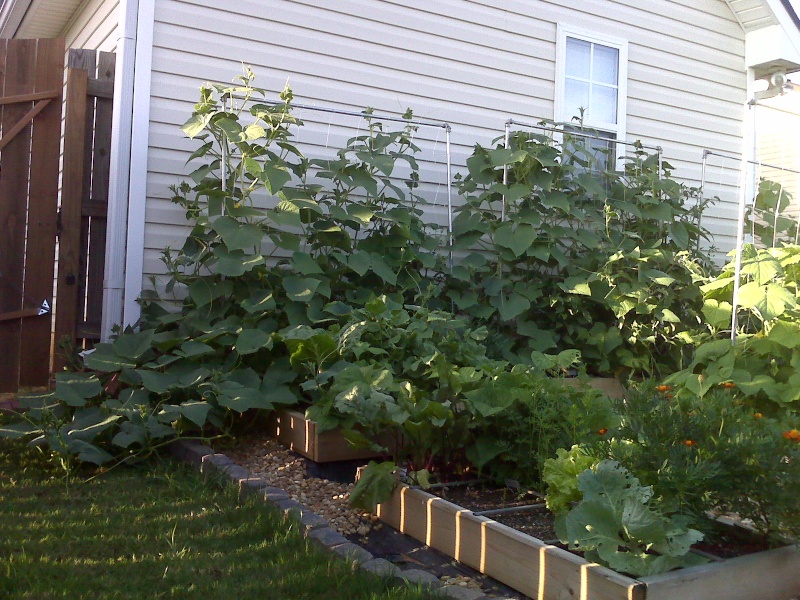 Weed 'em and Reap




Posts

: 29


Join date

: 2010-05-31


Location

: Central Georgia - zone 7B



I'm sorry about your paths..... But that is so kewl!!
Similar topics
---
Permissions in this forum:
You
cannot
reply to topics in this forum