Latest topics
»
Frequency/amt to water
by OhioGardener Today at 8:26 am
»
Birds of the Garden
by
Scorpio Rising
Yesterday at 9:21 pm
»
Mulch around garlic
by Junkmail99 Yesterday at 8:10 pm
»
Kiwi's SFG Adventure
by KiwiSFGnewbie Yesterday at 5:05 pm
»
Paul's First SFGs
by pkadare Yesterday at 4:38 pm
»
What Have You Picked From Your Garden Today
by
Scorpio Rising
6/6/2023, 11:58 pm
»
N&C Midwest: June 2023
by
Scorpio Rising
6/6/2023, 5:59 pm
»
New to Forum and SFG 15" raised bed foundation
by OhioGardener 6/6/2023, 12:56 pm
»
Famous Gardening Quotes
by OhioGardener 6/5/2023, 10:18 am
»
Easy Refrigerator Pickles from Extra Produce
by OhioGardener 6/5/2023, 9:25 am
»
Tea Time -- Compost Tea, that is
by OhioGardener 6/3/2023, 7:07 pm
»
Hello from Central Missouri, Zone 6a
by
Scorpio Rising
6/3/2023, 3:48 pm
»
N&C Midwest: May 2023
by OhioGardener 6/1/2023, 8:55 pm
»
Walking stick kale
by
sanderson
5/31/2023, 1:38 pm
»
Why Letting Weeds Run Wild Can Actually Help Your Garden
by
sanderson
5/30/2023, 2:35 pm
»
What are you eating from your garden today?
by OhioGardener 5/30/2023, 12:11 pm
»
Teaming with Microbes Kindle Sale (Mem. Day weekend 2023)
by
sanderson
5/29/2023, 3:14 pm
»
Mid-Atlantic New Host Intro & Info
by JAM23 5/29/2023, 8:38 am
»
Poppy seeds - Hungarian Blue Breadseed
by
AtlantaMarie
5/28/2023, 6:12 am
»
Sluggo Plus
by
sanderson
5/27/2023, 3:23 pm
»
Centpedes
by OhioGardener 5/25/2023, 6:19 pm
»
beneficial nematodes
by OhioGardener 5/24/2023, 9:18 pm
»
Senseless Banter...
by markqz 5/24/2023, 5:39 pm
»
Pre-Filling a 30" Raised Bed
by toledobend 5/24/2023, 1:10 pm
»
Happy Birthday!!
by
AtlantaMarie
5/24/2023, 7:03 am
»
Aphids & Their Predators
by MrBooker 5/24/2023, 6:01 am
»
Hello from Bobcaygeon, Ontario
by
Scorpio Rising
5/20/2023, 1:52 pm
»
Spring Flowers
by OhioGardener 5/18/2023, 6:23 pm
»
My Solar Dehydrator at Work
by
sanderson
5/18/2023, 3:10 pm
»
French Tarragon
by
sanderson
5/18/2023, 12:41 pm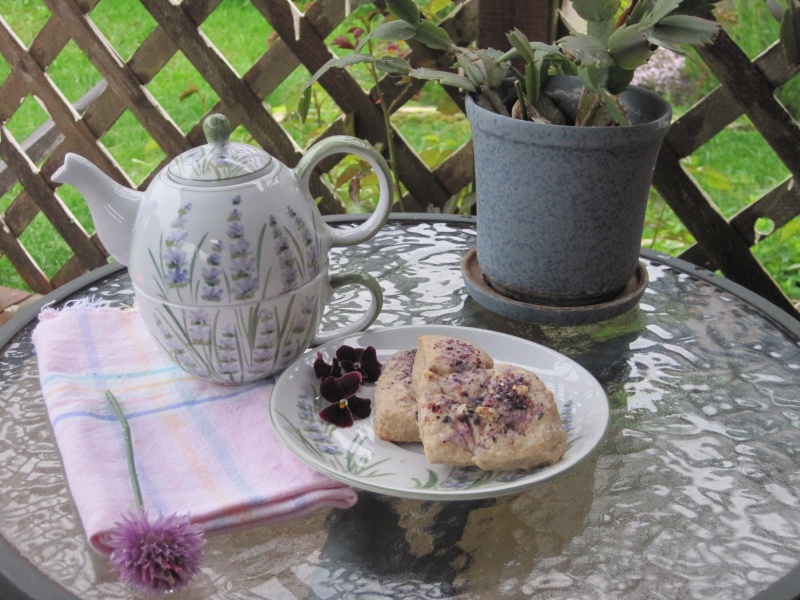 The lavender was not actually grown IN my SFG, but in my lavender garden just outside of my SFG. I need to use last year's stash up before the next wave of pink and purple comes on. The fresh from the oven scones were like a mystical transport to a summer lavender field in Sequim. A curtain of rain made a cold boundary just beyond the umbrella but the scent was all summer.
Recipe posted at Music of the Rain:
http://musicofrain.wordpress.com/2010/06/05/lavender-scones/
That looks lovely! Have you tried lavender and chamomile tea? It is really good.
Mmmm, yes, I've made it from my garden.
Oooh, you are making me hungry!!! I still miss the lavender farm on Whidbey. I wonder if I can cram a few lavender plants into my butterfly/bee garden.
I love the teapot for one! Nice photography.
I never tasted anything w/ lavender in it. I hear the ice cream is good too.
Lavender will have to be in my next sfg.
Is it ez to grow?

1chichi




Posts

: 151


Join date

: 2010-04-24


Location

: SuNnY SoutH CaRoLiNa



Those look delicious! Scones for breakfast are one of my favorites! I never heard of anyone eating lavender. I thought it was grown for perfume. Shows you what I know. I will have to find some lavender and give the recipe a try.

The recipe says the buds... flower buds I assume. Is that the only safe part to eat? Do you leave the stem on them or pull the petals out?
You CAN use any part but generally the buds are the part you want. They contain oil that gives both a savory AND sweet floral depending what it is paired with. Lavender is so easy to grow and so pest free that I cannot imagine why it wouldn't be organic.... but you need to make sure that you have organic lavender before you cook with it. I suppose that sometimes it is treated for color or to prevent the buds from falling off of the stem if it is sold for crafting.
Before I started growing my own I used to find lavender at health food stores in the bulk section. If you have a choice, start with Provence. It has a nice balance. Some that are grown for oil smell great but have a strong camphor taste in sweet things. Probably the best introduction is to get Herbs de Provence from a lavender grower (in Washington they are Lavender Wind Farm on Whidbey Island that Megan mentioned, Pelindaba on San Juan Island and the two on the Olympic Peninsula that are geared for mail order are Purple Haze and Jardin du Soleil. All of them have web pages.) H de P is a familiar taste with a kick when it is used to replace the herbs you would normally use in tomato sauces, on chicken or fish, or to flavor roast vegetables or focaccia.
My next project is to grow and blend the ingredients for Herbs de Provence….but first I have to get fennel to grow AND make seed.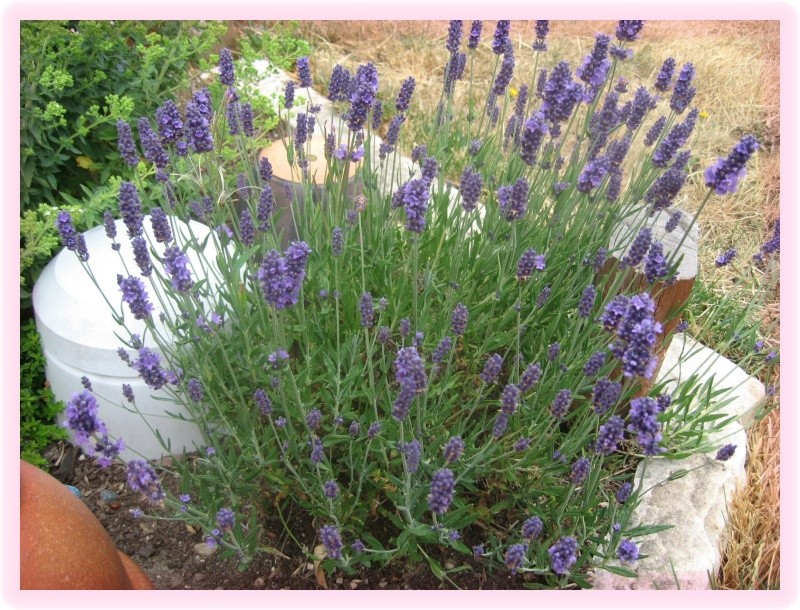 Hidcote Lavender for THE BEST pink lemonade.
Similar topics
---
Permissions in this forum:
You
cannot
reply to topics in this forum