Latest topics
»
Teaming with Microbes Kindle Sale (Mem. Day weekend 2023)
by
sanderson
Today at 3:14 pm
»
Kiwi's SFG Adventure
by
sanderson
Today at 1:33 pm
»
Why Letting Weeds Run Wild Can Actually Help Your Garden
by OhioGardener Today at 11:27 am
»
N&C Midwest: May 2023
by OhioGardener Today at 11:22 am
»
Mid-Atlantic New Host Intro & Info
by JAM23 Today at 8:38 am
»
Paul's First SFGs
by pkadare Yesterday at 11:06 am
»
Poppy seeds - Hungarian Blue Breadseed
by
AtlantaMarie
Yesterday at 6:12 am
»
Sluggo Plus
by
sanderson
5/27/2023, 3:23 pm
»
What Have You Picked From Your Garden Today
by OhioGardener 5/25/2023, 6:25 pm
»
Centpedes
by OhioGardener 5/25/2023, 6:19 pm
»
beneficial nematodes
by OhioGardener 5/24/2023, 9:18 pm
»
Senseless Banter...
by markqz 5/24/2023, 5:39 pm
»
Pre-Filling a 30" Raised Bed
by toledobend 5/24/2023, 1:10 pm
»
Happy Birthday!!
by
AtlantaMarie
5/24/2023, 7:03 am
»
Aphids & Their Predators
by MrBooker 5/24/2023, 6:01 am
»
Hello from Bobcaygeon, Ontario
by
Scorpio Rising
5/20/2023, 1:52 pm
»
What are you eating from your garden today?
by OhioGardener 5/18/2023, 6:29 pm
»
Spring Flowers
by OhioGardener 5/18/2023, 6:23 pm
»
My Solar Dehydrator at Work
by
sanderson
5/18/2023, 3:10 pm
»
French Tarragon
by
sanderson
5/18/2023, 12:41 pm
»
Famous Gardening Quotes
by
sanderson
5/15/2023, 8:50 pm
»
Birds of the Garden
by
sanderson
5/15/2023, 8:49 pm
»
New Compost PIle, 2nd attempt
by Chuck d'Argy 5/13/2023, 11:43 am
»
Ohio Gardener's Greenhouse
by OhioGardener 5/11/2023, 6:44 pm
»
Asparagus
by
sanderson
5/11/2023, 4:11 pm
»
Plan needed for 4'x4' irrigation grid
by OhioGardener 5/11/2023, 12:47 pm
»
TD's 2023 Garden
by
trolleydriver
5/10/2023, 3:16 pm
»
Spring Gardening - Parsnips and Garlic
by OhioGardener 5/10/2023, 2:59 pm
»
Seedlings Sticker Shock
by
sanderson
5/7/2023, 9:44 pm
»
From a Year 2 Novice to All the New SFGers or "How to Get Past the Fear Factor! :)"
by
sanderson
5/7/2023, 3:13 pm
First I will update y'all about this year and then I have questions
Update:
We had to dismantle and rebuild two table top boxes (we have three).
This year we added vermiculite!  So now we have pretty close to true Mel's mix.
In total we have 3 4x4 table top boxes, 1 3x3 ish box, 1 4x5 ish box, 2 2x3 ish boxes, 1 3x3 box (for strawberries and hula berries), 13 half whiskey barrels, 1 hexagon table top box (for herbs), 6 hanging baskets, and various planters.
Currently planted:  strawberries and hula berries, 5 tomatoes (super sweet 100, early girl, sweet million, best steak, champion), 5 peppers (jalepeno, sweet banana, poblano, Fresno, red bell), ruby and Detroit beets, carrots, 2 kinds of radish, shelling peas, Bush green beans, spring onions, cauliflower, broccoli, spinach, arugula, romaine, salad bowl, corn salad, kale, Swiss chard, marigolds, corn, pole green beans, cucumber, yellow squash and zucchini, Walla Walla onion, red onion, leeks, fingerling potatoes, horseradish, blueberries, wild blackberries, Gravenstein apples, and many herbs.
Now we have water bath and pressure canning equipment, a food dehydrator, a vacuum sealer, and an extra freezer.
I just got a composter, need to start that and would be grateful for pointers.
First time trying 3 sisters; already planted, but I see that the Kentucky wonders were not a good choice.
We lost our beloved Chuck (Chihuahua) to cancer in early November.  We miss him terribly, so we adopted 2 unrelated female Chihuahua puppies in late February.  I forgot how much work puppies are!! 
  They are happy to help dig holes!  We still miss Chuck, but my girls (Molly and Tilda) along with big sister Lucy are giving us new joy.
Thankfully both of us and our families are safe and we'll during this crazy crisis.  Everyone is back to work, except for my brother-in-law (but he's enjoying the vacation).  
We are still working on the front yard landscaping project.
Will post some pictures a little later.
QUESTION:
We've had watering issues for years!  Still haven't quite figured it out.  We thought it was the lack of vermiculite making the soil sense and unable to retain water.  I'm so sad to report this can't be the problem.
in all beds and containers we started out with potting soil.  Every year we've added to the soil some combination of various brands of compost, mushroom compost, worm castings, steer manure, chicken manure, peat moss, more Miracle-Gro potting soil, and now the vermiculite.
what happens is the top quarter inch forms a crust and the water doesn't sink in to the roots.  We've tried poking holes for the water, but not very conducive to seeds waiting to come up, doesn't last of work well.
I watered Friday evening, we had 80 degree weather for the first time in Saturday.  This morning Randy watered the first box, when he moved to the next box I started checking thing out in the first box only to find that the same watering issue still exists.  Top quarter inch wet and the rest dry as can be.
The watering issues are making me crazy!! Please help!

Bunny J




Posts

: 21


Join date

: 2016-04-20


Location

: 98465



Sorry for the auto-check things I missed, but you get the gist.
Hope you are all well and coping with our shared new world.
Hugggzzz,

Bunny J




Posts

: 21


Join date

: 2016-04-20


Location

: 98465



Bunny, A couple of questions.

1. When you poke your finger down 2, 3 or 5", is the mix moist? Sometimes the top will dry out quickly but the deeper mix is quite moist. If it isn't, then I think you aren't watering enough.
2. Did you thoroughly water when you added the vermiculite and more compost? The bed should be wet when the seeds are planted so that the mix can just be gently watered with the mist setting on the hose wand to keep the the seeds moist. Plants can be watered with the shower setting.

The crust on the top of the mix is concerning. It sounds like there is too much compost and not enough fluffed peat moss and vermiculite. ?? Can you take a photo of the soil?

I'm so sorry for not getting back to you!  It's been crazy around here for a while.
The top of the soil is moist after watering, but 1-2 inches down it's dry.  Then in the evening when the top dries, that's when it's crusty.
No, I didn't saturate before planting, I just learned about that last Friday from my neighbor.
Here's a pic before I watered last evening.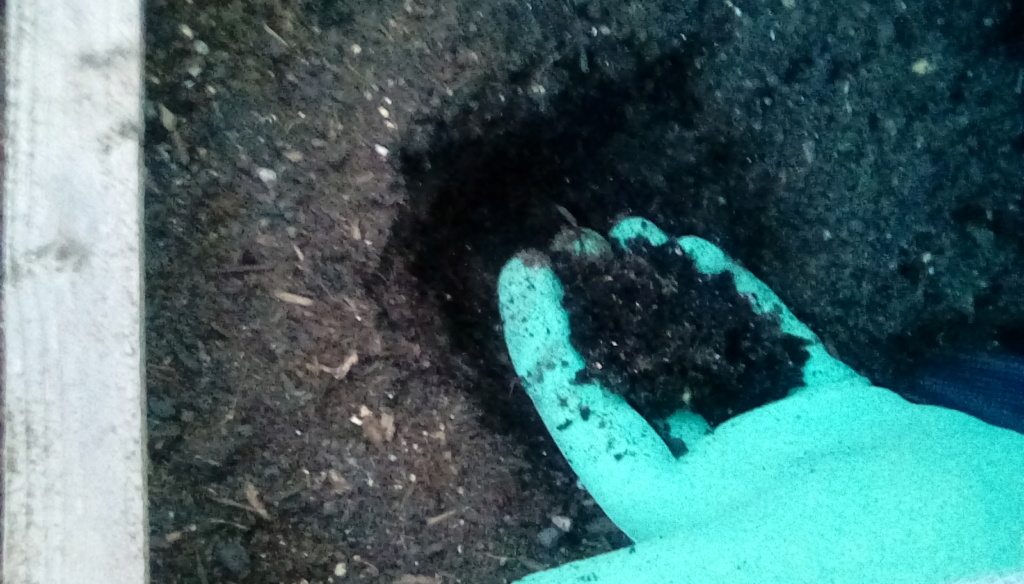 Then  watered.  The water was dripping out of the bottom of the table top boxes.
This is a pic today; 64 degrees, partly sunny, very light breeze.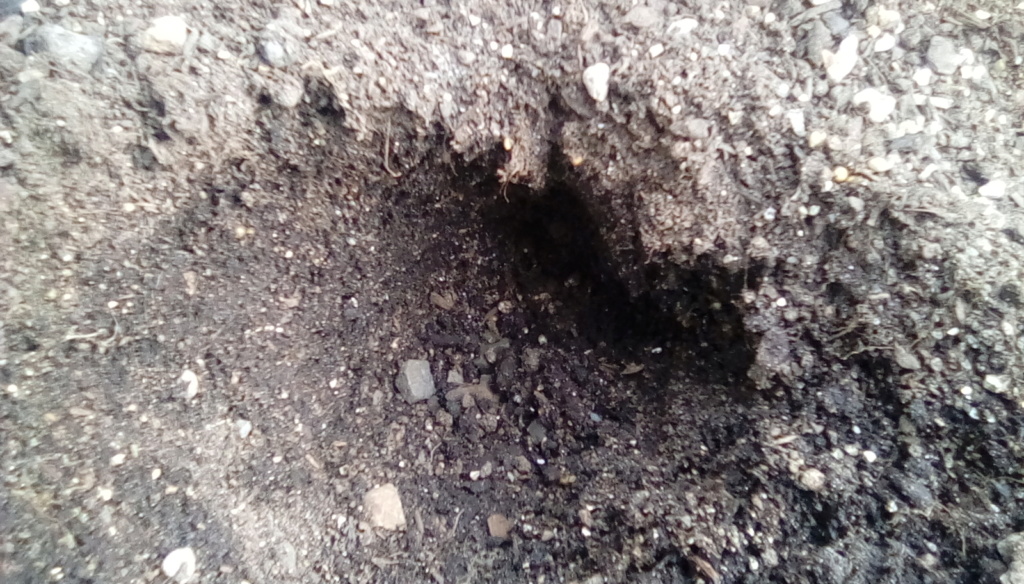 Bunny J




Posts

: 21


Join date

: 2016-04-20


Location

: 98465



How are the plants doing?
Hi Bunny!

That is interesting about the crust/blocking water penetration...sometimes peat can repel water despite its absorbing it.  

Agree with sanderson, how are the plants doing?

I have had that crust thing to a lesser degree, and I cannot add any remedy

Scorpio Rising




Posts

: 8441


Join date

: 2015-06-12


Age

: 61


Location

: Ada, Ohio



LuckyFrog likes this post
Similar topics
---
Permissions in this forum:
You
cannot
reply to topics in this forum