Latest topics
»
N & C Midwest: November/December 2023
by
sanderson
Yesterday at 9:23 pm
»
FREE Online SFG Class - November 28, 2023
by
sanderson
Yesterday at 9:21 pm
»
Strawberry Varieties?
by Chuck d'Argy Yesterday at 2:23 pm
»
Mini-Raised Beds?
by Chuck d'Argy Yesterday at 2:14 pm
»
Happy Birthday!!
by
sanderson
11/26/2023, 10:58 pm
»
Mark's first SFG
by
sanderson
11/26/2023, 10:56 pm
»
Name the mystery (to me) seedlings! :-)
by Psdumas 11/25/2023, 12:04 am
»
What Have You Picked From Your Garden Today
by markqz 11/24/2023, 4:20 pm
»
Senseless Banter...
by
sanderson
11/23/2023, 1:49 pm
»
Happy Thanksgiving from the USA
by
sanderson
11/23/2023, 1:47 pm
»
Strawberries in MM: to feed or not to feed?
by
Scorpio Rising
11/22/2023, 10:42 pm
»
Guatemalan Green Ayote Squash
by OhioGardener 11/21/2023, 8:27 am
»
Kiwi's SFG Adventure
by
sanderson
11/20/2023, 2:06 pm
»
Seeds 'n Such Early Order Seeds
by
sanderson
11/20/2023, 1:13 pm
»
USDA Plant Hardiness Zone Map
by OhioGardener 11/19/2023, 7:12 am
»
AeroGarden for starting seeds?
by OhioGardener 11/16/2023, 12:40 pm
»
Biochar?
by OhioGardener 11/16/2023, 10:31 am
»
2023 - Updated U.S. Interactive Plant Hardiness Map
by
sanderson
11/15/2023, 6:18 pm
»
SFG Is Intensive Gardening
by
sanderson
11/14/2023, 3:26 pm
»
Teaming with Microbes Kindle Sale (Mem. Day weekend 2023)
by markqz 11/10/2023, 12:42 am
»
Bok Choy Hors d'oeuvres
by
donnainzone5
11/9/2023, 5:58 pm
»
Now is the Time to Start Preparing Next Year's Spring Garden
by OhioGardener 11/9/2023, 7:13 am
»
Shocking Reality: Is Urine the Ultimate Gardening Hack or Disaster?
by dstack 11/6/2023, 5:29 pm
»
Nightmare on Mel Street.
by
Scorpio Rising
11/4/2023, 6:37 pm
»
Aerogardening
by
Scorpio Rising
11/3/2023, 10:02 am
»
Sunday All Purpose Organic Garden Nutrients
by lisawallace88 11/3/2023, 9:13 am
»
Mid-summer seed sowing, how do you do it?
by KiwiSFGnewbie 11/2/2023, 8:04 pm
»
N&C Midwest October 2023
by OhioGardener 11/1/2023, 8:49 am
»
Fall Tree Colors
by
Scorpio Rising
10/31/2023, 1:48 pm
»
Freeze Dried Food
by lisawallace88 10/30/2023, 11:28 am
This is my first year taken a shot at square foot gardening, and my results to date are dismal. Despite having the warmest/dryest May on record, my garden has remained sopping wet for over a month, and now that we've had some June rainfall, the problem is only getting worst. My soil stays nearly permanently saturated, thanks to Mel's mix, and my plants are stunted and full of disease/mildew/blight due to the excess moisture.

I have drip irrigation rigged up, but I've yet to use it due to the problems I've been having. Does anyone else find that "Mel's mix" retains moisture too well in the PNW climate? I'm hoping things change when our normal summer drought begins, but I've lost weeks worth of growing time due to the poor performance of my soaking wet garden...tomatoes are only just starting to flower and my lettuce is stunted as seedlings that sprouted 5-6 weeks ago.

davesmunroe




Posts

: 5


Join date

: 2018-06-13


Location

: Vancouver, BC



Dave, Welcome to the Forum from hot California!
I haven't experienced soppy wet Mel's Mix, even during our rainy season in the spring. Is there any chance that the bed area is in a slight depression? That would keep it saturated. Can you post some photos? That will help folks help you. What did you use to make the Mel's Mix? 1/3 vermiculite, 1/3
fluffed
peat moss, and 1/3 blended composts?
Here's a couple of photos, including a contextual overview, and a close up of the soil. I stayed as true to Mel's mix as I could, since I couldn't afford to get up to 1/3 vermiculite (that much vermiculite would've set me back over $750 to fill this 4'x10' area) - it's probably about 10% vermiculite, with the remainder made up of equal parts compost (some more $$ worm casting supplemented with cheaper stuff from a bulk supplier) and sphagnum peat moss. Perhaps this moisture problem is a victim of my cost saving attempts by restricting the volume of vermiculite?
Overall situation of the bed is on a slight slope that runs towards my house. The bed is partially dug into the ground on the upper end of the slope to even it out (so it's a semi-raised bed) - total depth is 7" or so, as it's constructed from two row of 4X4 timber. Under the soil is a layer of heavy duty landscape cloth to prevent intrusion of the cedar roots, which tend to be opportunistic in their quest for water (as the rest of my yard is heavily penetrated by the roots, which suck op moisture, drying out the lawn and flower bed quite quickly. Native soil is loamy clay typical of this area, though there's a lot sand/rock mixed in from construction backfill owing to the home's recent construction. is The garden gets 6-8 hours of sun per day, with the cedar trees shading it from 4PM onwards.
Apologies as these two photos were taken in portrait orientation, but they only seem to upload in landscape and I can't figure out how to rotate them: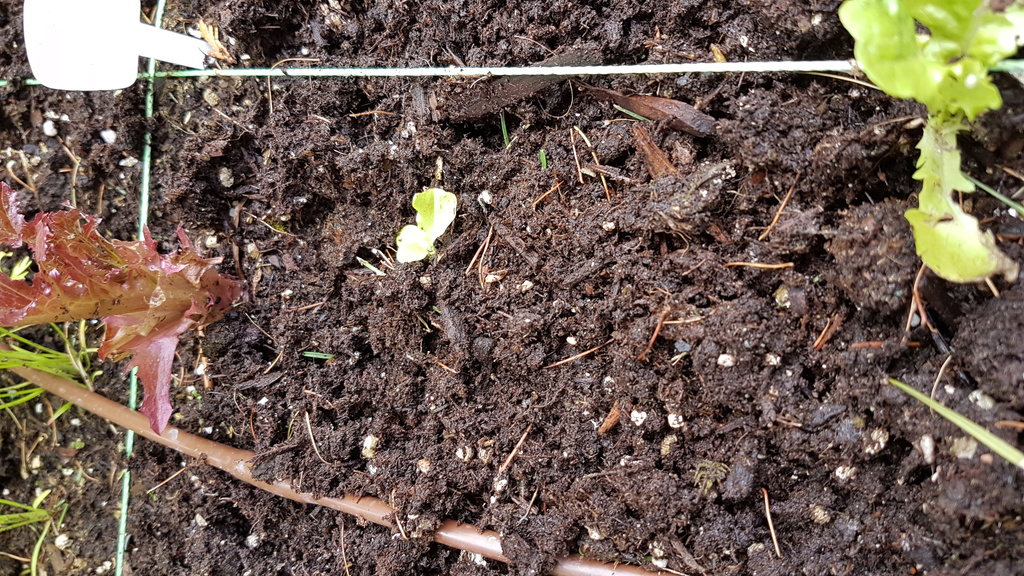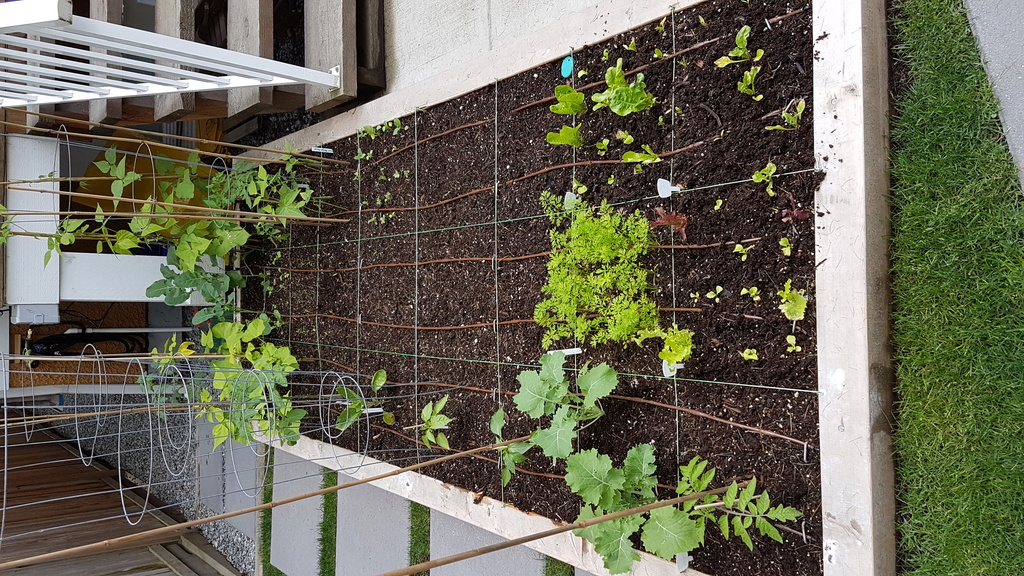 davesmunroe




Posts

: 5


Join date

: 2018-06-13


Location

: Vancouver, BC



That close up of the soil also gives an indication of my pathetic lettuce (seeded late April) - a few of the plants of taken, and the others are barely seedlings still, 6 weeks later. They're not dying, but they're definitely not growing. In general, anything I've seeded is doing exceptionally poorly, while the items transplanted from indoors have been doing fine so far (tomatoes, beans, eggplants, peppers).

davesmunroe




Posts

: 5


Join date

: 2018-06-13


Location

: Vancouver, BC



Starting with the vermiculite, it runs about $10 per cubic foot. One cubic foot will cover 6 square feet 2" deep. 40 sq ft divided by 6 square feet = 6.7 cubic feet to purchase at about $40-50 per 4 cubic foot bag = $80-90 of vermiculite for the whole bed.

Compost: 7 bags of 4-6 different types of compost at 1.0 cu ft per bag. $??

Peat moss= One 4 cu. ft. bag of compressed peat moss fluffed up to 7-8 cu. ft. $15??

Total cost to fill the bed to 6 ft is roughly $150.

Someone please double check my math.

Thank you for including a closeup of the Mix. Are those wood pieces in the Mix? Wood ties up nitrogen until it is composted so any compost bag should be checked for it's woodiness (read label for "forest products" and for "peat") and screened with 1/4" hardware cloth to remove them.

The slope and wetness issues, well, they are what they are.

Roots: The tree roots will come up in the bed no matter what you put down. Ask me how I know! I had to raise all of my beds off the ground and put 3/4" plywood bottoms on them. It was a lot of work but in the end, I absolutely love them! Two other members also had to raise their beds. You can wait until fall or spring (I recommend fall) to get the bed off the ground. That's another subject at a later time.

This spring in general was late. Everywhere. Winter just kept hanging on. As summer progresses and the Mix warms up, the plants should start growing. If they stop growing in a month, and you think you need a fertilizer (not needed with true Mel's Mix) you can add an organic fertilizer such as Espoma Garden-tone. It won't hurt the microbes getting established. It's actually the microbes that help feed the plants. Organic fertilizers are made from things like bone meal, blood meal, composted feathers, etc.

Well, I've written enough for now. Please feel free to ask questions.





Hi Davesmunroe. Welcome from the opposite end of the country - Atlanta, GA...

Beautiful beds!

Okay, so you've got a slope towards your house. In looking at the photos, that also means towards them as well?

Also what ingredients were in the "cheaper" compost?

Donna - can you chime in here?
Those beds are gorgeous!

Since they slope toward your house, there may be some water pooling between the house and the beds, possibly beneath them.  As a 2x homeowner, I've learned that the ground should be graded to slope away from one's house to prevent water and foundation damage, etc.   

Also, the pictures make it seem as though there may be too much peat moss in your mix.  Did you "fluff" it before mixing?  

What grade of vermiculite did you use?  That's another variable that may contribute to your saturation problem. 

Also, as mentioned, what were the ingredients in the composts you used?  That could also be an important factor.  

Once, during heavy rainfall when I lived in Southern California, my 6" of Mel's Mix never got really saturated.  A small amount of it drained out, but not enough to make much of a difference.
Thanks for the feedback from all of you! And thank you for the compliments on the design of my bed...though the result seems to be style over substance so far. I'll try my best to answer the questions as they were asked:

1) Double-check of math - 4' x 10' x 7/12' works out to approx. 23 cu ft. I totally had my math wrong on the vermiculite cost - it was $220 to get approx. 7 cu ft (as I rounded down to 21 cu ft in making measurements to buy the soil), so I think I ended up purchasing about 3 cu ft that cost me about $100 (looking back at my receipt).  I used a brand from Canadian Tire (I can't post links since I'm new here) that comes in 0.3 cu ft bags for approx. $10 (so $30/cu ft roughly) - it was the only commercially available Vermiculite I could find, as most stores only had Perlite, and there's no local bulk supplier that I could find (I used to be a landscaper, and I tried all my old sources).

2) Grading - The slope runs towards my house on the N/S axis, but away on the E/W access - it's definitely not ideal grading, but there's unfortunately nothing I can do about it, given th. The native soil is generally quite well drained, due to heavy sand content, so I have never observed pooling water otherwise. I dug out my irrigation box to bury the valves/lines just outside the downhill end of the bed, and in general, the soil was not super wet (that was back in early May shortly following our last batch of rain...we then had our driest May in recorded history). The surrounding area generally drains better than the bed does, so maybe I'm trapping moisture in the bed because it's built like it is (slightly sunk below grade)?

3) Compost - I can't attest to the ingredients of the compost. I used a CIL brand worm casting compost (also from Canadian Tire) - maybe 3 cu ft or so, supplemented with bulk compost, which is sourced from our municipal green waste program (hence why it's full of bits of wood). I didn't screen it, but I have been removing bits of wood as I've worked the soil over time.

4) Peat - due to my skimping on vermiculite, I do have more than 33% peat. It's local stuff (Sunshine brand) and I did fluff it heavily before using it. It comes in giant bales, so I didn't even use a full bail (I still have about 1/3 of the bail sitting in my yard, even after amending the native soil in my flower beds with some of it).

davesmunroe




Posts

: 5


Join date

: 2018-06-13


Location

: Vancouver, BC



1. Some folks are having good luck finding bulk vermiculite in the building supply section of big box stores.
2. If need be, you can raise the bed for next year.
3. With all the wood and unknown quality, this may be the year of lightly fertilizing with organic fertilizer such as Espoma Garden-tone. Organic (once living) fertilizers are made from things like bone meal, blood meal, composted feathers, etc.
4. Too much fluffed peat moss speaks for itself. It does not feed the plants.
Summary: I predict that in 24 months, you will have a healthier bedding material. Wood takes a long time to break down, tying up nitrogen as it does. Build that 1/4" hardware cloth screening box and when a square becomes vacant, screen out the wood and replace the volume with true compost.
https://squarefoot.forumotion.com/t21089-recommended-store-bought-compost-photos-of-composts?highlight=compost
Take a tour of local big stores and nurseries, snapping photos of what you find. Front and back where the ingredients are listed.
PS: Did I tell you that I started off with a woody filler and not true composts?
And, some perlite with the vermiculite to cut costs? I was wrong on 2 fronts.
Thanks for all the advice, folks.

I'll chalk this up to poor compost and my cheaping out on vermiculite. Two things to add to my list for future soil amendment.

davesmunroe




Posts

: 5


Join date

: 2018-06-13


Location

: Vancouver, BC



Similar topics
---
Permissions in this forum:
You
cannot
reply to topics in this forum