Latest topics
»
Birds of the Garden
by
Scorpio Rising
Today at 9:21 pm
»
Mulch around garlic
by Junkmail99 Today at 8:10 pm
»
Kiwi's SFG Adventure
by KiwiSFGnewbie Today at 5:05 pm
»
Paul's First SFGs
by pkadare Today at 4:38 pm
»
What Have You Picked From Your Garden Today
by
Scorpio Rising
Yesterday at 11:58 pm
»
N&C Midwest: June 2023
by
Scorpio Rising
Yesterday at 5:59 pm
»
New to Forum and SFG 15" raised bed foundation
by OhioGardener Yesterday at 12:56 pm
»
Frequency/amt to water
by OhioGardener 6/5/2023, 9:09 pm
»
Famous Gardening Quotes
by OhioGardener 6/5/2023, 10:18 am
»
Easy Refrigerator Pickles from Extra Produce
by OhioGardener 6/5/2023, 9:25 am
»
Tea Time -- Compost Tea, that is
by OhioGardener 6/3/2023, 7:07 pm
»
Hello from Central Missouri, Zone 6a
by
Scorpio Rising
6/3/2023, 3:48 pm
»
N&C Midwest: May 2023
by OhioGardener 6/1/2023, 8:55 pm
»
Walking stick kale
by
sanderson
5/31/2023, 1:38 pm
»
Why Letting Weeds Run Wild Can Actually Help Your Garden
by
sanderson
5/30/2023, 2:35 pm
»
What are you eating from your garden today?
by OhioGardener 5/30/2023, 12:11 pm
»
Teaming with Microbes Kindle Sale (Mem. Day weekend 2023)
by
sanderson
5/29/2023, 3:14 pm
»
Mid-Atlantic New Host Intro & Info
by JAM23 5/29/2023, 8:38 am
»
Poppy seeds - Hungarian Blue Breadseed
by
AtlantaMarie
5/28/2023, 6:12 am
»
Sluggo Plus
by
sanderson
5/27/2023, 3:23 pm
»
Centpedes
by OhioGardener 5/25/2023, 6:19 pm
»
beneficial nematodes
by OhioGardener 5/24/2023, 9:18 pm
»
Senseless Banter...
by markqz 5/24/2023, 5:39 pm
»
Pre-Filling a 30" Raised Bed
by toledobend 5/24/2023, 1:10 pm
»
Happy Birthday!!
by
AtlantaMarie
5/24/2023, 7:03 am
»
Aphids & Their Predators
by MrBooker 5/24/2023, 6:01 am
»
Hello from Bobcaygeon, Ontario
by
Scorpio Rising
5/20/2023, 1:52 pm
»
Spring Flowers
by OhioGardener 5/18/2023, 6:23 pm
»
My Solar Dehydrator at Work
by
sanderson
5/18/2023, 3:10 pm
»
French Tarragon
by
sanderson
5/18/2023, 12:41 pm
Hey, all!  We want to make sure you all are in the loop and ready to join in the celebration!  There will be more info coming your way sharing ways to be involved, to be supportive and to help share SFG with the world.  Our initiative at the SFG Foundation is to create a global buzz of all things SFG.  YOU can participate and be involved in very simple ways.  To learn more we hope you've signed up to receive the latest SFG EBlasts on the Home page over at this link 
http://www.squarefootgardening.org/
.
We are also looking for you, our longtime followers and friends, and Certified Instructors to host a simple gathering or meet up to talk about your passion and experience with SFG.  We welcome you to continue "to improve the health of the world one square foot at a time."  There will be action steps to take during the month of June, so, we encourage you to sign up for that EBlast and to check out the Square Foot Gardening Foundation page.  
On behalf of Mel and his legacy, and Steve & Laura Bartholomew,
Amie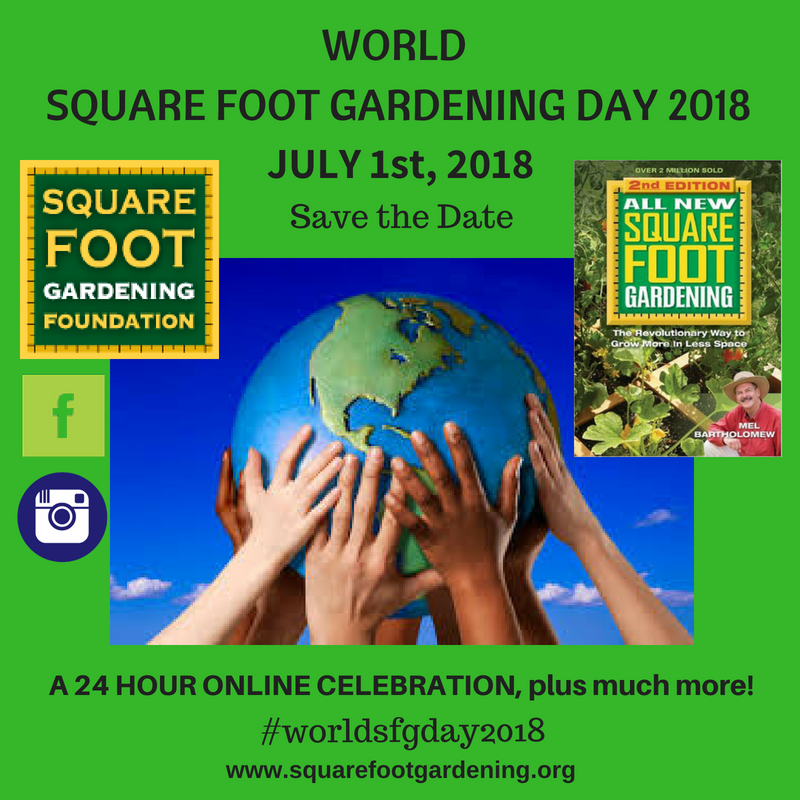 Scorpio Rising




Posts

: 8452


Join date

: 2015-06-12


Age

: 61


Location

: Ada, Ohio



2017 endorsement of the book All New Square Foot Gardening by Dr. Ken D Berry.  https://www.youtube.com/watch?v=2PAmS2GA-dA&t=6s
Similar topics
---
Permissions in this forum:
You
cannot
reply to topics in this forum