Latest topics
»
Kiwi's SFG Adventure
by KiwiSFGnewbie Yesterday at 6:27 pm
»
N&C Midwest: May 2023
by OhioGardener Yesterday at 5:07 pm
»
Teaming with Microbes Kindle Sale (Mem. Day weekend 2023)
by OhioGardener Yesterday at 4:27 pm
»
Paul's First SFGs
by pkadare Yesterday at 4:24 pm
»
Poppy seeds - Hungarian Blue Breadseed
by
sanderson
Yesterday at 4:22 pm
»
Sluggo Plus
by
sanderson
Yesterday at 3:23 pm
»
Mid-Atlantic New Host Intro & Info
by KarenSB Yesterday at 5:08 am
»
What Have You Picked From Your Garden Today
by OhioGardener 5/25/2023, 6:25 pm
»
Centpedes
by OhioGardener 5/25/2023, 6:19 pm
»
beneficial nematodes
by OhioGardener 5/24/2023, 9:18 pm
»
Senseless Banter...
by markqz 5/24/2023, 5:39 pm
»
Pre-Filling a 30" Raised Bed
by toledobend 5/24/2023, 1:10 pm
»
Happy Birthday!!
by
AtlantaMarie
5/24/2023, 7:03 am
»
Aphids & Their Predators
by MrBooker 5/24/2023, 6:01 am
»
Hello from Bobcaygeon, Ontario
by
Scorpio Rising
5/20/2023, 1:52 pm
»
What are you eating from your garden today?
by OhioGardener 5/18/2023, 6:29 pm
»
Spring Flowers
by OhioGardener 5/18/2023, 6:23 pm
»
My Solar Dehydrator at Work
by
sanderson
5/18/2023, 3:10 pm
»
French Tarragon
by
sanderson
5/18/2023, 12:41 pm
»
Famous Gardening Quotes
by
sanderson
5/15/2023, 8:50 pm
»
Birds of the Garden
by
sanderson
5/15/2023, 8:49 pm
»
New Compost PIle, 2nd attempt
by Chuck d'Argy 5/13/2023, 11:43 am
»
Ohio Gardener's Greenhouse
by OhioGardener 5/11/2023, 6:44 pm
»
Asparagus
by
sanderson
5/11/2023, 4:11 pm
»
Plan needed for 4'x4' irrigation grid
by OhioGardener 5/11/2023, 12:47 pm
»
TD's 2023 Garden
by
trolleydriver
5/10/2023, 3:16 pm
»
Spring Gardening - Parsnips and Garlic
by OhioGardener 5/10/2023, 2:59 pm
»
Seedlings Sticker Shock
by
sanderson
5/7/2023, 9:44 pm
»
From a Year 2 Novice to All the New SFGers or "How to Get Past the Fear Factor! :)"
by
sanderson
5/7/2023, 3:13 pm
»
Mark's first SFG
by
sanderson
5/5/2023, 3:39 pm
My cabbage seedlings had yellowing between the veins, especially on the leaf edges, leading to dead edges on the leaves. Research suggested "tipburn" due to calcium deficiency.  Most of the "cures" seemed to be proactive prevention involving soil additions that would not be immediately available to the plant…  so I ended up crushing one of my calcium citrate vitamin pills, dissolving it in water, and applying it to the soil near the stem of the seedlings. Time passed… the new leaves that grew out looked normal, and the old leaves that were affected have been dying off (and I've been removing them.) I have healthy cabbage plants now being hardened off, so I think I guessed right.  Comparison of cabbage with old affected and new unaffected leaves.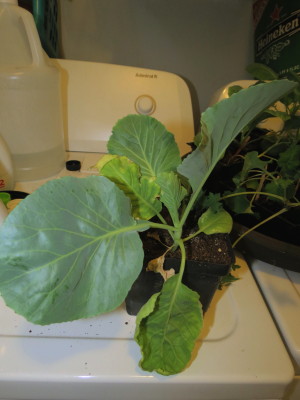 My broccoli and Brussels sprouts had milder symptoms, so I treated them, too. The cauliflower was affected as much as or more than the cabbage .  I also treated my kale and collard seedlings before they developed symptoms (though they might have been fine; I don't recall which brassica need the most calcium.) Here are photos of comparisons of leaves on a broccoli, and a cauliflower that hasn't had much chance to respond to treatment.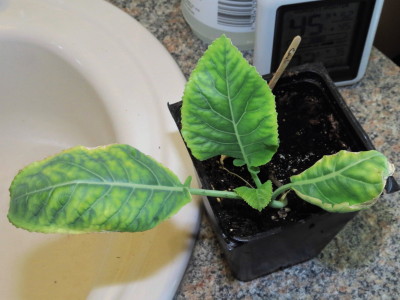 Around the same time, one of my parsley plants had severally curled – almost balled up – leaves. I couldn't find anything relevant online. I checked for aphids since I had some on a plant in another room earlier in the year, but there were none.  So I figured, 'eh, why not? It's almost dead anyhow' and applied calcium to the parsley plant, too. Wouldn't you know, the newest leaf looks normal?  The other parsley seedlings weren't afflicted, and I thought I started them all at the same time from the same batch of potting mix. So I'm not entirely sure I diagnosed things correctly, or there's some other factor at work here that coincidentally resolved at the same time, but I figured I'd share so other people could try my fix for similar symptoms.  These plants are all indoors, so there are no insect vectors except the ubiquitous fungus gnats, and I used a store-bought potting mix.
Before and after parsley photos: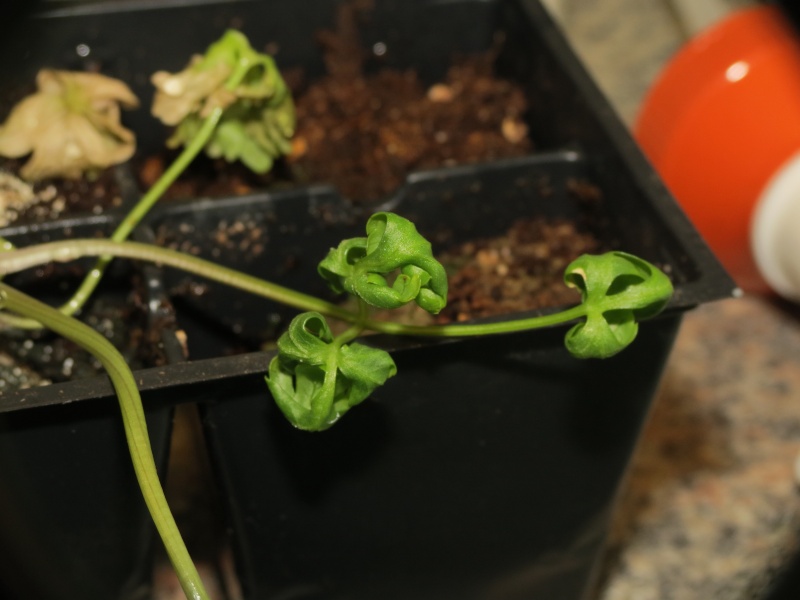 BeetlesPerSqFt




Posts

: 1439


Join date

: 2016-04-11


Location

: Port Matilda, PA Zone 5b/6a LF:5/11-FF:10/10



Good info. I've got some plants I started in seed starting mix that contained very little, if any, fertilizer. Some of the basil and peppers started to show similar symptoms about 2 weeks after emerging from the mix. I've found that, once the symptoms become evident, it's time for drastic measures. If I go that route again, I think fertilizing them as soon as they start to sprout their first true leaves, and keeping the nourishment coming regularly (every week or two) will probably spare them the stress.




CitizenKate




Posts

: 844


Join date

: 2015-03-20


Location

: Northeast KS, USA; Zone 6a



I have been potting mine up with Hyponex potting soil after they start growing. The starter mix is very light, and doesn't contain much nutrients. Sounds like they like your Citrical!

Scorpio Rising




Posts

: 8441


Join date

: 2015-06-12


Age

: 61


Location

: Ada, Ohio



Similar topics
---
Permissions in this forum:
You
cannot
reply to topics in this forum