Latest topics
»
finished my SGF garden
by danieggert Today at 5:48 pm
»
Sourdough Starter
by Jjean59 Today at 9:51 am
»
need specific advice on MM
by plantoid Yesterday at 6:43 pm
»
Senseless Banter...
by OhioGardener 3/22/2023, 8:11 pm
»
After harvest, leave the roots in or remove
by Mikesgardn 3/22/2023, 7:53 pm
»
Greenhouse - Helpful Hints in Setting up a Wood-Framed Greenhouse
by
Scorpio Rising
3/22/2023, 7:46 pm
»
Sifted Peat
by danieggert 3/22/2023, 4:21 pm
»
Best choice of pot to plant my seedling
by markqz 3/22/2023, 1:30 pm
»
Responding to a specific post
by OhioGardener 3/22/2023, 9:55 am
»
N&C Midwest: March & April 2023
by
Scorpio Rising
3/21/2023, 10:17 pm
»
Kiwi's SFG Adventure
by
sanderson
3/21/2023, 9:00 pm
»
Think Spring 2023
by MrBooker 3/20/2023, 7:59 am
»
Sifting Compost for Newbies
by
sanderson
3/20/2023, 3:47 am
»
Too cold to put my new MM into my raised beds?? and Facebook SFG site
by
sanderson
3/20/2023, 3:39 am
»
Harvesting small amounts from iceberg lettuce, caulliflower, broccoli, cabbage etc.
by
sanderson
3/20/2023, 3:37 am
»
Indoor seed starting question
by
sanderson
3/20/2023, 3:19 am
»
Epsom salts for your veggie garden??
by
sanderson
3/19/2023, 11:37 pm
»
seed starting Mel's way
by bigtoad 3/17/2023, 9:26 pm
»
shop lights vs grow lights
by
sanderson
3/17/2023, 1:53 am
»
trellis netting square size
by
sanderson
3/16/2023, 10:45 pm
»
Ohio Gardener's Greenhouse
by OhioGardener 3/16/2023, 5:20 pm
»
Raised Beds from 48" Culvert
by wargarden2017 3/16/2023, 11:19 am
»
Baby Pools as Beds?!
by Jjean59 3/15/2023, 3:54 pm
»
March: What to plant in Northern California and Central Valley areas
by
sanderson
3/15/2023, 3:52 pm
»
So. California & Inland Valleys -March / April Planting Guide
by
sanderson
3/15/2023, 2:22 pm
»
Biosolids / Humanure Compost?
by OhioGardener 3/14/2023, 1:45 pm
»
Hello Form the Bitterroot Valley of Montana
by
sanderson
3/14/2023, 4:52 am
»
Renewing Mel's Mix
by anne 3/13/2023, 8:16 pm
»
help refuting a raised bed critic
by
sanderson
3/13/2023, 2:26 pm
»
Associations of time spent gardening with mental wellbeing and life satisfaction in Mid-to-late adulthood
by OhioGardener 3/13/2023, 9:04 am
I was extremely sceptical about planting cauliflowers as close as one per square, until I tried it this year. The key is plenty of water and using Mel's mix to enrich the soil (I used 4 handfuls of good homemade compost, two of wood ash, four of vermiculite, and a half handful of seaweed fertiliser.
Here is the result which is better than any caulis I've ever grown in 35 years of gardening! The heads won't be huge, but there will a dozen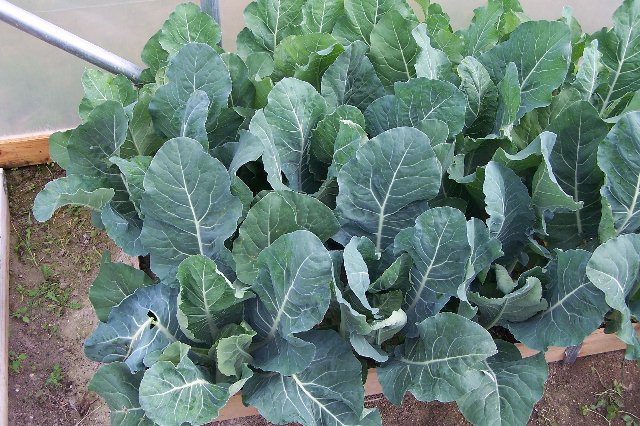 Cabbages are also doing extremely well at the same spacing and we are cropping lots of Mizuna greens as a cut and come again Oriental green.
Finally, here is an unusual vegetable called Daubenton's kale, a perennial brassica. You just take sideshoots and root them, and it goes on for ever (I hope). I still have the main specimen in a pot from which I am propagating it as the shoots form.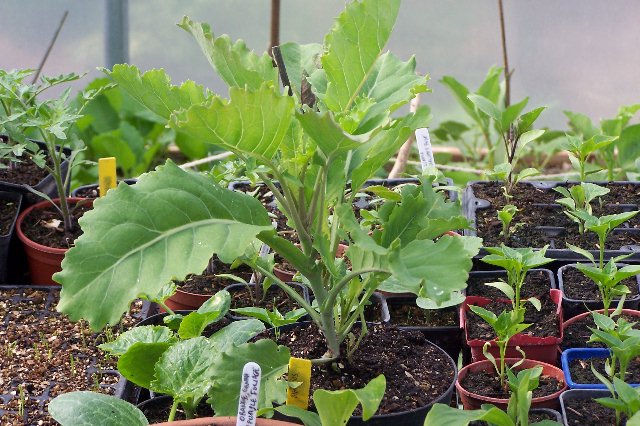 Your garden looks great. Yes, I too was surprised that one foot could maintain some crops. I just cut the cauliflower heads while they were smaller and they were great.
That kale looks good. I'm trying kale for the first time this year. No one in the family has every eaten it so its an experiment for us all.
If its enjoyed I'll try to remember the name of that kale for next year.
Thanks for sharing your photos.
I love seeing them.
url=https://servimg.com/view/15016226/88]
[/url]

quiltbea




Posts

: 4712


Join date

: 2010-03-21


Age

: 80


Location

: Southwestern Maine Zone 5A



Let us know how the kale turns out. I would like to add as many perennials as I can.
---
Permissions in this forum:
You
cannot
reply to topics in this forum