Latest topics
»
'White dust' underside Chard/Silverbeet leaves
by
Eos
Today at 5:46 pm
»
Would you buy this hay to compost?
by
sanderson
Today at 1:17 pm
»
maintaining Mel's Mix
by
sanderson
Today at 2:30 am
»
What are you eating from your garden today?
by
OhioGardener
11/25/2022, 2:28 pm
»
N&C Midwest: November & December 2022
by
OhioGardener
11/25/2022, 2:22 pm
»
Food waste being turned into compost for Ohio greenhouse
by
OhioGardener
11/25/2022, 9:34 am
»
Happy Thanksgiving
by
OhioGardener
11/24/2022, 8:27 am
»
Happy Birthday!!
by
sanderson
11/23/2022, 6:40 pm
»
Pressure treated wood - covered with plastic?
by
dstack
11/22/2022, 1:32 pm
»
Hello from NSW, Australia
by
Scorpio Rising
11/22/2022, 7:22 am
»
Happy Thanksgiving 2022
by
Scorpio Rising
11/21/2022, 10:11 pm
»
How to Harvest Winter Squash
by
OhioGardener
11/21/2022, 9:18 am
»
Ohio Gardener's Greenhouse
by
sanderson
11/20/2022, 10:37 pm
»
Mark's first SFG
by
markqz
11/20/2022, 6:00 pm
»
Question about pets using the raised bed
by
dstack
11/19/2022, 2:36 pm
»
Thanksgiving Dishes from the Garden
by
OhioGardener
11/19/2022, 2:30 pm
»
Sweet Potatoes
by
sanderson
11/19/2022, 12:05 am
»
Senseless Banter...
by
OhioGardener
11/18/2022, 10:40 am
»
Wood Chip Mulch & Earthworms
by
dstack
11/17/2022, 6:00 pm
»
Bokashi
by
sanderson
11/17/2022, 1:58 pm
»
Holy snow Batman!
by
sanderson
11/16/2022, 3:32 pm
»
Any ideas what is eating my cos?
by
KiwiSFGnewbie
11/12/2022, 2:23 pm
»
Using Trail Cams to Monitor Garden Critters
by
MrBooker
11/12/2022, 9:31 am
»
For MM, does vermicast count as manure-based?
by
sanderson
11/10/2022, 2:12 pm
»
Experiences with electric snail fences
by
KiwiSFGnewbie
11/7/2022, 7:35 pm
»
Garlic SFG
by
donnainzone5
11/5/2022, 11:55 am
»
Path materials
by
KiwiSFGnewbie
11/3/2022, 1:29 am
»
Flower bulbs that should have been planted in the fall
by
OhioGardener
11/2/2022, 7:54 pm
»
November: What to plant in Northern California and Central Valley areas
by
sanderson
11/2/2022, 4:47 pm
»
tomato plant roots
by
stevenfstein
11/1/2022, 3:52 pm
I love seeing all the pictures people post of their garden projects! I'm glad that I can finally put up a few of my own to share.
This is my first year with SFG. I started putting this together back at the beginning of March (stained with an acrylic stain that won't leach yucky stuff), this is what it looked like: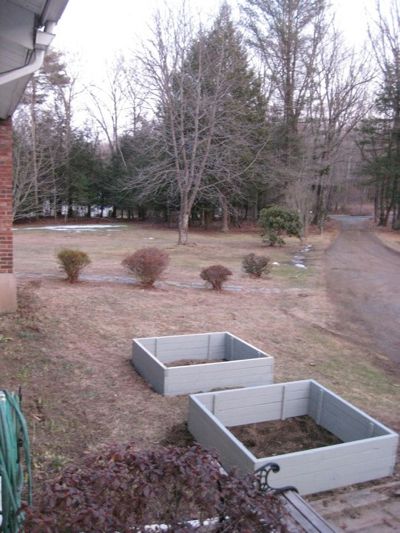 I had to level the boxes, started with 2 boxes--using scrap wood from the garage (we had a LOT of it!)--then decided that I really should have 1 more garden on that patch of lawn. So I put them together (had some help with the mixing) and screwed in some hoop-house style frames, covered these with bird netting. Eye hooks make good fasteners for holding down the netting. This is what I ended up with: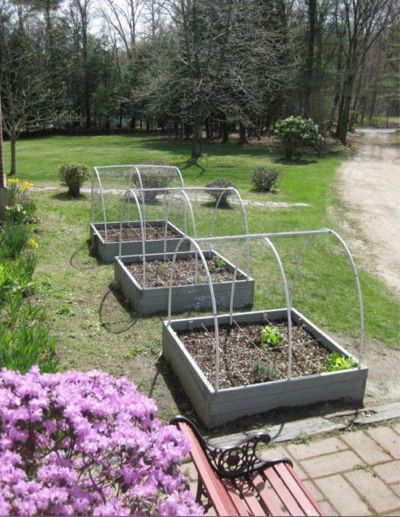 Then I started planting! Snow peas from seed are doing great, but I am still waiting for the trellis netting I ordered online, so they're kind of freaking out. Lettuce and baby spinach have already made many great salads, and everything else is going okay, too.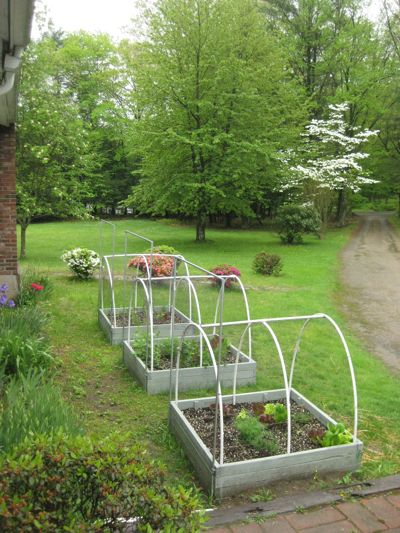 Here's the first box. It contains a rosemary transplant from house (this may die, but it's holding its own so far), dill, lettuce, spinach, thyme, and green onions which are finally barely poking through):
The second contains snow peas, anise hyssop, parsley, lettuce, lavender, spinach and dill)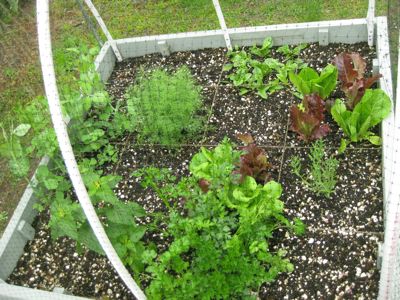 And the third is home to more snow peas, dill, anise hyssop, chives, lettuce, cabbage, lavender, and a lupine (just because).
The rest of the squares will be planted/transplanted into in the next 2 weeks or so. I'm going for a variety of herbs, flowering plants, and vegetables in hopes that I can have a little bit of color, some nice smells, and yummy food all in one (er, 3...).
Like a few other people on the forum, I used bird netting to keep out cats, etc. I cut it into panels and only fastened them on the top, so I can lift the sides to get in. Then I pull the netting over eye hooks at the bottom that keep it secure. So far animals have stayed out.
I also went nuts and ordered ladybugs--not sure if I'd do that one again, considering they all either flew away or died, save a couple. Now I have hundreds (thousands?) of them composting on top of the soil. Maybe they will help with the nitrogen content?
The only way I could find large amounts of compost available around here (mine's still cooking...) was a truckload of what I think might be leaf mold and decomposed horse manure, and it is FULL of grass & other weed seeds. It's ridiculous! Of course they are tiny, but it's also only May. Should I just ignore it and go "aux natural??? Or should I fight the fight and keep beating these little sprouts outta there?

clarker




Posts

: 6


Join date

: 2010-04-17


Age

: 37


Location

: Connecticut



Welcome -your boxes are lovely! The covers look perfect, too.
I'm a little unclear on the manure question - is it something you can leave for awhile? As it finishes "cooking", I believe all the weed seeds will die. (Say Martha with extreme anxiety, because with all the compost/manure conversations around here, PLUS shoveling manure myself for umty-ump years, I hope I haven't said something untrue and silly.)

martha




Posts

: 2188


Join date

: 2010-03-03


Age

: 65


Location

: Acton, Massachusetts Zone 5b/6a



The compost was purchased locally--and it was only like 15 dollars for
the entire pickup truckload. Which seems really, really cheap to me.
But after I mixed it up and set it in the beds (over weed cloth),
little grass sprouts (or hay or something) have been shooting up, along
with other mini mystery weeds. So I am thinking that they probably
didn't let their compost (manure, leaves, etc.) sit/"cook" long enough to kill all of the
weeds/seeds.

Things seem to be growing really well, despite the weeds, so at least the stuff was full of nutrients enough. Hoping my own compost pile is ready in the fall.

clarker




Posts

: 6


Join date

: 2010-04-17


Age

: 37


Location

: Connecticut



Similar topics
---
Permissions in this forum:
You
cannot
reply to topics in this forum