Latest topics
»
What are you eating from your garden today?
by
OhioGardener
Today at 10:44 am
»
Aero Garden for starting seeds?
by
OhioGardener
Today at 8:23 am
»
Garden Tools
by
yolos
Yesterday at 6:16 pm
»
worms and compost tumbler
by
sanderson
Yesterday at 1:47 am
»
Starbucks for coffee grounds!
by
sanderson
1/30/2023, 1:37 am
»
N&C Midwest: January & February 2023
by
OhioGardener
1/29/2023, 7:33 pm
»
Placing Box on Cement
by
OhioGardener
1/29/2023, 2:57 pm
»
How I compost using a Tumbler
by
Soose
1/29/2023, 2:45 pm
»
Garlic Chives in SFG?
by
OhioGardener
1/29/2023, 8:56 am
»
Soaking Seeds for Better Germination
by
Soose
1/29/2023, 5:26 am
»
Microgreens Gardening
by
sanderson
1/28/2023, 11:42 pm
»
How do I source Mels Mix for 190 cu ft????
by
sanderson
1/28/2023, 11:35 pm
»
Johnson Su composting Bioreactor instructions for home, not the farm.
by
has55
1/28/2023, 10:57 am
»
homemade vermicomposting/Worm Casting Compost Sifters
by
has55
1/28/2023, 10:45 am
»
Famous Gardening Quotes
by
OhioGardener
1/28/2023, 8:29 am
»
The SFG Journey-Johnson Su Bioreactor for composting, No turning
by
has55
1/28/2023, 12:09 am
»
seed starting Mel's way
by
plantoid
1/27/2023, 7:09 am
»
Home Made Compost
by
plantoid
1/27/2023, 6:18 am
»
Kiwi's SFG Adventure
by
KiwiSFGnewbie
1/27/2023, 2:46 am
»
Back In The Saddle I Suppose
by
Scorpio Rising
1/26/2023, 8:03 pm
»
New but Old
by
lovey
1/25/2023, 1:49 am
»
Dani's Brand New SFG For 2023
by
danieggert
1/24/2023, 6:24 pm
»
Seed Exchange - January 2023
by
sanderson
1/24/2023, 4:43 am
»
Chicken Poop compost
by
OhioGardener
1/22/2023, 5:28 pm
»
Holy snow Batman!
by
OhioGardener
1/22/2023, 10:27 am
»
IRRIG8R NEW TO SFG
by
Irrig8The916
1/21/2023, 10:51 pm
»
Mel's mix for flower planters
by
sanderson
1/21/2023, 7:05 pm
»
Can I Use This Compost As One Of My Five Different Ones?
by
sanderson
1/21/2023, 6:53 pm
»
Clamps /clips for covering frames
by
Soose
1/21/2023, 6:43 pm
»
What DON'T I want in my 5 different composts
by
sanderson
1/21/2023, 4:34 am
My broccoli and cabbage have survived the first wave of caterpillars. They were those green fuzzy ones. They weren't to bad just go out and squish them 2-3 times a day. Now I have a new caterpillar crop. These are tiny green and black. They seem to colonize together. How in the world do you keep up with those? I really don't want to use anything in the garden that will effect our dwindling bee population ( we are 50+% down from last year in my area). I love brassicas but it is looking like I may never grow them again. I grew collards almost all year last year with very little problems. 

This is my first time growing cabbages and broccoli. Are there any Brassicas that these caterpillars don't like? Spring vs fall?

I have also seen a tiny black fly on my tomato plants. It doesn't fly away it just sits there. Is that a goody or a bady? My camera takes horrid pictures and wouldn't focus on it.

I don't know it is me or not but this year already feels like a battle out there.
Ah, the green caterpillar
https://squarefoot.forumotion.com/t15725-green-caterpillars?highlight=green+caterpillars
Oh man, Sanderson, those are scary pictures
  Swilliams, sorry to hear about your caterpillar problem.  The very best thing I've found to take care of caterpillars (and squash vine borer for my squash plants) is to cover them with tulle from the craft store.  It's very cheap, usually about $1 a yard.  I got enough to cover most of my garden a few years ago for $10.  Then I bought some hula hoops and some hardware and made this: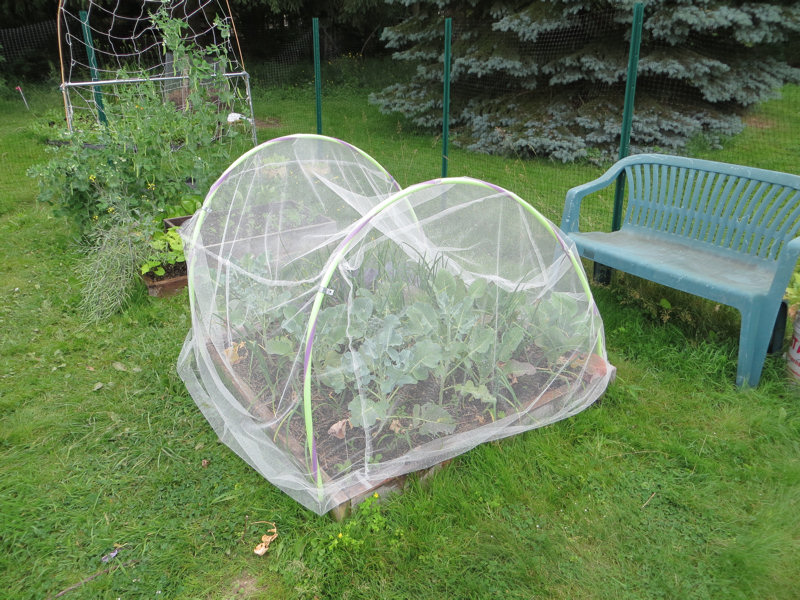 Don't give up on cabbage and broccoli
  You just have to outsmart the bugs.  It's funny that you ask if there's brassica that the bugs don't like, because collards are brassica too, and yet you said you had no problems with them.  Also, I've never had problems with turnips, kale, or rutabagas for some reason.
I am no stranger at the fabric store! I would have never thought to use that in the garden!
If the pests in question are cabbage worms, you can use a safe alternative that works quite well.  We take cayenne pepper-infused water and add drops of eucalytpus oil to the solution and then spray our greens after the sun sets and when the wind is not too strong.
I advise to wear protective eyewear and surgical gloves when working with cayenne pepper oil.
I am not comfortable with BT.  It is the BT GMO product that is bringing Monsanto a lot of their negative press.  The BT is showing up in toxicology reports in pregnant women, and it is killing human embryo cells.  Not enough studies on the BT itself have been conducted for my liking.  Take a look at the peer-reviewed medical literature I have posted below:
Source: Reproductive Toxicology, Volume 31, Issue 4, May 2011, PP528-533
Maternal and fetal exposure to pesticides associated to genetically modified foods in Eastern Townships of Quebec, Canada
Abstract
Pesticides associated to genetically modified foods (PAGMF), are engineered to tolerate herbicides such as glyphosate (GLYP) and gluphosinate (GLUF) or insecticides such as the bacterial toxin bacillus thuringiensis (Bt). The aim of this study was to evaluate the correlation between maternal and fetal exposure, and to determine exposure levels of GLYP and its metabolite aminomethyl phosphoric acid (AMPA), GLUF and its metabolite 3-methylphosphinicopropionic acid (3-MPPA) and Cry1Ab protein (a Bt toxin) in Eastern Townships of Quebec, Canada. Blood of thirty pregnant women (PW) and thirty-nine nonpregnant women (NPW) were studied. Serum GLYP and GLUF were detected in NPW and not detected in PW. Serum 3-MPPA and CryAb1 toxin were detected in PW, their fetuses and NPW. This is the first study to reveal the presence of circulating PAGMF in women with and without pregnancy, paving the way for a new field in reproductive toxicology including nutrition and utero-placental toxicities.

Razed Bed




Posts

: 243


Join date

: 2015-04-01


Location

: Zone 7



Interesting read. I tried Safer BT, which worked, but it turned the leaves a different color. I use tulle for brassicas to keep the white butterfly off them, and hand pick the caterpillars off the pole bean leaves (the emergency labor and delivery room for the white butterfly). Weird that they will use other plants like that.
I have officially removed all the brassicas from my garden. I am feeling very defeated at the moment. Now my 4X8 bed is half empty and I am struggling to decide what to plant in there. I already have 12 tomatoes, okra, some peppers, summer and winter squash, beans, and cucumbers planted. Tomorrow I am going to add some compost back to the bed along with more peat.
Time to plant sweet potatoes!
or peanuts or Yard long beans or any of those other love the hot steamy South plants that I (in Montana) can only day dream about.
It is late season for your cool weather plants and time for me to go plant them.

Turan




Posts

: 2603


Join date

: 2012-03-29


Location

: Gallatin Valley, Montana, Intermountain zone 4



Similar topics
---
Permissions in this forum:
You
cannot
reply to topics in this forum