hello,

does anybody have anything on wind protection? we get strong winds here in MN and tomato plant just are damaged after.

please post pictures :-)

Thanks.


licellec




Posts

: 9


Join date

: 2012-11-28


Location

: Rochester, MN



I hear ya on the wind! Like today we're having 25 mph w/ gusts to 40. A few of my tomatoes that were hardening off over the past couple of weeks are bit wind burned.
Originally I used a wind breaker in front of my garden, but now I leave my settled beds at least 4 inches down so that the box itself is a type of windbreaker for seedlings. After that they are on their own. I figure if they can't take it, they can't grow here. So far I've lost nothing...they seem to adapt and be stronger for it.
Other than that, this dome worked well during those crazy winter storms that kept blowing thru here even tho it was for the cold. The painters plastic is held down with clothespins and 2x8's: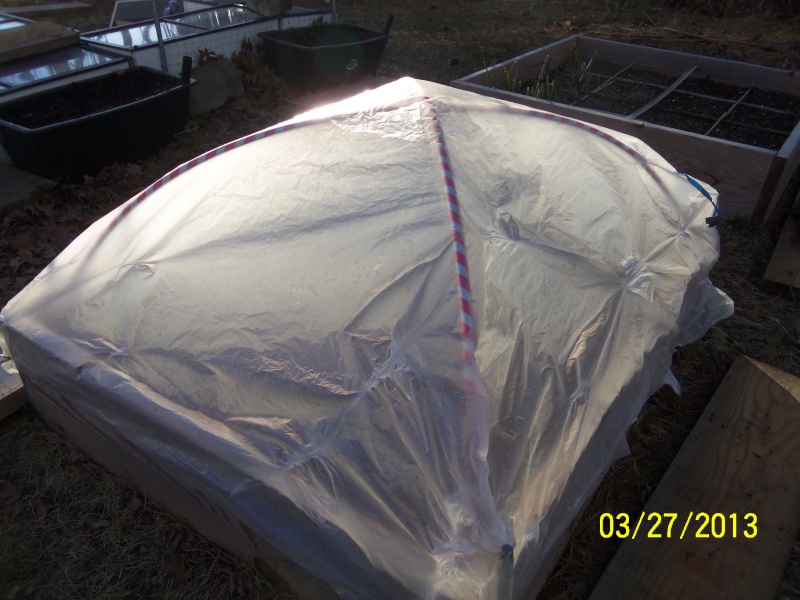 And this hoop tunnel stayed up also much to my surprise, plastic held in place with clothespins and stones: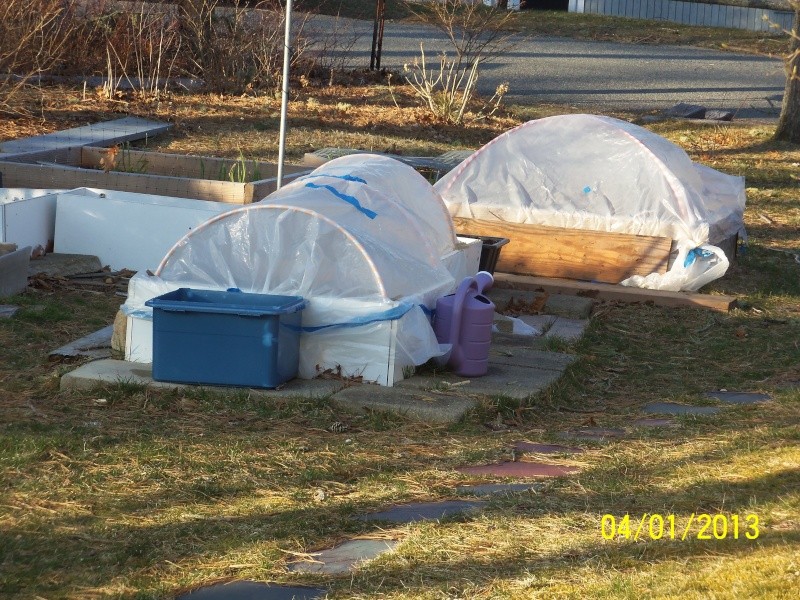 The plastic is now off and shortly I will be putting tulle on these hoops to keep out cabbage moths.
Using the trellis that is in the ANSFG book worked fine with my tomatoes as they were growing. I put burlap over them during the heat but it may have stopped some of the wind, too. I recently posted that photo somewhere on the forum but I don't remember where.
CC

CapeCoddess




Posts

: 6824


Join date

: 2012-05-20


Age

: 65


Location

: elbow of the Cape, MA, Zone 6b/7a



Throw a light weight anti bird net over the hoop house and weight down the edges or stake them down
The sort of net i'm takling of is a cheap knotted mesh of 3/4 inches an 18 foot by about 30 footer ( approx ) cost me under £6 UK ( $10 usd ? ).

I've cut my net into three to make it easier for me to mess around with on thee ANSFG beds .

plantoid




Posts

: 4068


Join date

: 2011-11-09


Age

: 71


Location

: At the west end of M4 in the UK



I cover mine in plastic when I know it's going to be windy and gross, but for just wind and hot weather I wrapped the bottom 18+ inches of the bed and hoops with seran wrap and tape, and it gave the tomatoes enough of a break the 20+ mph winds didnt bother them. It did come off when we had a random storm so I did go back to plastic all over ( thick painters plastic dropcloth, 1 package cut in 2 covers 2 4x4 beds) but ill be using more thick plastic drop cloth and zipties around the base as a year round fixture because it is consistantly windy here.

Tris




Posts

: 134


Join date

: 2013-03-03


Location

: North Carolina



I'm using light weight insect row covers (85% sunlight comes through) for bug and shade cloth this year. It has also blocked some of the wind and allowed barely hardened seedlings to survive. I have it over the hoops just like plastic.

Kay

____________________________
A WEED IS A FLOWER GROWING IN THE WRONG PLACE
Elizabeth City, NC
Click for weather forecast

walshevak


Certified SFG Instructor




Posts

: 4373


Join date

: 2010-10-17


Age

: 79


Location

: wilmington, nc zone 8



---
Permissions in this forum:
You
cannot
reply to topics in this forum