Latest topics
»
New from AZ
by jkrn Today at 10:16 am
»
N&C Midwest October 2023
by OhioGardener Yesterday at 8:47 pm
»
Tomato Fruitworm
by
sanderson
Yesterday at 4:39 pm
»
Ohio Gardener's Greenhouse
by
sanderson
Yesterday at 4:14 pm
»
Plan for a raised bed off ground?
by OhioGardener Yesterday at 8:24 am
»
Beds not holding moisture?
by MrBooker Yesterday at 6:36 am
»
Stevia
by markqz 9/28/2023, 12:11 pm
»
Mark's first SFG
by markqz 9/28/2023, 11:53 am
»
N&C Midwest September 2023
by
Scorpio Rising
9/27/2023, 6:55 am
»
Walking stick kale
by markqz 9/26/2023, 11:52 pm
»
Butternut squash sets world record at the State Fair of Virginia
by markqz 9/25/2023, 5:13 pm
»
Closing beds for winter
by plantoid 9/25/2023, 4:25 pm
»
Famous Gardening Quotes
by OhioGardener 9/23/2023, 12:51 pm
»
Foodbank's composting program creates food from food
by OhioGardener 9/22/2023, 8:29 am
»
What Have You Picked From Your Garden Today
by OhioGardener 9/21/2023, 1:15 pm
»
Turning existing garden beds into SFG
by jemm 9/20/2023, 7:35 am
»
updating my mix - what should I add
by
sanderson
9/18/2023, 5:04 am
»
Senseless Banter...
by
sanderson
9/16/2023, 11:37 pm
»
Lumber and measuring for SFG boxes
by
sanderson
9/16/2023, 12:21 am
»
Avatar issues
by Guinevere 9/14/2023, 7:53 pm
»
Happy Birthday!!
by
sanderson
9/11/2023, 4:40 pm
»
When to harvest? / Watermelon seedlings
by
sanderson
9/9/2023, 6:07 pm
»
Hornets Nest
by
sanderson
9/8/2023, 8:15 pm
»
Tropical Storm Hilary
by jennyjo37 9/5/2023, 5:31 pm
»
A square foot garden in a round bed.
by alicej 9/4/2023, 3:39 am
»
Determinate Cherry Tomato for Greenhouse
by OhioGardener 9/2/2023, 6:52 pm
»
N&C Midwest August 2023
by
Scorpio Rising
8/31/2023, 9:01 am
»
Hurricane
by
Scorpio Rising
8/30/2023, 7:25 am
»
No-Fail Zucchini Bread
by OhioGardener 8/28/2023, 11:11 am
»
buying compost small town SW Pennsylvania
by
sanderson
8/27/2023, 6:41 pm
Hi, all-
Newbie to this site, but not to Mel's SFG book. I read it years ago and managed to remember enough of it to tell a csa farmer here I was looking for the book and author. He knew exactly what I was speaking of and had the book. Yippee!

Started under grow lights with heating pads and am sprouting some seeds on moist paper towels too. Here is what we have going so far:
broccoli- two plants are still thriving from last year. Not sure how. Same with 5 kale plants. Have 4 raised beds with 18" of soil in each. Have a 5th 4x4 bed not completed yet. Hooping for 6 total this year but I better get moving! Working on a 2x8 netted bed for cukes, asparagus beans (yum!) and sugar snap peas.


Beds were supposed to be perfectly 4x4 but with the reuse of retaining wall rocks the beds are a bit bigger around the corners. Still works out fine since I can sit on the side of the beds while working the soil.

bed#1:
cauliflower, strawberries, rosemary, broccoli, cilantro, pansies, and tulips.
bed#2: kale, kale and more kale. cilantro too- (not doing well.)
bed#3 turnips, tulips, asparagus, garlic, romaine lettuce
bed#4: rosemary (ailing), tulips.

rutabagas, red onions, carrots, wheat grass, broccoli, brussel sprouts, beets in the miniature greenhouse to sprout.

blueberry, blackberry and raspberry bushes under grow lights for now.

hoping to have enough to freeze and prep sauces, chili starter, do fruit preserves etc.

good luck to all!

sunshine0408




Posts

: 20


Join date

: 2010-03-28


Location

: Northwest GA



hello and welcome sunshine glad your here sounds like you got a very productive garden would love to see some pictures this is my first year with SFG and im excited today i had some sprouts grow over night as soon as my tomatoe and peppers are ready for transplant ill be even happier. there are alot of knowledgable and creative people here and we all try to help eachother out be sure to find your regional forum so you can meet up with others in your region an dhardiness zone

choksaw




Posts

: 459


Join date

: 2010-03-02


Age

: 48


Location

: New Port Richey FL.



Thanks, choksaw!
How do I find out if I am in 7a or 7b??
I am in the Lower South and will post pictures soon. I may have been a bit too eager on planting a few things. we will see.

sunshine0408




Posts

: 20


Join date

: 2010-03-28


Location

: Northwest GA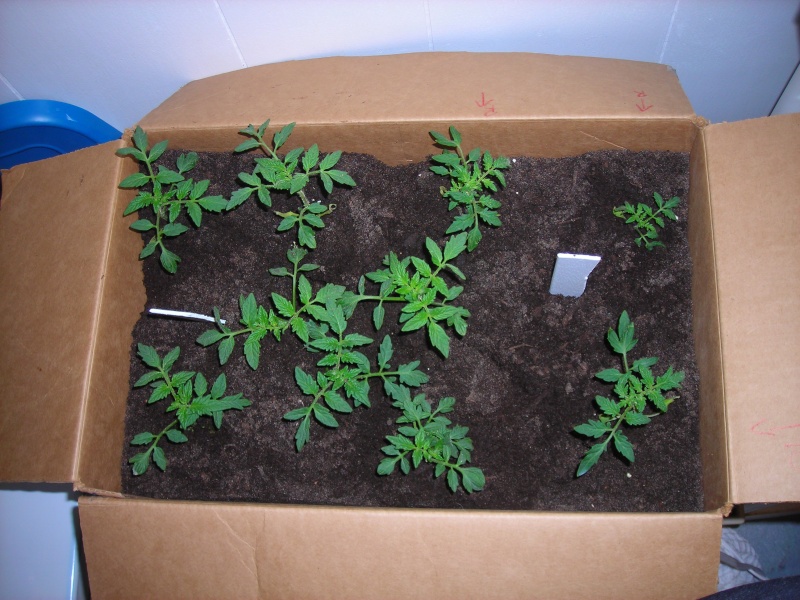 Last edited by sunshine0408 on 4/3/2010, 6:22 pm; edited 1 time in total

sunshine0408




Posts

: 20


Join date

: 2010-03-28


Location

: Northwest GA



wow, not so good at posting pictures yet but the pictures above are of our fun so far. Horribly laid out grid because we did not place the grid first!! Not sure what I was thinking. We are also using landscaping blocks this year because we already had them. The drawback is the 4x4 square is not completely square. We will plan ahead for next year and redine the grids as we harvest.

Does anyone know how wide the trench for tomatoes should be if you are using the hedge/ row fence item in Mel's book?

Also wondering how deep the trench should be.

Happy Gardening everyone!

sunshine0408




Posts

: 20


Join date

: 2010-03-28


Location

: Northwest GA



---
Permissions in this forum:
You
cannot
reply to topics in this forum